Prrr… Prrr… Prrr… The final whistle has been blown. The curtain falls on one of the most dominating sports title in the world – the FIFA franchise (Rest in Peace…).
FIFA 23 marks an end of an era as EA Sports has previously confirmed in a long statement that it will be breaking up with the governing body of world football, FIFA (celebrity relationships, they never last do they?). Both parties have already signed the divorce papers with EA Sports seeking a fresh start under new name "EA Sports FC" – set to be launched next year. FIFA on the other hand, has confirmed that it will seek new partners in the gaming space.
But how does the final chapter of EA Sports FIFA fare up to previous FIFA iterations? Are EA Sports and FIFA splitting their relationship in style or it's just another typical FIFA game. Let's find out in this brutally honest FIFA 23 Review.
N.B: THIS REVIEW SOLELY PLACES EMPHASIS ON GAMEPLAY AND CAREER MODE.
Let's start with "THE GOOD" shall we?https://twitter.com/FIFA_Infinity/status/1552344398020624384
Presentation is still Spectacular
Hypermotion Technology which was introduced in FIFA 21 continues to ensure that each and every match in FIFA 23 looks and feels more authentic and immersive.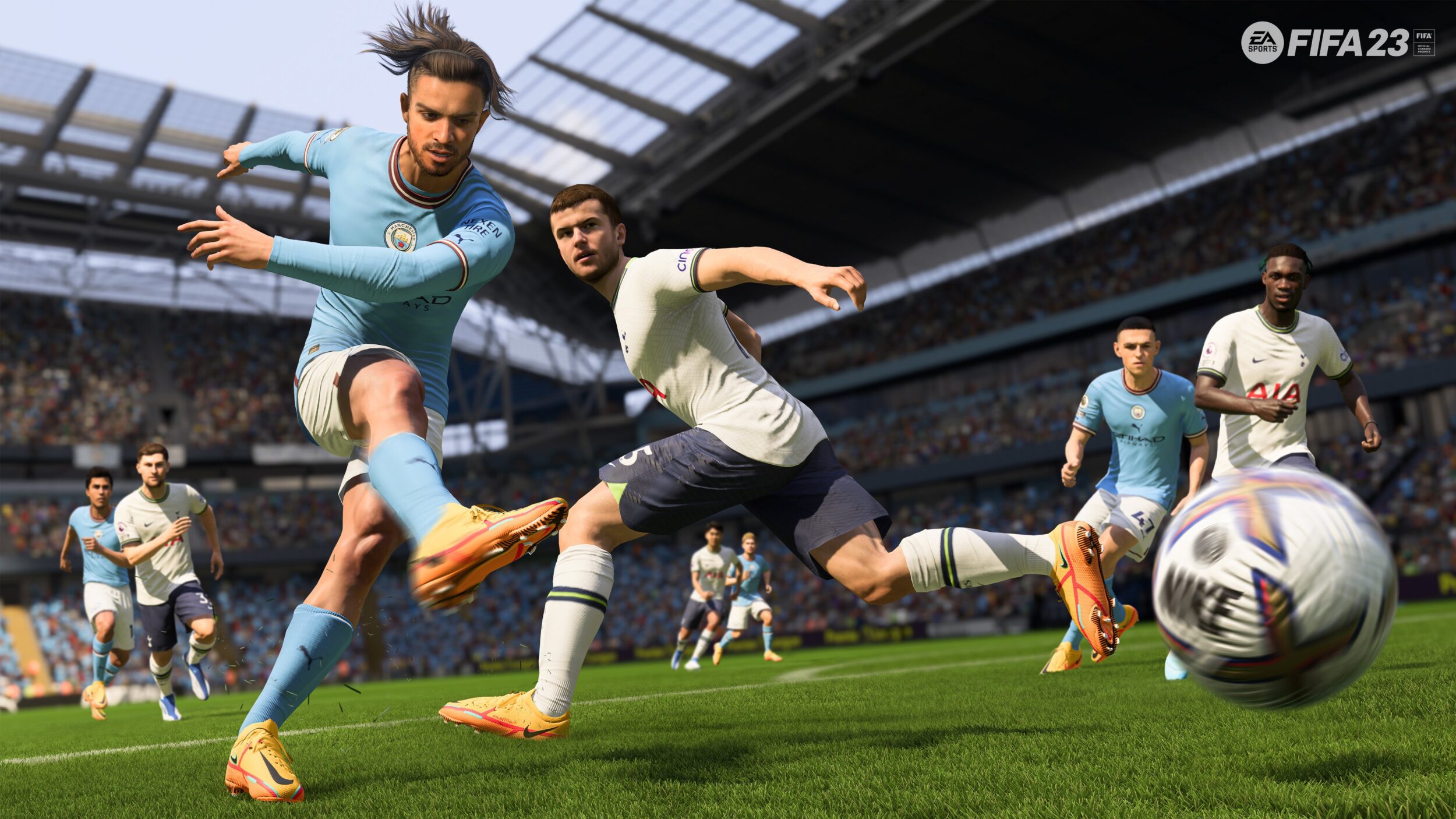 The graphics look great, the changes subtle improves on last year with more unique player models and running animations, for the likes of Vinicius Jr and co… there is also additions of new stadiums, teams, atmospheres and the Italian Serie A Broadcast Package also returns to immerse you into the experience even more.
New Set-Pieces are Great
Set-Pieces see their biggest retooling in years and it's safe to say, EA has finally nailed them since the game's creation back in the 1990s. Gone are the ghostly arrows appearing out of dead balls and a reticle aim that was always fighting you for survival, and as a result putting in high-quality deliveries has become considerably more satisfying.
Corners now offer you a cursor to place in the penalty box with the option to deliver however you please, whether chipped, curled or outside Footed. Free kicks also offer similar options.
New Free Kick and Corner Kick System in #FIFA23 👇 pic.twitter.com/Ct1s0X8VOk

— FIFA Infinity (@FIFA_Infinity) July 27, 2022
Moreover, penalties have been changed radically in FIFA 23, in an effort to recreate the pressure and difficulty that real-life spot-kick takers face. The window to aim penalties has been prominently lessened and timing is more important than ever.
Improved Physics make the game feel even More Authentic
Impact Physics makes players' individual limbs more naturally and affect the outcome when defenders block the ball in FIFA 23.
Deflections and blocks from defenders and goalkeepers' arms, legs, hands, and even fingers now have more realistic outcomes determined by the impact of the ball upon them, as they absorb the power of the shot to affect the ball's path and create more visually authentic deflections based on the speed and force of each individual strike.
New net physics also reacts to the motion of players, responding to individual limbs and creating more natural interactions with the net as players run, slide, or fall into the goal.
Long Shots have never been this Much Fun
A new skill-based, risk versus reward shooting mechanic called Power Shot brings football's most powerful and impressive shots into the game.
Power Shots are a new skill based shot type in #FIFA23 that add extra power and accuracy to a shot at the cost of time and a higher degree of input precision. pic.twitter.com/NZ5eaLc1mt

— FIFA Infinity (@FIFA_Infinity) July 27, 2022
You can create space away from defenders, pick your spot and trigger a power shot to add additional power to your strike and a chance of the spectacular. So satisfying!
Who doesn't love Cross-Play?
Following the cross-play test in FIFA 22 Online Friendlies and Online Seasons, EA has expanded the cross-play feature to more game modes in FIFA 23, as well as increasing the number of included platforms meaning you can take on friends of the same generation platforms.
In other words, PlayStation 5, Xbox Series X|S, Stadia, and PC versions of FIFA 23 are cross-play compatible with one another while PlayStation 4 and Xbox One versions of FIFA 23 will be compatible with each another. This also increases the chances to find opponents online more often.
Playable Highlights are Fantastic
Perhaps the most useful addition to FIFA 23 Career Mode is Playable Highlights. In Playable Highlights, you take control of key moments in matches in an attempt to define their outcomes, specifically handling close calls that impact he scoresheet while leaving the rest of the match to be simulated by the match engine.
#FIFA23 Career Mode will feature Playable Highlights 👇 pic.twitter.com/Fw16wfpASn

— FIFA Infinity (@FIFA_Infinity) August 1, 2022
Playable Highlights certainly bridges the gap between the hard work of playing every 90 minutes to completion and the risk of running a quick sim.
Authentic Managers are finally Playable
Ever wanted to recreate Antonio Conte and Thomas Tuchel fiery handshake? Well, now you can. Real managers are now playable, meaning you can assign them to any club you desire to play with in Career Mode. Time to watch some of you try and re-live Pep Guardiola's illustratious career at Barcelona or even funnier seeing the likes of Jurgen Klopp at Leyton Orient.
New Menus offer a Refreshing Feel
One of the biggest reasons EA Sports FIFA always felt stale was because of the same menu designs year after year. Now that finally comes to an end in FIFA 23, a new redesigned main menu allows you to faster access to your areas of interest, bringing with it more contextual information forward such as your squad depth, the players whose contracts are about to expire, or the most promising players in your Youth Academy.
The #FIFA23 Career Menu has been redesigned so that you can have faster access to your areas of interest 👀 pic.twitter.com/3ZGK9EeoD5

— FIFA Infinity (@FIFA_Infinity) August 1, 2022
This information is surfaced more prominently in FIFA 23, meaning that you don't have to access as many layers of menus in order to find the information you're looking for.
More Save Files
You are now able to use a common pool of the save file space, allowing you to mix and match between Career Mode and Tournament saves. This enables you to create up to 17 Career Mode save files.
Additionally, FIFA 23 now gives more information about a save file. Before loading a save file, you will be able to identify the team you were playing with and the upcoming opponent in the menu, to better differentiate between saves.
Minor Create-A-Club Improvements
Expanded customization options available in Create-A-Club in FIFA 23 Career Mode allows you to express yourself even further. You now have the ability to customize your club's third kit as well as your goalkeepers' kit.
In #FIFA23 Career Mode Create-A-Club you will be able to customize the third and gk kits! 👇 pic.twitter.com/lhI0jloM9R

— FIFA Infinity (@FIFA_Infinity) August 1, 2022
You can also edit player names, height and weight, body appearance, preferred positions, playing attributes, and even some of their animations. This gives you more control over your entire squad's characteristics as you embark on your journey.
Player Career delivers Unique Player Personality

Player Personality delivers a fluid personality system that drives a deeper personal connection to your player and lets you define their character on and off the pitch by performing certain actions, for example, every time you decide between connecting with a teammate or keeping the ball a little longer to set up the shot for yourself will shape the kind of player you are.
These kinds of decisions contribute to three distinct personality types that impact your player attributes, that is, Maverick, Virtuoso and Heartbeat.
THE BAD
Gameplay is still primarily Arcadey and Boring, especially against the AI
HyperMotion technology, available on next-gen consoles, is supposed to make the gameplay more genuine and dynamic. However, the title still feels extremely arcade-like as far as actual gameplay is concerned.
The pace of the game is still too fast and it continues to be difficult to distinguish playstyles between teams, Barcelona plays the same as Real Madrid or PSG for that matter. The players are no different, AI wingers always needs to dribble like prime Ronaldinho on the flanks but rarely delivers a cross.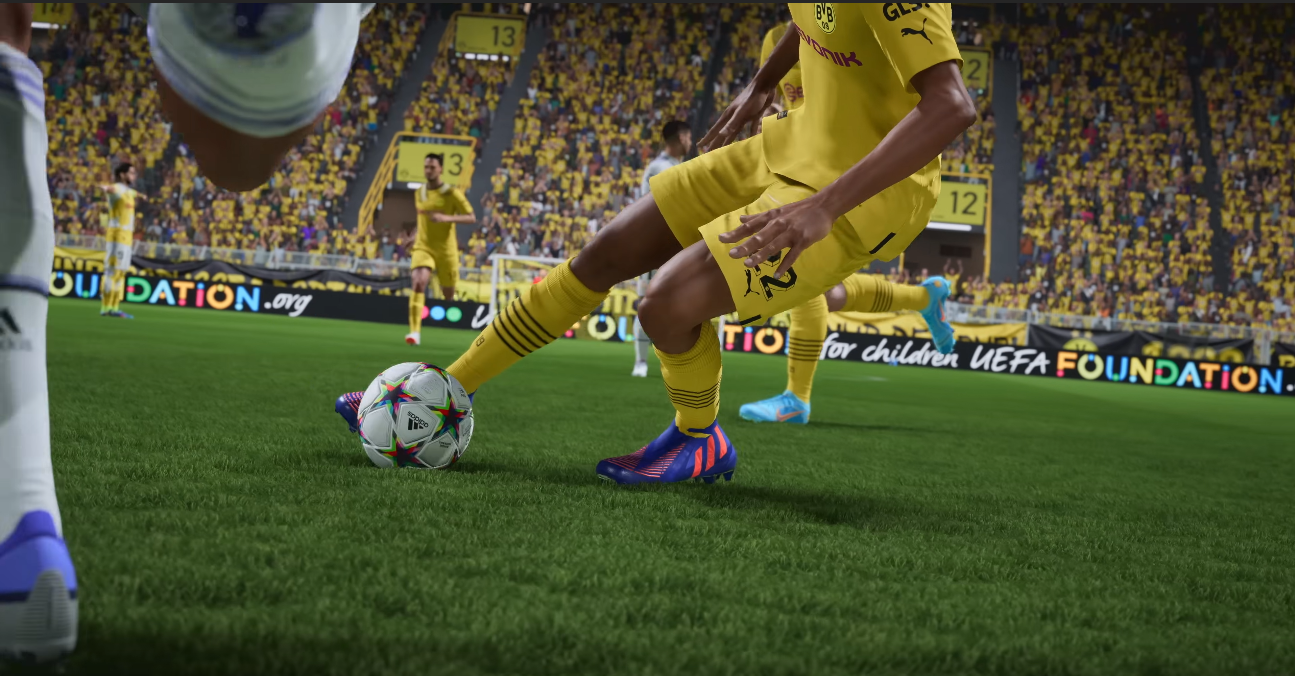 The AI is very possession based and lacks risk factor. No dangerous crosses, passes or shots, hell they even ignore simple passes that offer 1v1 opportunities and would rather pass the ball elsewhere. It makes the gameplay feel boring and less inviting to play against the AI.
Midfielders still don't track back
Still wondering why matches still end in 4-3, 5-5 etc in FIFA 23? Last year during the development of FIFA 22, EA gameplay lead producer Matt Prior admitted that the issue with "midfielders not tracking back" is intentional, he said that it's all about goals, if midfielders track back then there will be less goals. There's your answer, and the same programming still continues in FIFA 23.
It doesn't make sense, the AI should be 'engaged' at the very least. They need to track runs and react to danger. At the moment the midfielders simply stand still and don't engage leading to blockbuster matches all the time, it's unrealistic.
Cutscenes without Interaction easily get tedious
EA added Dynamic Moments in FIFA 23 Career Mode which is a collection of cinematics which will accompany your progression throughout the Career Mode experience in both Manager and Player Career, with the aim of making your journey more immersive and memorable.
In #FIFA23 Career Mode there will be 7 bespoke Dynamic Moments!

This collection of cinematics will make Career Mode more immersive. pic.twitter.com/BrkYgSikQN

— FIFA Infinity (@FIFA_Infinity) August 2, 2022
However, there is one flaw, they are not interactive. Cutscenes without interaction easily become tedious and it is easy to just want to skip them after seeing them a few times.
Very limited number of Authentic Managers
FIFA 23 enables you to play as one of the 350+ authentic football managers, of which only 31 have star heads in Career Mode. Shocker right there… that FIFA 23 has more manager licences than scans, meaning you can play as some 'real managers', with more than 300 generic.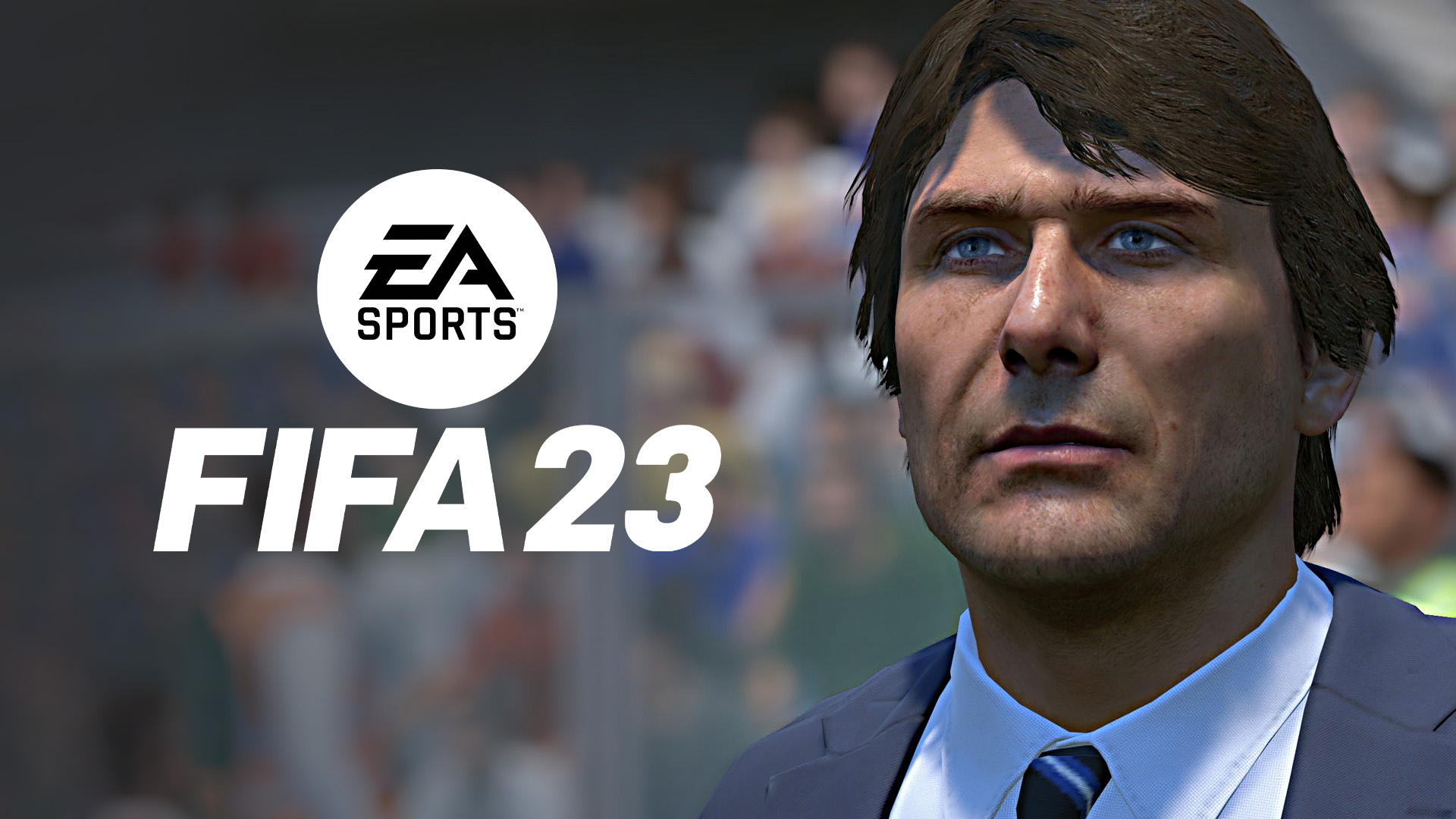 Although one could argue it is a small feature, EA advertised it as a masterwork addition to FIFA 23's Career Mode, but it's very hard to argue that the representation of some managers like Mikel Arteta and Erik ten Hag is up to the quality of a Triple-A game that makes hundreds of millions in profit every year. One could also make the argument that it is licenses but honestly, it's just laziness.
Generally Career Mode still has a long way to go
Whether you are a fan of Manager or Player Career, think it is fair to agree that there's still a long way to go for this mode. Limited customization, no staff upgrades, no stat tracking, no youth league, limited or no options to talk to your agent or manager hurts the general experience.
As I've mentioned in the FIFA 22 Review: Nothing is more rewarding and fun than making nobody's into somebody's while gradually upgrading club facilities from zero to hero along the way. It is still questionable as to why the likes of NBA2k are miles ahead of FIFA in this area although FIFA still ranks as the number one sports game every year.
Career Mode is still choked by a Myriad of Bugs
You would think that an "Overhauled Player Career Mode" as EA dubbed it wouldn't be clouted with plenty of game killer bugs. Players continue to be played out of positions and the game sometimes doesn't register that your player got a certain match rating that he actually registered during the match, resulting in a negative impact on Manager Rating. Some objectives, although completed during the match, register as incomplete.
Meanwhile in Manager Career Mode, Dynamic Potential is completely broken. Truth is, Dynamic Potential has never been perfect, but this year, EA has taken it a step further as players rarely get rewarded for their top performances in the prior season. It's as if, it is in a downward spiral especially for Create-A-Club careers where you can get sacked even if you completed all board objectives, at times board objectives don't register as completed although you completed them.
The press still asks repetitive and ridiculous questions, and of course as per 'tradition' every year EA introduces a new feature that is not functioning properly. This year, the new Financial Analyst feature is a mess as the analyst will often grade you badly for a doing a good job. Also, let's not forget about the AntiCheat Tools issues on PC, the list goes on!
In short, bugs from last year are still occurring in FIFA 23 and the devs went on to add even more issues and bugs to the list.
Verdict:
FIFA 23 suitably feels like the same game the fans have been playing for the past few years, with its so-so gameplay and usual annoyances. But honestly, I am not overwhelmed with its innovations to Career Mode in this year's game, the experience is underwhelming and it's being clouted with a myriad of bugs that makes the gameplay even worse. To this day I still haven't started a proper Career Mode save!
Just like the previous edition, FIFA 23 is a great game for casual players and for those who like to spend most of their time in Ultimate Team. However, if you're looking to buy it for the purposes of Career Mode alone, you may need to save your money until it goes on sale, perhaps by then, dynamic potential and other bugs in Career Mode will be patched.
Score:
Gameplay – 7/10
Career Mode – 5/10
Overall: 7/10
FIFA 23 is available now on, Playstation 5, Playstation 4, Xbox Series X|S, Xbox One and PC.
(N. B: All Career Mode features highlighted in this FIFA 23 Review are available on PS5, PS4, Xbox Series X|S, Xbox One, Google Stadia and PC.)