EA SPORTS FC 24 is right around the corner and EA are giving fans a way to boost their club in the next chapter of Ultimate Team franchise.
FIFA 23's Pre-Season is an exciting time for gamers, offering a range of rewards and activities to engage in. Let's delve into the details of what you can expect from this event!
Introducing #EASPORTSFC 24.

Join the club on September 29: https://t.co/8eVzx2tk9h #FC24 pic.twitter.com/9pBbQksnns

— EA SPORTS FC (@EASPORTSFC) July 13, 2023
What is FIFA 23 Pre-Season?
FIFA 23 Pre-Season is a special event that bridges the transition from FIFA 23 to EA SPORTS FC 24. It provides players with the opportunity to earn rewards, packs, consumables, player loans, and coin boosts to enhance their gaming experience in EASFC 24. This event typically runs for a limited duration and is packed with engaging activities.
One of the primary objectives of FIFA 23 Pre-Season is to allow players to unlock rewards that can be used in both FIFA 23 and the upcoming EASFC 24 season. These rewards are earned through various means, including Squad Building Challenges (SBCs) and Objectives.
Furthermore, fans can claim a free 85 x 10 Players Pack by logging to their Ultimate Team 23 accounts.
How do Rewards Carry Over to EA SPORTS FC 24?

A unique aspect of Pre-Season is the concept of carryover rewards. This means that rewards earned in FIFA 23 can be carried over and redeemed in EASFC 24, offering a sense of continuity for players as they transition to the new season. It's essential to keep in mind that there are specific deadlines for redeeming these rewards, so players need to act promptly.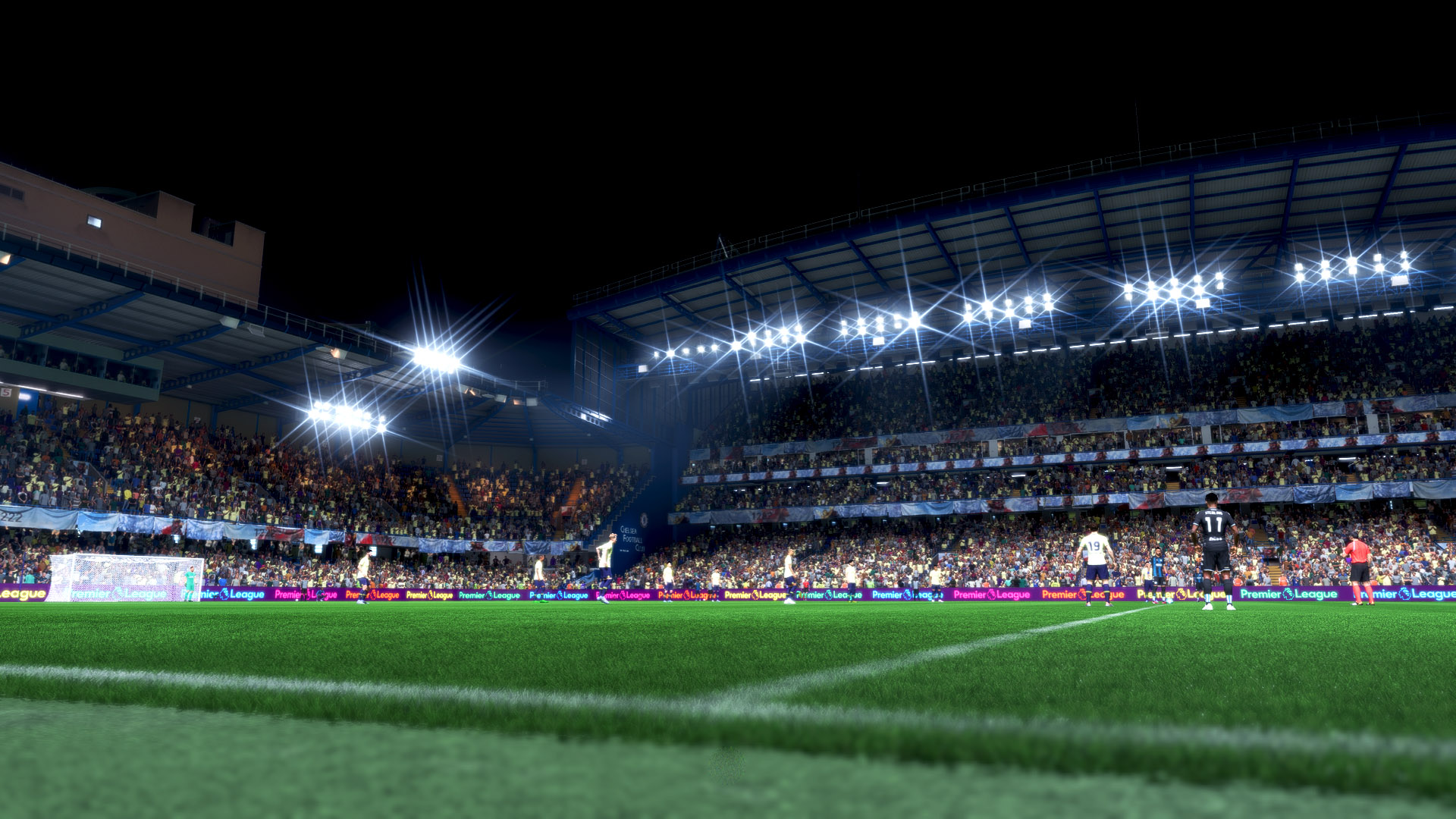 On each Friday of the following three weeks, players can find a "Join the Club" Objective in FIFA 23. This will be the ticket to dive into Ultimate Team, where you can rack up rewards for your future dream squad in EA SPORTS FC 24.
Moreover, EA revealed that there will be a series of "New Era" Upgrade SBCs and Objectives, designed to offer rewards on both Ultimate Team 23 and EA SPORTS FC 24.
Pre-Season is a fantastic way for players to earn the best content a game can offer. Similar online games such as Mahjong Titans can offer similar excitement with countless innovations and user friendly interface, its nothing short of an online adventure. We know how hectic and chaotic our routines can be, with work on our mind all day long, so Why not play a game?
Carry Over Rewards
Here's how the rewards are scheduled during this event:
Week 1 – Join the Club I OBJ
3 Rare Gold Serie A Players Pack
3 Rare Gold Bundesliga Players Pack
3 Rare Gold Ligue 1 Players Pack
3 Rare Gold Premier League Players Pack
3 Rare Gold LaLiga Players Pack
Week 1 SBC – New Era I
2 Rare Gold Player Pack
Base Hero Loan Pack x 5 games
Coin Boost (1000 coins x 5 games)
Week 2 – Join the Club II OBJ
Week 2 SBC – New Era II
2 Rare Gold Player Pack
Base Hero Loan Pack x 5 games
Coin Boost (1000 coins x 5 games)
Week 3 – Join the Club III OBJ
83+ x5 Players Pack
84+ x3 Players Pack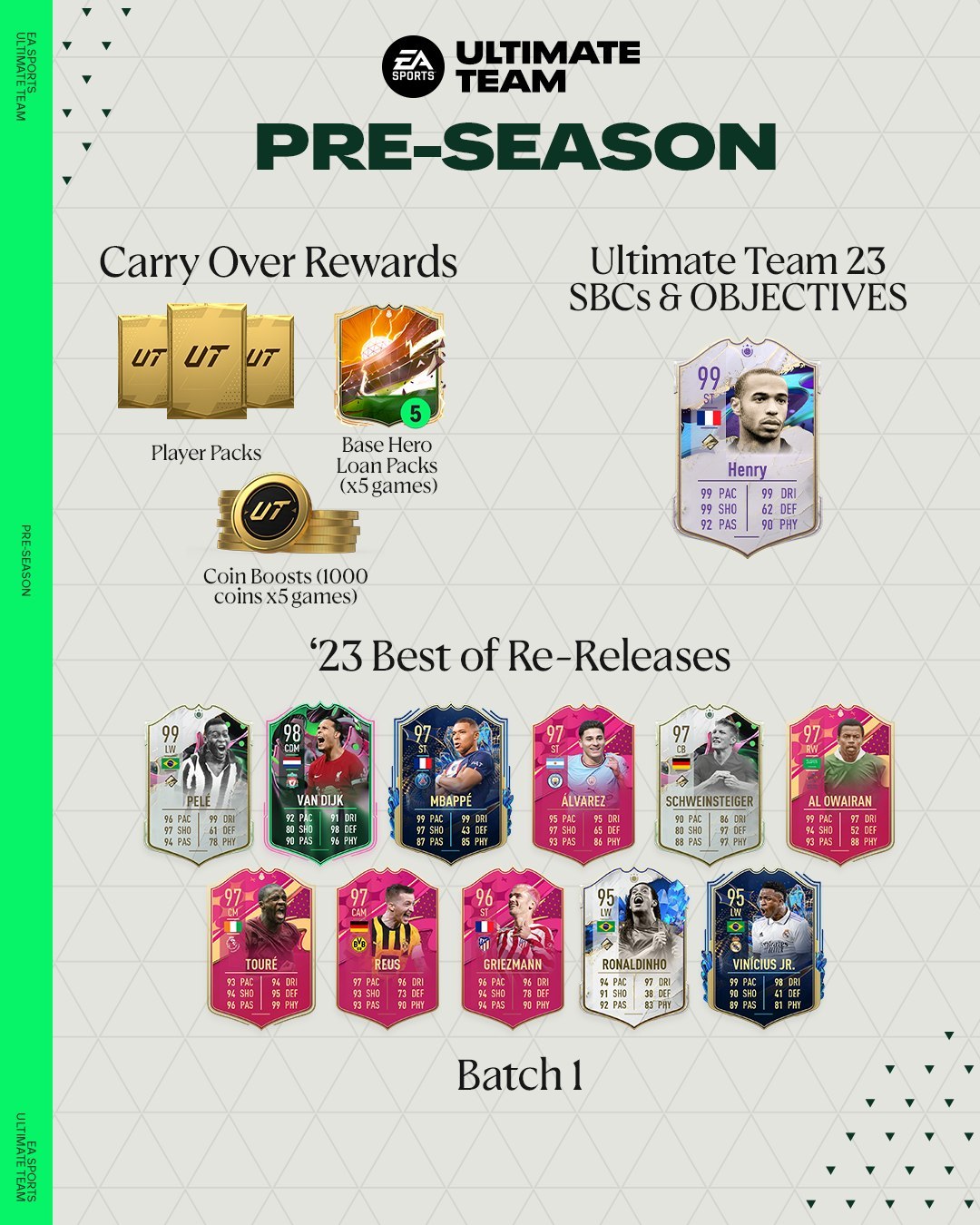 These rewards will be available in EA SPORTS FC 24 after launch on 12 October 2023 and need to be redeemed within one month by logging in to Ultimate Team in EA SPORTS FC 24 by 12 November 2023. Players who do not log in to their new Ultimate Team before this date will not receive their carry over rewards!
'23 Best of Re-Releases
Pre-Season often introduces high-rated cards and special items, adding more excitement to the game. These special items can include some of the best players in the FIFA universe, such as Cristiano Ronaldo or Kylian Mbappe. Earning or obtaining these special items becomes a focal point for many players during Pre-Season.
Pre-Season also features "Best-Of" releases, where some of the most coveted player items from previous promos like FUTTIES are reintroduced into packs. This offers a chance for players to acquire highly-rated cards and iconic players they may have missed earlier in the game cycle.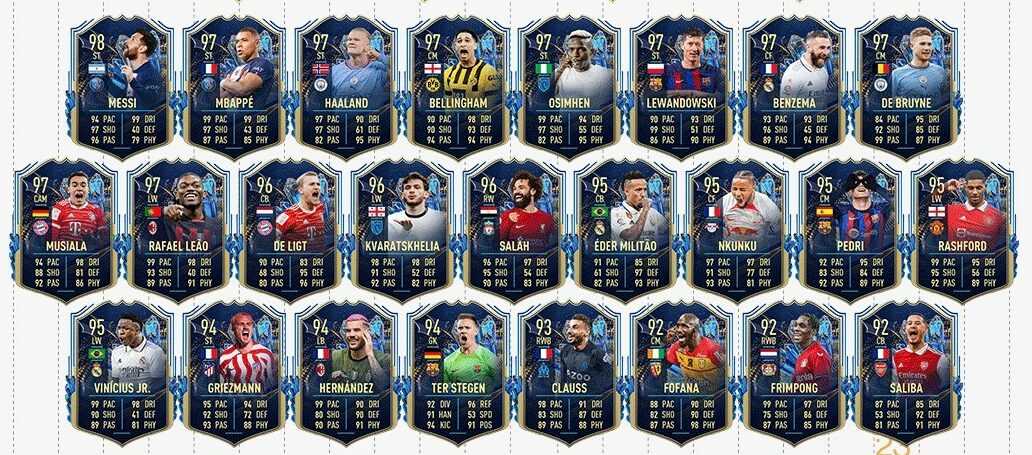 In conclusion, FIFA 23's Pre-Season serves as a thrilling transition period for players, allowing them to earn valuable rewards, including high-rated players, consumables, and coin boosts. The concept of carry over rewards adds a layer of strategy and anticipation to the event, encouraging players to participate actively.
With special items and the reintroduction of iconic player cards, Pre-Season keeps the FIFA community engaged and excited as they prepare for the upcoming EASFC 24 season.