Returning for a fifth year, the competition gives Premier League and EA SPORTS FIFA fans a chance to win silverware for their favourite club.
After last season's success of the tournament where we saw Norwich City's Jack 'GoalPoacher' Wignall and Damian 'damie' Augustyniak win the competition, ePremier League returns for a new season that is announced to be full of excitement where some of the best pro FIFA players will compete for one of the most popular eSports trophies in the FIFA scene.
So, with this – here's everything you need to know about the ePremier League 2022/23.
The Format
Introduced in 2018, the ePremier League is reserved only to players that are residents in the UK and are aged 16 and over as specified in the official rules. Using FIFA 23 Ultimate Team as the main game mode, all matches will be played on next-generation consoles, PlayStation 5 and Xbox Series X|S.
Players compete in four online qualification tournaments, with only the best advancing to the Club Playoffs. Subsequently, each of the 20 Premier League clubs will narrow down the competitors and take forward two players, one per console, to represent them at the Grand Final.
In case you hadn't heard…#ePremierLeague | 👉 https://t.co/8ROorbFwwG pic.twitter.com/Y0z4D5Gf5B

— Premier League (@premierleague) October 20, 2022
The Online Qualifier Playoff will result in 160 players (80 per console) progressing towards the next phase of the ePremier League. These players will have to battle it out to be amongst the top 40 players selected by the Premier League Clubs to represent and compete in the finals. The Club Playoffs are set for November 22nd-23rd.
Tournaments such as ePremier League are a great opportunity for esports betting and websites such as BettingLounge offer some of the best bonuses on the market to bet on your favourites.
Grand Finals & Prize
Once the Club Playoffs are concluded, we will know the 40 players that qualified for the finals and which Premier League club they will represent. The finals format is similar to last year's where we will have four groups of five teams each and the top two teams from each group advance to the knockout stage of the tournament.
Each club will be represented by two players who will take part in a series of 1v1 matches against pairings from other clubs, with one player competing per console. The aggregate score will determine the winners so players will have to work collaboratively as a team.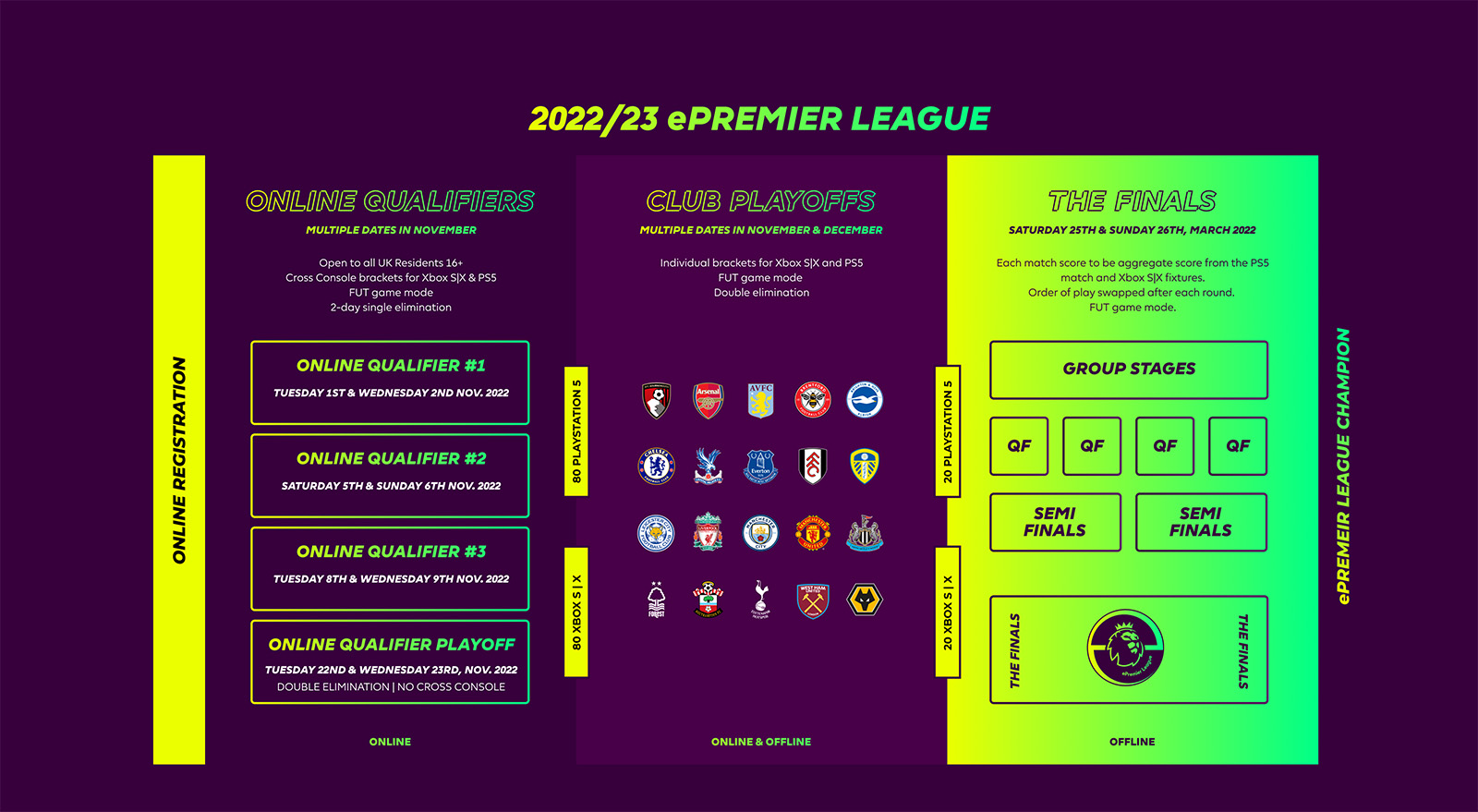 This season's Grand Final will take place on 25 and 26 March 2023 at Here East in London's Queen Elizabeth Olympic Park, where the two best players from all 20 Premier League clubs will be crowned ePremier League Champions. Not only that but the Grand Finals is going to be a live event once again in front of an audience, not just virtually.
Players will be competing for a prize pool of £100,000, that will be split amongst all participants with first place taking £30,000 and second getting £15,000. Third and fourth will get £7,500 each, while 5th to 8th will bag £5,000, and 9th to 16th will take home £2,500 each.
Moreover, the four competitors from the top two clubs will earn spots in the EA SPORTS FIFA 23 Global Series Playoffs and Play-Ins.
Stay tuned for more details on this tournament as it unfolds.