Alongside grand potential comes enormous pressure, and although some footballers welcome the scrutiny and live up to the hype, others simply melt away into middlingness or worse.
Occasionally, injuries or mental affairs source a player's career to plummet, however from time to time it's purely a matter of media and fans largely exaggerating their abilities or potential. Rash transfers have also foiled several great prospects.
Speaking of foiled great prospects, players that feature on this article were once nicknamed the next "Big Thing" in world football, but have so far failed to succeed at the level that was expected of them. Of course, some popular and predictable names make the list but whose career are you looking forward to resuscitate in FIFA 23 Career Mode?
1. Riechedly Bazoer
Overall: 77
Potential: 80
Highest Ever Potential: 88 (FIFA 16)
Age: 25
Height: 184 cm (6'0″)
Skill Moves/Weak Foot: 3 ⭐/4 ⭐
Real Face?: Yes
Compared to the legendary Dutchman Frank Rijkaard and talked of in terms of £25 million or more fees at the tender age of 19, Riechedly Bazoer was floated as a star of tomorrow. Back in FIFA 16, Bazoer was an exciting prospect with a lot of potential.
A Central Defensive Midfielder (CDM) with decent attributes everywhere for his overall of 77. He could defend, pick a pass, control the ball well and wasn't bad in front of goal either. To top it all off, he had the potential to rise to 88 OVR. At peak, Bazoer was one of the best all-round midfielders in the game.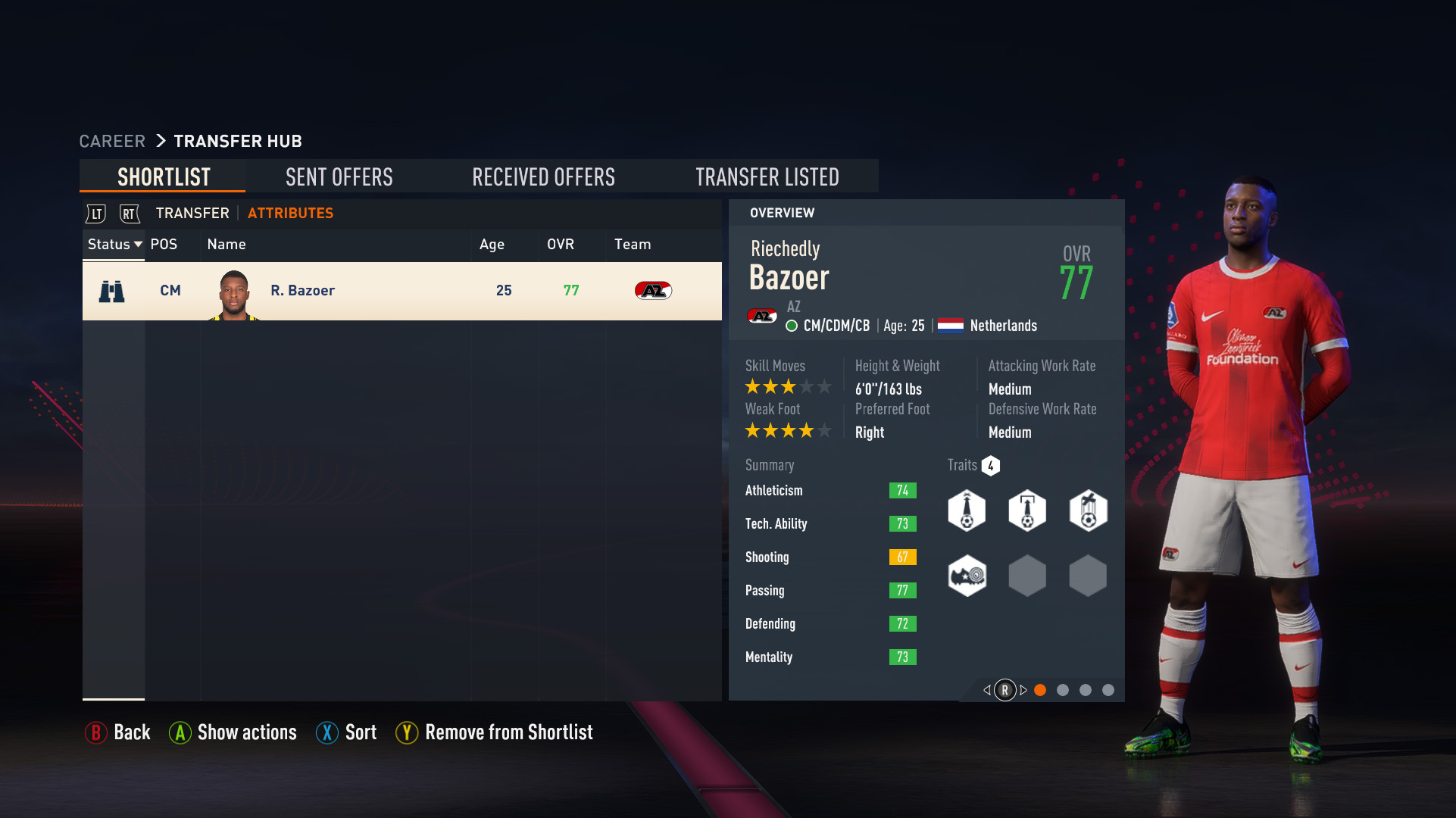 However, things just haven't turned out for Bazoer after he left Ajax for Wolfsburg before returning to the Netherlands permanently with AZ Alkmaar after loan spells with Porto and Utrecht were unsatisfactory. As a Central Midfielder now in FIFA 23, his rating is back to 77 and has the potential to reach 80, which isn't bad but still a huge let off from FIFA 16.
2. Max Meyer
Overall: 71
Potential: 72
Highest Ever Potential: 88 (FIFA 16)
Age: 26
Position: CM
Height: 173 cm (5'8″)
Workrates: Med/Med
Skill Moves/Weak Foot: 4 ⭐/4 ⭐
Real Face?: Yes
An Olympic gold medallist and one of the proudest products of the North Rhine-Westphalia city of Oberhausen, Max Meyer had already accomplished more in the game before turning 22 than most do in an entire career.
One of many German midfielders horned for a long and illustrious career, Max Meyer had bags of potential in FIFA 15. Commencing with an overall of 75, Meyer was a flair CAM, exceptional on the ball with 84 dribbling, 83 ball control and 90 agility, proficient of creating issues through the middle and not to forget to cite his potential of 88 OVR.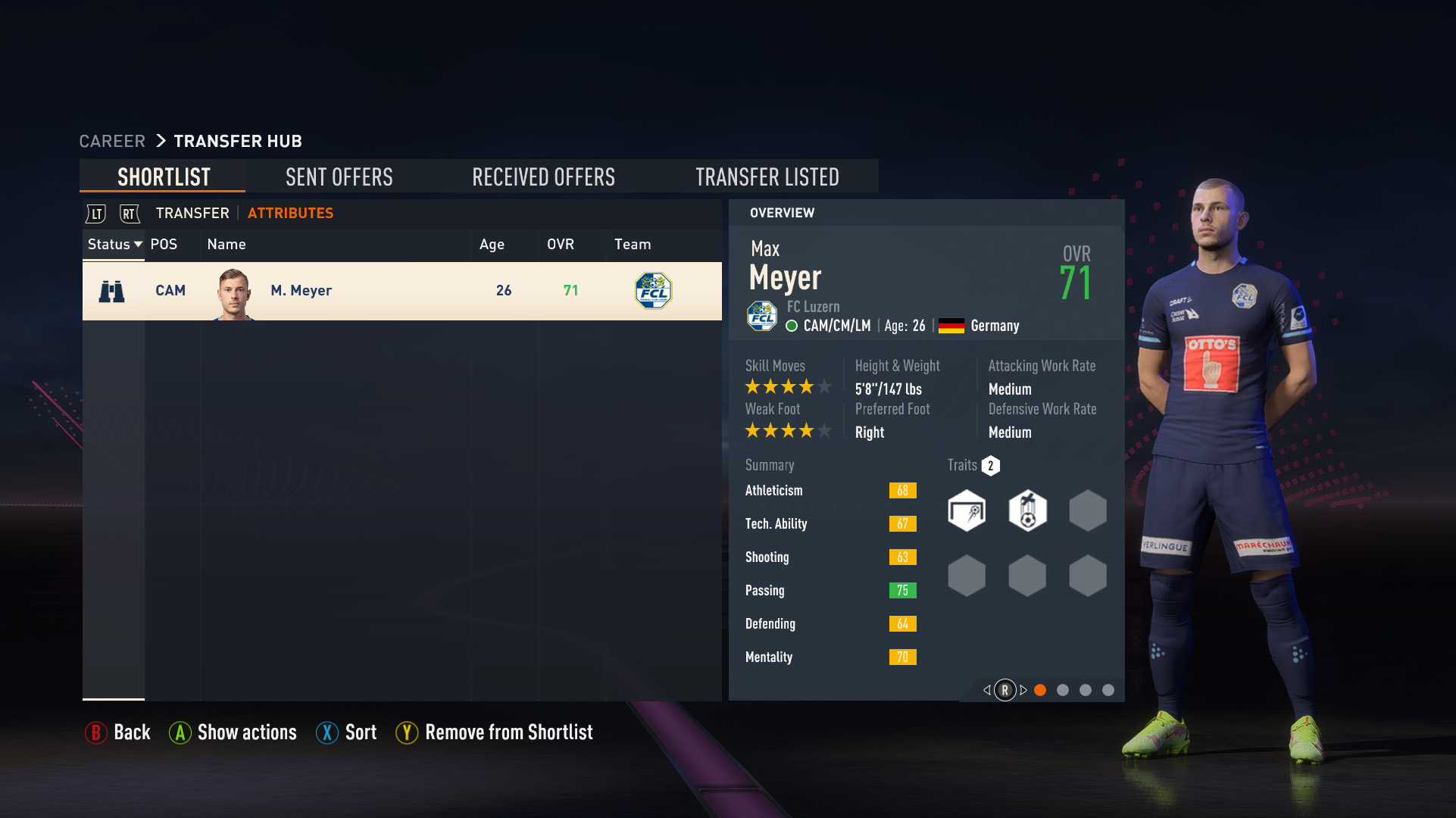 However, Meyer has never reached the pinnacle EA SPORTS FIFA anticipated of him with the German's professional career flattering before his move to Crystal Palace, where it only stagnated even more. In FIFA 23, Meyer although still only 27 is rated at 71 OVR after his move to Swiss club FC Luzern with a potential of just 72 OVR, a country mile from his FIFA 16 self.
3. Timothy Fosu-Mensah
Overall: 73
Potential: 77
Highest Ever Potential: 86 (FIFA 17)
Age: 24
Position: RB
Height: 190 cm (6'3″)
Work Rates: Low/Med
Skill Moves/Weak Foot: 3 ⭐/3 ⭐
Real Face?: Yes
Bad luck seems to follow Fosu-Mensah wherever he goes. The 24-year-old started his professional career at Manchester United after spending two years at the club's academy.
Game time was, however, hard to come by in Manchester and, after a number of injuries that further stunt his progress, he then embraced a new challenge in the Bundesliga. Soon after his switch to Bayer Leverkusen, Fosu-Mensah ruptured his cruciate ligament leaving him out of the game for almost a year. Talk about cruel luck.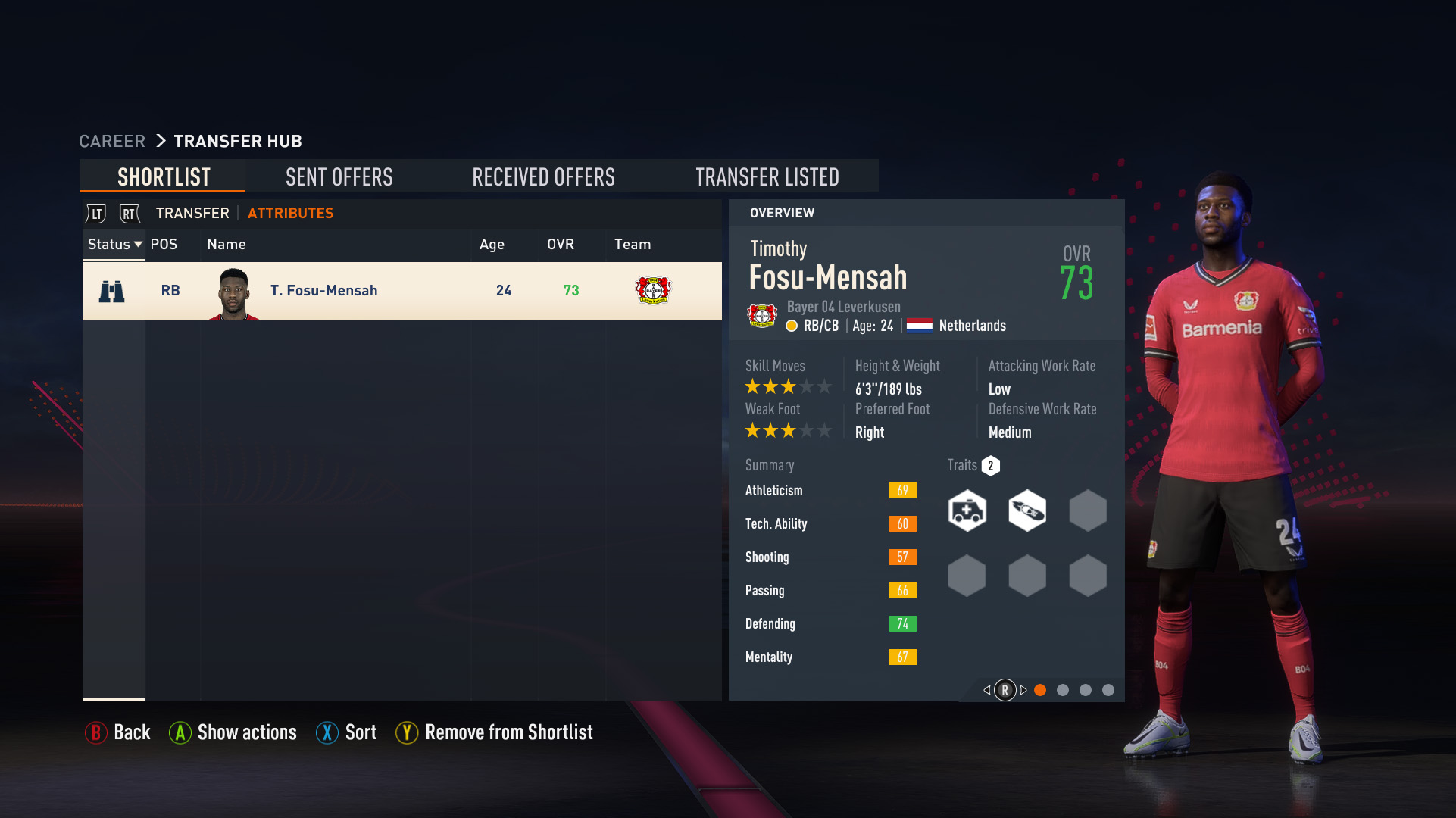 Fosu-Mensah was a pacey silver beast in Ultimate Team and had a high Career Mode potential in previous FIFA editions. At just the 24, there is still time for him to excel, so in case you sign him up in your career save, be sure to give him plenty of game time and proper training.
4. Dele Alli
Overall: 77
Potential: 80
Highest Ever Potential: 90 (FIFA 18)
Age: 26
Position: CAM
Height: 188 cm (6'2″)
Work Rates: Med/Med
Skill Moves/Weak Foot: 3 ⭐/4 ⭐
Real Face?: Yes
Dele Alli's rise was nothing short of sensational. After getting signed from MK Dons, Alli made his Premier League debut for Spurs against Manchester United in August 2015. He went on to score 10 top-flight goals and provide nine assists in a remarkable breakout campaign.
His best season followed in 2016-17, when he scored 22 goals in 50 appearances across all competitions, averaging a goal every 182 minutes. He followed that up with 29 direct goal involvements (14 goals, 15 assists) in the 2017-18 campaign, and was a key player for Gareth Southgate as England went on to reach the World Cup semi-finals in Russia 2018. This earned him a skyrocketing potential of 90 from FIFA 17 all the way to FIFA 19.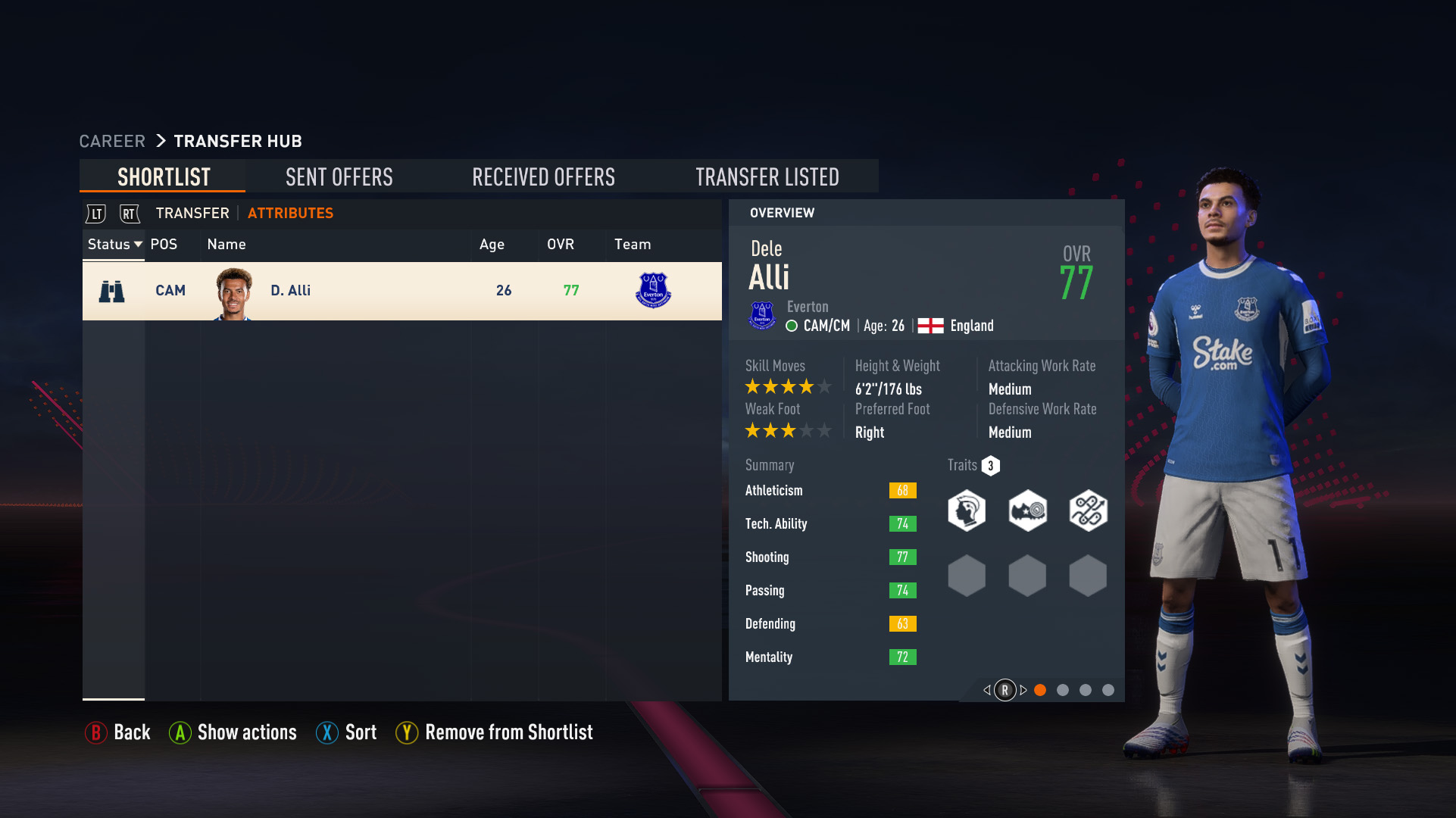 However, after his early glory days, Dele Alli's career has hit rock bottom and for the past few years of his career he has been criticized for his attitude problems and poor work ethic. Last season during the winter transfer window, he switched to Everton in the hope of reviving his career, but failed to impress.
There were a lot of expectations from Alli and honestly there still is as he is only 26 years old. Once regarded as one of the best midfielders in the Premier League, today he struggles to find form in the Turkish League side, Besiktas. Thanks to Dynamic Potential feature in Career Mode, he still can make a comeback, at least virtually.
5. Charly Musonda
Overall: 71
Potential: 73
Highest Ever Potential: 86 (FIFA 17)
Age: 25
Position: RM
Height: 173 cm (5'8″)
Work Rates: Med/Med
Skill Moves/Weak Foot: 4 ⭐/5 ⭐
Real Face?: Yes
At 16, Musonda was hailed by scouts as the one of the best youngsters in world football which saw him snapped up by Chelsea back in 2012, but his career never entirely turned out as planned. The now 25-year-old experienced numerous unsuccessful loan spells in a bid to develop as a player with the Blues, including time spent at Celtic, Real Betis, and Vitesse, but ultimately, the Belgian couldn't quite make the grade.
Since 2016, Musonda has been plagued by a cruciate ligament issue in his knee, which has seen him not play regular games for the past 5 seasons.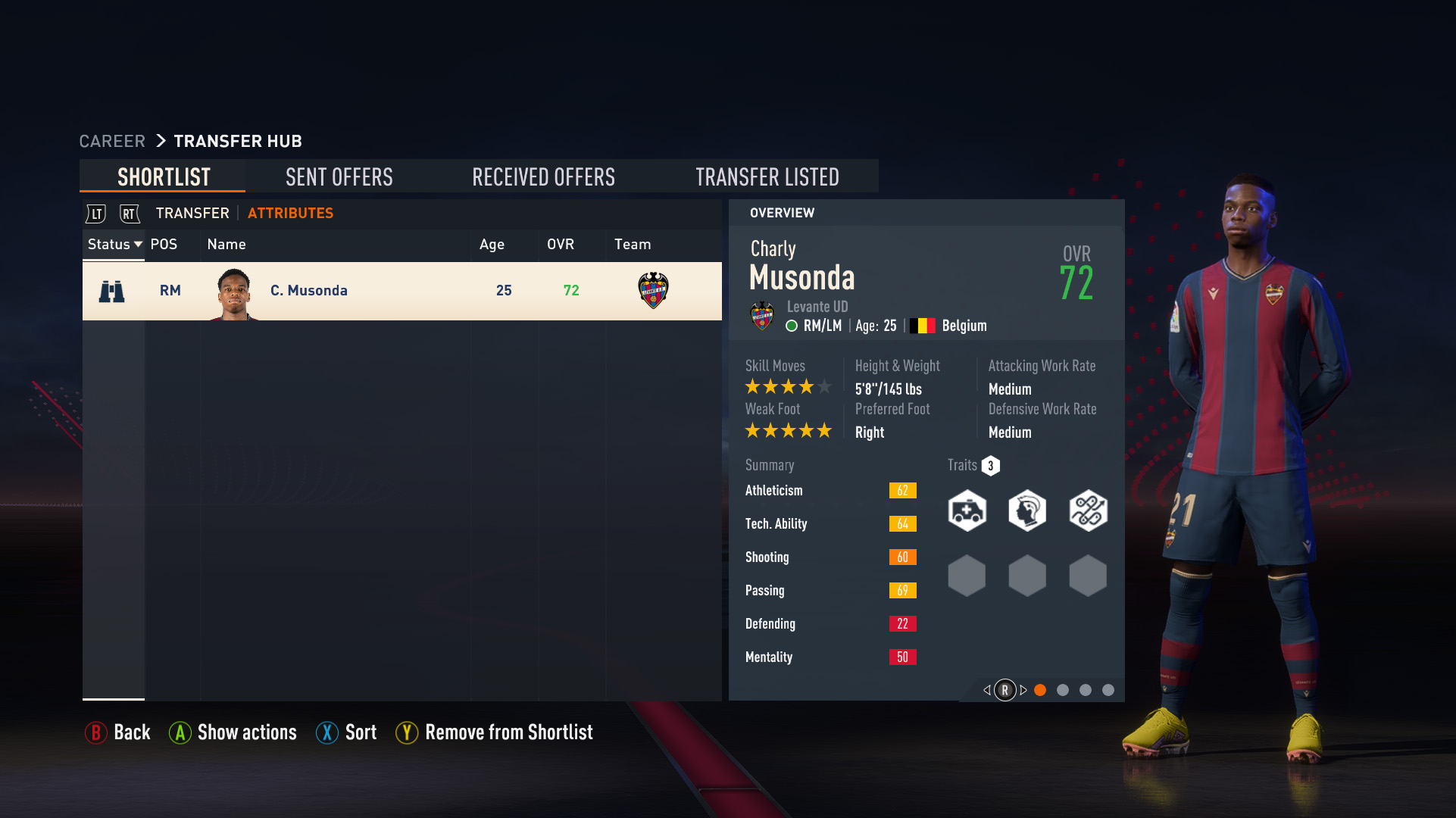 In FIFA, Musonda was a favourite within the FIFA community because of his pace and signature 5 stars Skill Moves and 5 stars Weak Foot. If his highest FIFA potential of 86 was achieved, Musonda would be ripping it up in the Premier League as we speak.
Sadly, he has joined the likes of Lucas Piazon and Baba Rahman, on Chelsea's loan victim list. And after 10 years with the Blues, the 25-year-old left the club this summer to drop down in the second division of Spanish football with Levante.
6. Jann-Fiete Arp
Overall: 66
Potential: 75
Highest Ever Potential: 89 (FIFA 18)
Age: 22
Position: ST
Height: 184 cm (6'0″)
Work Rates: Med/Med
Skill Moves/Weak Foot: 3 ⭐/3 ⭐
Real Face?: Yes
Remember him? Touted as a wonderkid striker in the making after banging in goals for fun at youth level then making the professional breakthrough as a 17 -year-old at Hamburg. He was the first player born in the 2000's to play in the Bundesliga and scored his first goal soon after against Hertha. Bayern snapped him up in the summer of 2019 with an eye on him graduating to providing cover for Robert Lewandowski.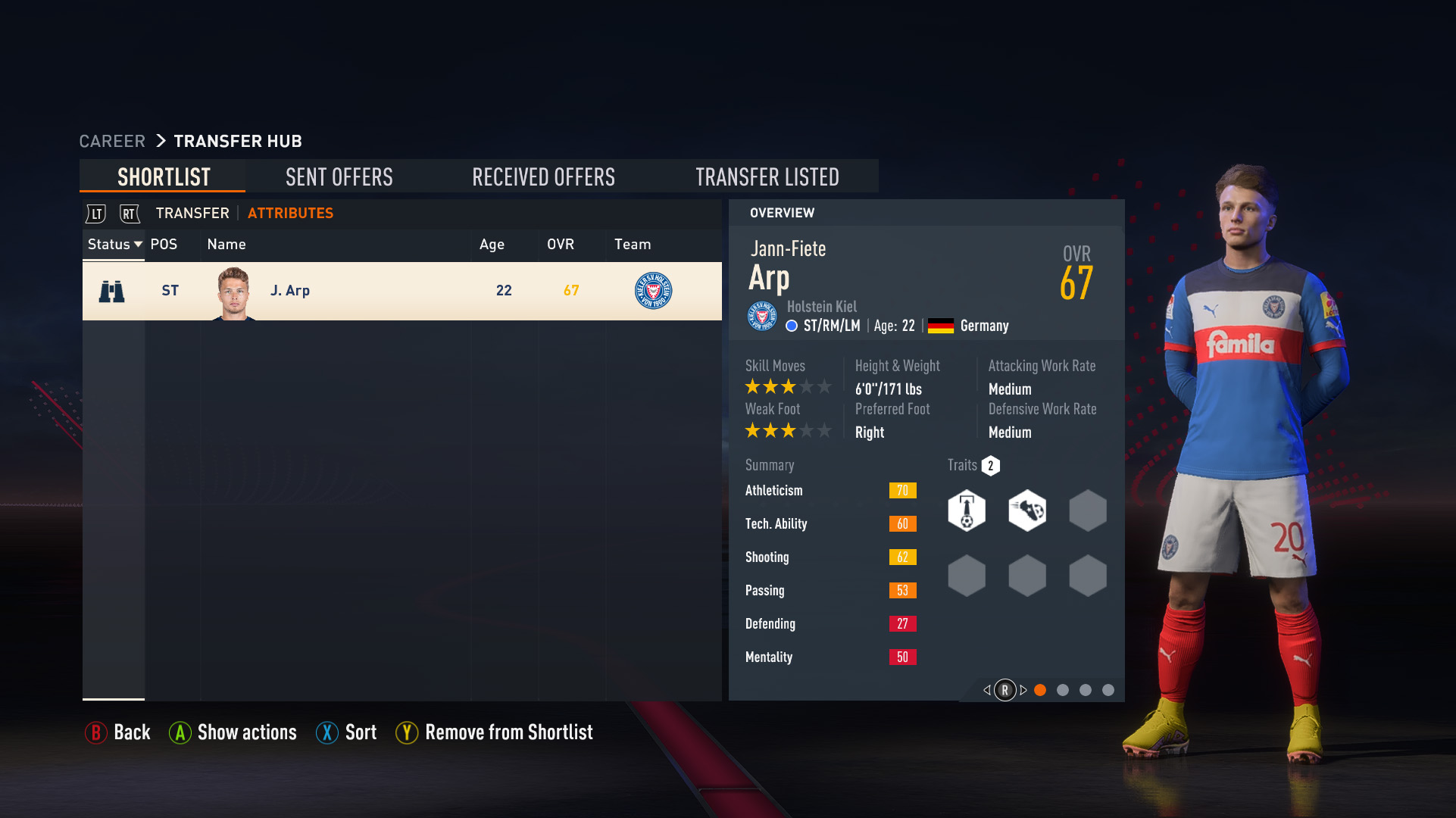 That dream has turned into a bit of a nightmare for the young striker with injuries and form issues pretty much writing off his first season in Bavaria. A season which should have seen him on the fringes of the Bayern first-team, has in fact seen him only as a bench warmer in the Dritte Liga.
Bayern and Arp ultimately mutually agreed to terminate his contract letting Arp join the German second division club, Holstein Kiel, where he spent the season prior on loan. At just the age of 22, Jan Fiete-Arp still has time on his hands to get his mojo back and hopefully reach his highest ever FIFA potential of 89.
It is never too late for these former wonderkids to be what they were once destined to be. I'm convinced of this because good done anywhere is good done everywhere. It is now up to you to help them get back on their feet.