The 2022 FIFA World Cup is less than 3 weeks away from kick off and FUT fans are eagerly awaiting to see what EA Sports have in store for them to celebrate the biggest sports event in the world.
After unveiling what the World Cup DLC will bring in FIFA 23, EA Sports also shared their plans for FUT ahead of the 2022 FIFA World Cup that will include special Player Items, Objectives, Squad Building Challenges and more.
Integrated World Cup Content in Ultimate Team

Unlike FIFA 18, we will not have a standalone World Cup mode in FIFA 23 Ultimate Team mode. For this edition, EA has decided to integrate themed content in the regular FUT mode that will allow players to boost even more their clubs with special World Cup items.
The start of the "World Cup Promo" will coincide with the start of Season 2 of FIFA 23 Ultimate Team on November 11, 2022. Players selected in the 32 qualified national teams will receive a LIMITED TIME only FIFA World Cup Player Item – that will be in the game until January 4, 2023. These items can be earned through Objectives, SBCs, and reward packs and will be removed from every FUT Club from January 4, 2023.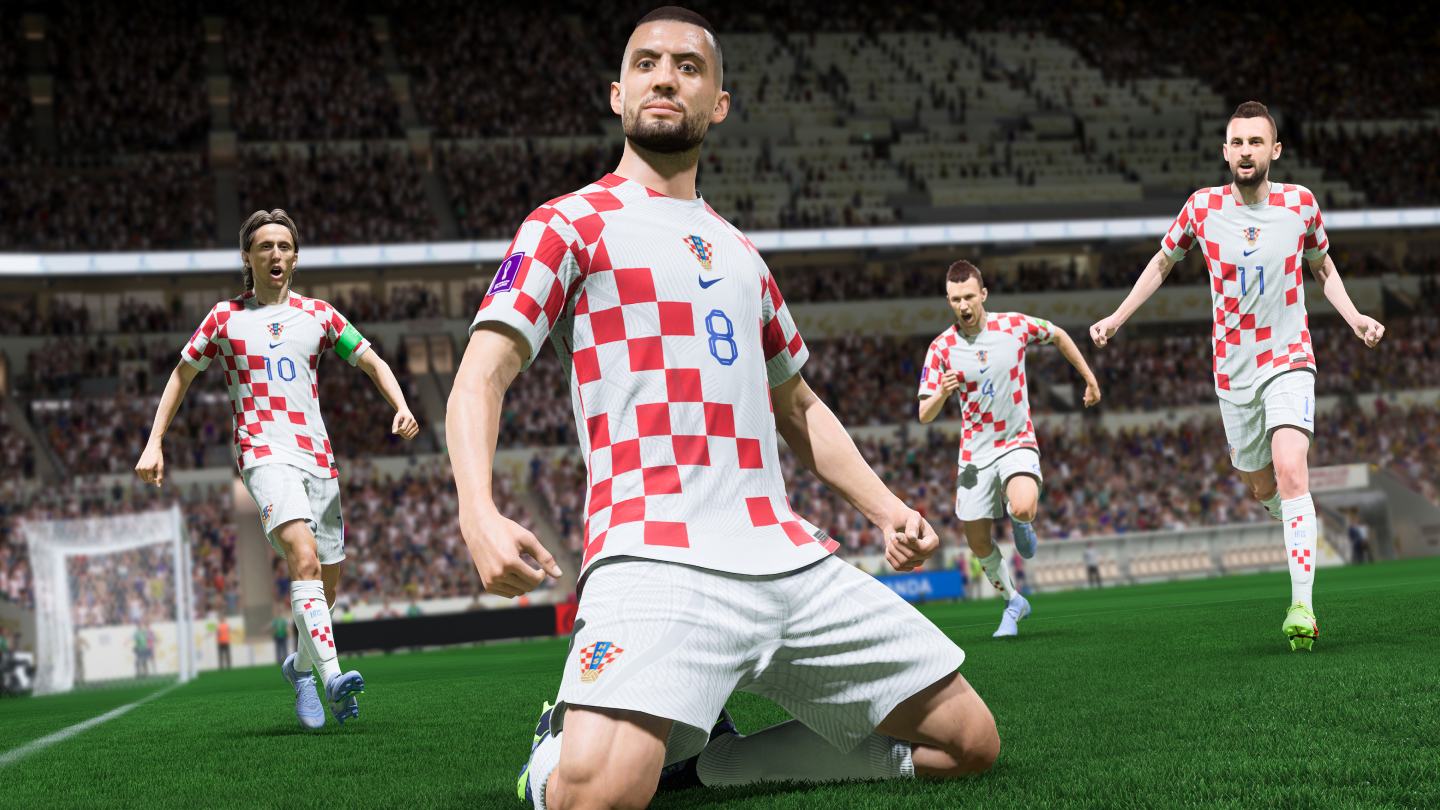 FUT players will get a free FIFA World Cup Starter Pack when they will log into their FIFA Ultimate Team accounts after the promo starts. EA has also promised that Season 2 of FUT will be World Cup themed and there will be various related Milestone Objectives and SBCs.
FIFA World Cup Swaps

Unless you have not played FUT, you would know what Swap Tokens are and how much the fanbase enjoy grinding them. By completing objectives with World Cup players, gamers will be able to earn FIFA World Cup Swaps Tokens, that can be redeemed for player items or packs from the Swaps section of Squad Building Challenges. The first Token will be awarded for free by logging in FUT on November 11.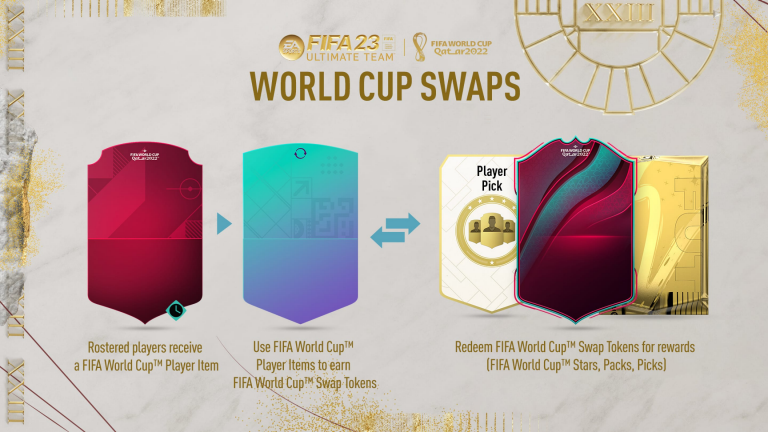 For example, you will be able to redeem these tokens for an upgraded FIFA World Cup Star Player Item from each of the qualified 32 nations.
FIFA World Cup End of Event Rewards
As mentioned earlier, players selected in the 32 qualified national teams will receive a LIMITED TIME only FIFA World Cup Player Item. These Player Items can be earned through a plethora of ways in FUT 23 which includes opening FIFA World Cup Player packs.
The World Cup players that you earn can be tracked in the FUT main menu on the new FIFA World Cup tile that will debut at the start of Season 2. This tile will display 10 levels of rewards that can be progressed through by earning FIFA World Cup Player Items. You will unlock all available rewards if you can complete all 10 levels.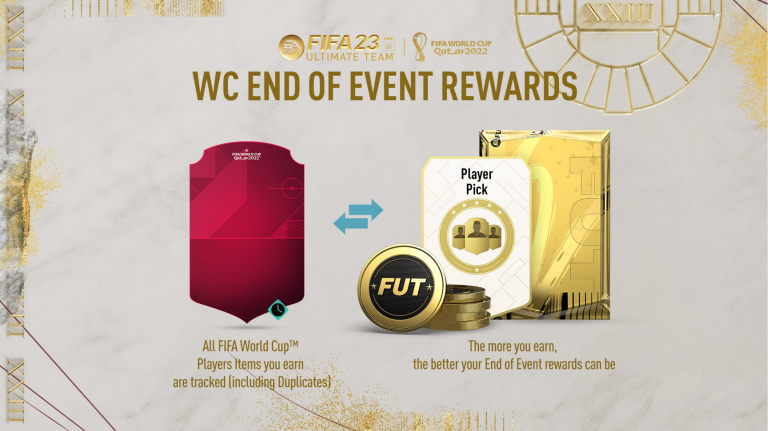 Starting January 4th, FUT players will be able to redeem all their World Cup player items for the End of Event Rewards.
FIFA World Cup FUT Promos

In addition to the FIFA World Cup Player Items, we will also have other permanent special cards to celebrate the 2022 World Cup. EA is expected to release more details about the FIFA World Cup Promos on November 11. Unlike FIFA World Cup Player Items, these campaign themed player items will be permanent in FUT 23.
Some of these campaigns have already been leaked on social media such as:
World Cup Path To Glory
Road To World Cup
World Cup Stories
World Cup Phenoms
World Cup Showdown
World Cup Team of the Tournament
There are no official details on what these campaigns will offer yet, but we already know how the card designs will look for some of these promos:
So almost all the World Cup cards design contained in the code are here. We are missing only the showdown. These should be the cards names pic.twitter.com/q6iXlzqZKR

— Fut Scoreboard (@Fut_scoreboard) November 1, 2022
One campaign that has already been confirmed is the World Cup Heroes promo, previously announced with the reveal of FIFA 23.
In collaboration with Marvel, EA will release FIFA World Cup Heroes in packs to commemorate their special performances from the past World Cups. These Heroes will hit the packs across two team releases and will replace their base cards while in packs. As mentioned during the announcement of FIFA 23, people who pre-ordered the game before August 21, 2022 will receive one of the 21 FIFA World Cup Heroes starting November 11, 2022.
In addition to World Cup Heroes, we will also have World Cup Icons in FUT 23 that will feature some of the most iconic players in World Cup history.
Stay tuned for all future World Cup promos and be sure to follow us on twitter for the latest updates.