The 2022 World Cup is coming to FIFA 23.
EA Sports officially confirmed that the previously announced 2022 FIFA World Cup DLC will drop in FIFA 23 on November, 9th.
Fans will be able to experience and celebrate the biggest football tournament in FIFA 23 at no additional costs with new game modes, national teams, stadiums and themed content in Ultimate Team.
World Cup Game Modes
EA revealed that the World Cup DLC will introduce 4 game modes in FIFA 23 that will allow players to experience the global tournament in various ways. The 4 game modes are:
FIFA World Cup Kick Off
Within this mode, players will be able to play with any of the 32 qualified teams in any stage of the competition from group stages to the final against the CPU AI or friends locally.
FIFA World Cup 2022 Tournaments
In Tournaments, fans can take their favourite team through the whole World Cup journey, from the first group stage match all the way to the final.
Players can also create a Custom FIFA World Cup tournament and swap other available national teams in FIFA 23 that didn't manage to qualify to the final competition.
FIFA World Cup Online Tournaments
In this game mode, players can compete online against each other with any international team available in-game starting from the knockout stages of the tournament. Cross-play will be available in this game mode.
FIFA World Cup: Live
Starting on November 21st, fans can tune in for this brand-new live game mode that will allow fans to play along as the World Cup unfolds in real-time.
Players can play upcoming matches or rewrite the outcome of a past FIFA World Cup 2022 game with authentic fixtures, squads, stats, results, group standings, and more. There are three ways to play this special game mode:
Featured Quickplay – Play against the CPU AI or friends locally any past or present FIFA World Cup 2022 fixture.
Online Quickplay – Same as Featured, but playable online.
Your FIFA World Cup – Choose a nation, select a live starting point from past or current matchdays, and play an authentic single player tournament inheriting all the real-world progress made to date.
There will be 4⃣ dedicated World Cup 🏆 game modes in #FIFA23

🔴 FIFA World Cup Kick Off
🔴 FIFA World Cup Tournaments
🔴 FIFA World Cup Online Tournament
🔴 FIFA World Cup Live pic.twitter.com/RtDTzLAmCr

— FIFA Infinity (@FIFA_Infinity) November 1, 2022
National Teams & Stadiums
The DLC will include all 32 qualified teams, each accurately represented in-game with authentic kits, crests, players and lineups. In addition to these teams, there will be another 15 licensed national teams that you can choose from and play with in the World Cup modes.
In total, there will be 47 national teams available:
Spoiler
Qualified Teams
Qatar
Germany
Denmark
Brazil
France
Belgium
Croatia
Spain
Serbia
England
Switzerland
Argentina
Netherlands
Iran
South Korea
Japan
Saudi Arabia
Ecuador
Uruguay
Canada
Ghana
Senegal
Portugal
Tunisia
Morocco
Poland
Cameroon
United States
Mexico
Wales
Australia
Costa Rica
Not Qualified Teams
Austria
China PR
Czech Republic
Finland
Hungary
Iceland
Ireland
Italy
New Zealand
Northern Ireland
Norway
Romania
Scotland
Sweden
Ukraine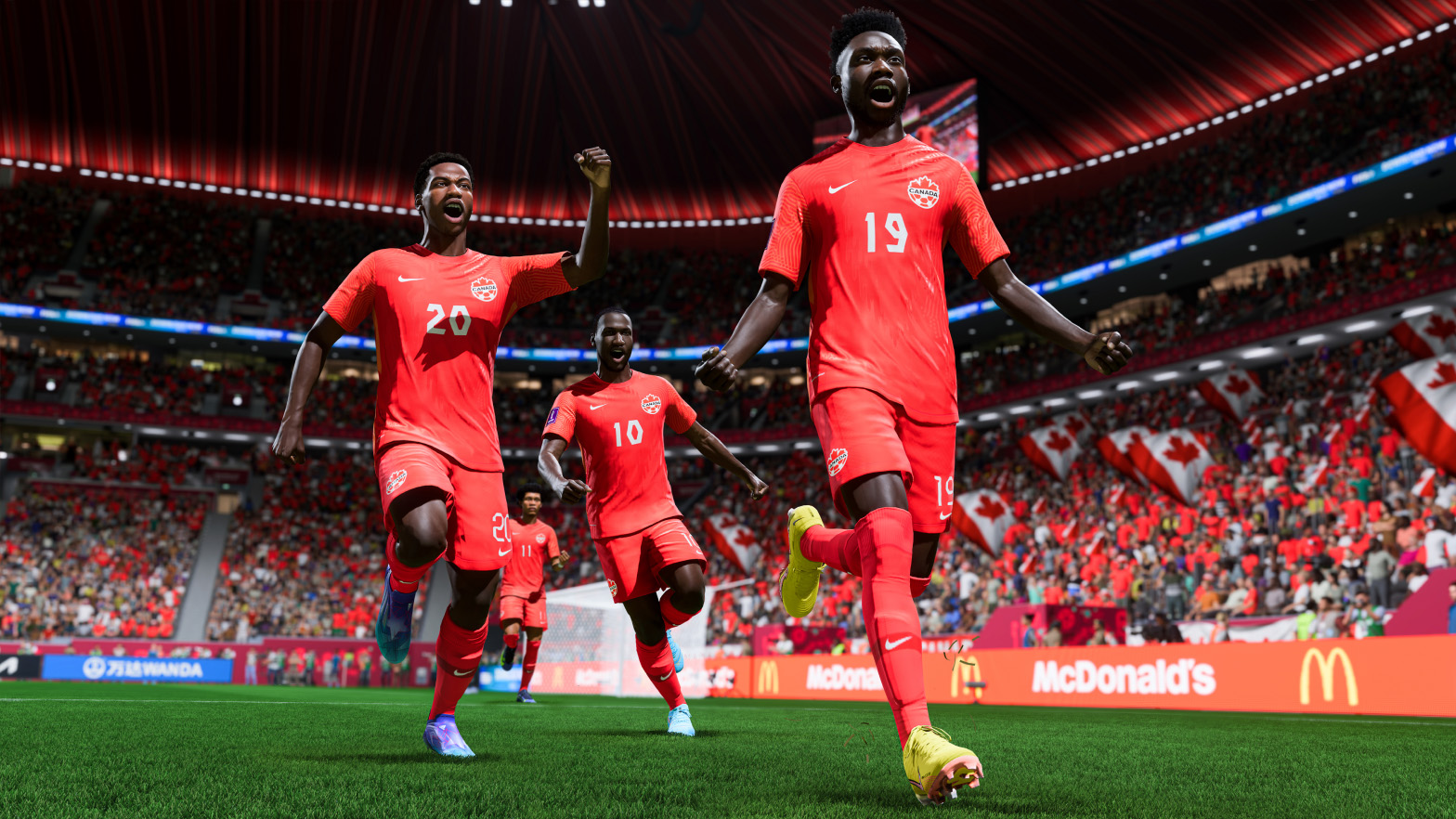 Most fans won't be happy to hear this but we can confirm that out of the 8 official World Cup venues in Qatar, only 2 will be present in FIFA 23. The update will only include Al-Bayt Stadium and Lusail Iconic Stadium where the final will be played.
EA has always included all stadiums in past FIFA World Cup DLC editions, so this comes as a very strange decision to omit the rest of 6 official stadiums of the tournament from the update. However, EA revealed that each match will be an immersive experience for players as it will include themed stadium dressings, the official match ball, dedicated World Cup commentary, new celebrations, new cinematics and most importantly, the iconic FIFA World Cup trophy.
In addition to this, fans can also expect a collection of new player and manager starheads to be added with the update.
It is important to highlight that all the new World Cup related content will not be available in Career Mode, unfortunately.
Ultimate Team Themed Content

For the first time, there will be no standalone World Cup mode in Ultimate Team like in previous years. For this edition, EA Sports has decided to integrate themed content in the regular FUT including special Player Items, Squad Building Challenges, Objectives and more throughout the tournament.
Starting November 11th, some of the content we will see in FIFA 23 Ultimate Team include:
FIFA World Cup Player Items
FIFA World Cup Swaps
FIFA World Cup End of Event Rewards
FIFA World Cup FUT Campaigns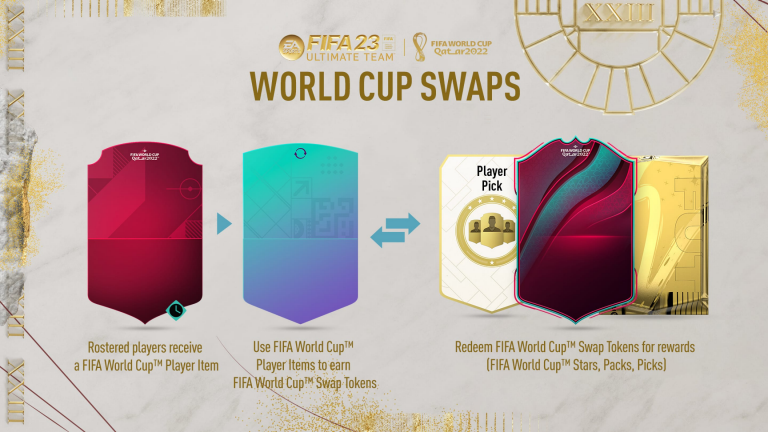 More details on the World Cup promos in FUT will be revealed in the following weeks and you can stay updated by following us on twitter.
The FIFA 23 World Cup DLC will be available for PlayStation 5, Xbox Series X|S, PlayStation 4, Xbox One, PC and Stadia.