The World Cup hype is here!
Last week we presented five wonderkids that could take the spotlight at the 2022 FIFA World Cup. Today we have decided to showcase another five underrated talents that could make a name for themselves in Qatar.
Moreover, you will be able to try these players in FIFA 23 Career Mode and develop them in future football stars.
Pape Matar Sarr
One of the most interesting wonderkids in world football at the moment is Tottenham's midfielder, Pape Matar Sarr. After a series of great performances with Metz in Ligue 1 last season, the Senegalese youngster will have the chance to show the world how extremely talented he is in Qatar.
He has already represented the 'Lions of Teranga' in 9 official senior matches, which is quite the achievement for a 19-year-old. Senegal will fight for the next round of the 2022 World Cup in Group A against Netherlands, Qatar and Ecuador.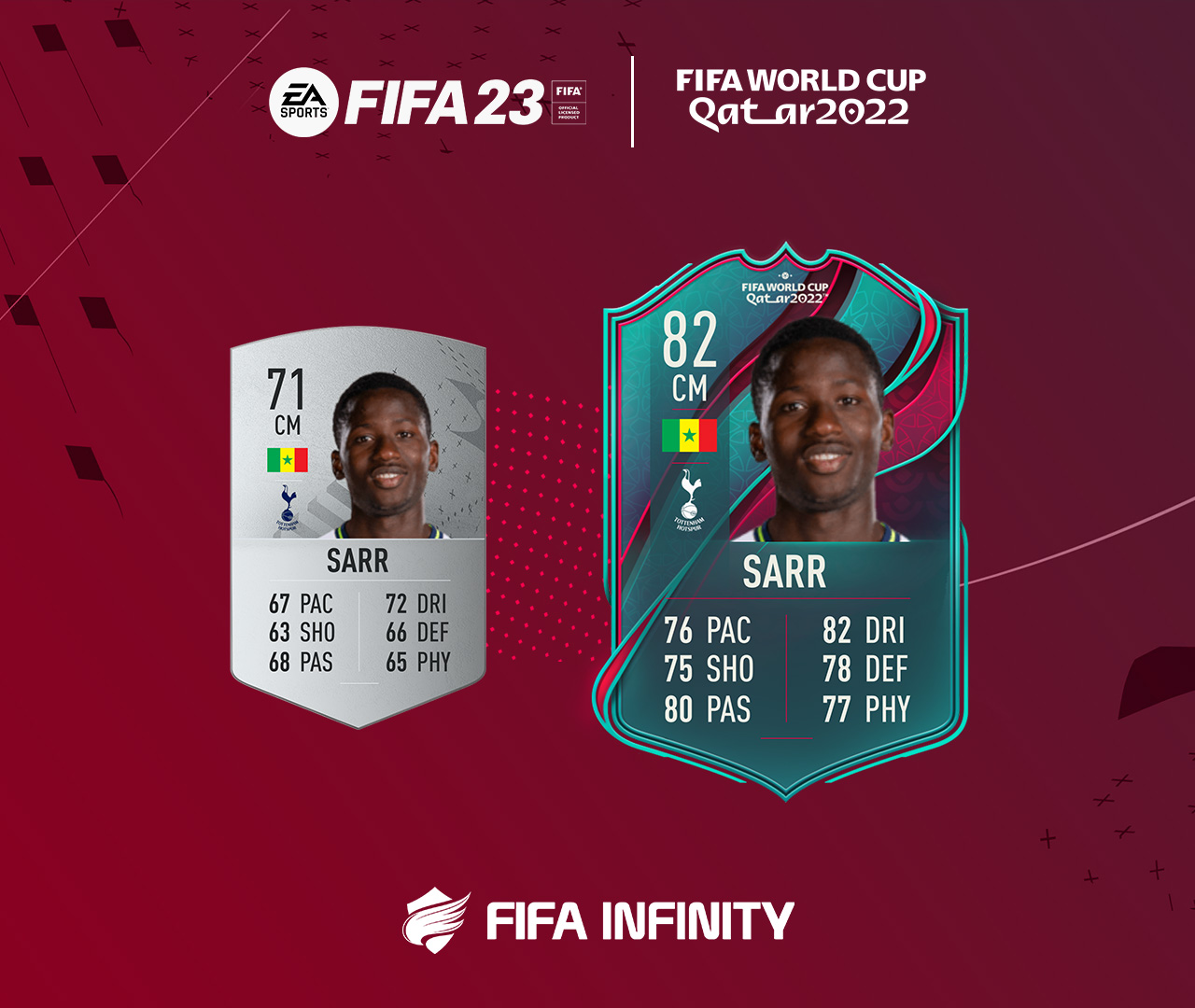 In FIFA 23, the African youngster is currently 71-rated while in Career Mode he has a potential of 82. With all-around attributes, he will be a great investment for any club as his in-game value is only €4M.
Manuel Ugarte

Although a small nation, Uruguay has always developed exceptional football players such as Diego Forlan, Luis Suarez or Edinson Cavani. Among the new generation of Uruguayan footballers we can highlight Ronald Araújo, Federico Valverde or Liverpool's striker, Darwin Núñez.
However, one name that is not mentioned often is Sporting Lisbon midfielder, Manuel Ugarte. The 21-year-old is one of Sporting's best players and he has already represented 'La Celeste' in 6 different occasions. At the next World Cup edition, he will have the opportunity to face Portugal, South Korea and Ghana in Group H.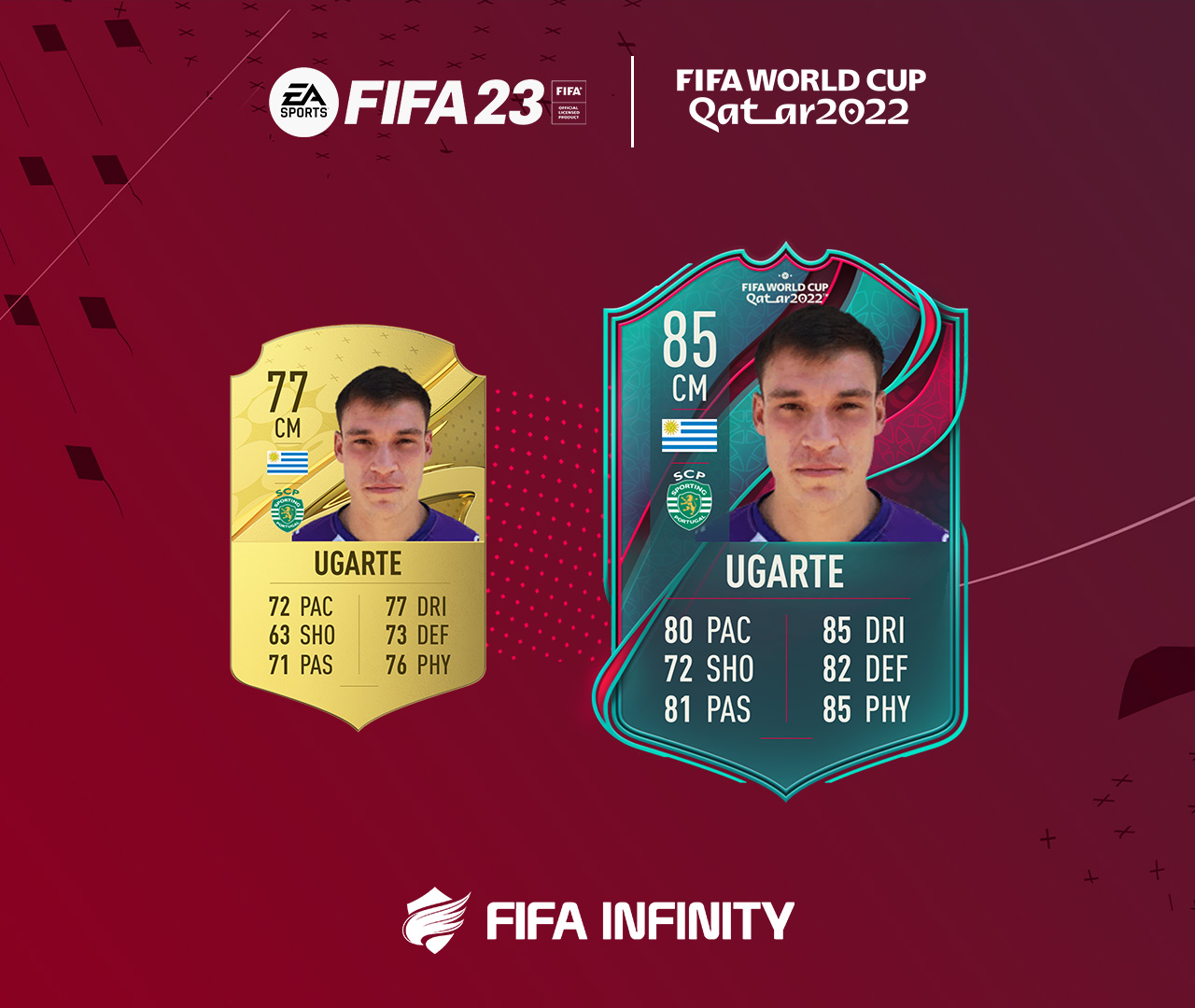 Uruguay is one of the favorites and as the countdown to the FIFA World Cup draws closer, fans are starting to predict what will likely happen at the World Cup. Most platforms give biased reviews, but Betinireland.ie predicts all of FIFA World Cup matches with a clear analysis to back their predictions. In fact betinireland.ie predicts Urugauy will lose their match against Portugal.
Being an established player for Sporting, he is currently 77-rated in FIFA 23 and has an outstanding potential of 85. Signing him in Career Mode won't be cheap as he costs €23.5M, however his great attributes and potential make up for the price.
Mikkel Damsgaard
Another gem on our today's list that we believe will surprise fans in Qatar is Brentford's winger, Mikkel Damsgaard. The talented Danish player recently moved to the Premier League after impressing in Serie A with Sampdoria for the past two seasons.
The young and skilful player represented his country 18 times and managed to score 4 times, although we are keen to believe those numbers will rise at the World Cup. Denmark has been placed in Group D where they will play against Australia, Tunisia and last World Cup edition winners, France.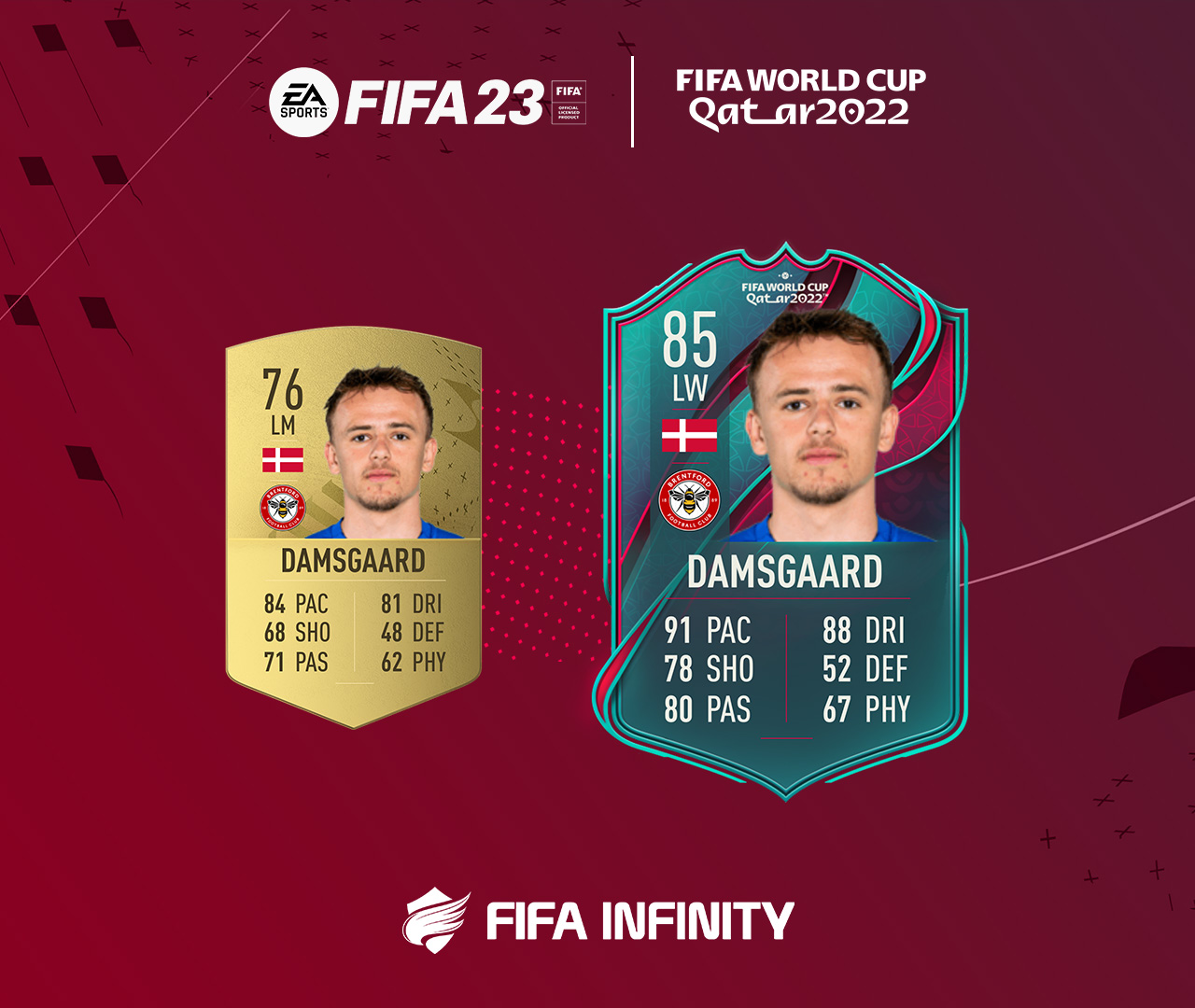 In FIFA 23, he has an overall rating of 76 and an exceptional potential of 85. Equipped with amazing pace, dribbling and passing, his market value in Career Mode is €17M.
Nicola Zalewski
Our next exciting talent is AS Roma's left-winger, Nicola Zalewski. Although born in Italy, Zalewski is representing Poland at international level and specialists believe he will be the future football star of his country after Robert Lewandowski.
The 20-year-0ld has managed 7 caps for 'The Eagles' and it is predicted that he will be one of the rising stars of the 2022 FIFA World Cup. Poland will face Argentina, Saudi Arabia and Mexico in Group C.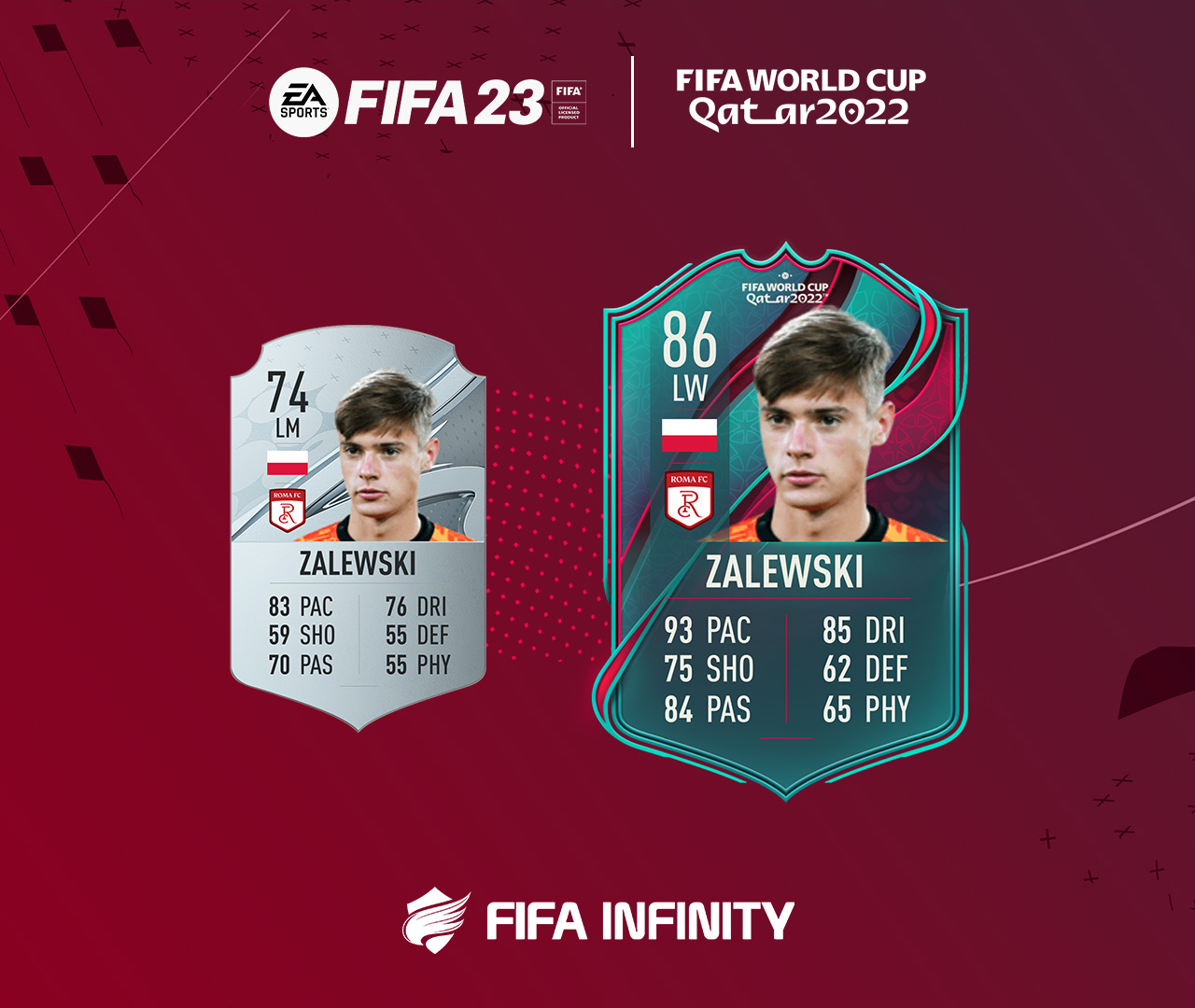 Pace, dribbling, passing and agility are some of the best attributes of the young Polish talent that is 74-rated in FIFA 23 and has a potential of 86. His in-game value is €10M.
Ivan Ilić
The last player on our list that could shine in Qatar is Serbian midfielder, Ivan Ilić. The former Manchester City academy player is currently playing in Serie A for Hellas Verona since 2020.
Although all eyes will be on his teammate Dušan Vlahović, we predict that Ilić will surprise fans at the 2022 World Cup. Drawn in Group G, Serbia will have to play against Brazil, Cameroon and Switzerland.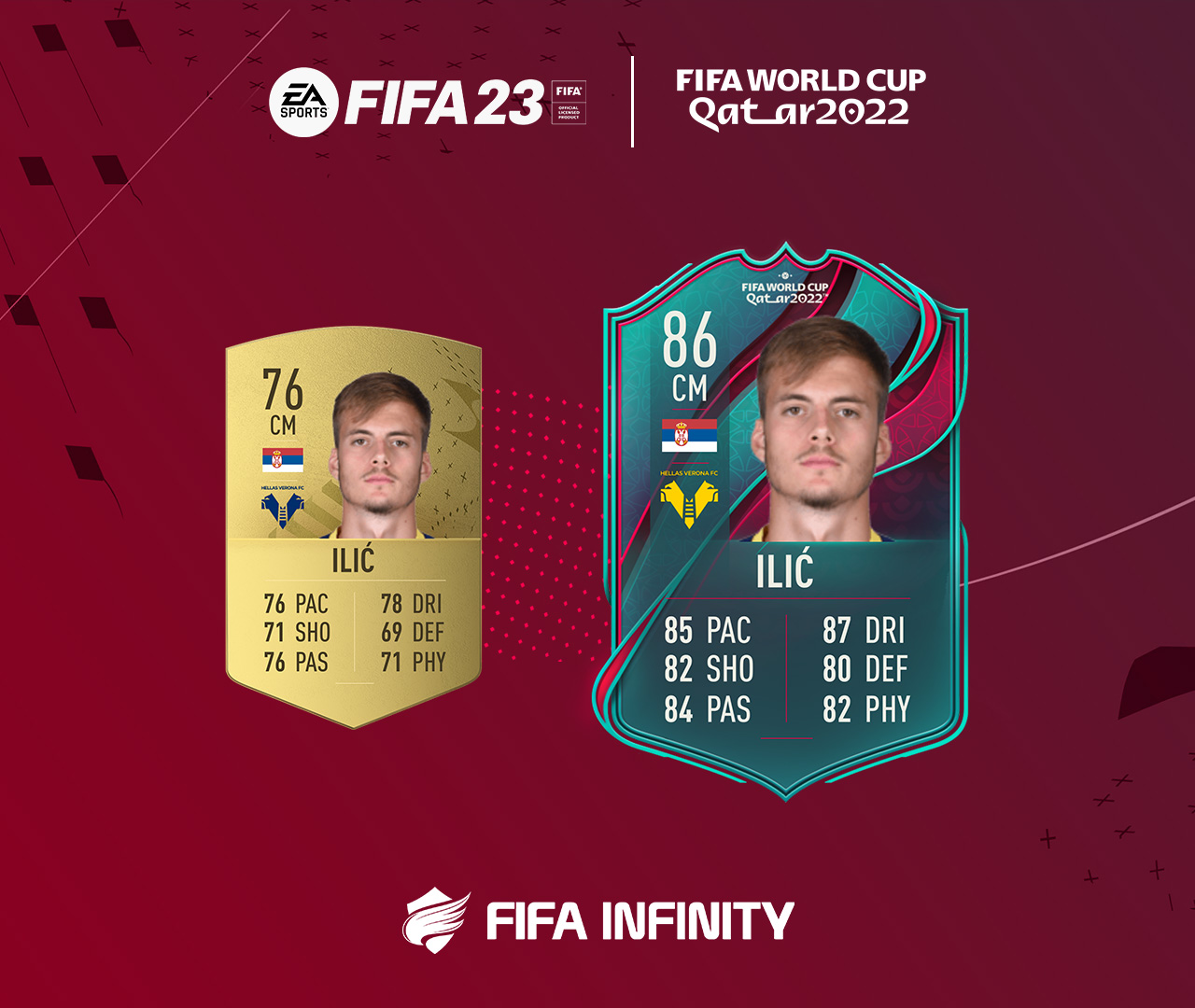 The 21-year-old is 76-rated in FIFA 23 and has a formidable potential of 86. For €17M you will be able to sign one of the most complete young central midfielders in the game, a true hidden gem.
Who do you believe will shine at the 2022 FIFA World Cup?