How does player potential work in Career Mode? What do the terms Preset Potential (PP) and Dynamic Potential (DP) mean? How does Dynamic Potential specifically work? And what are status tags I see in my game? These are just a few questions we see a lot on Career Mode community pages.
In this article, we will answer all these questions and more and by the time you have finished reading, you'll precisely know how the dynamic potential system operates in FIFA Career Mode.
Understanding Potential
For years now, fans of FIFA Career Mode have tried to understand the system behind the overall ability of players. Potential in Career Mode typically refers to how good a player can become in the future. It indicates a player's ability to develop into a better overall rating compared to their original overall rating at the start of your career.
Potential in Career Mode is divided into two categories, Preset and Dynamic Potential. Preset Potential (PP) refers to a player's pre-programmed potential which determines the overall rating a player will ultimately reach in the future. Preset Potential is how you know Kylian Mbappé will reach 95 overall rating before you even start your Career Mode save.
Dynamic Potential on the other hand relates to potential that is based on fluctuations of the player's performance. Every player in the game except players in your team solely depend on Preset Potential. It is only the club you manage that has the luxury of Dynamic Potential. Hence, if you skip a few seasons into the future, you will find that players in AI teams have reached certain growth levels and are no longer growing further.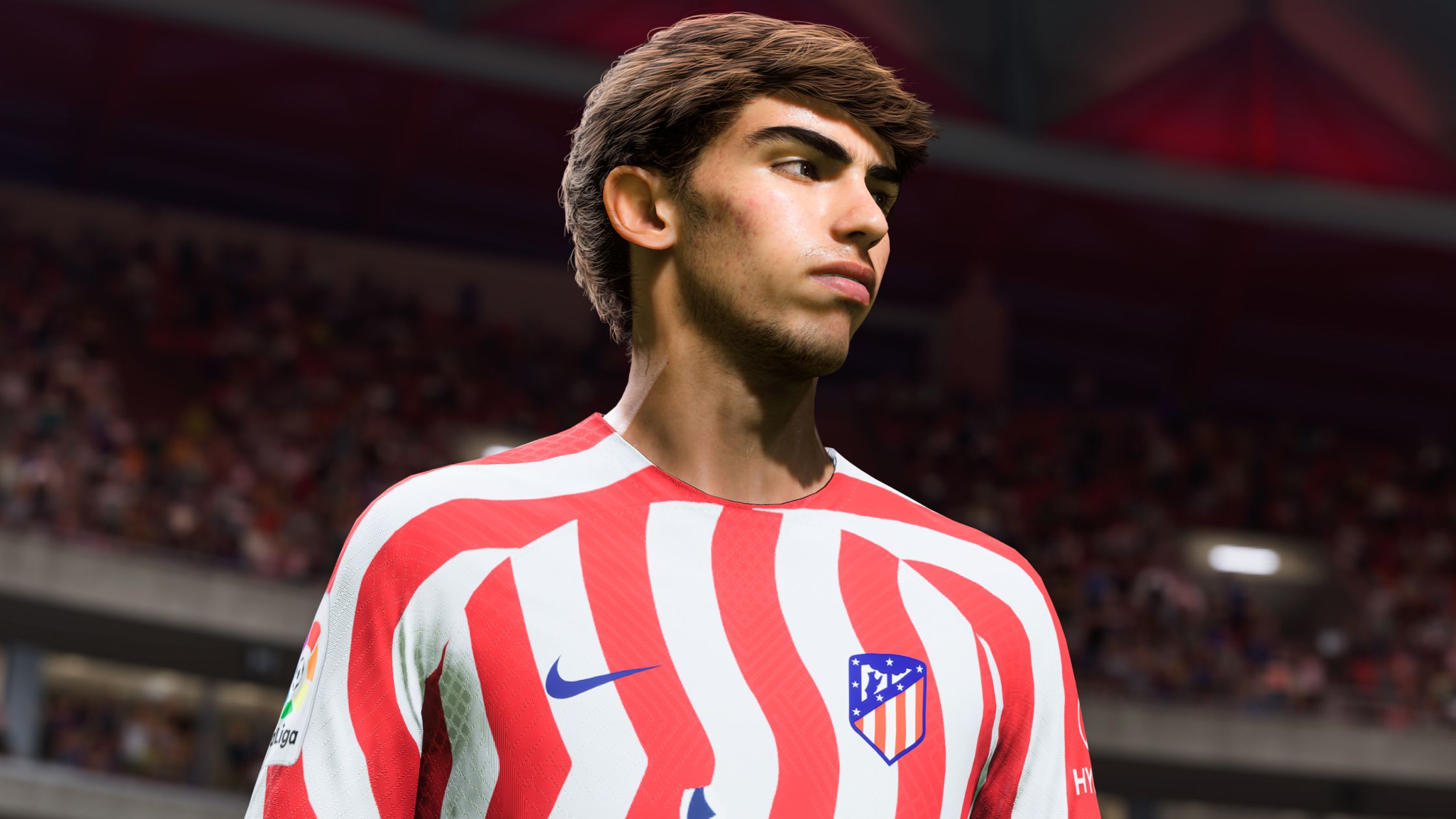 The following status tags are key indicators for expected potential and you should always keep an eye on them to know what to expect from players or if their potential has increased or decreased:
N.B: You cannot see potential status tags for 59-rated players and under or over the age of 22. In other words, a player has to be under the age of 21 and rated at least 60+ in order for you to see their potential status.
Has Potential To Be Special: Player has 91+ Potential. For example, Erling Haaland with his 94 Potential.
Exciting Prospect: Means a player has a potential between 86 and 90. For example, Khvicha Kvaratskhelia with his 88 Potential.
Showing Great Potential: Means a player has potential between 80 and 85. For example, Noah Mbamba with his 84 Potential.
At Club Since: Means a player's potential is 79 or lower, or player is over the age of 22.
The game only recognises players under the age of 21 as "wonderkids"; this doesn't affect potential whatsoever, for example if an AI player has a potential of 86 then turns 22, their potential will still remain the same despite it showing "At Club Since" tag. Lastly, if a player's overall rating is 59 or lower, it won't affect their potential either.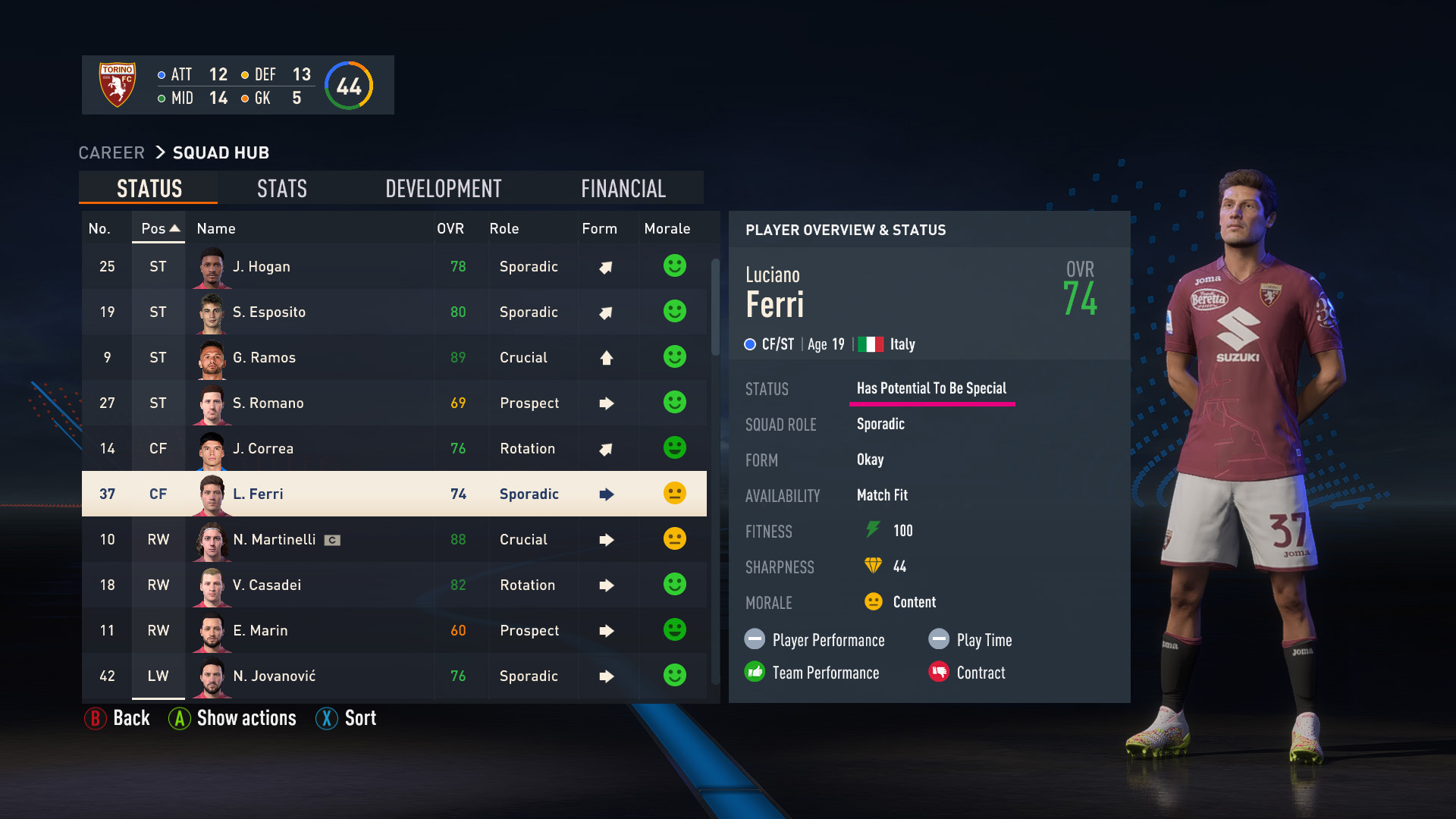 Another key potential indicator is Player Value, as alluded above, you cannot see potential for players over the age of 22 or if they are rated 59 overall and under and it can therefore be tricky to judge. When managing your team, you should always compare player values between the end of the season and in the beginning of the season since your team relies on Dynamic Potential as AI teams on the other hand will not be affected due to Preset Potential.
If you find that your player's value has increased in the following season compared to the season prior, it means their potential has increased, if decreased, it means their potential has decreased and if it stayed the same, it means their potential has not been affected.
What happens if your player's value has decreased while their potential status tag stayed the same? Bear in mind that potential status is a numerical range. This means that a change in your player's value has had either a negative or positive impact.
Dynamic Potential appears to be working correctly (finally).
1st Status Upgrade in #FIFA23 pic.twitter.com/kDMoheIZTf

— FCG (@FCGems_) November 15, 2022
For instance, Pablo Gavi is valued at £43.5M with a potential of 89 (Exciting Prospect) at the end of the season; in the following season, he is valued at £40M, yet the status tag still remains Exciting Prospect. This means his potential went from 89 to 87 and therefore still falls in the range of Exciting Prospect (86 – 90). You should also keep an eye on this range when making transfers because a transfer can affect your player's value negatively, positively or neither.
How does Dynamic Potential work?
Introduced back in FIFA 20, Dynamic Potential allows you to control your player's potential based on how they're essentially performing. No matter how old a player is, their potential can increase if they are playing well. With older players close to retirement, this is reflected in their attributes decreasing slower rather than them improving.
Haven't seen many 99 rated players this #FIFA23 season 🤔! pic.twitter.com/BVbE8jq35M

— Career Mode Insider | Johan Morer (@CareerModeInsid) January 19, 2023
Of course, this works the other way round too; if you got a striker who can't hit the back of the net or a defender who keeps making costly mistakes, you're going to see their potential decrease in the following season. But what are the aspects contributing to Dynamic Potential to really look for or do to ensure your players get the most out of this feature? The following are aspects contributing to Dynamic Potential:
Play Time
The best way for an athlete to improve their game and show what they are made of is through making the most of playing time, or getting minutes. Play time is imperative to a player's development and success, and is the most crucial aspect of Dynamic Potential and a foundation for other contributing aspects to Dynamic Potential.
In general, the more playing time a player is given, the more likely he is to have good progression. Therefore, as you would expect, a player who gets regular game time is likely to get an increase in potential compared to one who doesn't. It is important to note that Dynamic Potential favours players starting games rather than substitutes as an important factor for game time. In other words, a player who starts matches will benefit more from play time compared to one who only features as a substitute.
Form
People often talk about Form in football. You might hear commentators remarking that one player is "in form" while another player is in "poor form." So what does this mean in Career Mode? Form typically refers to a player's level of match performance relative to their potential level of performance.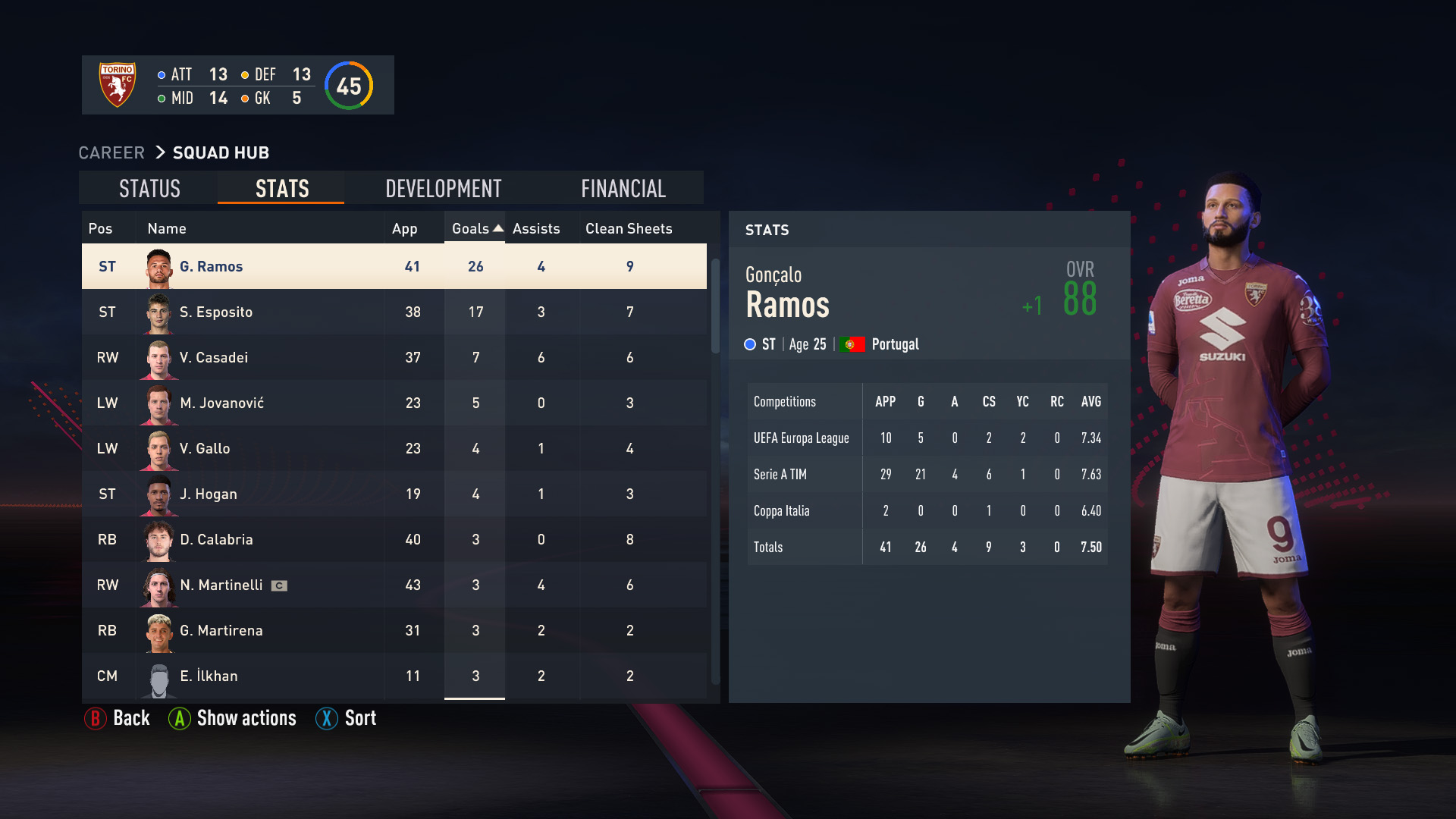 Form is the second most important aspect contributing to Dynamic Potential. So what contributes to Form? Goals, assists, clean sheets and consistency. It is imperative to ensure that your players use their playtime to good use by consistently scoring goals, providing assists and keeping clean sheets in matches. For instance, if your striker scores 20 goals out of 38 league matches, he is likely to get a bigger upgrade in potential next season compared to one who featured in 38 league games yet only scored 2 or 3 goals.
Morale
A player's morale is an important factor in how well he performs in matches. The higher his morale, the more he is to play well and in turn help to maintain or further improve his morale. Therefore, it is crucial to try to achieve high levels of Morale in your squad as it is another aspect of Dynamic Potential.
A player's morale, whether it's poor or excellent, depends on the player's overall happiness. A player's morale can go up and down throughout a season depending on match results and team performances, the overall level of training and what's being done on the training ground, his playing time and expectations towards squad status, your treatment of him and other players within the club.
How to maintain high levels of morale in players? Intermittent training, always respond positively in the press and in private chats, and adequate play time. It is also crucial to maintain good team performance in competitions, ensure that the player performs well in matches and is sitting on a satisfactory contract.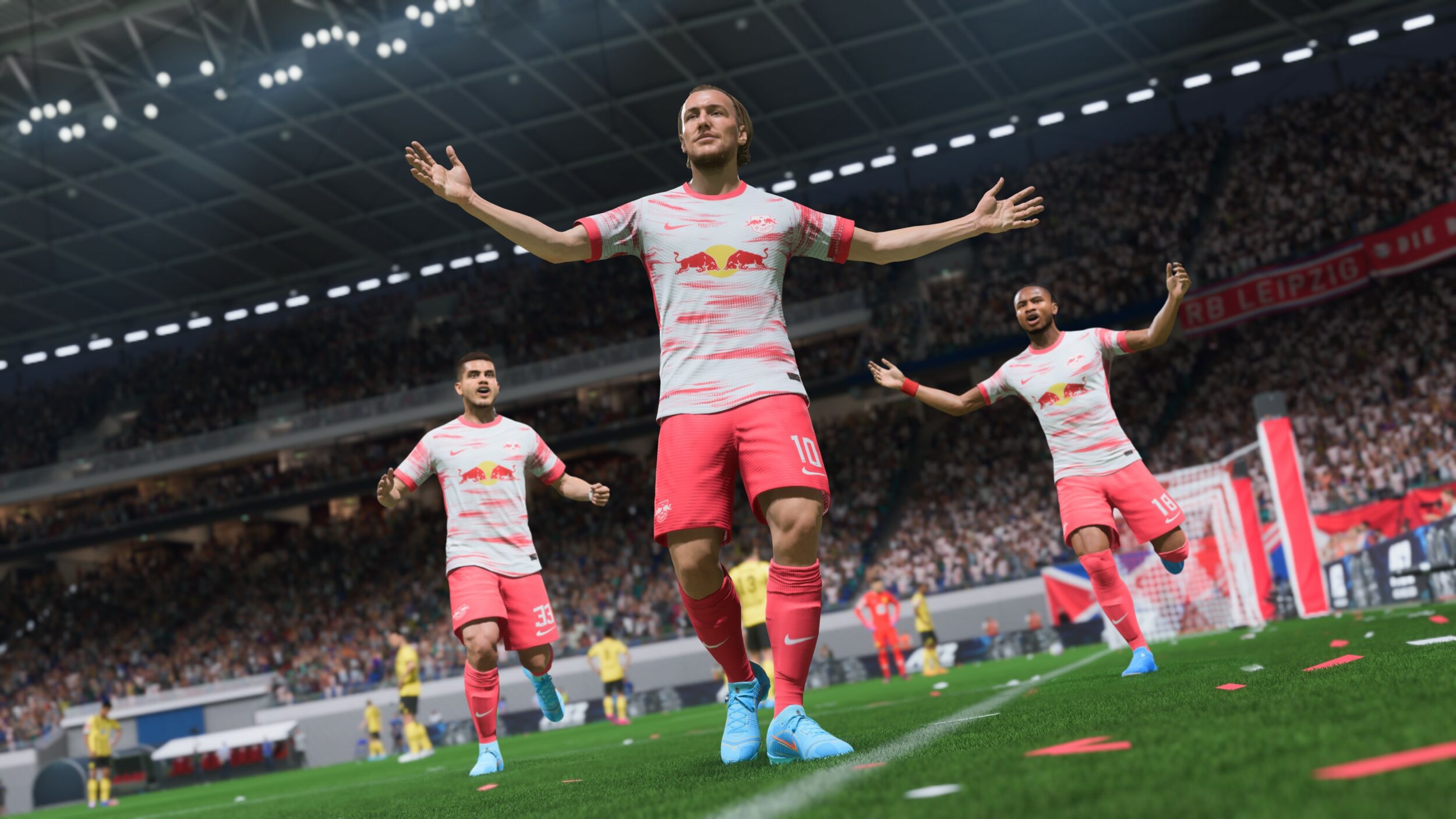 Helping a footballer achieve their potential in-game becomes the job of every FIFA 23 manager in Career Mode saves. This will allow them to better their squad or sell some of their best players to improve the financial side of the club. The Dynamic Potential system makes things more compound, as it is not a guarantee that players in the squad will reach the pinnacle of their potential. Hopefully, however, this article will now place you in the advantageous side when attempting to maximize the growth of your players.
If you and your friends are fans of the FIFA series and want to show it, then you can try customizing a keychain from Keychains Co. , as you can customize your favorite player pattern on keychains. Any style can be designed by yourself to be as original as possible, and it's also a great accessory to be used as a gift. Special keychains designed for FIFA and soccer fans will surely excite your friends!