Choosing which club to rebuild in FIFA 23 Career Mode can be one of the most difficult decisions. If you are struggling to find the right one, we have hand selected 6 of the best and most fun rebuilds you can do in FIFA 23.
There is no denying that Ultimate Team has overtaken Career Mode as the favourite child of EA Sports, but despite EA trying to kill Career Mode from its budget every year, Career Mode continues to have a dedicated fanbase who love nothing more than leading their team to ultimate glory.
For some, your Career Mode team is obvious — take over the club you support in real life and live your fierce dreams. For others on the other hand, that may be too simple, or their beloved club isn't included in the game's roster and you may be looking to try something a little different. If you are one of those looking for something a little different, then we've put together 5 FIFA 23 Career Mode rebuilds that are both challenging and rewarding.
1. Saint-Etienne
Founded in 1933, Saint-Étienne holds a joint-record of 10 French Ligue 1 titles with Paris Saint-Germain, as well as 6 Coupe de France titles, a Coupe de la Ligue title and 5 Trophée des Champions. Saint-Étienne has also won the Ligue 2 championship on three occasions. Much of these glory days transpired back in the 1960s and 1970s. The last time they tasted top flight silverware was back in 1981.
The club isn't close to tasting that glory soon after last season saw them relegated to Ligue 2 for the first time in 20 years. Their local rivals, Lyon have transcended them in fame despite winning their first league title in 2002 and are now closing in on Saint-Etienne's joint-record of 10 titles.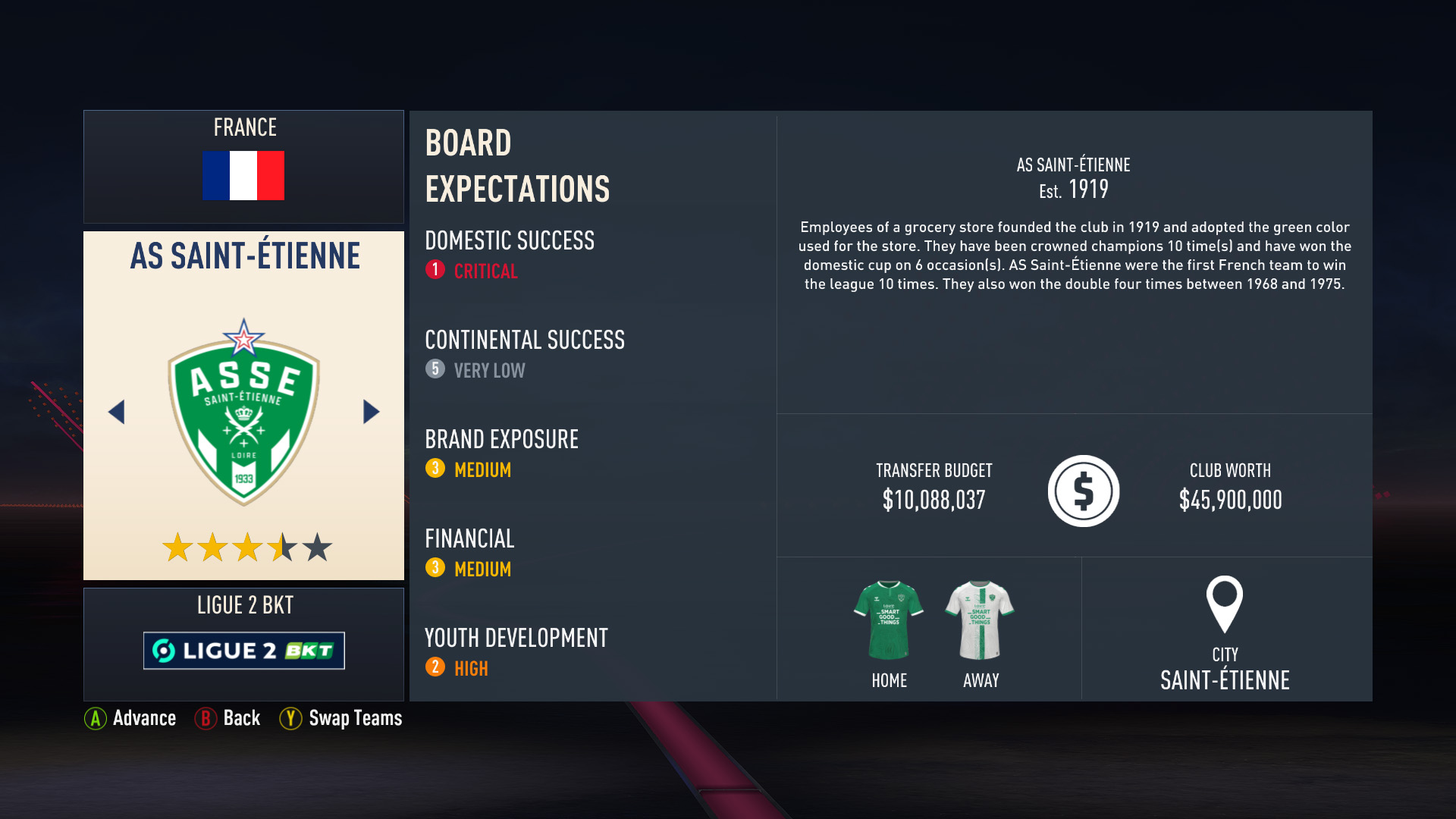 For this rebuild, re-affirm Saint-Etienne's supremacy of French football and avert the club from losing its joint title record in the nub of Paris Saint-Germain's spending power who are also presently on 10 league titles. Relegation has also meant that the club has lost majority of its top players. Therefore, you will need to jump into the Transfer Window to fill the gaps.
2. Sevilla
From Champions League to relegation candidates: It has been a bit of a shock at just how poor Sevilla have been so far this term. They finished fourth in LaLiga last season under former Spanish national team and Real Madrid boss Julen Lopetegui. However, a poor start to the year saw them sack Lopetegui at the beginning of October. He was replaced by Jorge Sampaoli and the Argentine boss was certainly no stranger to life as Sevilla head coach; he also occupied the role for the 2016/17 campaign.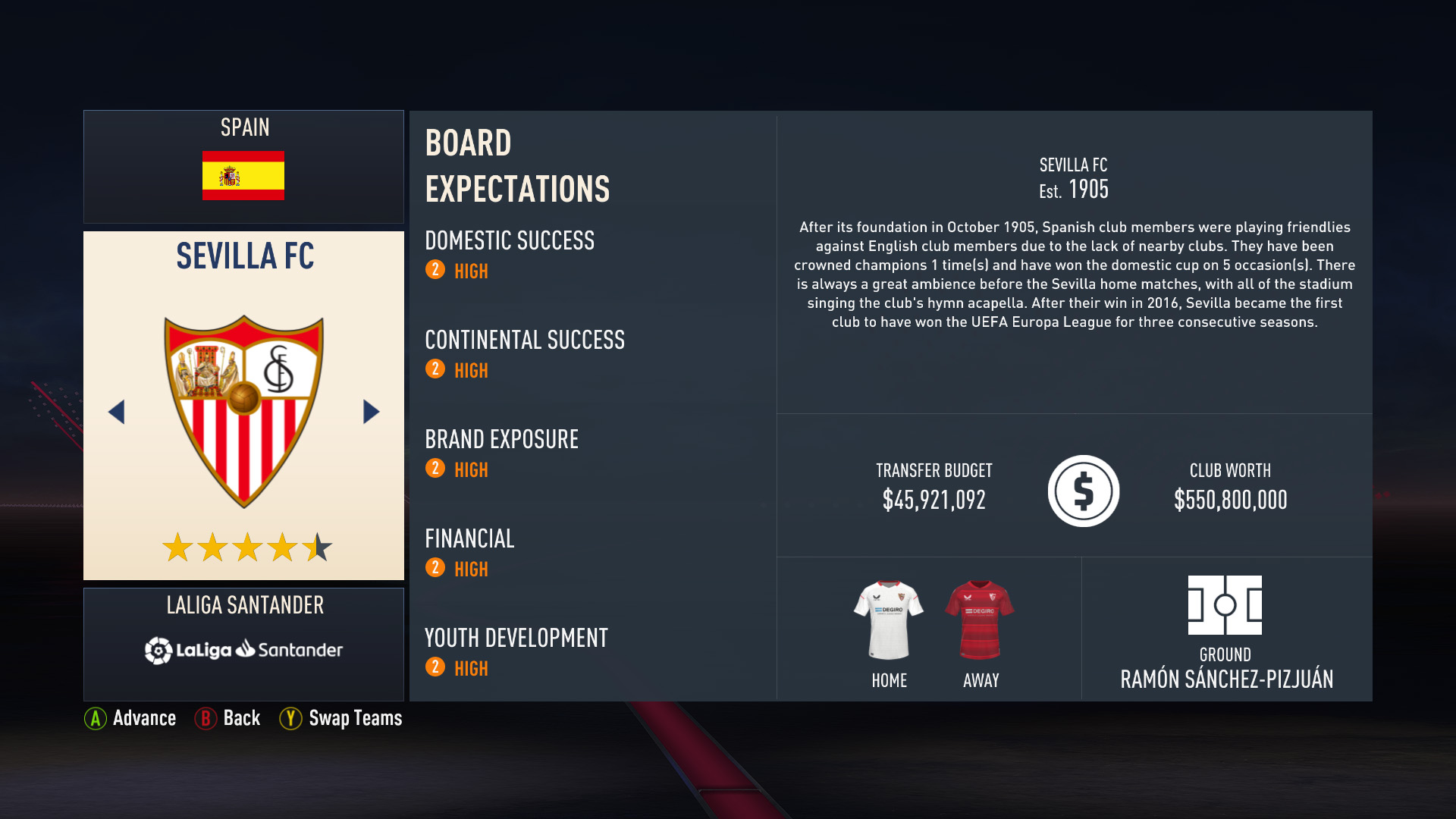 Having guided Sevilla to a fourth-placed finish back in 2017, it seemed as though Sampaoli would be able to get things back on track. However, after a small initial improvement, the situation does not seem to have ameliorated at the Ramon Sanchez-Pizjuan Stadium. The six-time Europa League winners have experienced a horrendous start to the season. They are 19th in La Liga as of writing after finishing 4th last season. One can make the argument towards an ageing squad and the loss of their two star centre-backs, Jules Kounde and Diego Carlos.
Times are tough at Sevilla no doubt. Offload some of their aged players, bring in some fresh young faces, shore up the team's defence and you can topple The Big Two sooner than you'd think.
3. Portsmouth
Known as Pompey among its locals, Portsmouth was founded in 1898 by Sir John Brickwood and began playing home matches at Fratton Park the following year. To this date, Fratton Park remains home to Portsmouth and are the lowest ranked club in EA Sports FIFA with an official stadium. Portsmouth are one of only five English football clubs to have been champions of all four tiers of the professional English football pyramid. Portsmouth's arch-rivals are Southampton, a rivalry based in part to geographic proximity and both cities' respective maritime histories.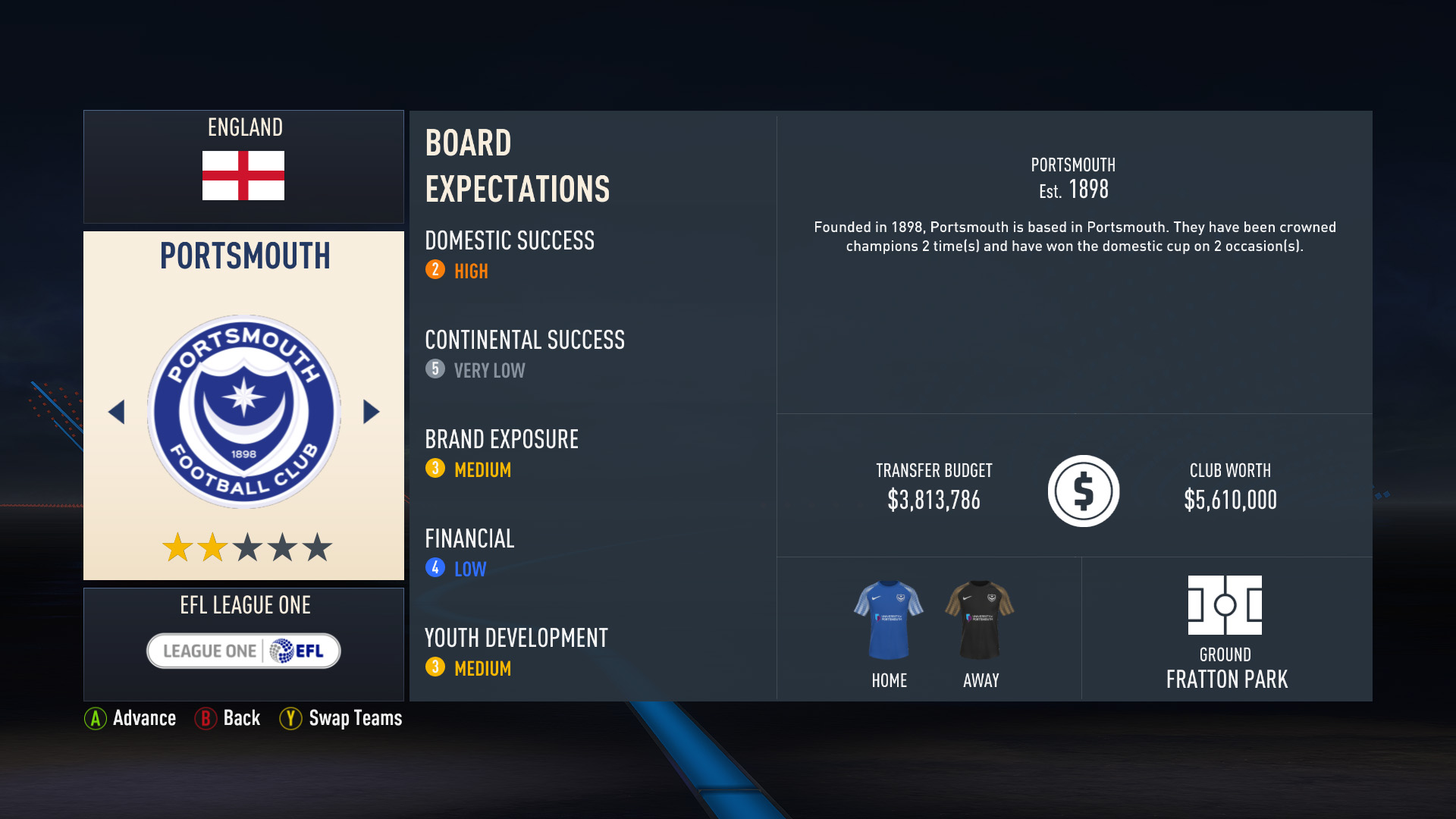 The League One side have contended fiscal affairs which have seen them plummet down the football pyramid. The club's fall from grace began in earnest in the 2009-10 campaign with a fire sale of many of their top players such Jermain Defoe, Peter Crouch and Sulley Muntari just to name a few While things have looked bleak on the pitch and in the boardroom for several seasons running, it's not all doom and gloom on the South Coast. You can commissionaire Portsmouth into a new era by rebuilding them into star power.
4. TSV 1860 Munich
1860 Munich was one of the founding members of the Bundesliga in 1963, becoming West German champions in 1966, and played a total of 20 seasons in the top flight. 1860 Munich were regulars in Germany's top flight up until 2003-04. They even shared Allianz Arena with Bayern at some point. Now, 1860 – the first Munich side to win the Bundesliga in 1966 and 1965 European Cup Winners' Cup runners-up – find themselves in the third division, having dropped as low as the fourth tier due to on and off-field issues.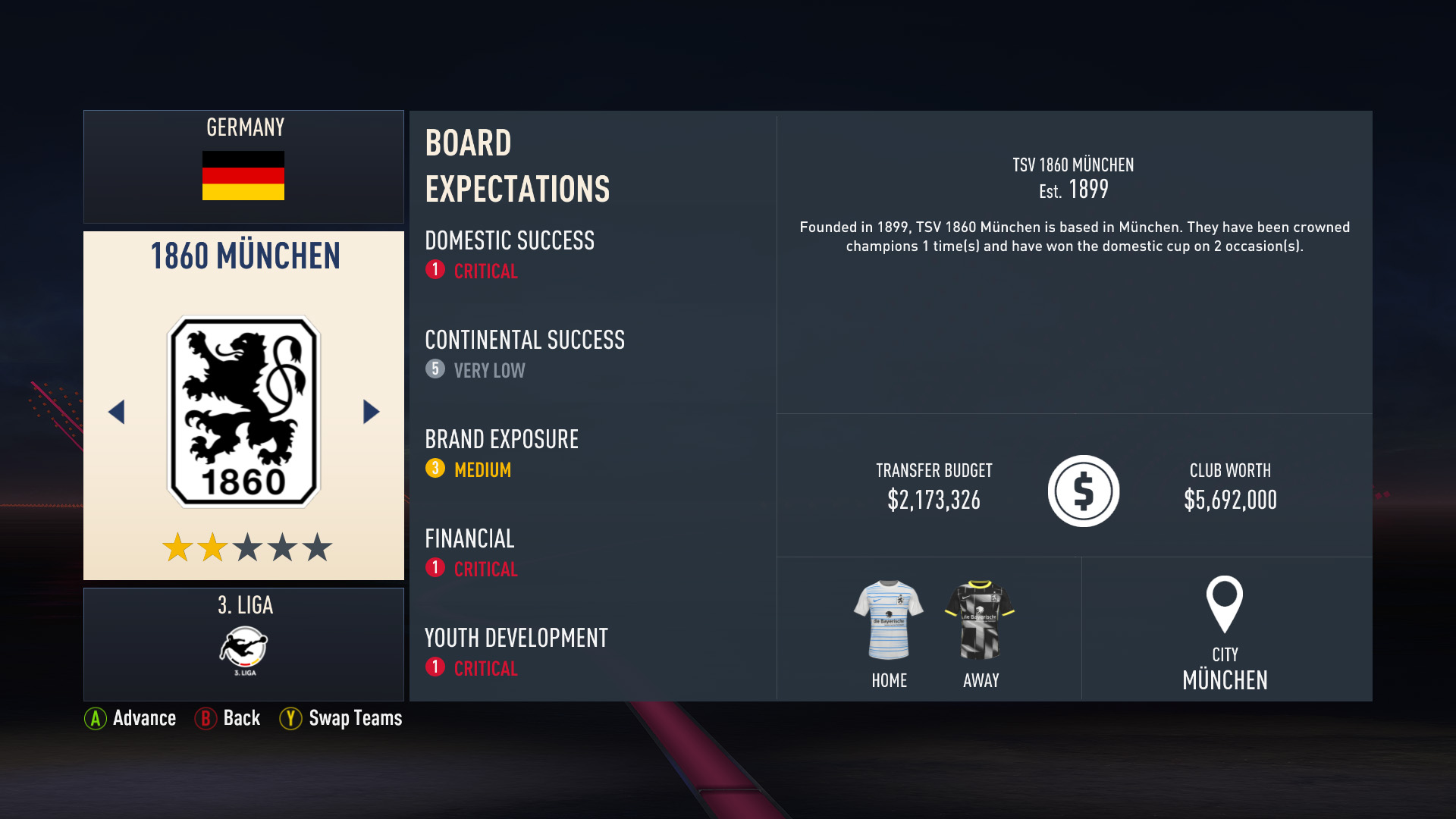 TSV have been crowned on both domestic and international stage, having won the Bundesliga, DFB-Pokal and European Cup Winners' Cup back in the 1960s. However, it's now all bleak and reminiscence for this club. When you now think about German football, you primarily think about their city rivals, Bayern Munich. The time is now to put 1860 Munich back on German top-flight football radar. Rebuild this squad and bring them up the ladder and challenge the invincible Bayern Munich for the Bundesliga and Munich city honours.
5. Torino
Founded as Foot-Ball Club Torino in 1906, Torino are among the most successful clubs in Italy with seven league titles, including five consecutive league titles during the 1940s. The 'Grande Torino', as the team was known, was widely recognised as one of the strongest footballing sides of the period, until tragically the entire team was killed in the 1949 Superga air disaster.
They have also won the Coppa Italia five times, the last of which was in the 1992–93 season. Internationally, Torino won the Mitropa Cup in 1991 and were finalists in the UEFA Cup in 1991–92.
Unlike Manchester United, who managed to recover and rebuild following the Munich Air Disaster and amazingly won the European Cup some ten years later with a team featuring Best, Law and Charlton, Torino never really seem to have moved on from Superga, and instead live in memory of that fateful day in 1949 and the famous side known as 'Il Grande Torino', a team that was loved by the whole of Italy – and made up the majority of the Italian national team.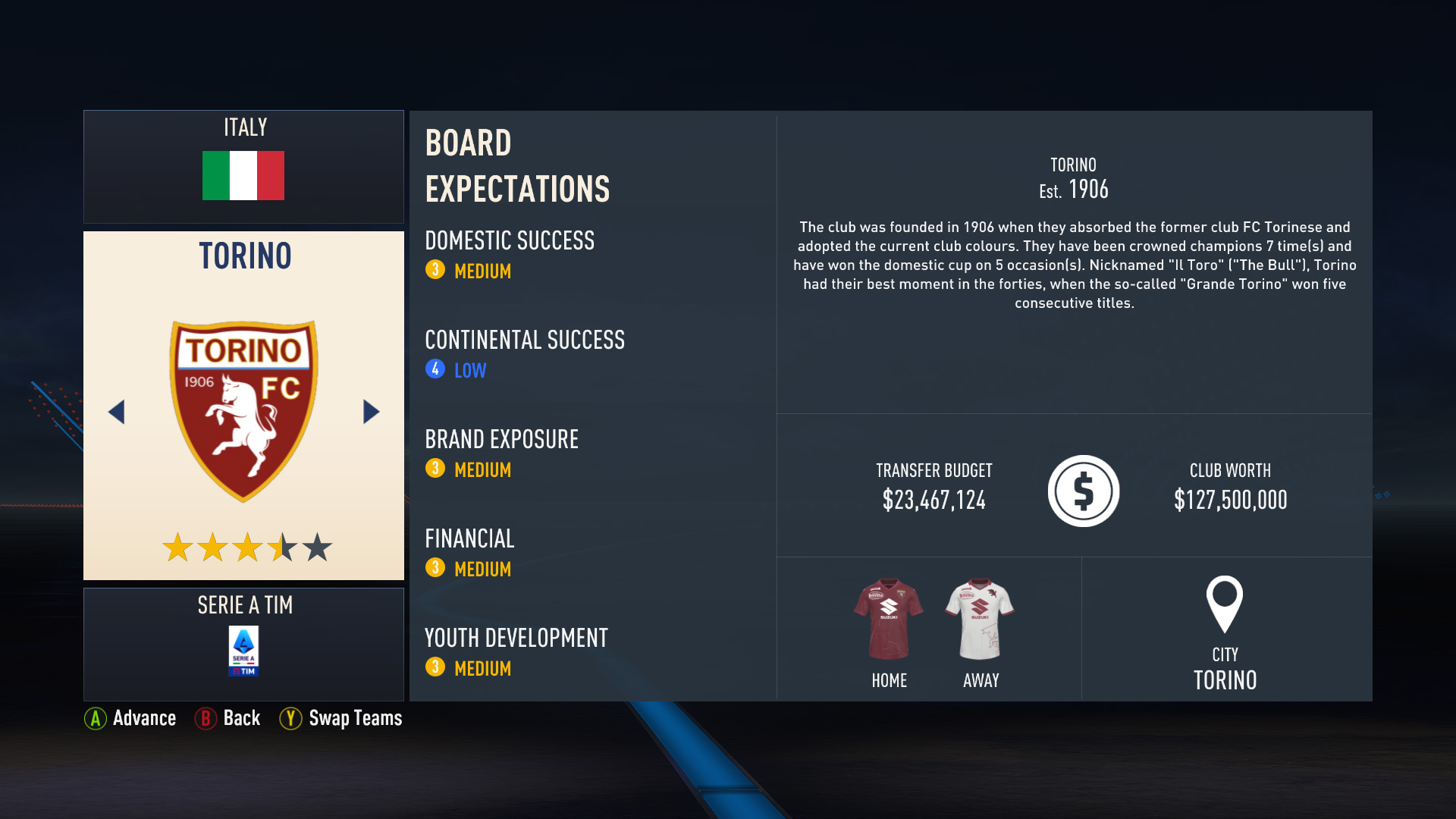 Therefore, make it your mission to rebuild winning spirit in the Toro camp. The squad already features a relatively young squad full of talented names like Ricci, Singo and Schuurs who all have 83+ Potential in FIFA 23. It's now up to you to bend them into shape, uplift morale in the camp and have them earn the old nickname.
Whether you are looking to control world football with an already established superpower, or wake up a sleeping giant or take the reigns of your own club, there are so many fun scenarios available in FIFA 23 Career Mode. FIFA 23 is available now on PS5, PS4, Xbox Series X | S, Xbox One and PC.