The release date of FIFA 20 Ultimate Team Web app is fast approaching as it is expected to go live on September 18th, 6 PM (UK Time) with FIFA 20 Early Access to follow the very next day. FIFA fans can only enjoy the demo so far which includes the new VOLTA game mode and the typical kick-off mode with limited number of teams.
FUT 20 Companion app will also be released after the Web App goes live on September 19th.
What does the Web App do?
The FIFA FUT 20 Web App can be used by the fans to gain access to the transfer market where you can buy and sell your players even before the game goes live.
Fans can also build squads and complete squad building challenges to get exciting rewards in order to kick-start their FUT season ahead of the official release of FIFA 20, 27th September.
EA also rewards for logging in the Web App on a daily basis, so you can try your luck in the early stages of the game. It's free after all – and who doesn't like opening FUT packs? Every trader will recommend you to keep hold of your players until the official full release of the game as prices usually go up due to the increase in demand. Either way, you can recycle them in Squad Building Challenges (SBCs) as some of the starter SBCs reward you some great packs.
Remember that only returning FIFA 19 players with an account in good standing can access the new web app!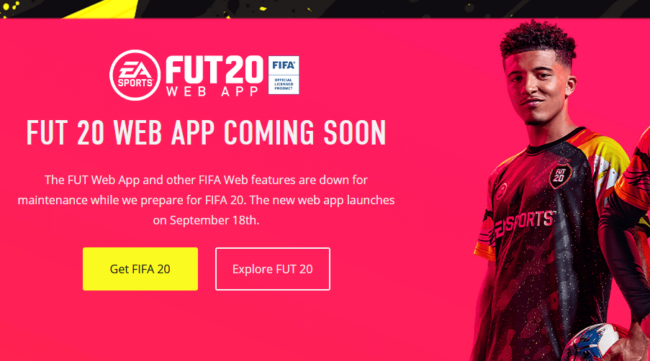 Click here to access the FUT Web App. It's currently not live, but when it's live you can access it from the given link. Or just bookmark the link given below:
https://www.easports.com/fifa/ultimate-team/web-app/
FUT Companion App
FUT Companion app is basically a portable and responsive version of the Web App which will be available on the Apple Store and the Google Play Store for free on September 19th. It has all the features which the Web App does and you'll also be rewarded for logging in daily on the Companion App as well.
Why should I use the Web App?

Accessing the web app daily, rewards you with packs for simply logging in! If you're keen on starting well your FUT season, any extra pack is a good boost at the start. Returning players will also get loyalty packs based on the account's good standing in the game, along with the player history, engagement, and account status.
Web app helps you kick-start your FUT season as you'll be already having some players and coins in your squad that you've received from the packs. Moreover, you can complete the SBCs and daily challenges to earn additional rewards.
Once you've packed some decent players or bought them, you can get creative by creating concept starter squads linking with the existing players which you own.
Before the web app goes live I recommend checking out the following guide on how to make coins on the FIFA 20 Web App written by @TheDanishTrader which can help you get started:
Ultimate FIFA 20 Web App Guide✅

With FIFA 20 Web App Release tomorrow it's time for a Web App Guide!😉

I've tried to make it as simple and clear as possible!
The Guide is covering:
1. The Start
2. Make Your First 10K
3. Trading Begins
4. Trading Plan

Hope you find it useful✅ pic.twitter.com/rZRYOirbIQ

— TheDanishTrader (@TheDanishTrader) September 17, 2019
So, are you excited for the release of FUT 20 Web App? Drop a comment below to let us now!