When you are starting FIFA Ultimate Team's new season for the first time, earning coins can be a tedious task. With the launch of FUT 20 Web App yesterday and the official game going live later today for Early Access users, I thought to write a guide on how to make coins quickly in FIFA Ultimate Team without buying any FIFA points.
Let's be honest – we all play the game to have the best players in our squads as soon as possible. This guide won't get you the best possible squad, but will definitely help you maximize your coin balance if followed correctly:
1. Login Daily To Receive A Reward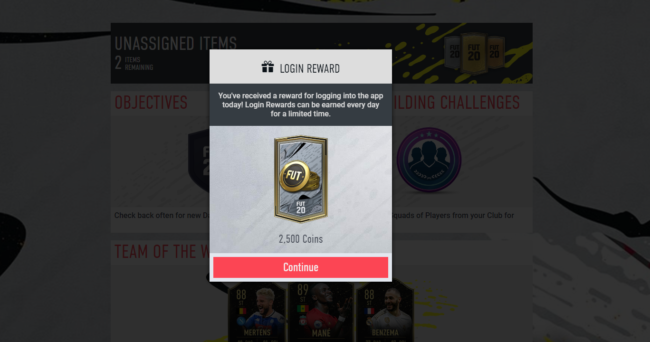 Simply login to the Web App daily to receive a random complimentary reward. If you're lucky, you might get a decent pack or coins as high as 10,000! But if you're not, you may also get a Bronze Pack or a mighty sum of 250 coins. Either way, it's free so we can't complain.
2. Squad Building Challenges (SBCs)
Squad Building Challenges (SBCs) are puzzles where your squad building skills are put into use. You have to satisfy the given objectives and submit the players in the squad accordingly and in return, you are rewarded with packs where you can try your luck to pull off a valuable player.
You can start off with the Basic SBCs and then move on to complete the Advanced SBCs to attain the luscious rewards!
Marquee Matchups (MMs) SBCs are released every week on Thursdays. Marquee Matchups feature the week's four most intriguing and/or toughest fixtures (popular derbies and rivalries). Here the players are provided with 4 set of SBCs which last for one week. You can invest beforehand on the players of the fixture who you think might make it into the Marquee Matchups SBCs.
League SBCs require you to submit squads of teams from a specific league. Each team will give you a pack as a reward and if you complete the entire set you will receive a special player-pick. They are not live yet, but will gradually be added into the game. Investing in the league players of a team, especially silvers and bronzes as a long term investment can be very profitable.
3. Play Squad Battles and Division Rivals

The most obvious tip of all is to simply play the game. I would encourage the fans to play Squad Battles which rewards you with FIFA coins at the cost of player contracts and fitness consumables. You play against the AI and have the freedom to set the difficulty. Higher the difficulty, higher the multiplier and hence more the points. The points that you accumulate are converted into rewards which you receive at the end of each week.
Other than squad battles, I strongly recommend everyone to play Division Rivals game mode, which arguably is the most popular game mode in FUT. Even if your team is below average, I would still suggest playing this game mode as you will earn match coins helping you to upgrade your players slowly, like a building block. If you're good at the game your skill rating will increase meaning you'll end up with better tier of rewards if you're in a higher division.
4. Complete The Objectives
EA have redefined the objectives system this time as you can progress and personalise your club with a range of time-limited and grouped tasks, providing more complex and rewarding objectives throughout the year. Rewards include players, packs, club customization options and coins. There will be no catalogue this time which also means the players cannot acquire the coin boosts and the loan players to get a kick-start.
You earn XP for completing a range of objectives over the course of a season. As you keep gaining XP, your level increases allowing you to unlock better rewards.
5. Selling / Discarding Consumables, Club Items & Staff

If your club is filled with contracts or unpopular chemistry styles (such as GK Wall) make sure to sell them. A few extra coins are always welcomed.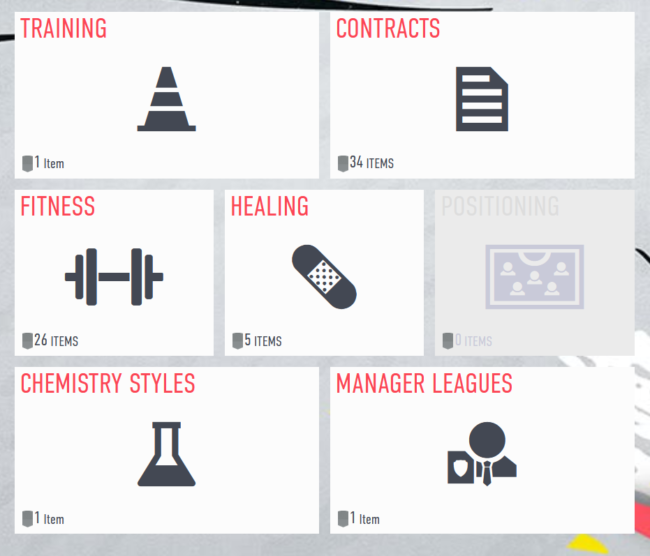 However, there are some consumables which are of high value. So make sure to compare the price of any consumable, club items or even staff before quick-selling them:
Some chemistry styles like Hunter and Shadow are so rare that they are mostly extinct in the market.
CF > CAM position modifier is also another rare consumable which mostly remains extinct throughout the year.
Managers from popular nations like Brazil, France etc. can be sold at a higher price.
If you own squad fitness consumables, make sure to sell them during the Weekend League, they can be sold for as high as 1200 coins each.
Some popular and good looking kits, logos and stadiums are priced highly – it's better to sell Barcelona or a Real Madrid kit/stadium/logo in the transfer market rather than quick-selling them. Even some bronze consumables like Al-Wehda's logo is high priced because it looks great and is popular among the streamers.
You can also snipe the popular consumables for cheap and then sell it for a higher price as many players are reluctant to put the minimum buy price while listing the consumables.
In FIFA 20, there is a new feature which allows you to quick-sell items in bulk.
6. Trading & Investments
If you do not have the Early Access, all you can do to make coins is invest and trade from the Web App or the FUT 20 Companion App. As mentioned above, you can snipe consumables for cheap by setting filters in the transfer market and sell them for high. Other techniques I personally use to maximize coins are:
Changing positions of my existing players: Take an example of Seamus Coleman where I convert him to RWB from RB. He becomes the only RWB in the market from the league and I can sell him for whatever amount I want to. "Lazy buyers" will buy him to complete SBCs as they do not know that they can change positions for as low as 200 coins. You can use this method on several other players.
Buying meta players from popular leagues: We all know how inflated the prices of players from leagues like Premier League are due to their popularity. You can invest in cheap meta players like Davinson Sanchez or Rashford and sell them when the game is accessible to everyone else. Surely their prices won't go down.
POTM Investment: One of the easiest way to make coins is by investing on the "Player Of The Month" winner from Premier League or Bundesliga. You can invest by buying players from his team, nation, previous team(s) and the teams he faced. Selling your investments during hype (few days before the official POTM announcement) or whenever you are happy with your profit is what I would recommend. As Pukki won the PL POTM for August 2019, you can invest in Finnish players, Norwich players and players from his previous club, i.e., Sevilla and Celtic.
TOTW Investment: Team Of The Week is announced every week on Wednesdays and is one of the safest investments you can make in the game. I personally buy TOTW (aka In-forms / IFs) cards at discard prices which means that the worst case scenario will be a loss of a few 500 coins. The IF cards will increase in value primarily due to two reasons: in-game playability or SBC requirements. Many SBCs have been requiring TOTW cards throughout the year and this year will be no exception.
I hope these tips will help you gain more coins in FUT 20. If you have any other ideas in mind feel free to drop your suggestions below!