The last time FIFA had a decent Player Career Mode, we were still playing it on the PS2 and Xbox 360. Features kept getting omitted every year and slowly, the game mode was a bare-bones novelty feature. That was until EA announced The Journey for FIFA 17. Were we getting the next big thing in Player Career Mode? Well, not quite. Not just that, EA even managed to make it a trilogy! It was an experimental success and did have some very strong points but the core game didn't provide the complete immersion needed to enjoy Alex Hunter, Danny Williams and Kim Hunter's lives. Mainly due to the fact that players didn't connect with their stories. The Journey was supposed to be OUR player career mode but sadly, EA had other plans. So, we take it upon ourselves to discuss what the ideal Player Career Mode should be.
The Perfect Player Career Mode Already Exists
The answer is of course The Journey, hence the long rant. The Journey had everything in FIFA 17 what Player Career doesn't have in FIFA 21. It had a working social media system, player upgrades, player customisation, press conferences, the ability to be subbed on, on-the-pitch objectives, interactive training and much more. It even had mini-games and important story choices in the game mode itself. The resources used to make The Journey currently sit unused as the story ended. Perhaps now is the time to transfer those features to Player Career mode. It is the only logical solution.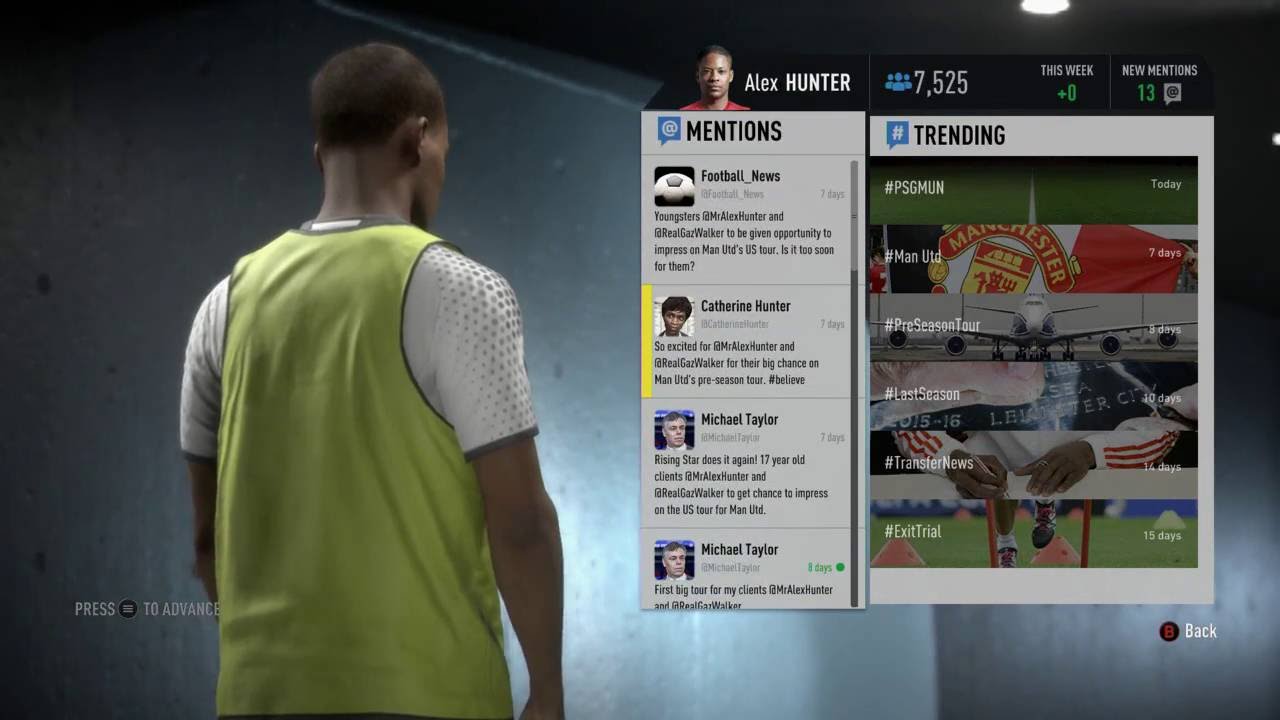 VOLTA Has Done It Too
If Journey didn't add insult to the injury Player Career sustained, VOLTA was there to rub salt into the wounds. Even VOLTA debuted with a dedicated player story in FIFA 20. And no, it wasn't Alex Hunter but an actual customisable lead character who was also voiced. If it works for VOLTA, it should surely work for Player Career too. VOLTA might not have been a hit right away but every FIFA Player at least tried the story mode out. The amount of customisation on offer; including tattoos, something missing from every other game mode altogether (except The Journey), was enough to add the depth need to make the player feel personal. VOLTA also nailed the progression system properly with unique reward unlocking by completing tasks as well as using VOLTA Coins, completely free of microtransactions. Player Career can genuinely benefit from the features VOLTA possesses.
Not Just A Player
Who else remembers a nifty little mode called Player Manager? Player Manager was the go-to career mode option for a lot of CM players until FIFA 13. It is still a mystery why EA decided to remove that feature. It combined the Manager Mode and Player Mode in perfect harmony and the best part about it was the ability to play as a real player or your own pro. While that option still exists in the current Player Career mode, the mode itself is very bland and the addition of a Player Manager option will at least make the seasons more enjoyable to play.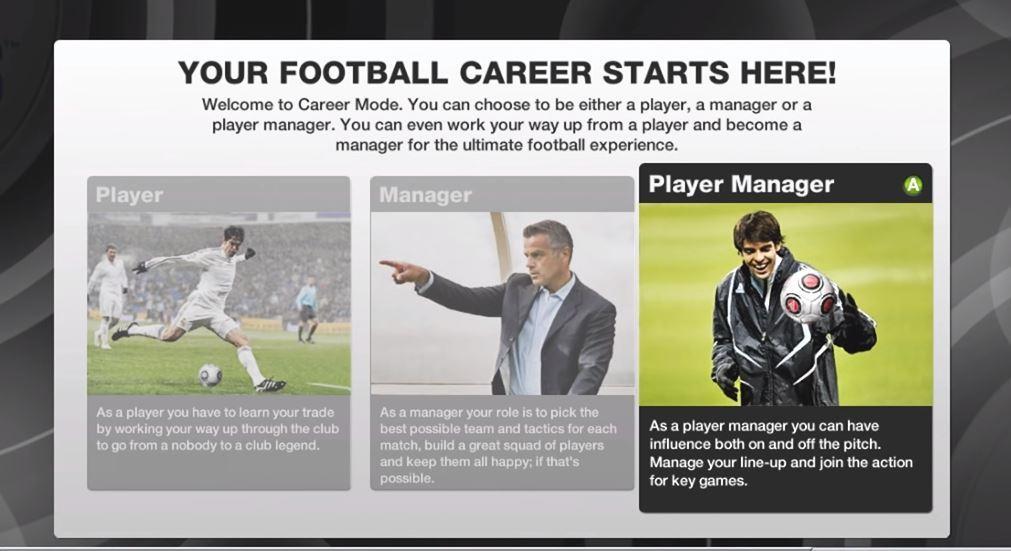 Must-Have Features
The list of features that Player Career Mode deserves might be heading towards the endless categories but there are definitely some mechanics that are of a pressing concern. The first and foremost feature should be the ability for the player to be subbed in and not just start a game. A player can be subbed off or left out of the squad which makes no sense. The Journey did it, so can Player Career . The next important thing would be press conferences. It is a staple feature in Manager Career and should be in Player Career too. Social media is something that is missing entirely from the game since The Journey ended. It was a brilliantly executed system and deserves to be a permanent feature.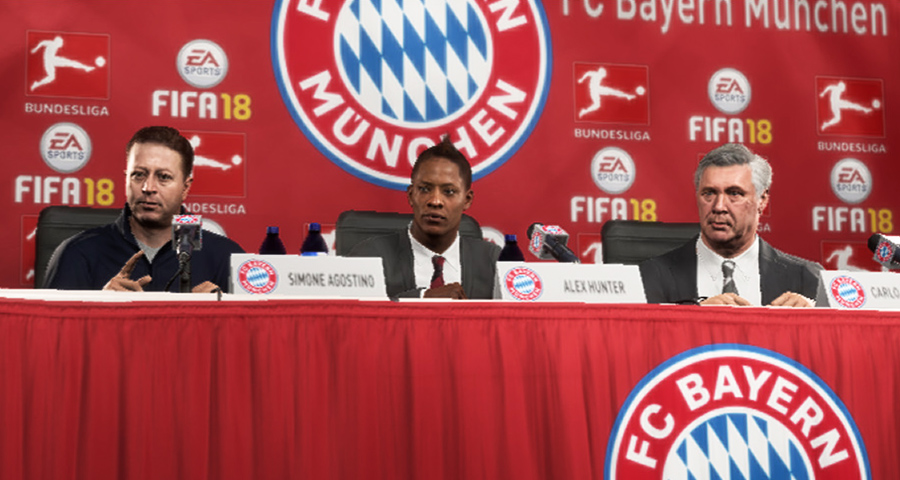 Other features such as more player customisation (tattoos and such), the ability to actually negotiate contracts with clubs, spend the money you earn from wages (think FIFA Manager 2008), receive offers from other clubs (this mechanic seems to be broken since FIFA 17), sign with sponsors and brands and many more are definitely achievable as well.
Bring Old-School Back
Some interesting features that the Player Career mode had but were removed over the years for some or the other reason can and should definitely be brought back. One of the features, the XP system, was last seen in FIFA 09 and helped your player grow based on the XP earned playing for each match, depending on form and performance. Another interesting tidbit, which has now been modified, is the Player Accomplishment System. Currently, we are greeted by a tab listing all player achievements that help you unlock boots, stat upgrades, traits and more. Prior to FIFA 14, this would be a neat little notebook with all your tasks which you could complete either in-game or in the Player Arena. I genuinely used to spend hours just messing around with my Pro in the Arena, trying to complete as many achievements as possible. It might be the nostalgic self in me talking, but these features were great and they worked well with what players wanted. They definitely deserve a return.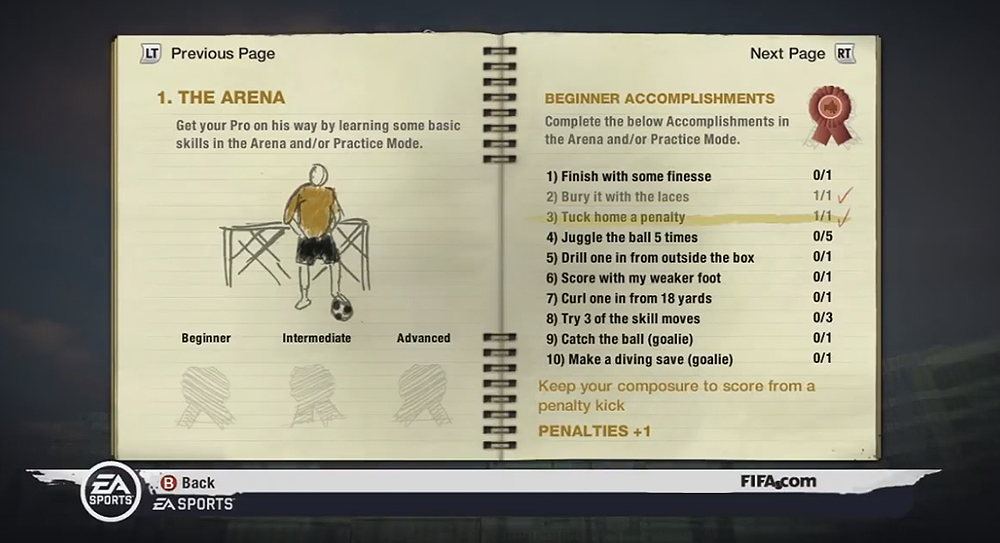 Player Career has consistently been one of the, if not the most, neglected game modes every year in FIFA. No one hardly even remembers the last time Player Career received a huge update and it looks to be heading that way next year as well. Let's hope this game mode receives the revamp that it deserves in the near future.