After months and months of speculations, the first FIFA 21 Player Ratings have finally been revealed!
Earlier this evening, EA Sports revealed the Top 100 Players in FIFA 21 in an event called 'The Ratings Collective' that also included a few wonderkids, most notably the BVB striker Erling Haaland at an impressive 84 OVR, all announced in a snazzy video:
Starting with the Top 10 FIFA 21 Player Ratings, we were met with a few surprises but mostly predictable entries:
10. Sadio Mané (Liverpool FC) – 90 OVR
9. Mohamed Salah (Liverpool FC) – 90 OVR
8. Kylian Mbappé (Paris Saint-Germain) – 90 OVR
7. Virgil Van Dijk (Liverpool FC) – 90 OVR
6. Jan Oblak (Atlético Madrid) – 91 OVR
5. Neymar Jr. (Paris Saint-Germain) – 91 OVR
4. Kevin De Bruyne (Manchester City) – 91 OVR
3. Robert Lewandowski (FC Bayern München) – 91 OVR
2. Cristiano Ronaldo (Piemonte Calcio/Juventus FC) – 92 OVR
1. Lionel Messi (FC Barcelona) – 93 OVR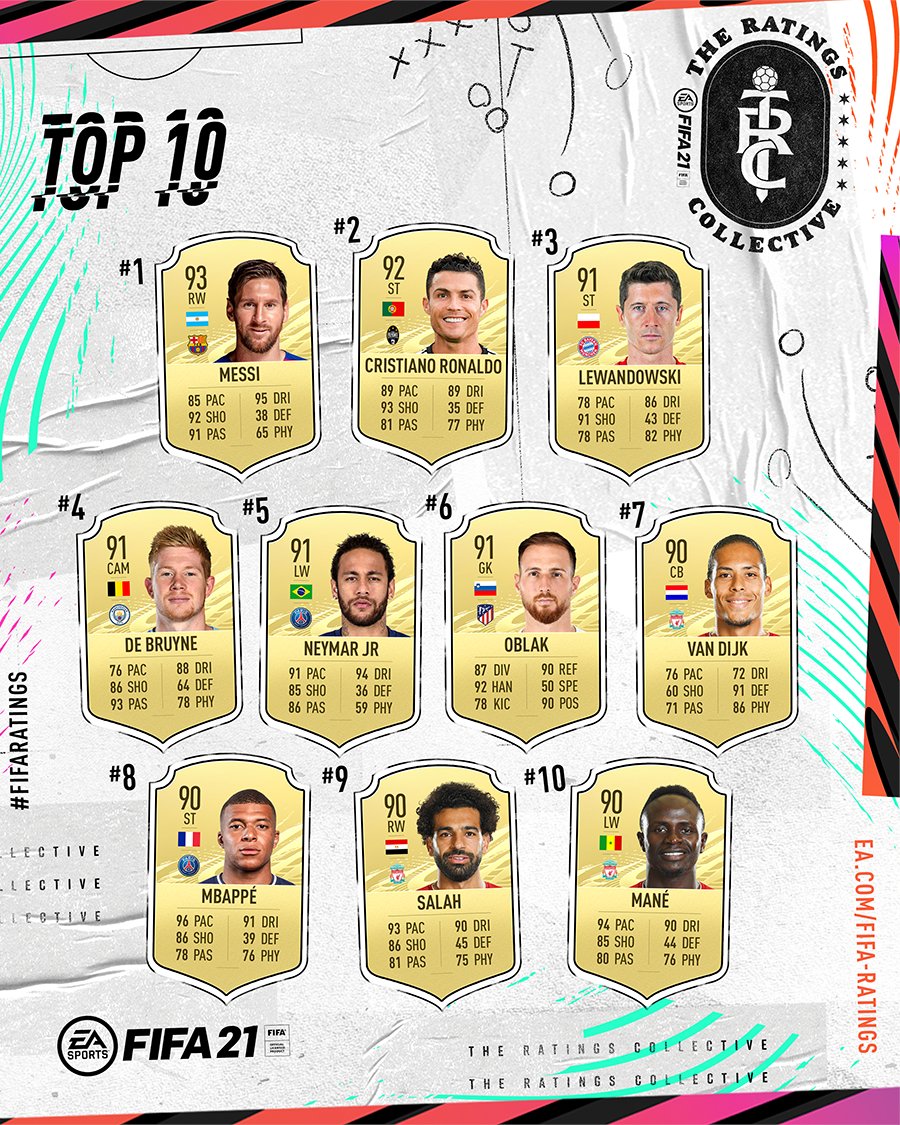 The biggest surprise in the Top 10 has to be Mohamed Salah. After a subpar season despite winning the Premier League, fans expected Salah to drop to an 89 OVR but it looks like EA still has faith in the Egyptian King. Another mild surprise was to see Neymar drop to a 91 rating. We were confident that the love story of Neymar and the 92 OVR was bound to continue.
But all good things must come to an end. Messi and Ronaldo both received a -1 OVR drop to their ratings despite having strong campaigns. On closer comparison with their FIFA 20 Ratings though, it can be seen that the drop in individual attributes is more about age rather than performance. Lastly, the best player of last season, Robert Lewandowski finally got the rating he truly deserves and will be the hotter property in the transfer market for FUT players all over the world. Could we already predict a front attacking duo of Lewandowski and Ben Yedder in FUT 21 who, by the way, has received a rating of 84 OVR?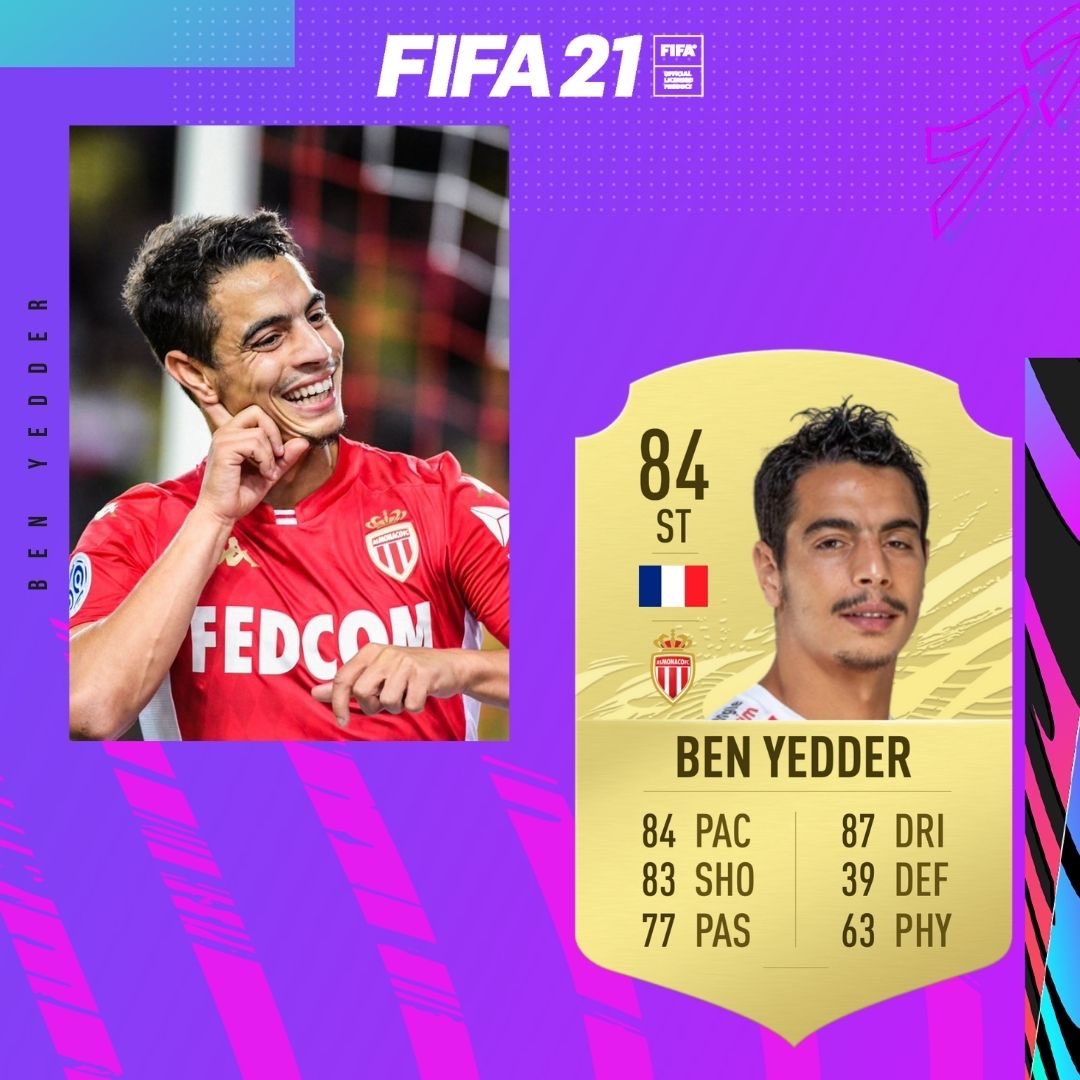 Speaking about players outside the Top 10, we were met with far more surprises and even shocks! The biggest shock was probably seeing Thiago (Bayern Munich) receive only an 85 OVR rating, the same rating as Gini Wijnaldum while Jordan Henderson received a rating of 86 OVR.
Another interesting thing to see is that Pogba shares the same rating with Jordan Henderson. Another outrageous rating is seeing Aubameyang getting downgraded to an 87 OVR despite carrying The Gunners last season. Sadly, seeing Thiago Silva being downgraded from an 87 OVR to an 85 OVR after the brilliant season he had was also tough to note.
Liverpool Player Ratings in #FIFA21 💪 pic.twitter.com/13DjB2vX2P

— FIFA Infinity (@FIFA_Infinity) September 10, 2020
Talking about the youth talents, the most common trend we saw with players was them not getting proper pace ratings. Jadon Sancho and Serge Gnabry, two of the quickest wingers in world football only received an 83 and 82 rating for Pace, respectively.
Huge pace downgrades for Sancho and Gnabry in #FIFA21!

Sancho: -5 pace
Gnabry: -8 pace

EA what's going on here? 😨 pic.twitter.com/wUkp9jEchk

— FIFA Infinity (@FIFA_Infinity) September 10, 2020
Alphonso Davies didn't even make the Top 20 for full-backs despite winning the treble and having a cracker of a season. Some ratings given by EA really need to be reviewed but the majority of ratings could be termed passable. Although many players agreed with their ratings on social media, some were left red-faced by a few attributes.
The funniest reaction we encountered was of Manchester City defender Aymeric Laporte who has been rated an 87 OVR this season. Laporte tweeted out a rather funny meme of himself finding out his pace to be just 63 rated.
Waiting for my Finding out I have
new FIFA rating 63 pace 🥴 pic.twitter.com/XyA8OgyF3g

— Aymeric Laporte (@Laporte) September 10, 2020
Lastly, EA did get quite a few ratings correct. Eden Hazard received a downgrade to an 88 OVR after having a disastrous first season at Real Madrid. Luis Suarez received a downgrade too, currently standing at an 87 OVR, down from last year's 89. Jamie Vardy received a humongous boost from an 82 OVR in FIFA 20 to an 86 OVR this year! David De Gea also received a downgrade to an 86 OVR. A fan favourite, Borussia Mönchengladbach's Yann Sommer received a 2 point upgrade to an 86 OVR this year.
The full list of the best 100 players can be found in the official FUT 21 database by EA Sports here but you can also check the FUTBin database that also include players outside Top 100.
So, do you agree with the FIFA 21 Ratings announced by EA? Who do you feel should have been rated higher? Which player has been overrated this year? How many predictions did you get spot-on? Let us know in the comments down below and don't forget to follow us on twitter for more player ratings reveals!