The FIFA Ratings Collective initiative has been a very busy spectacle this month as they have been dropping hundreds of ratings with each announcement. Some have pleased the fans while most of them have simply enraged them. We sympathize with the players as well as the fans, which is why we bring to you yet another interesting article on which players you can use to their maximum advantages in Career Mode as well as FIFA Ultimate Team. In this article, we take a look at all the players with a 5-star rated weak foot in FIFA 21 and a closer look at the best ones.
The Weak Foot (WF) and Skill Moves (SM) rating of a player in a FIFA title might be one of the least clear parameters of their ratings. Sure, stats and ratings are numerical but WF and SM are determined using stars, out of 5 for each. The better the SM rating, the more skills you can pull off using that player. But what about the WF? It determines how good a player is at playing the ball with their weaker foot. And hence we come to 5-star weak foot players. These players can pass, run, dribble, skill and score using either foot and are a nightmare to defend against. This specially comes to use in FUT and Esports where you face a human instead of an AI and the unpredictability can help you win matches. The influence in Esports that 5-star weak footed players have is immense.
Speaking of Esports, with the footballing season just starting and FIFA 21 right around the corner, it is only a matter of time before we are greeted with a host of tournaments and mega-events. Not just FIFA, but even for CSGO, Fortnite, Valorant etc. It is difficult to catch up with each event and bet on your favourite players while they take the stage. Take a look at this ultimate guide to Esports betting to stay up to date with the trends and industry of Esports and make the most out of it! Now, let's see what players were gifted ambidextrous feet: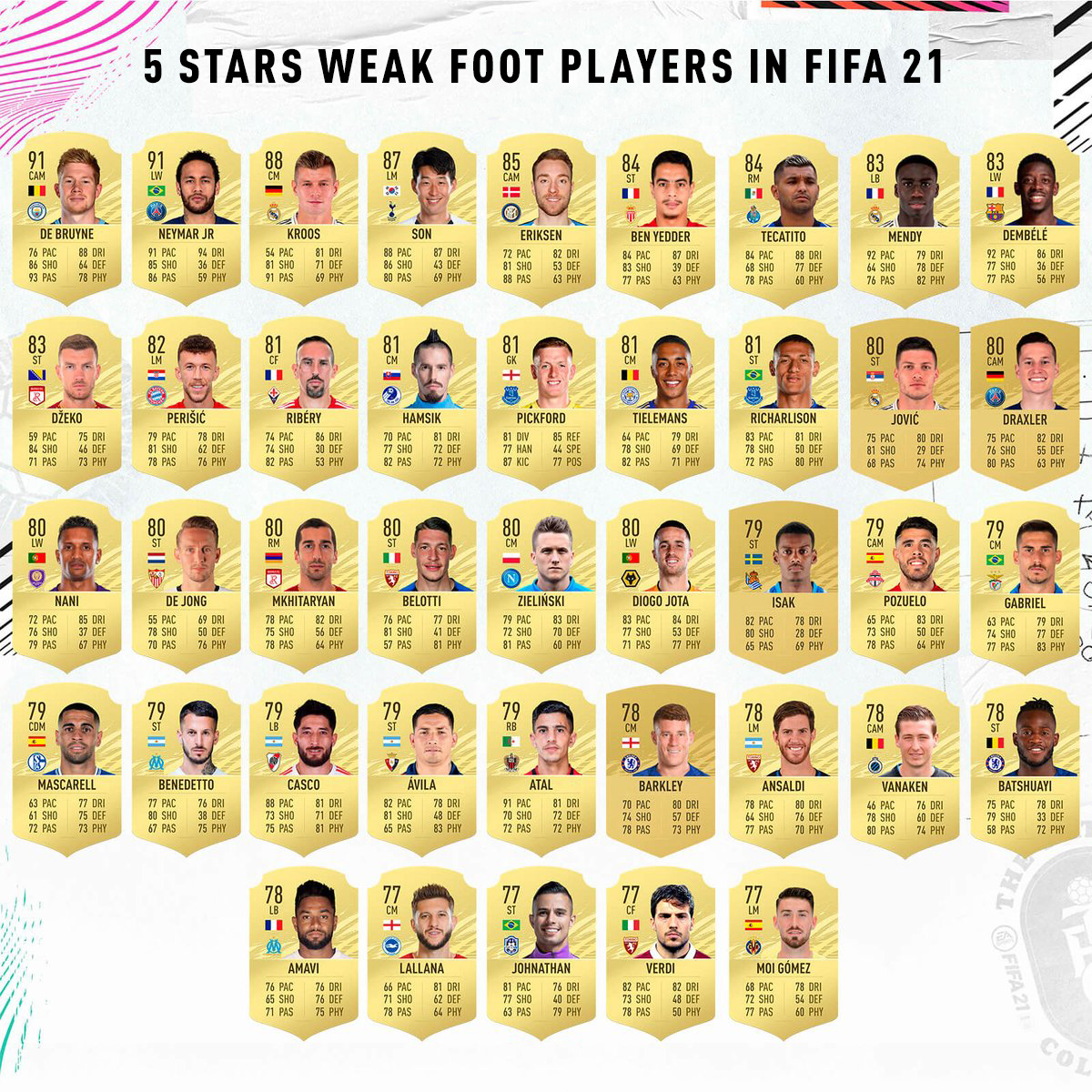 As expected the highest 5-star WF player in FIFA 21 is Neymar which also prides himself with a 5-star SM as well, a record holder since FIFA 14. Also joining the list are Kevin De Bruyne, Heung-min Son, Ben Yedder (yes, broken controllers) and surprisingly, Toni Kroos! Ousmane Dembele still doesn't know his stronger foot and neither does EA, and he gets the 5-star rating too. We were a bit taken aback at seeing Everton player Jordan Pickford on the list, the only goalkeeper to have a 5-star weak foot. We also spotted a few veterans on the list, with the likes of Edin Dzeko, Frank Ribery and Nani. The rest of the list is mostly made up of youth players, including Career Mode legends Luka Jovic, Isak, Tielemans, Richarlison, Atal and Diogo Jota.
And that wraps up the list of the most notable names with a 5-star weak foot. Although, could it even be called a weak foot if it's 5-star rated? We will let you think about it while you wait for our next post. Make sure to grab these players when FIFA 21 drops on October 9th!