FIFA's pinnacle Esports event, the FIFA Global Series (FGS), is set for an overhaul this season. The much-loved tournament series sees players from all over the world compete for a chance to make it to the FIFA eWorld Cup and be crowned the world champion of FIFA every year. We have seen some dominant performances, unknown players causing massive upsets and much more. So, what exactly has changed this year? We are here to give you a low-down.
Regions
The FGS is always conducted in Regions, areas that group together a group of countries into a single qualifying group. This year, EA have added Bolivia, Costa Rica and India to the Regions as well as changing the name of Middle East and Africa Region to West Asia & South Africa Region. Lastly a few countries, mainly Egypt, Israel and Turkey have been moved around Regions. Not only that, Regions will have their own regional qualifiers with points awarded based on the skill level and competition score multiplier. A Regional Play-off system will also be used at the end.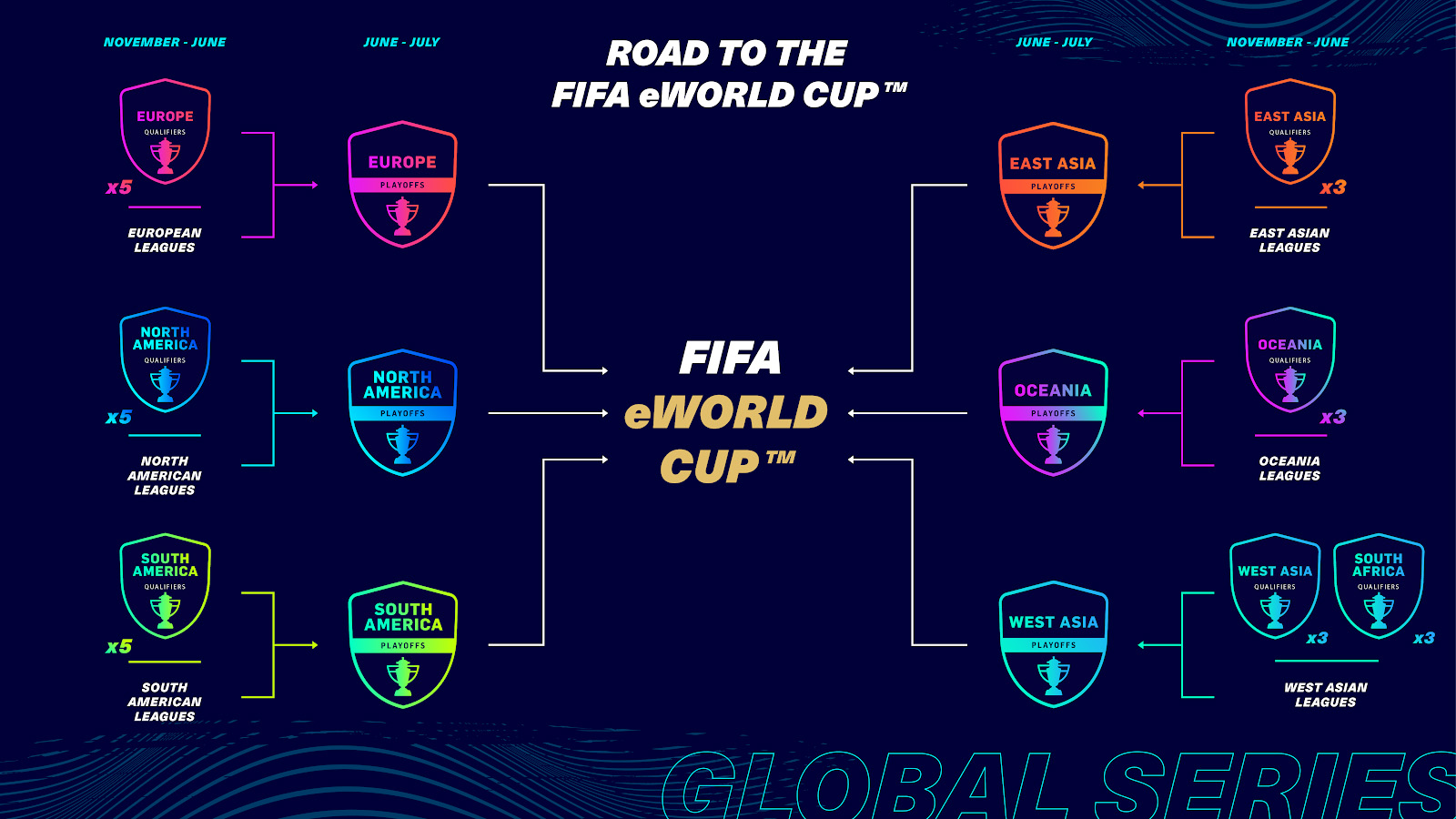 Consoles
Also decided for this year are the platforms that will be used for the FGS. Xbox One and PS4 will be the only eligible platforms as next-gen consoles are yet to start their cycle. Another interesting fact is that Oceania, East Asia and West Asia & South Africa regions will be played only on PS4 as they dominate the competition in terms of PS4 players.
How to Compete in the FGS
EA have also outlined the steps to enter the FGS. Players are required to register before December 31st 2020 after agreeing to the Official Rules and then proceed to become a FUT Champs verified player. Winning a minimum of 27 games in a single Weekend League in FUT Champions will enable you to get verified.
Verified players also get access to a special friendly game mode as well as the ability to earn Global Series Points by winning games in Weekend League. These points are important in order to make the rankings. The primary way to get a place in the play-offs is to compete in Online Qualifiers. Each Region will have its own Qualifier.
Lastly, it is vital to represent a Club from a Domestic League, mostly through their Esports programs or such. A player's domestic league is preferable for club selection. Now all that's left is to qualify for the play-offs and make it to the finals of the competitions.
eChampions League and CONMEBOL eLibertadores
The two premier continental club competitions in the world will have their eSports counterpart represented in their Regions. These tournaments will also offer seats in the play-offs.
Schedule and Prizing
The schedules and prizing details have been announced by EA and can be found in-depth in their official Pitch Notes which explain the tier list for each rank and winner. This season, EA will award over $3 million USD in prizes across Qualifiers, Regional Playoffs, the eChampions League, and CONMEBOL eLibertadores.
The schedule is planned to run from late November 2020 to mid-April 2021. This includes the Qualifiers mainly and will be crucial in order to organize the play-offs.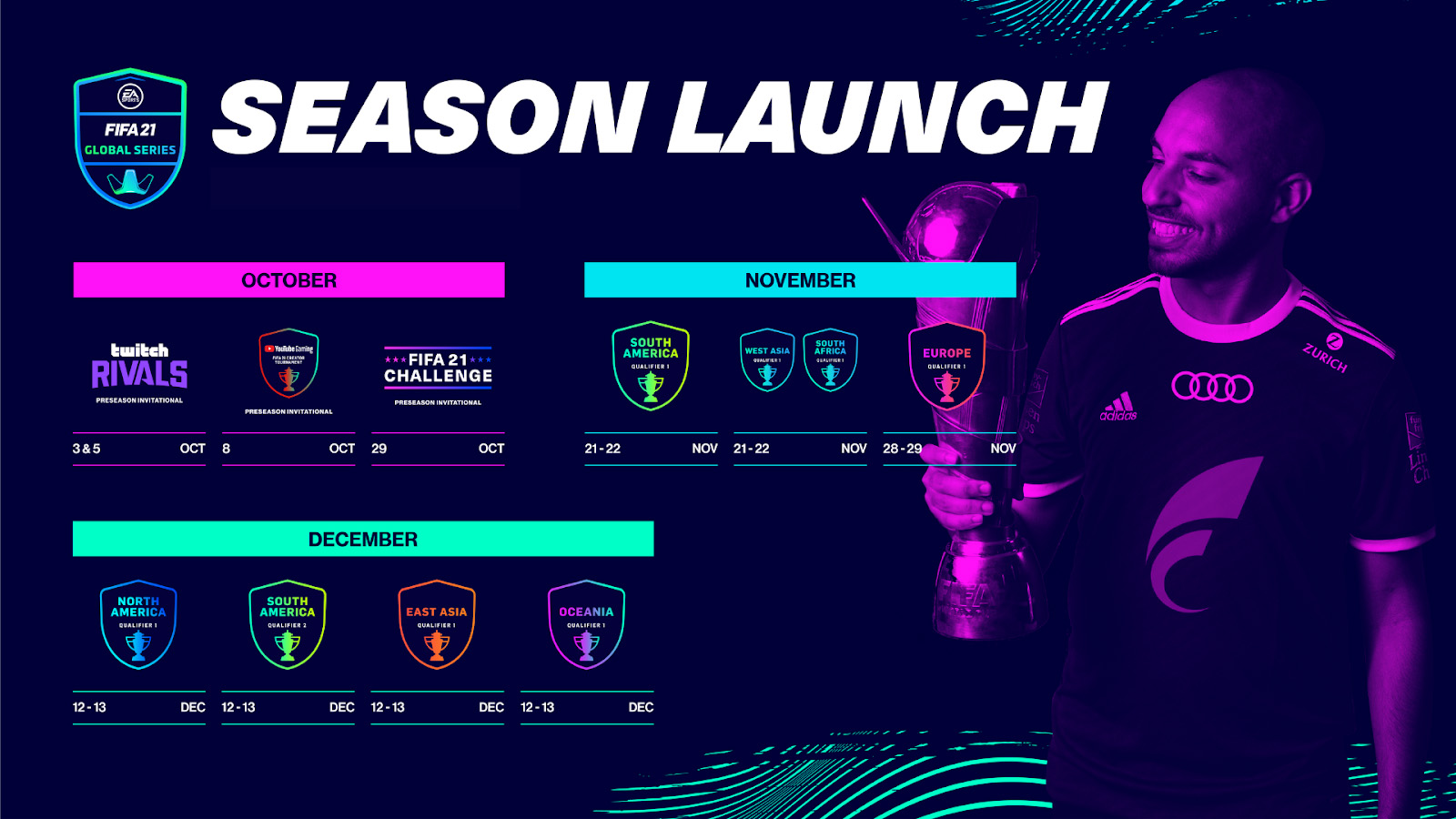 Viewership Rewards
Don't worry if you couldn't secure FUT Champs verification or if you lost out early or maybe you just don't want to compete in the FGS you can participate in the Viewership Rewards Program that will ensure you get maximum rewards out of this tournament series by simply viewing the tournaments online via your Twitch account and redeem exclusive rewards in FIFA 21 Ultimate Team!
And that concludes the article regarding the new format. On first glance, it definitely looks to be a massive step up from the previous structure, especially the removal of the Swiss format. In any case, this season's FGS is surely going to be a banger hit as well!