With one week to go until the FIFA 21 early access release, the EA Sports FIFA dev team revealed today how they responded to the FIFA 21 closed beta feedback and what they have addressed ahead of the full game release.
The main areas that have closely monitored by EA are Gameplay, Ultimate Team, Career Mode, Pro Clubs and VOLTA. Here's what improvements they have made based on the most important feedbacks from the beta players:
GAMEPLAY
Situations where the opponent would sometimes immediately recover the ball after being tackled.

Improved the tackling and dribbling mechanics to reduce cases where a successful tackle makes the ball bounce back to the dribbler.

Feedback mentioning that some players felt too slow with the ball.

Made Dribbling slightly better, especially for lower rated dribblers.

Some driven crosses and ground driven crosses were too fast.

These crosses have been generally slowed down, especially for lower rated crossers.

Some actions and animations were taking too long to happen.

Improved responsiveness of shots, passes and controlling the ball in multiple situations.
This is an area we are continuing to monitor closely and will look to address further in future title updates if needed.

Players without high Vision or high Short/Long Passing attributes were too effective when performing through passes.

Low Vision/Passing attributes now have a bigger impact on determining smart usage of space and overall quality of Through Passes.

Players had difficulty defending against crosses as the attackers were too free.

Improved the marking in crossing situations. In some cases, defenders were not tracking runs well enough, creating easy goals from crosses.

Situations where soft collisions were causing easy penalty kicks or fouls.

Multiple improvements to wrong referee calls.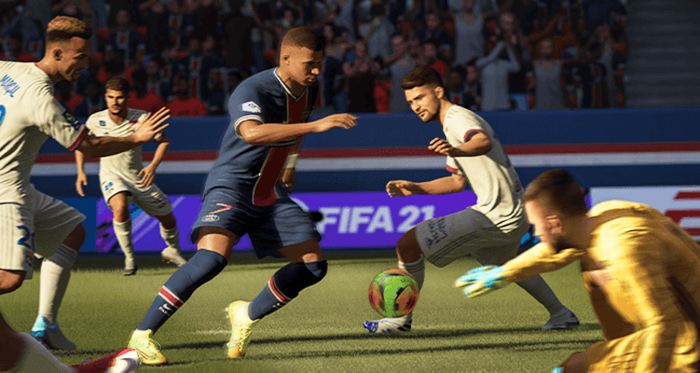 ULTIMATE TEAM
The new FUT Main Menu is faster in some areas, such as accessing Squad Management – but slower in others, in particular the Transfer Market.

Improvements to the bidding and buy now flows in the Transfer Market by changing some button assignments, removing some confirmation dialogues and fixing various issues.
Several fixes were made to the Main Menu to make it feel more responsive.

It's too easy to accidentally navigate to either Stadium or Squad using the quick access buttons.

Decreased the sensitivity of the quick access buttons in the Main Menu, so it's less likely to accidentally navigate to the Stadium or Squad screen.

FUT Events are a fun way to play, but they were difficult to find in the menus. On top of that, it wasn't clear when rewards were available and that you needed to complete Event Objectives in order to contribute to your Team or Community.

Changed phrasing in the Events screen within Objectives to better communicate if rewards are available and the requirements to obtain them.

Rebalancing on Chemistry Styles has been a welcome refresh to customizing your players. There are more interesting choices between styles and more distinct tradeoffs between attribute boosts.

Chemistry Styles are an important way to be able to customize your players to your personal style.

It wasn't immediately clear where to find SBCs and Live FUT Friendlies within the new Menu design.

Better communication and quick-links in-game in order to access new features like Events or Limited Time FUT Friendlies.
EA is also exploring better Consumables Management, the ability to preview Stadium Audio and giving the Co-Op Teammate more freedom while in the Lobby.
CAREER MODE
Simulating training required the user to navigate to the Training Hub. This introduced additional friction while advancing through each week:

To help improve this, EA Sports added the option to simulate Training Sessions from the Training Day tile itself, removing the need to go into the Training Hub to simulate training.
Simulating over training days through the Calendar, using Sim to Date, will get your players the results of that training session.

Some Manager Objectives were unrealistic or being wrongfully marked as completed:

These issues have been fixed and EA will continue monitoring any additional feedback around Manager Objectives.

Weather Options were missing from the new Career Mode match launcher.

The setting has been added back in order to allow more control over the match conditions.

There was an inconsistent behaviour in Player Career when, at times, the player was selected by the manager but there was no option to play:

This issue has been fixed.

Specific areas of the Career Mode UI/Menu could sometimes feel slower than intended:

The UI responsiveness has been improved in multiple areas of Career Mode.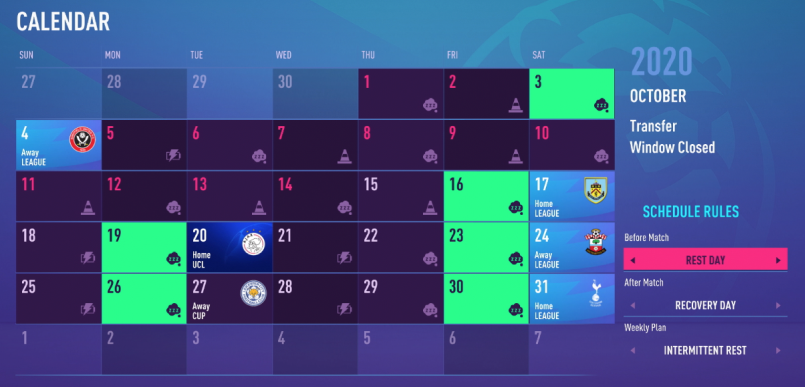 PRO CLUBS
There was no option for players to select CM as their Virtual Pro position.

The CM position has been added to offer a complete midfielder package alongside the existing CAM and CDM positions. It comes with its own starting attribute set.

There was feedback around a lack of pace for some Virtual Pro positions, specifically with CB and CAM/CDM positions.

Some general fixes & tuning adjustments were made to player growth for your Virtual Pro and also updated the pace for certain positions.
VOLTA FOOTBALL
Players had trouble distinguishing between themselves and their opponents in Drop In and Squad Up matches.

The player indicators had an issue at the beginning of the Closed Beta that was making it difficult to distinguish between players. This issue was addressed with the title update during the Closed Beta. There are also further fixes to issues with the feet indicators which are being addressed for launch.

The VOLTA FOOTBALL Stadium's pitch texture makes it difficult for users to see gameplay.

The VOLTA FOOTBALL Stadium pitch texture is being revisited for an early title update, the aim is to replace the black reflective surface with a brighter colour.

There was not enough vanity available for players to customize their Avatar as they wanted.

The vanity offering in the drops will be roughly doubled for the first drop at launch and continue to grow throughout the year.

Players wanted to include multiple Groundbreakers in their squad as AI players.

The ability to have multiple Groundbreakers is being investigated for a future title update, to give players more freedom to field the Groundbreakers they unlock via Featured Battles.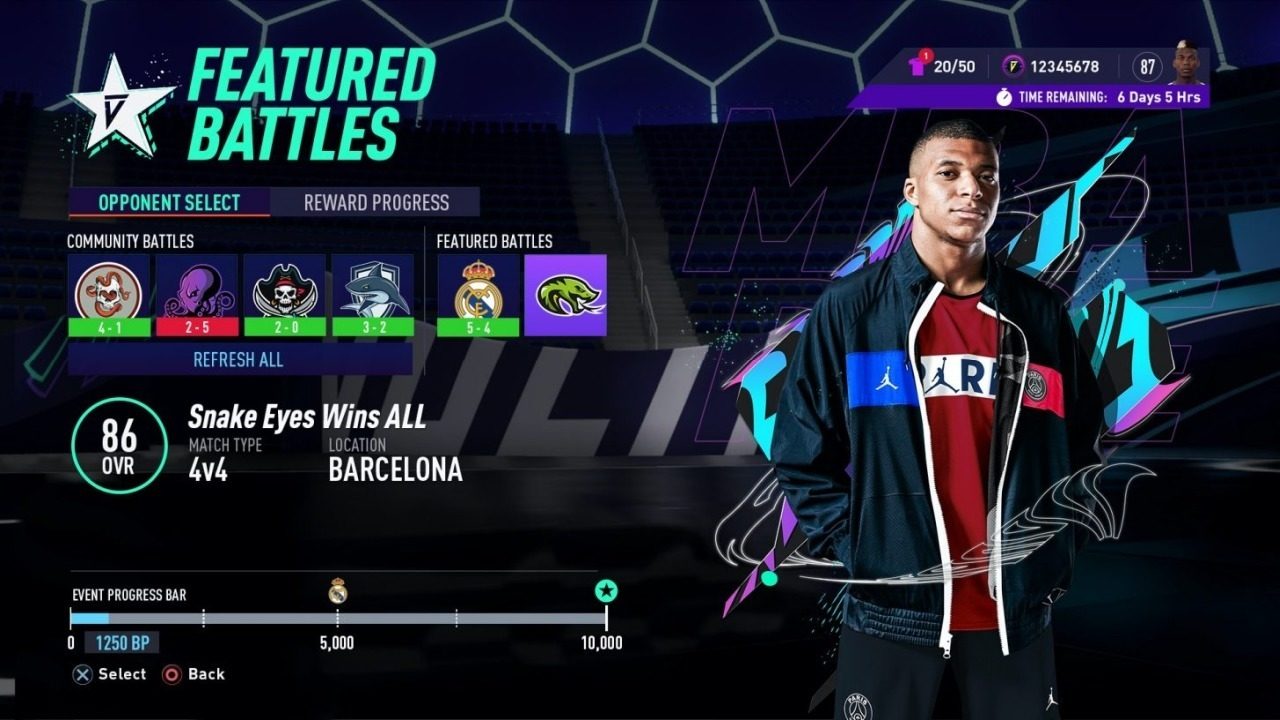 Additional Tuning Changes for Launch:
Featured Battles

Decreased Milestone thresholds so users can unlock Groundbreakers more quickly.
Several events will feature additional Featured Battles against featured teams rewarding authentic team kits.
VOLTA SQUADS

Changing from 8 Divisions to 6 Divisions to improve the matchmaking experience with the aim of reducing the time it takes to find a match for all users.
Ranks rewards have been updated to provide more vanity unlocks for each VOLTA SQUADS event.
Challenge Ladders

5 ladders of content will be included in the first drop rather than the 2 seen in the Closed Beta.
FIFA 21 will be available worldwide on October 9th. For more FIFA 21 news please follow us on twitter!