Are you at the end of your FIFA cycle, much like FIFA 20 itself? Do you want to spice the game up a bit to make it through until FIFA 21 releases? Fret not, as we take a look at the often-forgotten modes of the FIFA series, and one of them is the Kick-Off mode.
It seems that people only touch the Kick-Off mode when they either play the demo or when they are learning the mechanics of the game. Once the initial phase passes, players generally switch to FUT/Career Mode/Pro Clubs. Ever wondered why that is? Players normally treat this game mode as a single match entity and that is pretty much it when in fact, it is so much more when properly explored. Let's take a look at probably the greatest thing to happen to Kick-Off; House Rules.
House Rules is a very fun system on paper and surprisingly, in-game as well. 'House Rules' lets you throw the conventional rules of football out the window and bring more arcade, nonsensical gameplay to every match. House Rules is a collection of different game modes and each mode is unique. The top 5 House Rules matches available in FIFA 20 are:
1. Survival Mode
The most popular game mode in House Rules, Survival Mode is like the Battle Royale of the FIFA series. The only difference is that every time you score a goal, you lose a player on your team (except the goalkeeper). We have spent countless evenings playing with friends and getting enraged when your mate scores his third goal against you, playing with 9 men while you search for your first. Right in the feels, eh?
2. No Rules
What could be the best rules for a football match? No rules! And that's pretty much. There are no rules (well some rules…) and no cards or fouls. Go crazy with those leg-breaking fouls, senseless slide tackles and best of all, pitching your striker right next to the keeper and scoring a tap-in directly without the worry of offsides. Warning: There may be some throwing/breaking of controllers.
3. Long Range
This one is a technical genius to play. Long Range is meant for the inner Messi/Ronaldinho/Pirlo in everyone who just love to let one rip from 30 yards. You can score goals from inside the box, for 1 goal each or bang one in from outside, worth 2 goals each. Get ready to witness some breathtaking finesse shot, knuckleballs and maybe some embarrassing deflected ones as well.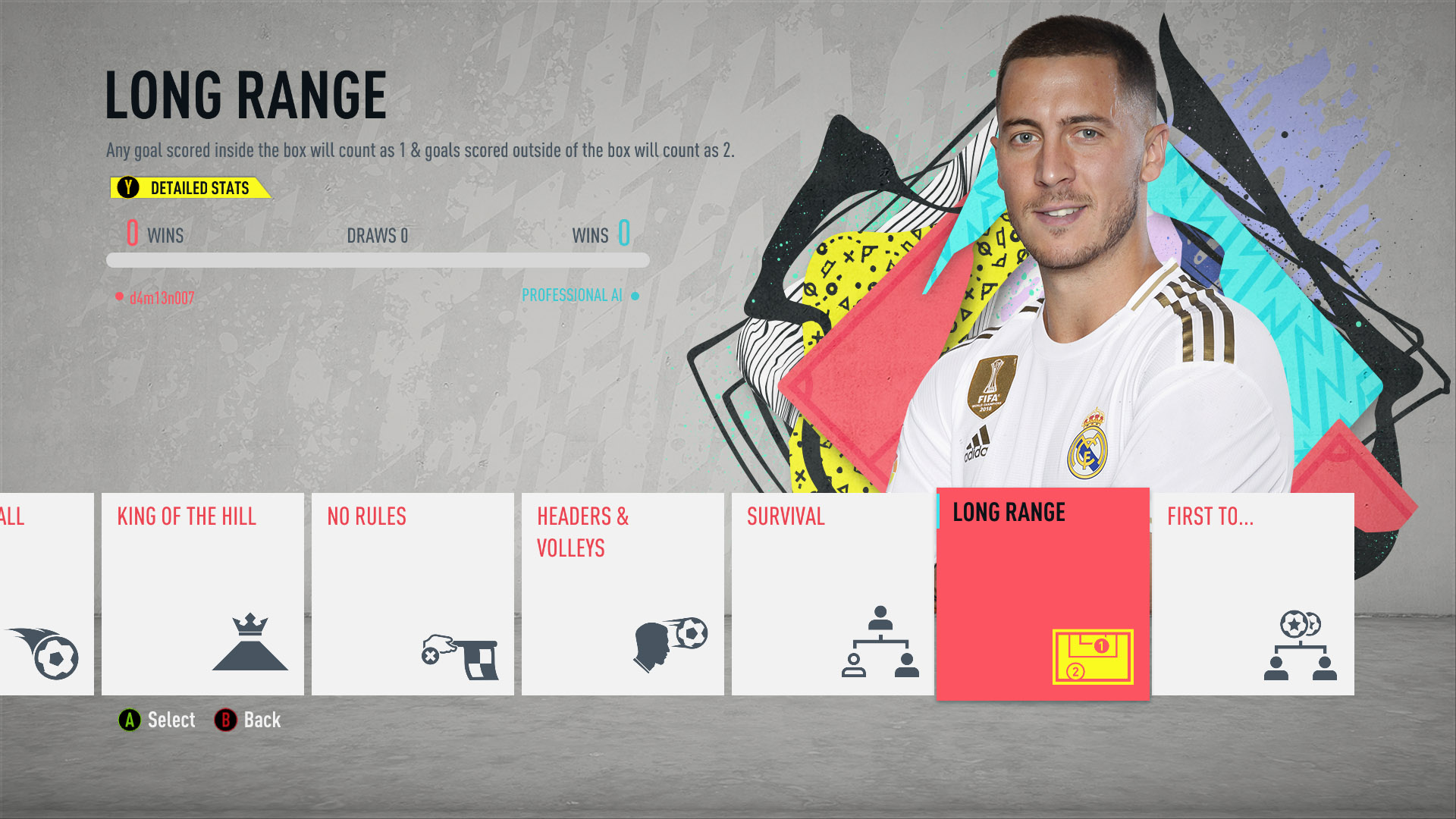 4. Mystery Ball
This mode is a doozy and a little confusing at times. It is the most random mode in House Rules and that is what makes it special. While playing the match, the ball receives various boosts and multipliers at random that can either help or hinder the team in possession. These boosts range from Pace, Dribbling, Shooting etc. as well as a Multiplier with it that is added to your score line whenever you score a goal. Not much to say except, good luck!
5. Headers and Volleys
The last one on our list is Headers and Volleys and as the name suggests, that's what you're supposed to do for the entire match. A sneaky mode, you can watch the pain on your opponent's face as they celebrate scoring a goal only to realise that it doesn't count as it was scored with their feet. In this mode, goals are only counted when headed in or volleyed into the net. All other goals are disallowed. Annoying? Yeah. Difficult? Oh, most definitely yeah.
And that concludes our top 5 list. There are 4 more modes to House Rules though. They are:
First To
Swaps (FUT Exclusive)
King of the Hill
Max Chemistry (FUT Exclusive)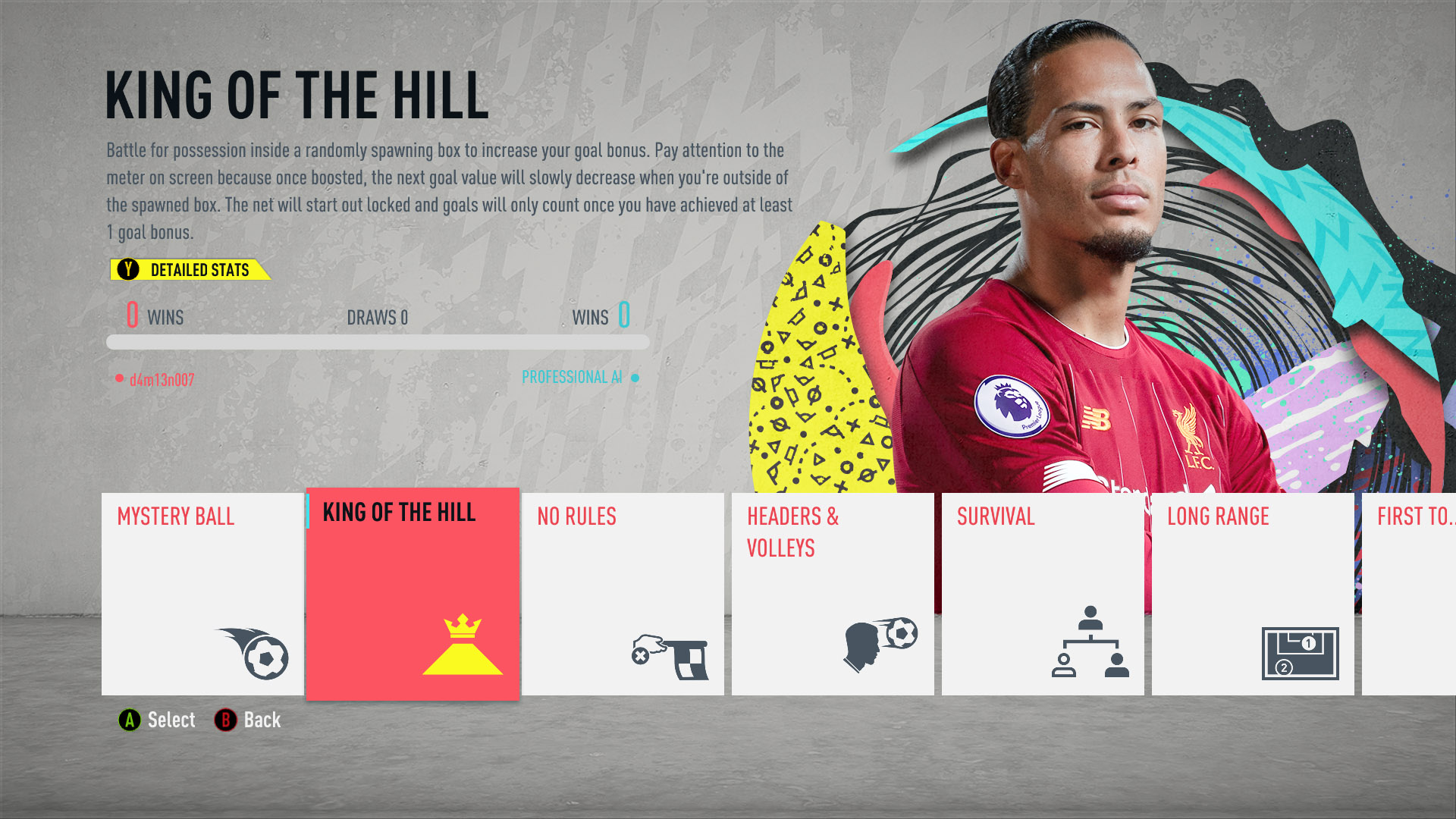 So, go ahead and try these games, you will not be disappointed. Kick-Off is perfect for couch play and to create fun 2v2 battles. Or maybe you're just bored with the vanilla gameplay and wish to give yourself a challenge against the AI. Let us know in the comments what your favourite House Rules mode is!