With Team of the Season (TOTS) campaign in full swing in FIFA 23, let's take a look at the best Premier League TOTS cards ever released.
TOTS promo is an all-time favourite for FUT fans. In order to celebrate that, we've put together the best Premier League TOTS cards from every FIFA edition in which the promo has taken place. This will take into account not only real-life form but fan-favourite cards from over the years.
Let's see who made it in the Premier League TOTS All-Time XI, shall we?
Premier League TOTS All-Time XI
GK: David De Gea – FIFA 18 – 97 OVR – Manchester United
Manchester United's no.1 was one of the best goalkeepers in the world during the 2017/18 season, with his quick reflexes and high-flying ability. To complement this, EA awarded him with 99 reflexes and 96 diving on his TOTS card in FIFA 18.
RB: Trent Alexander Arnold – FIFA 20 – 95 OVR – Liverpool
The Liverpool starlet revolutionized the way a full-back should play with his amazing playmaking abilities for Liverpool. With 17 goal contributions in 38 games in the Premier League, Trent deserves his place in the all-time Premier League TOTS.
LB: Andrew Robertson – FIFA 20 – 94 OVR – Liverpool
On the other side of the defence is Andrew Robertson. With his tireless running and amazing ability on the ball, he was an obvious choice for left-back. Featuring a 94 passing stat to complement his 12 assist in the Premier League and a 92 defensive stat, he was a threat at both ends of the pitch for Liverpool's title winning team.

CB: Virgil Van Dijk – FIFA 20 – 99 OVR – Liverpool
One of two 99 rated players on this list, Virgil Van Dijk proved that he is amongst the greats of the Premier League with this outstanding title winning campaign for Liverpool. With 99 defending and 99 physical attributes, he was a brick wall in defences during the FIFA 20 TOTS cycle.

CB: David Luiz – FIFA 17 – 92 OVR – Chelsea
David Luiz has always been a fun player to use in FIFA and this card is nothing but fun. Featuring 88 long shots, 90 free kick accuracy and every primary stat above 80 rating, this card is essentially a centre midfielder playing centre back.

CDM: N'golo Kante – FIFA 17 – 92 OVR – Chelsea
N'golo Kante received back-to-back TOTS cards for his brilliance in both Leicester and Chelsea's title winning campaigns. Playing a pivotal role in both campaigns, Kante's FIFA 17 card features every primary stat over rating of 85, meaning he is the perfect all-round player for any midfield.

CM: Kevin De Bruyne – FIFA 20 – 99 OVR – Manchester City
This was by far Kevin De Bruyne's best season in a Manchester City shirt. He achieved 33 goal contributions in 38 games in the league and also level the assist record in a single season with 20. With a 99 rated card it's clear to see why he has a place in this team.

CAM: Bruno Fernandes – FIFA 21 – 96 OVR – Manchester United
This was Bruno's first full season at Manchester United and he did not disappoint. Playing 58 games for United he scored 28 goals and created 17 assists. He also won player of the month for times that season as Man United were Europa League finalist that season.

LW: Eden Hazard – FIFA 19 – 98 OVR – Chelsea
In arguably his best performing season, Eden Hazard, received his highest ever rating at 98. Playing 52 games scoring 21 goals and assisting 17 times, Hazard led his Chelsea team to European success beating arsenal in the Europa League Final, scoring twice in that game. His biggest highlight came against West Ham scoring a brilliant solo goal.

RW: Mohammed Salah – FIFA 18 – 98 OVR – Liverpool
This was Mohammed Salah's debut season for Liverpool after arriving from Roma for a then club record £36.9 million, and he certainly lived up to the expectation. He played in 49 games scoring 44 goals in all competitions as he helped Liverpool to a Champions League final against Real Madrid.
He also broke the record for most goals in a 38 game Premier League season with 32 goals. A record which stood for 6 years ending this season courtesy of Erling Haaland. Salah has solidified his place as an Anfield legend and deserves the awards he has received since this ground-breaking season.

ST: Erling Haaland – FIFA 23 – 97 OVR – Manchester City
To round off the team, the player that will lead the line is Haaland for his incredible achievements so far this season. Having only played 32 games so far this season in the Premier League alone he has 35 goals which is the record for the most goals in a single season. Haaland is possibly one of the greatest acquisitions in Premier League history and merits a place in this squad.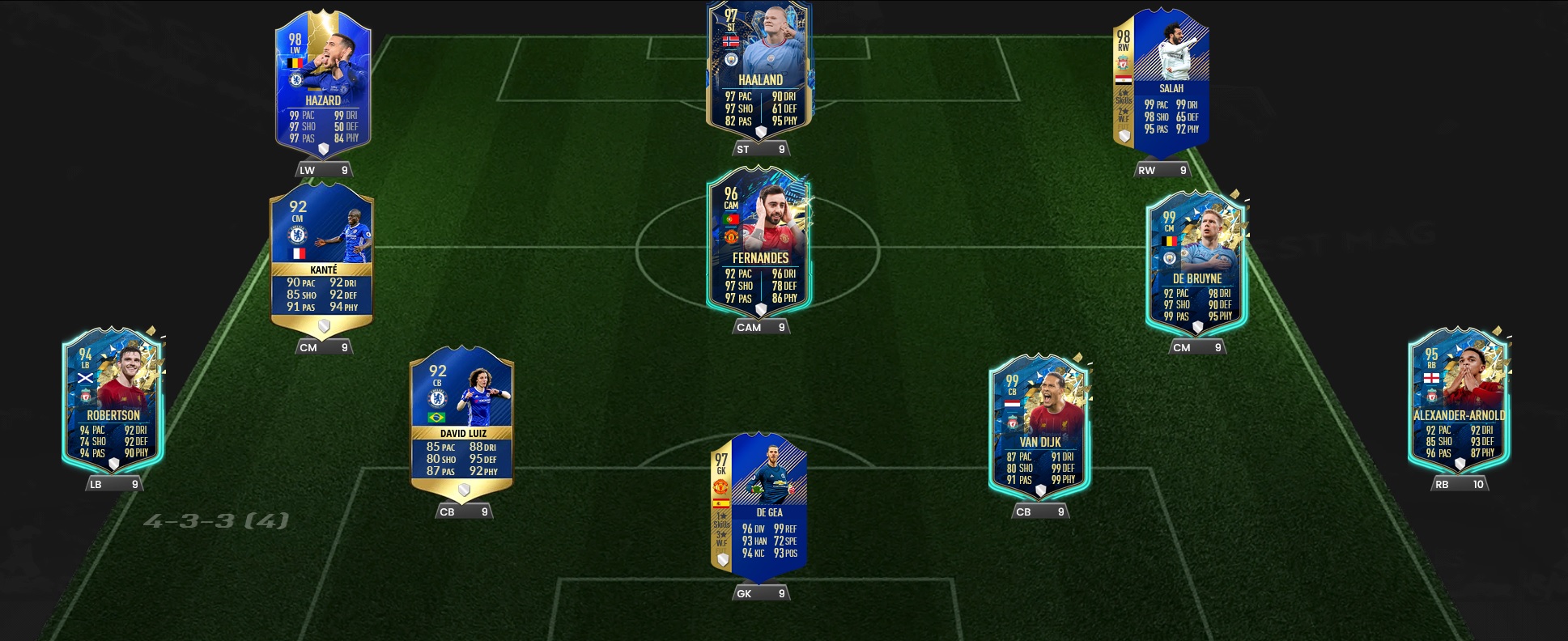 The Norwegian striker can add more goals to his record as he still has six more games to play this season in the Premier League. Manchester City will take on Everton this weekend and all the eyes will be on the Norwegian star as many predict he will score once again. Some will wage on that, and we have the best betting picks 4 you to take in consideration for your next bets.
Honourable Mentions
More players deserved to be included in the All-Time XI, unfortunately the squad can only feature eleven players. Below, you can find a list of other Premier League TOTS stars that made history but didn't quite make the cut for the team:
Zlatan Ibrahimović (Manchester United) – FIFA 17

Yannick Bolasie (Crystal Palace) – FIFA 15

Heung Min Son (Tottenham Hotspur) – FIFA 19

Roberto Frimino (Liverpool) – FIFA 18

Luis Suárez (Liverpool) – FIFA 14

Sadio Mané (Liverpool) – FIFA 20
Riyad Mahrez (Leicester City) – FIFA 16

Jamie Vardy (Leicester City) – FIFA 16

Mesut Ozil (Arsenal) – FIFA 16

Sergio Aguero (Manchester City) – FIFA 15
Dimitri Payet – FIFA 16 (West Ham)
Antonio Valencia (Manchester United)- FIFA 17
Stay tuned for more TOTS content as EA Sports will continue its campaign until June.