The latest batch of TOTS cards has been released, featuring the best players from the Saudi League.
After the recent release of the Bundesliga TOTS, FUT fans can also find the best players of the Saudi Pro League in packs as of today.
There are some familiar names such as the former Manchester United striker Odion Ighalo and of course one of the greatest players of all-time following his recent transfer to Al Nassr, Cristiano Ronaldo, who has already scored 12 goals in 13 games for the club.
ROSHN Saudi League TOTS
The 8-men squad includes the following players:
GK: Marcelo Grohe – Al Ittihad – 88 OVR
CB: Ahmed Hegazi – Al Ittihad – 88 OVR
CB: Hassan Tombakti – Al Shabab – 89 OVR
CAM: Anderson Talisca – Al Nassr – 93 OVR
RW: Mohamed Fouzair – Al Raed – 89 OVR
LW: Romarinho – Al Ittihad – 91 OVR
ST: Odion Ighalo – Al Hihal – 90 OVR
ST: Cristiano Ronaldo – Al Nassr – 96 OVR (TOTS Moments)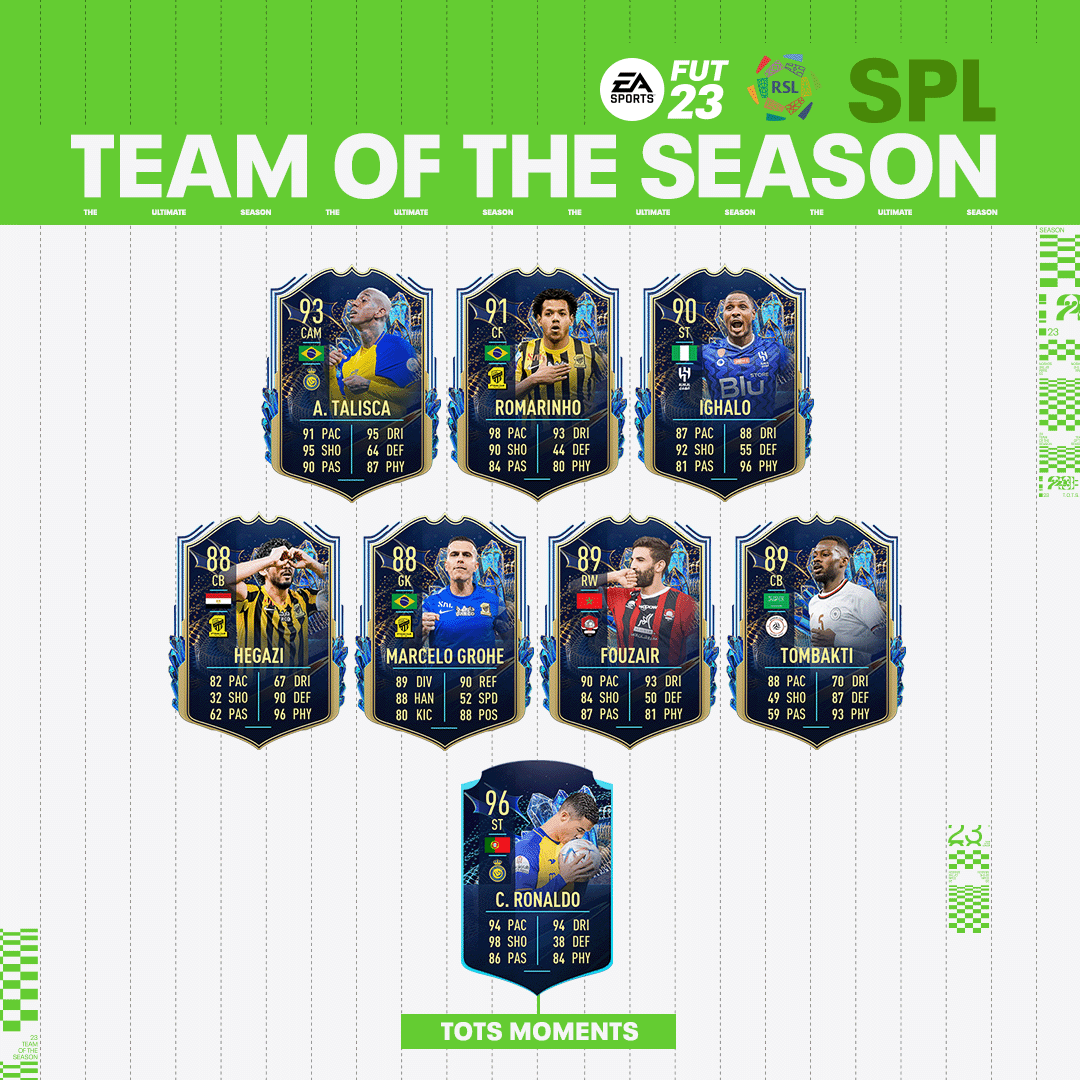 Hegazi's 96 physical stat should give defences the added security, whilst at the other end Cristiano Ronaldo is guaranteed to produce goals in any team.
Anderson Talisca has always been a popular player amongst the FUT community so his 93 rated card will definitely feature in many teams. With 95 shooting and dribbling stats, he is one of the standout players in this promo.
ROSHN Saudi League TOTS Luiz Gustavo Objective
Furthermore, FUT players can bag another TOTS card by completing the Luiz Gustavo TOTS Objective. This exciting TOTS card features 90 defending and 94 physical and is perfect for any midfield as a defensive wall in front of the back 4. To complete this objective, players will need to complete the following tasks:
Goal Hunter – Score 6 goals using players from Brazil in Squad Battles on minimum Semi-Pro difficulty (or rivals and FUT champions).
Assistance Needed – Assist 3 goals using through balls in Squad Battles on minimum Semi-pro difficulty (or rivals and FUT champions).
Keep it Balanced – Score and Assist using Midfielders in 3 separate Squad Battle matches on minimum semi-pro difficulty (or rivals and FUT champions).
Victory Run – Win 6 Squad Battles matches on minimum semi-pro difficulty(or rivals and FUT champions) while having minimum 1 ROSHN Saudi league player in your starting 11.
Each objective grants individual awards on top of the final prize, so it's definitely worth completing.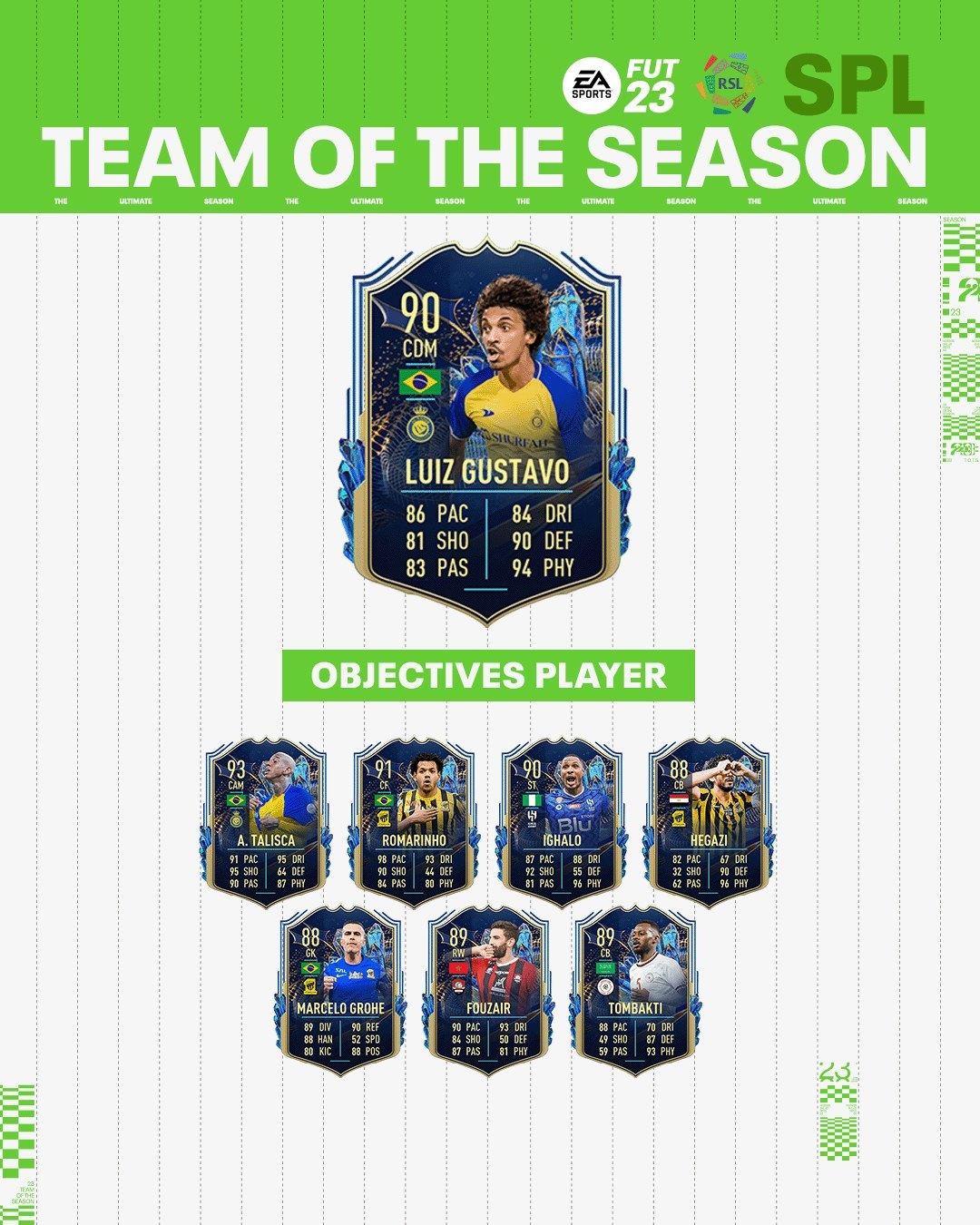 TOTS Alejandro Romero (Kaku) SBC
EA Sports have also added a themed SBC which is 100% value for money. Kaku's card features 90 pace and 91 dribbling as a central midfielder, making him a great option either in the starting 11 or off the bench.
All you need to complete this SBC is to submit an 84 rated squad and the card is yours!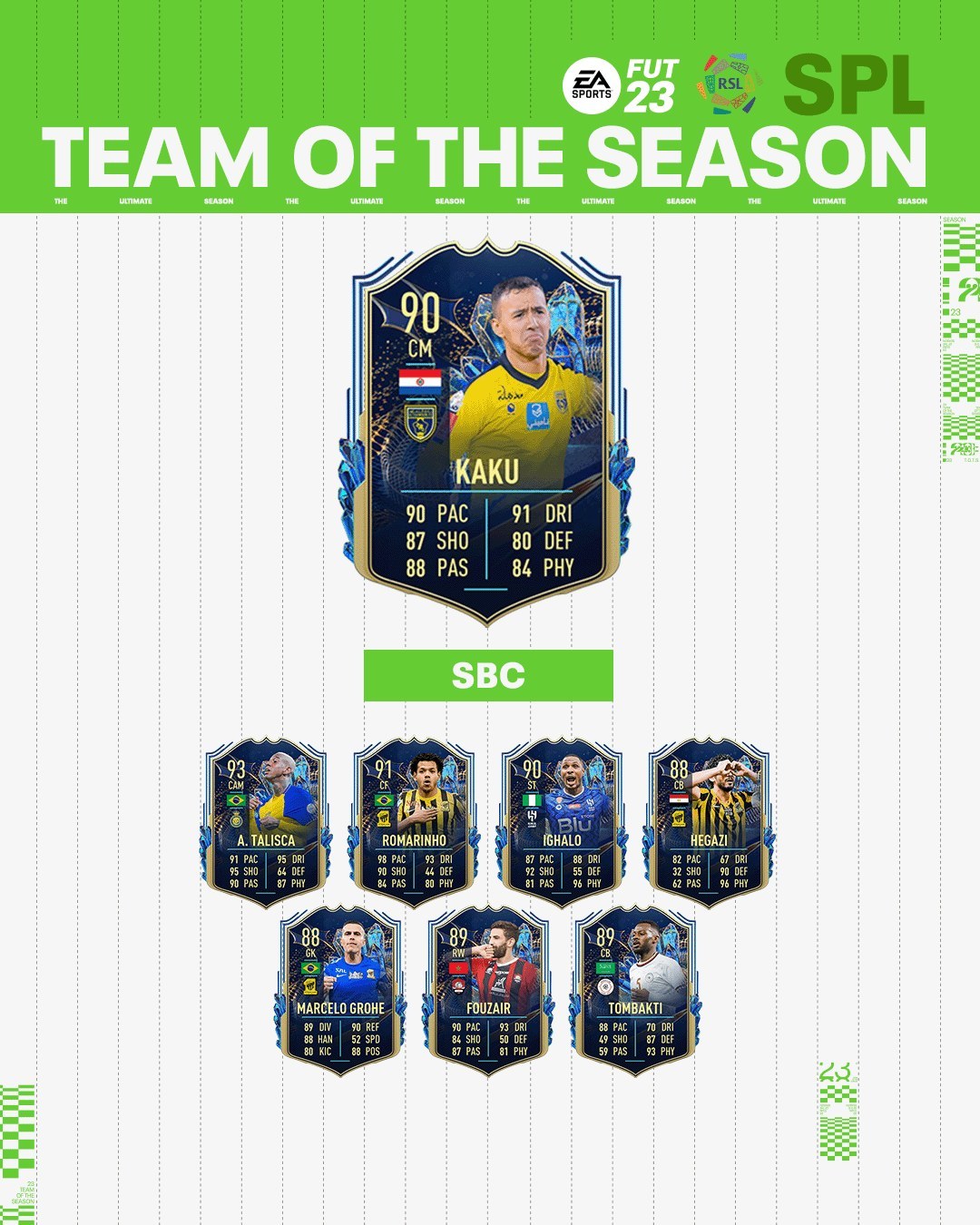 TOTS Schedule
Thanks to the recent rewards update in FUT 23, we already know the full schedule release for the entire TOTS campaign. Here's when all League TOTS will drop in packs:
• Community – April 28th
• Eredivisie – April 28th
• Premier League – May 5th
• EFL – May 7th
• Bundesliga – May 12th
• Saudi League – May 14th
• La Liga – May 19th
• MLS – May 21st
• Ligue 1 – May 26th
• Süper Lig – May 28th
• Serie A – June 2nd
• Liga Portugal – June 4th
• Ultimate – June 9th
Stay tuned for more TOTS content coming in the following weeks.