The Team of the Season (TOTS) promo is in full force and EA have just announced the TOTS for the Bundesliga. This team features the best players from Germany's top clubs including league leaders Bayern Munich and rivals Borussia Dortmund which is proving to be an entertaining title race.
The team features fan favourites such as Christopher Nkunku in what will be his last season in the Bundesliga before joining Chelsea in the summer. Bayer Leverkusen's speedy duo of Jeremie Frimpong and Moussa Diaby also make the star-studded team.
Bundesliga TOTS
Two weeks ago fans and experts have voted for their Bundesliga 2022/23 TOTS whittling down a 40-man shortlist to emerge with the following 18 TOTS players including three TOTS Moments cards.
Here's the full squad:
GK: Gregor Kobel

(Borussia Dortmund) –

92 OVR
RWB: Jeremie Frimpong

(Bayer Leverkusen) –

92 OVR
CB: Matthijs de Ligt

(Bayern Munich) –

96 OVR
CB: Nico Schlotterbeck

(Borussia Dortmund) –

90 OVR
LB: Alphonso Davies

(Bayern Munich) –

92 OVR
CDM: Joshua Kimmich

(Bayern Munich) –

96 OVR
CM: Jude Bellingham

(Borussia Dortmund) –

97 OVR

CAM: Jamal Musiala (

Bayern Munich) –

97 OVR
CAM: Jonas Hoffman

(Borussia Mönchengladbach) –

90 OVR
CM: Julian Brandt (

Borussia Dortmund) –

93 OVR
LM: Leroy Sané (

Bayern Munich) –

91 OVR
RW: Moussa Diaby (

Bayer Leverkusen) –

94 OVR
CF: Christopher Nkunku

(RB Leipzig) –

95 OVR
ST: Niclas Fulkrug (

Werder Bremen) –

92 OVR
ST: Kolo Muani

(Eintracht Frankfurt) –

92 OVR
CM: Leon Goretzka (Bayern Munich) – 95 OVR (TOTS Moments)

ST: Sadio Mané (Bayern Munich) – 95 OVR (TOTS Moments)
CB: Maxence Lacroix (Wolfsburg) – 91 OVR (TOTS Moments)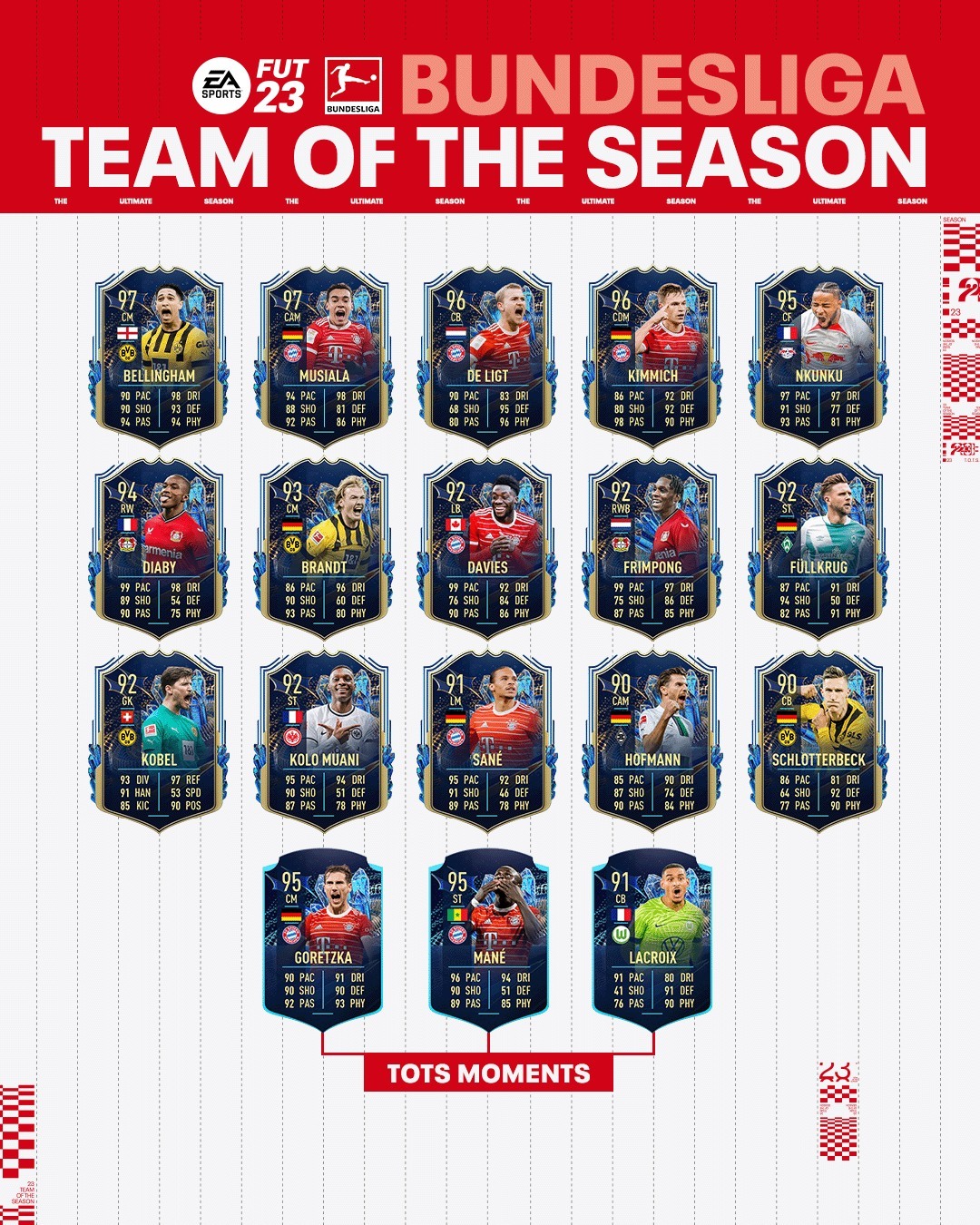 It's no surprise to see the promising duo of Jude Bellingham (Borussia Dortmund) and Jamal Musiala (Bayern Munich) in the team as they continue to play at the highest level despite their young age.
Alphonso Davies is also continuing his great Bayern Munich career with his 4th Bundesliga TOTS award. The standout player in the team would have to be Niclas Füllkrug who is currently the top goalscorer in the Bundesliga and is deserving of his first ever TOTS card.
Bundesliga Year in Review Objective
Additional TOTS players can also be unlocked through a "riddle" objective in-game that will get you two more Bundesliga stars. Here are the tasks for this special objective:

Sting Like a Bee: This team had a superb start to 2023 with a strong unbeaten streak in the league. Recreate their run to solve this riddle! You will require four players from that club in your starting 11.
Celebration at Mewa: The outstanding display by this player proved instrumental in propelling his team toward a comfortable victory. Hats off to him! Can you solve this riddle?
Bavarian Victory: The start of the season came packed with action, a one sided match with one team bagging half a dozen goals. Recreate their dominance to solve this riddle!
Terrific Tie: Never give up! Even when it looks like it is over, there is always a chance. This team showed their bullish side with this amazing late comeback! Can you solve this riddle?
Relegation Battle: One team from the capital has had a tough season so far. Shoot them to their season win total at the end of Matchday 31 to solve this riddle!
Top 5: At the end of Matchday 31, these five clubs were at the top of the table. Include two players from each of these clubs in your next 10 matches to solve this riddle!
Iron Strength: This team has delighted football fans with their amazing performance this season! This memorable match was important because it ended their five game winless streak. Can you solve this riddle?
The 𝘣𝘦𝘴𝘵 of the Bundesliga 🔵

As chosen by you, presenting the @Bundesliga_DE Team of the Season 🇩🇪: https://t.co/YLBCuZT4Jz#FIFA23 #FUT #TOTS #BLTOTS pic.twitter.com/xYgFUH9sO2

— EA SPORTS FIFA (@EASPORTSFIFA) May 12, 2023
The solutions for the riddled tasks are as following:
Sting Like a Bee: Play eight games with four Borussia Dortmund players in your starting squad
Celebration at Mewa: Score a hat-trick with an Austrian player
Bavarian Victory: Score six goals with a Bayern Munich player.
Terrific Tie: Score three goals with players from RB Leipzig
Relegation Battle: Score a goal in six wins with a Hertha Berlin player in your starting squad.
Top 5: Have two players from each Bayern Munich, Borussia Dortmund, RB Leipzig, Union Berlin and SC Freiburg in your starting 11 and play 10 matches.
Iron Strength: Score two goals with a Union Berlin player and win the game.
Completing this themed objective will net you a 90-rated TOTS Marcus Thuram (Borussia Mönchengladbach), a 90-rated TOTS Danilho Doekhi (Union Berlin) and a Base Icon Gerd Muller.
This objective will expire on Monday, May 22.
Bundesliga TOTS Moments SBCs
More TOTS Moments cards can be unlocked thanks to limited time player Squad Building Challenges (SBCs). Featured players can be seen below: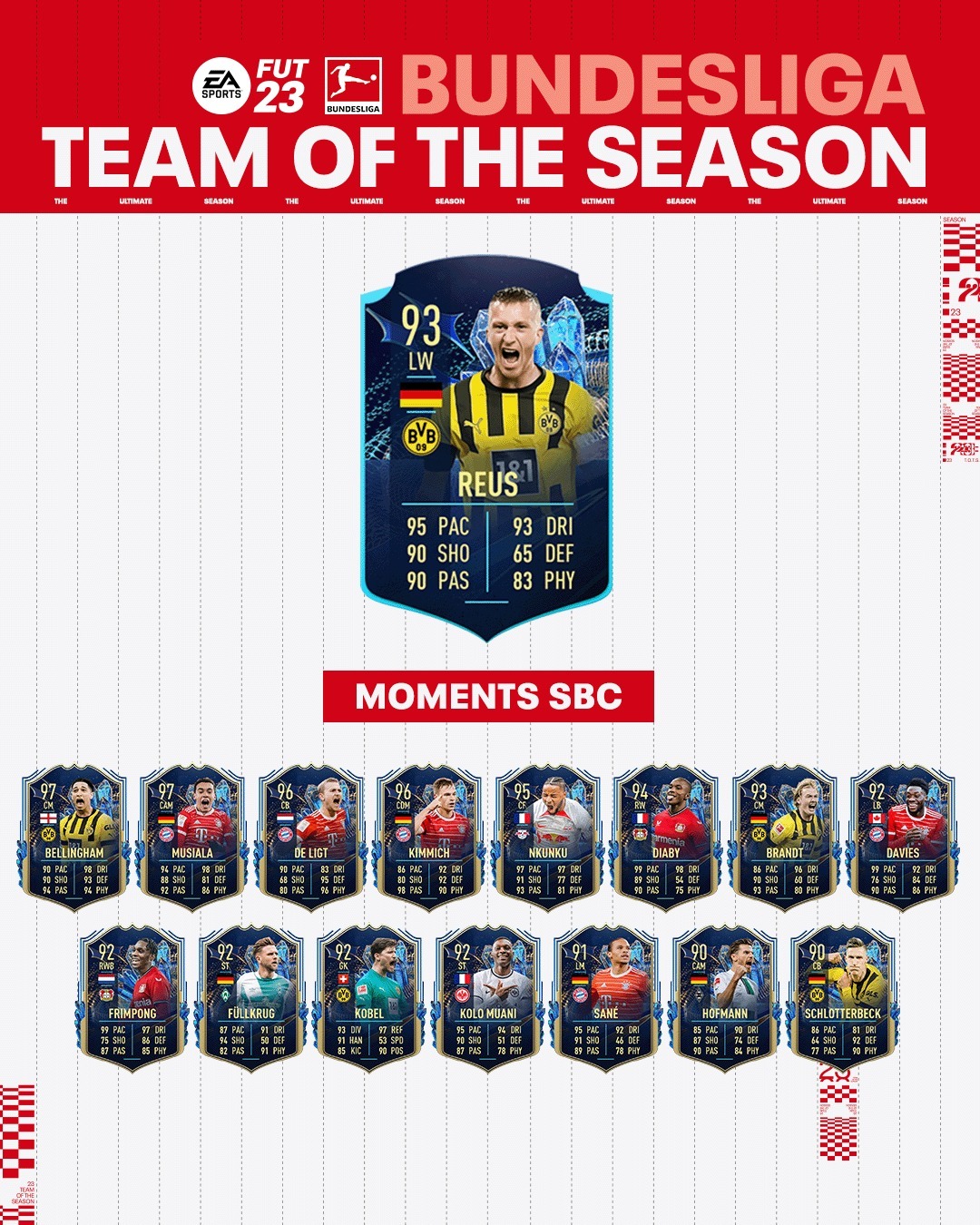 The TOTS action will continue until June, when it will end with the release of the Ultimate TOTS.