The most awaited promo of the season is finally here!
The Team of the Season (TOTS) campaign has kicked off with Community TOTS and Eredivise TOTS now available in FIFA 23 Ultimate Team. The two teams are the first of many to be released in the seven-week-long campaign that will also include themed Squad Building Challenges (SBCs), Objectives, promo packs and more.
Let's dive in into the details, shall we?
Community TOTS
Two weeks ago, EA Sports published a list of 100 nominees for the Community TOTS and fans had the opportunity to vote for their favorites. Today we finally know who got the most votes and who made the cut for the first TOTS of FIFA 23!
Without further ado, here are the 18 TOTS Community players that are now available in packs:
CM: Bernardo Silva (Manchester City) – 95 OVR
ST: Alexis Sanchez (Marseille) – 95 OVR
LM: Kingsley Coman (Bayern Munich) – 93 OVR
ST: Gabriel Jesus (Arsenal) – 93 OVR
RW: Rodrygo (Real Madrid) – 93 OVR
CM: Ismael Bennacer (AC Milan) – 92 OVR
LB: Andrew Robertson (Liverpool) – 92 OVR
CB: Nathan Ake (Manchester City) – 91 OVR
GK: David De Gea (Manchester United) – 90 OVR
RB: James Tavernier (Rangers) – 90 OVR
CB: Danilo (Juventus) – 89 OVR
CB: Kim Min Jae (Napoli) – 89 OVR
CDM: Declan Rice (West Ham United) – 89 OVR
CM: Khephren Thuram (Nice) – 89 OVR
ST: Alvaro Morata (Atletico Madrid) – 88 OVR
RW: Junya Ito (Stade Reims) – 88 OVR (TOTS Moments)
CB: Cameron Carter-Vickers (Celtic) – 88 OVR (TOTS Moments)
LB: Ramy Bensebaini (Borussia Monchengladbach) – 88 OVR (TOTS Moments)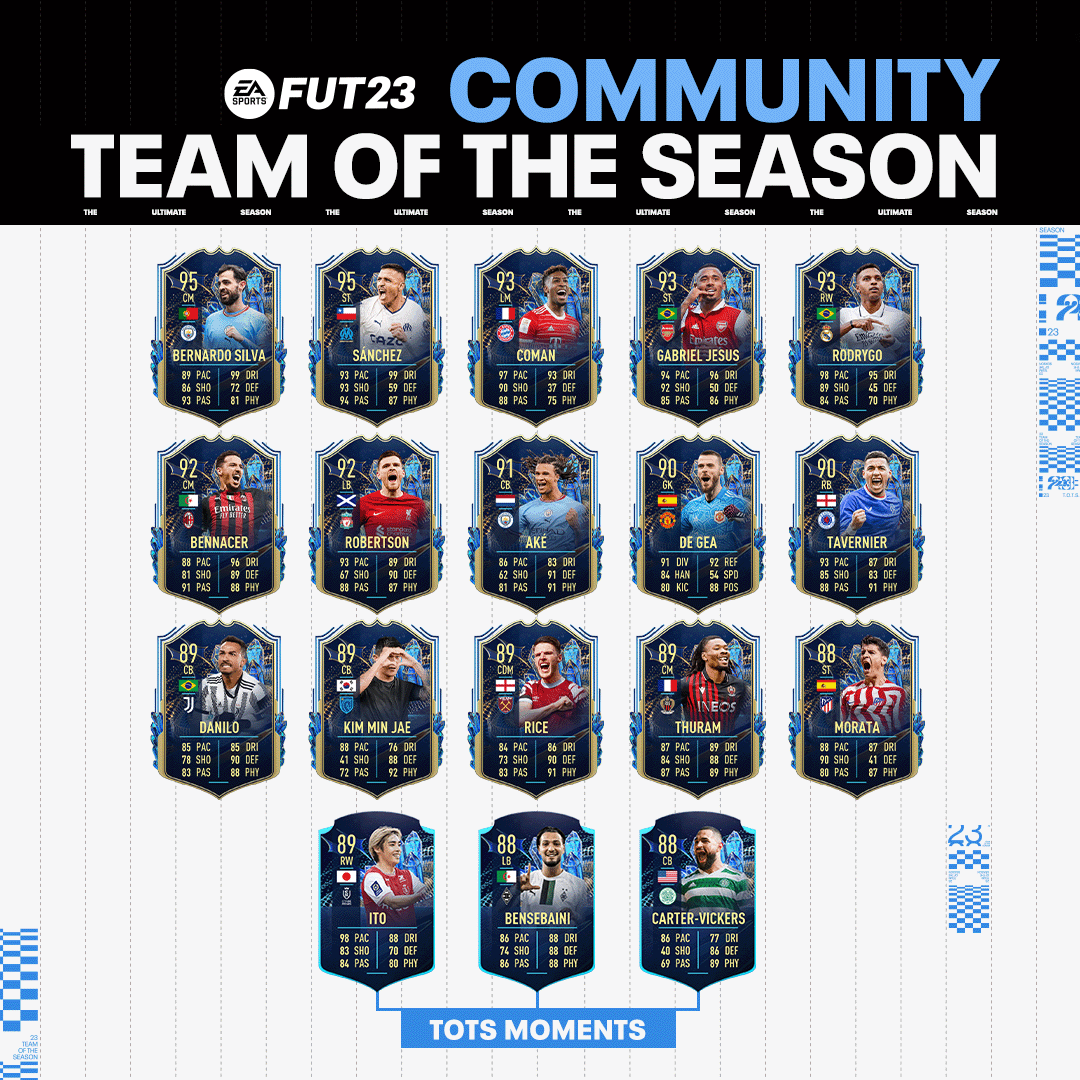 Some notable cards are of course, Bernardo Silva from Manchester City, Real Madrid star Rodrygo and Bayern Munich's winger, Kingsley Coman. There are also 3 TOTS Moments cards included in the team celebrating the best individual performances of those respective players from this season.
Fans consider this to be the best Community TOTS ever released, and rightfully so, considering the complete roster of the team.
Furthermore, players can unlock more TOTS cards such as TOTS Moments Ronald Araújo 92 and Community TOTS Joelinton 89 via Squad Building Challenges and Player Objectives respectively.
Ronald Araujo TOTS Moments SBC!

88 & 89 Rated squads 🫡 #FUT23 pic.twitter.com/ysTuYB9tbf

— 𝙁𝙐𝙏𝙒𝙄𝙕 (@FUTWIZ) April 28, 2023
Eredivisie TOTS
As per tradition, with every major TOTS release there is a minor one as well. In this certain case, we have the Eredivisie TOTS now available in packs including the following 8 players:
CAM: Xavi Simons (PSV) – 93 OVR
CF: Dusan Tadic (Ajax) – 92 OVR

LW: Steven Bergwijn (Ajax) – 91 OVR
CB: Lutsharel Geertruida (Feyenoord) – 91 OVR
RW: Mohamed Kudus (Ajax) – 90 OVR
ST: Vangelis Pavlidis (AZ Alkmaar) – 90 OVR
CM: Orkun Kökçü (Feyenoord) – 89 OVR
CM: Joey Veerman (PSV) – 88 OVR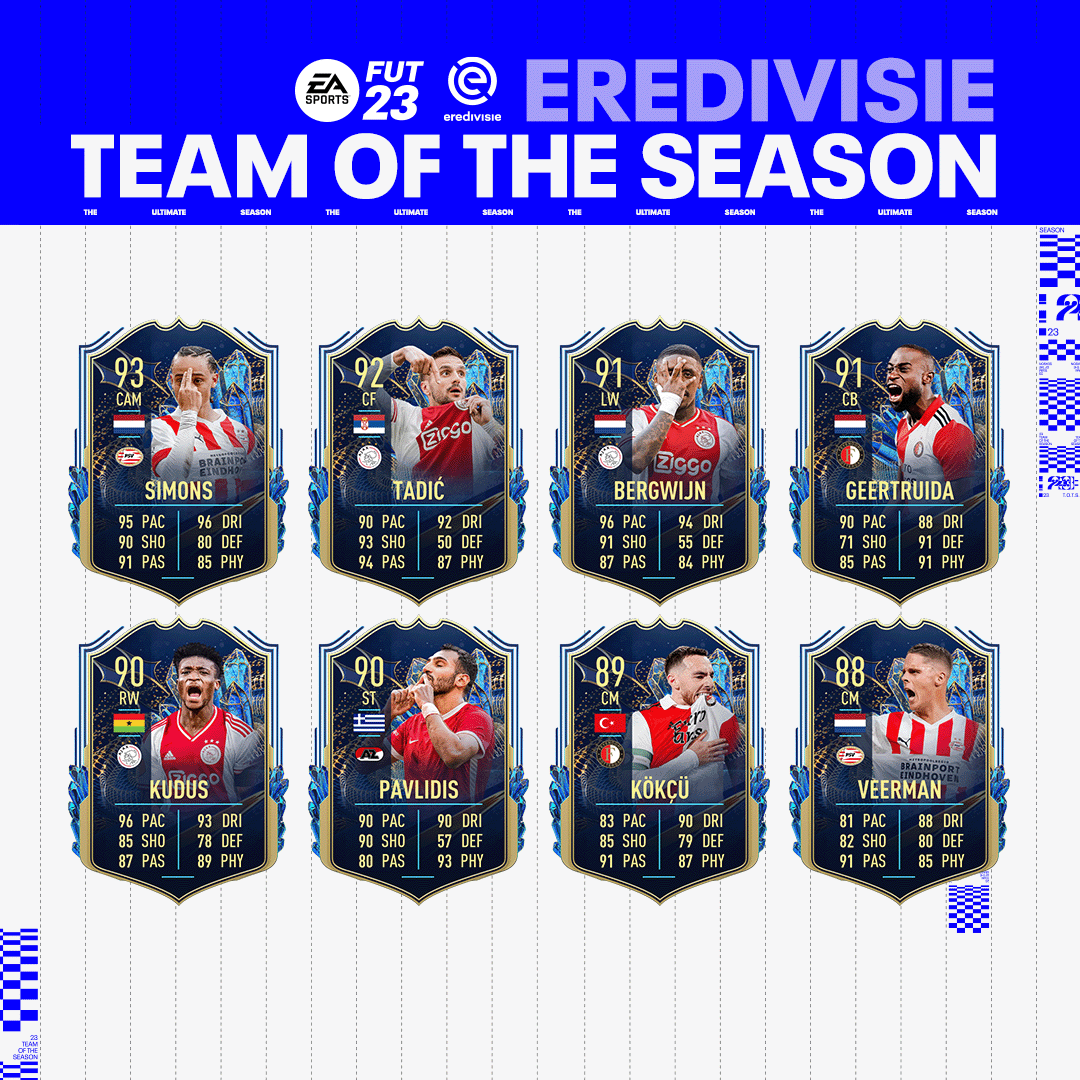 Xavi Simons and Lutsharel Geertruida cards look unbelievably good. You can get another Eredivisie TOTS by completing the David Hancko 88 Player Objective.
All these player items will be in packs until next Friday, May 5th when the next League TOTS will be released.
TOTS Schedule
Thanks to the recent rewards update in FUT 23, we now know the full schedule release for the entire TOTS campaign. Here's when all League TOTS will drop in packs:
• Community – April 28th
• Eredivisie – April 28th
• Premier League – May 5th
• EFL – May 7th
• Bundesliga – May 12th
• Saudi League – May 14th
• La Liga – May 19th
• MLS – May 21st
• Ligue 1 – May 26th
• Super Lig – May 28th
• Serie A – June 2nd
• Liga Portugal – June 4th
• Ultimate – June 9th
Stay tuned for further updates on the TOTS promo by following us on twitter.