Football games are one of the most popular genre across various gaming platforms. With the advent of mobile gaming technology, football games have become increasingly accessible to players across platforms. In this article, we will highlight five of the best football games available on both desktop and mobile devices. So, without further ado, let's begin!
Football Manager
For football enthusiasts and fans of simulation games, this is a game that's hard to resist. This game allows you to take charge of your favorite team and manage every aspect of it, from the squad, tactics, and transfers.
Build something that no one's ever seen before.

Create your footballing vision in #FM23, out from Nov 8th across platforms.

▶️ https://t.co/eAo9ZjAGjF #CreateTheFuture pic.twitter.com/DlwGvqRXDZ

— Football Manager (@FootballManager) November 7, 2022
Football Manager has a deep and complex gameplay system that will keep players engaged for hours. Even the most emotionally involved punters may find themselves getting attached to their virtual players and teams, making this title an emotional rollercoaster. If you're looking for more excitement and challenge, playing a table games for real money will definitely satisfy your betting and adrenaline-seeking desires.
Reasons to Play in 2023
At first glance, the improvements in the latest entry may not be noticeable, but it has a bunch of new features, such as:
Unparalleled control over team management, including training regimes and transfer negotiations.
Added the squad planner, revamped scouting system, and supporter confidence system.
Dynamic manager timeline to view achievements in detail.
Improved presentation during matches, giving a more realistic viewing experience.
Can be played for countless seasons.
eFootball PES
eFootball PES is a top contender in the world of football gaming, offering unmatched realism and user-friendliness through its refined layouts and controls. With an accessible interface, players are placed on a level playing field where only their skills determine the outcome.
Welcome to Season 3: Back to the Clubs 🔙

As the fierce battles of international football come to a close, the players have returned to their respective clubs and the focus shifts from international action to the domestic leagues ⚽🏆 pic.twitter.com/RCLyvDgG8I

— eFootball (@play_eFootball) January 12, 2023
Despite its impressive features, the game is not overly complex, allowing players to acquire top-rated players with ease. The graphics and excitement of opening new packs or acquiring new players rivals that of FIFA, making PES a top choice for football gaming enthusiasts.
Reasons to play eFootball Season 3
First of all, it is worth noting that the game is up to date with teams from the Top 5 Leagues and enables players to select players from those squads. That is the first reason to play eFootball PES. And here are the three more:
Better graphics and excellent visual fidelity of PES.
Repetitive online modes, such as League Play and Worldwide Clubs, for those who prefer to play against other players.
Enhanced Edits and Master League, providing players with the ability to customize their teams and experience the thrill of managing a team.
Dream League Soccer

For those that prefer playing only on their smartphones, Dream League Soccer is a must try. The game features over 4,000 licensed players from over 100 teams worldwide, including popular soccer leagues such as the English Premier League, Spanish La Liga, and German Bundesliga. The game also includes national teams, giving players the opportunity to compete in international tournaments and championships.
Reasons to play Dream League Soccer 2023

Engaging Online multiplayer mode.
Revamped Career mode.
Crest and kits customization.
Upgrade stadiums and other facilities.
Football, Tactics & Glory
FT & G is a unique PC football game that offers a cost-effective alternative to FM23 and a realistic option for those seeking a change from Blood Bowl. The game boasts a strategic turn-based system that will keep players engaged for hours.
Although its quick matches may leave some wanting more, the random player names can detract from the overall gaming experience. Despite these drawbacks, FTG remains a clever and entertaining take on the sport of football.
Reasons to Play in 2023
At first glance, this may look like an FM2023 knock-off, but there's more to FT & G than that, including:
Combination of XCOM chess-like strategy with RPG elements
Customizable player faces
Mod support with real-life leagues and tournaments
Twitch integration with viewer interaction
A cheaper alternative to Football Manager 2023
A realistic footballing alternative to Blood Bowl
Solid PC football game.
FIFA Football
FIFA has undoubtedly established itself as a leading football game with a legacy that extends for decades. The 2010-14 editions on Sony PlayStation platforms are widely recognized as some of the most popular and well-received iterations of the game.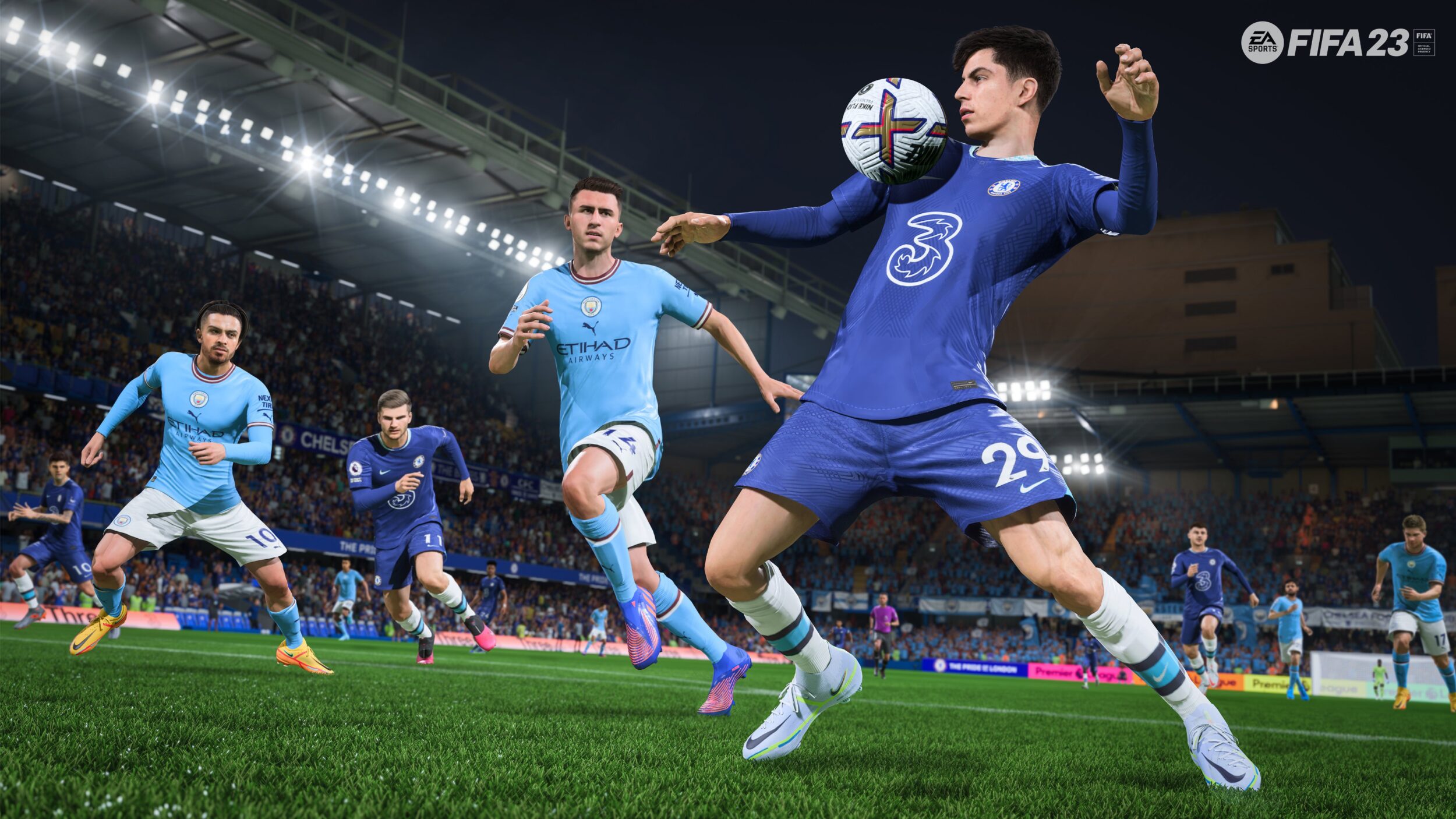 Over the years, FIFA has continually evolved and expanded to offer an unparalleled gaming experience with its comprehensive League or Seasons mode (more than 100 leagues). The game also stands out in terms of graphics, player card design, and the excitement of opening packs, making it the ultimate choice for football fans looking for a truly immersive experience.
Reasons to Play FIFA 23
Here are some reasons why FIFA 23 stands out as one of the best football games:
Cross-platform play capabilities
Advanced HyperMotion mechanics system
Special FIFA World Cup mode
Refined Ultimate Team chemistry
Time-saving features for casual players and new legendary players
Enhanced career mode options.
If you're already knee-deep into your FIFA 23 career, we've got the best FIFA 23 Career Mode wonderkids under 1M€ and teams to manage, if you're up for a different challenge.