With FIFA 22 released, there are many people looking around to find a challenging team to take forward in the Career Mode. With Premier League being one of the most popular leagues in the world and on the game, many players look there.
If you want the toughest challenge, then head towards the bottom of the league. A team that struggles to stay in the division but provides some talent to nurture as you take charge is Norwich City, and they set the toughest challenge on this game in Premier League.
Is This a Challenge for Newcomers to FIFA?
This challenge is not easy, and the chances of winning a trophy with Norwich early are incredibly slim, which may put some newcomers off.
FIFA is a game that attracts people from all kinds of backgrounds, some will be experiencing the game for the first time this year. With gaming and the gambling industry moving closer together, there will be some gamblers who turn to games such as FIFA. With casino games such as Football Superstar and Football Frenzy, there is crossover between the two industries – gamers can take advantage of the videoslots bonus code for those moving across to the casino gaming part of the industry.
Norwich City with some amazing business in the summer transfer window ✨

The best team to use in #FIFA22 Career Mode? 🤔 pic.twitter.com/2HBG3dt5Ku

— FifaCMTips (@FifaCMTips) September 19, 2021
This Norwich challenge may be a little too much for those looking to find their first challenge, but if you are experienced, it is certainly one to consider.
The Positives of the Norwich City Challenge
In terms of Norwich, there are two positives to the challenge that will draw a lot of people towards it. The first is their stature in the game, and the expectations placed on the team. Norwich have moved between the Championship and Premier League for the past few seasons, with promotion this summer giving them another shot at staying in the league.
No one expects Norwich to stay in the league. Can you prove everyone wrong and lead them to being a regular in the English top flight?
Secondly, more so than ever before when they have been in the league, Norwich do have a group of young players that you can work with and improve. Most of these are only on loan, but if you can manage to strike deals to keep one or two then that will certainly help you in the future.
This Norwich City attack in #FIFA22 Career Mode 🌟🥵 pic.twitter.com/CNWxNgbUXW

— FifaCMTips (@FifaCMTips) August 14, 2021
Billy Gilmour, who is on loan from Chelsea, Brandon Williams from Manchester United and Ozan Kabak from Schalke all add quality to the team and can be utilised in your first season to try and stay in the Premier League.
Todd Cantwell is an exciting young talent that you do own, he is a player you can shape and has the ability to create chances. In attack, Teemu Pukki may be 31, but he knows where the net is, and his goals will be vital in any survival bid. A potential superstar is also in the team's roster, the recent summer signing Christos Tzolis that has an amazing 87 potential in FIFA 22.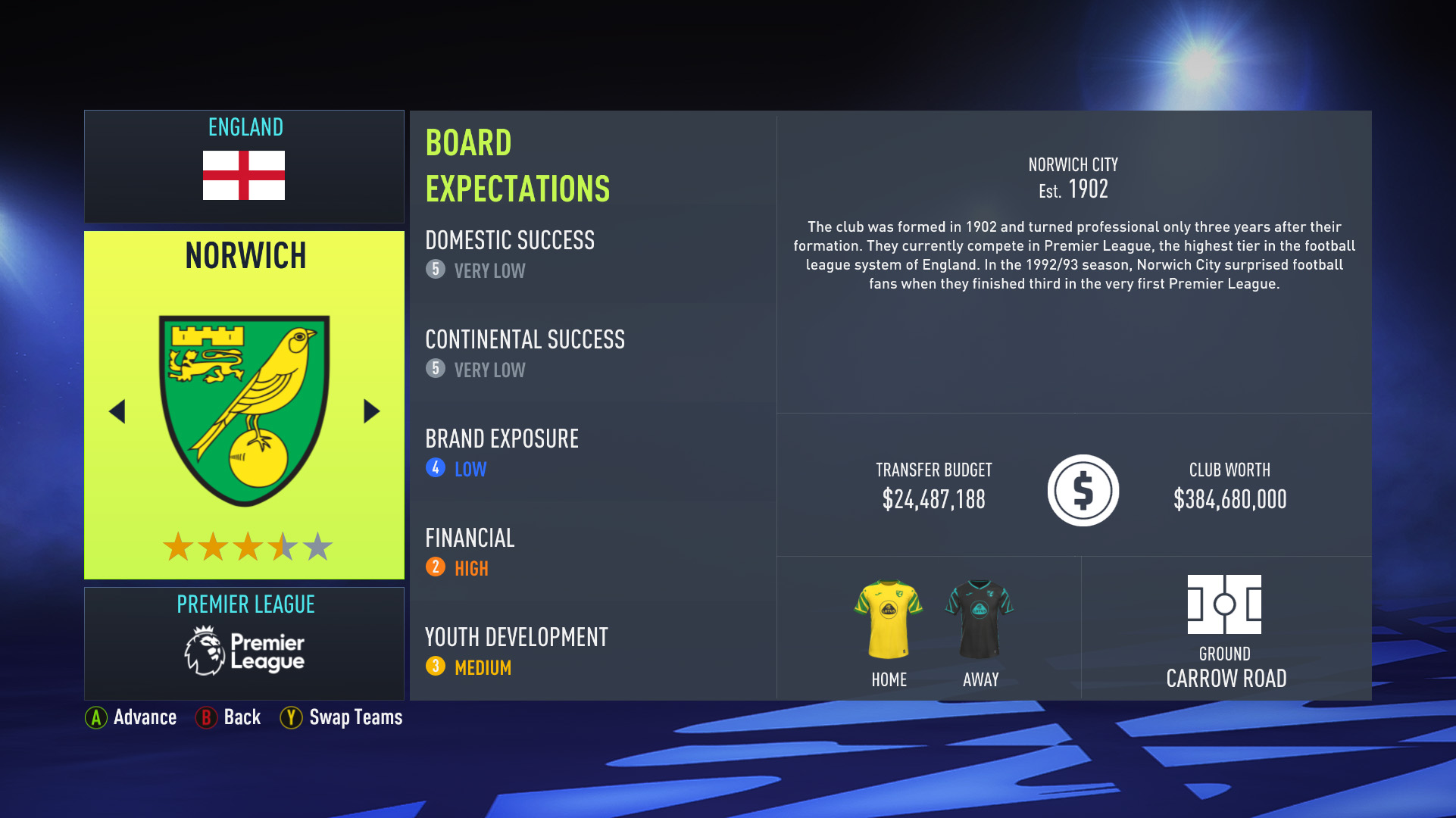 As you would expect with a team like Norwich, there is not a lot to work with, but enough there for those who want a challenge, and want to get pleasure from simply surviving, instead of winning trophies all the time.