The FIFA 21 season is gradually coming to an end and we are all starting to turn our heads towards its successor, FIFA 22. Career Mode used to be EA Sports FIFA's primary selling point, but Ultimate Team's remarkable success has seen it outperformed in popularity. Although, there is still an abundance of Career Mode fanatics out there, the mode has extremely taken a position of inferiority compared to Ultimate Team and VOLTA Football with leadership and decision-making centered on the latter modes in recent years. This is greatly reflected in EA developers' endeavour towards enhancing it. However, Career Mode's downfall isn't due to boredom, it is due to mistreatment, it has over the years saw key features such as Staff Management and Sponsorships removed while little effort was invested towards improving it.
The following key areas are critical for Career Mode's success, I've come up with ideas for areas that if overhauled and implemented correctly could add a new breath of life to Career Mode.
BROWSE JOBS
Browse Jobs is by far the most outdated area in Career Mode. Job offers are always the same and restricted, every year you tend to get the same job offers and it is easy to be hired by any club. Starting a job at top ranks in career mode means you will never find an opportunity to do a Road to Glory midway, in other words, starting a career mode save at Real Madrid means for the entirety of your career, you will find yourself only managing in top 5 leagues from across the globe. This quickly becomes boring and doesn't come near reality. The following are some ideas to spice things up in this area of Career Mode, a good start would be changing the tab name from 'Browse Jobs' to 'Job Center':
Start Unemployed: This will add the Freedom to analyze & apply for jobs from any where. This will allow you to decide to do a Club career or International career only. It also opens room for a variety of scenarios, for instance, 5 games left, save Newcastle United from relegation. Managers will also be able to sign manager contracts, e.g 3 years or 1 year and decide where they want to venture next at the end of contract rather than being forced to stick with one club.
🙅🏻‍♂️💼Unemployed.

It would be interesting to start a career mode save as unemployed manager and to do interviews with the clubs, go through the ranks and accomplish everything along the way. A real RTG. This feature is available in FM, would you like it in FIFA? @EASPORTSFIFA pic.twitter.com/XMBBptkp3Z

— CAREERMD.HUB 🇷🇸/🇬🇧 (@careermdhub) June 15, 2021
Manager Reputation: Every manager both human and AI should have a Manager Reputation gauge. It takes a high status to manage top clubs like Real Madrid. With manager reputation, Clubs will be informed through your reputation (increased or decreased by past achievements) if you are a good fit for their club. A nobody shouldn't just be handed a job of higher stature, you have to make a name for yourself first.
AI Manager Mobility: I played 15 seasons with Real Betis in FIFA 21 Career Mode and every manager was still where they started 15 years ago. I retired with 88 years old Roy Hodgson still managing Crystal Palace. Shocker right there. Managers should be fired, become unemployed, move between clubs or even retire. It will be nice to see 'Breaking News' headlines like "Jose Mourinho sacked" or "Real Madrid announce Jurgen Klopp as their Manager".
YOUTH ACADEMY
Another key part of Career Mode that continues to get neglected year after year is Youth Academy. We all know that children are the future. But why isn't much done to improve academies to ensure a solid foundation for the youngsters? Every club invests huge amounts of money in their academies in the hope of finding the next Ronaldo or Messi and this is something we hope EA will look into in the next iteration. Below are some solid ideas for a great Youth Academy:
Youth League: A good start would be if every club had their own youth academy fully set-up. Thereafter, what better way to understand and improve youth players within your academy than through a AI simulated U21 league. To avoid license implications, youth teams and league can be generic. At the beginning of your career in FIFA 21, you start with a fully set up Youth Academy team and how good the players are varies depending on the club you selected. EA can use this concept for all the teams in the game.
Scout specific positions: Pains me to say this but you could actually scout specific positions in the PS2 version of Manager Mode, e.g LW. This is something EA should look into bringing back.
Junior contracts: You should be able to offer youth players academy contracts. They can decide if they want to stay or leave the academy at the end of contract. This is better than threats we are currently seeing from the academy.
Part 2 of my #FIFA18 Career Mode Concept, which contains a more extensive youth system! pic.twitter.com/ynB3hrYHBq

— Joost (@joosiiiv) July 9, 2017
Promote/Demote Youth Players: This is self-explanatory. However, it would be nice if you could try to demote a player and he would refuse claiming to be a big of a star to be playing down the ranks rather he prefers to be sold or loaned out instead.
Scout Regions: Change the idea that you can't send more than one scout to one specific region.
In-depth reports: You can find out how youth stars are faring not only in your team but also around the world, who the youth coach feels is ready for senior team call-up etc.
GLOBAL TRANSFER NETWORK (GTN)
While in hypothesis, I like the concept of GTN, its execution in FIFA 14 left plenty to be desired. First and foremost, the entire process is cumbersome and takes entirely too long. Secondly, I can be using a championship team such as Derby yet the scout recommends top stars like Cristiano Ronaldo. Lastly, statistics about players completely disappear after a certain period of time although the scout is still monitoring the same players. GTN hasn't been touched since FIFA 16 and that needs to change in FIFA 22 Career Mode. Below are several ideas on how EA can make it better:
Scout badges: It costs only €4M to buy a 5 ⭐ Judgement / 5 ⭐ Experience scout in FIFA 21 Career Mode. This means that any team in the game can easily afford the best scout. Scout badges can add a new layer to scouting in FIFA 22 Career Mode. For instance, a 5 ⭐ Judgement / 5 ⭐ Experience Bronze Badge Scout can cost €10M to acquire but take up to 28 days to find info about a particular player. Whereas a 5 ⭐ 5 ⭐ Gold Badge Scout can be as expensive as €30M in order to acquire, yet deliver player details in as short as 5 days.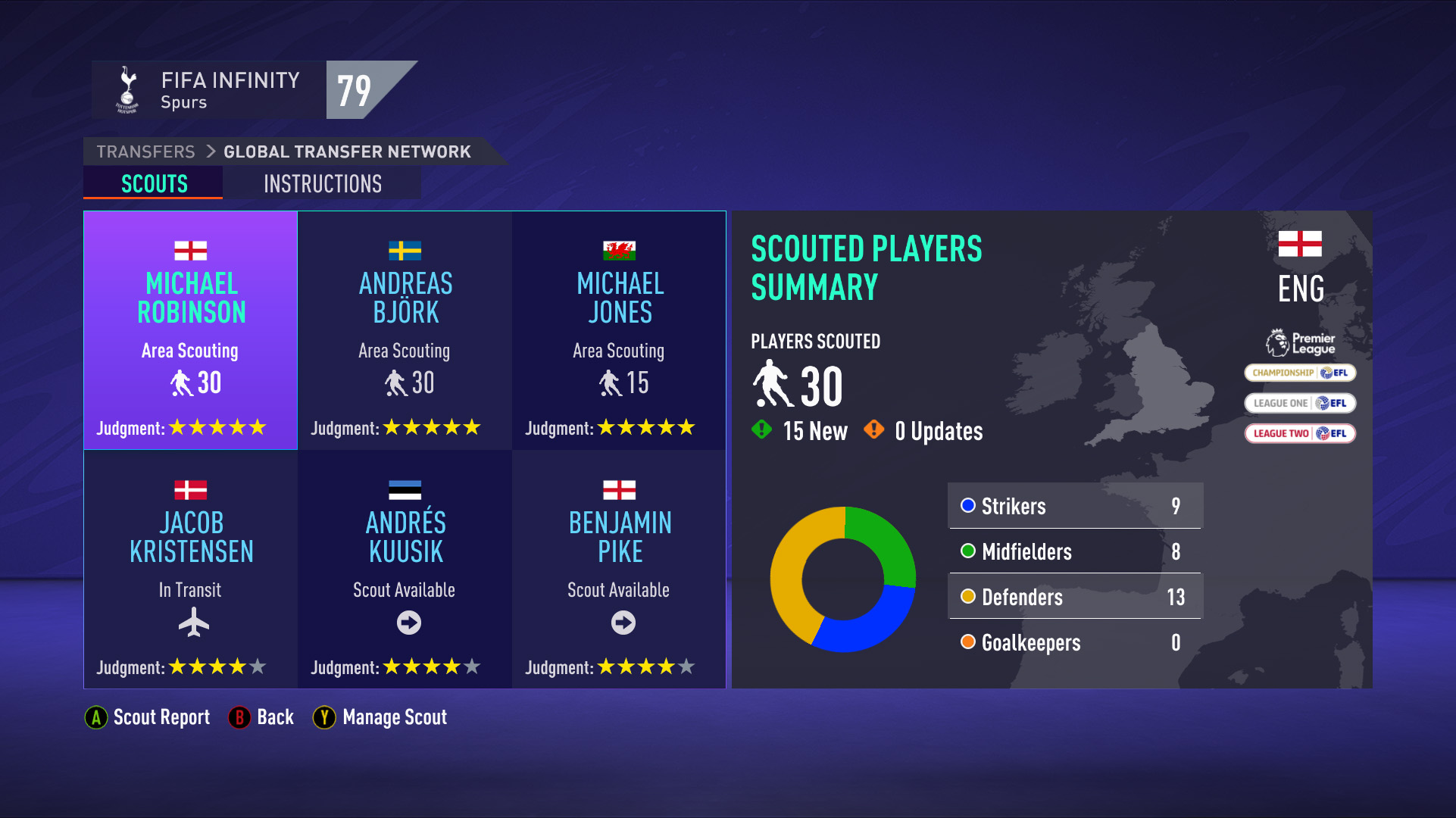 Scouting Agency: A complementary feature for the above. There should be a pool consisting of different types of scouts. Any team should be able to attempt to acquire their services. However, it is ultimately up to the scout to decide if your team fit their interests.
Comprehensive & Detailed Scout Reports: A scout should not only provide information about player attributes but also their Morale, Form, Club Stats, Contract and Likeliness to join your club, not to forget to mention, consider your club budget and if that player will fit well in your team.
Stat Tracking: Record and display information about all players and clubs season after season. Games like NBA2K and MLB The Show are way ahead in this area.
DYNAMIC POTENTIAL
Dynamic Potential was a welcome addition back in FIFA 20 but much like GTN, it left a lot to be desired. You can make any player reach 99 OVR without breaking a sweat and it is also strictly for your own team. The idea behind Dynamic Player Potential is great, players earn to live up to their potential, fail to or surpass it depending various factors like game time. However, it is the implementation that lets it down. Skip 5 seasons into Career Mode and you find yourself with a team full of 99 rated players. This is not only unrealistic but further tends to get boring quickly as you have no competition from the AI and you also feel no need to buy any other player since you already have the best in the world at your disposal.
It is therefore fair to argue that Dynamic Potential has improved Career Mode as much as it has ruined it. It needs to be massively reworked in FIFA 22. A good start would be ensuring that players do not grow past 94 overall and that Dynamic Player Potential applies to every player in the database not only your own club.
Dynamic Potential XI #FIFA21 🔥🔥 pic.twitter.com/l9dDilQw4Z

— FCG (@FIFACareerGems) May 27, 2021
Being strictly a career mode player, it is sad and infuriating to see the much loved career mode in a state of despair and stalemate. With that said, really hoping EA can look back and reflect so glory days can once again shine upon Career Mode.