For the past few weeks EA Sports has dropped details on FIFA 22 from Gameplay, Career Mode and Pro Clubs to Ultimate Team and today they revealed what fans can expect from VOLTA FOOTBALL.
The FIFA Street like game mode was introduced back in 2019 with FIFA 20 to players excitement and has since received mixed reviews from fans and players. However EA listened to its fan base and for FIFA 22 there will be some big changes across gameplay and game modes. Let's check it out.
New Gameplay Features
For FIFA 22, VOLTA developers focused a lot on the gameplay in order to make the game mode more fun and attractive to players and reward those that play with flair and properly use skill moves to take on their opponents. With this concept in mind here is what the devs introduced in FIFA 22 VOLTA Football:
Skill Meter System – Although already present in the old FIFA Street series, this system will award you and your team extra goals when scoring if you fulfill different actions during the match like making a fancy pass or nutmeg your opponent. You can check the Deep Dive article on this matter to understand how this system is set up.

Signature Abilities – These brand new gameplay mechanics will allow you to trigger special abilities during a match that would boost your avatar in a specific attribute. There will be three Signature Abilities available: Power Strike, Pure Pace and Aggressive Tackle. From the names it is pretty self-explanatory what attributes those abilities enhance in-game.

Improved Defender Avoidance Logic – You will be able to perform skill moves without running into or being slowed down by a defender.

Improved Wall Passing

– In FIFA 21 the wall passing was not very effective but in FIFA 22 this will be a whole other story.
Improved Simple Skill Moves Mechanic – Holding L1/LB will allow you to perform more Skill Moves at the next ball touch closest to the LS direction.
New Standing Skill Moves + Flicks – Added Podium Ball Stand, Fake Shoe Tie and Crazy Ball Rolls.
Two Player Celebrations – In FIFA 21 players would awkwardly circled around each other celebrating a goal. This year you will be able to celebrate with your teammates thanks to new celebrations like hugs, hi-fives, leap frogs, and more.
Avatar Stats – Avatars will start the game at 82 OVR with 5* Skill Moves and 5* Weak Foot. The player growth has also been limited to 96!
Re-tuned Skill Tree – The system has been simplified in order that every skill upgrade is more impactful to your role on the pitch. In FIFA 22 every upgrade will give you a +5 to +12 attribute boost.
— iCarade (@i_FUTcad) August 19, 2021
More Mini Game Modes
In the next FIFA instalment you will have the opportunity to play with another three players in various online mini game modes that will be part of the new VOLTA Arcade. Here's what mini games will be available in the Arcade:
Foot Tennis

Dodgeball

Disco Lava

Quick Strike

Wall Ball Elimination

Team Keepaway

Target Gallery

Corner Scramble
#VOLTA Arcade is coming in #FIFA22 🕹️
Learn more about everything new in the mode in the latest Deep Dive Pitch Notes 👇 https://t.co/KzwO0t9xOs pic.twitter.com/pnoukRyqX1

— EA SPORTS FIFA (@EASPORTSFIFA) August 19, 2021
Please note that these mini games will be available to play online ONLY on weekends!
VOLTA SQUADS Additions
VOLTA SQUADS will feature more improvements in FIFA 22 such as:
Online Focused 4v4 – You will be able to play up with three friends in a 4v4 match. In-game positions have been removed from this feature and the stadium will be randomly selected when starting a match.
Enhanced Lobby Experience – Thanks to new additions like Friends Widget it will be much easier to stay in contact and invite your friends or new players in your lobby. You will be able to switch modes between VOLTA SQUADS and VOLTA ARCADE without the need to resend invites. Player Cards will also display the equipped Signature Ability and show additional statuses in the lobby, like whether a player is customizing or shopping.
Objectives Tracker – A small but much needed feature that will allow you to view your next Weekly Objectives before jump in your next game.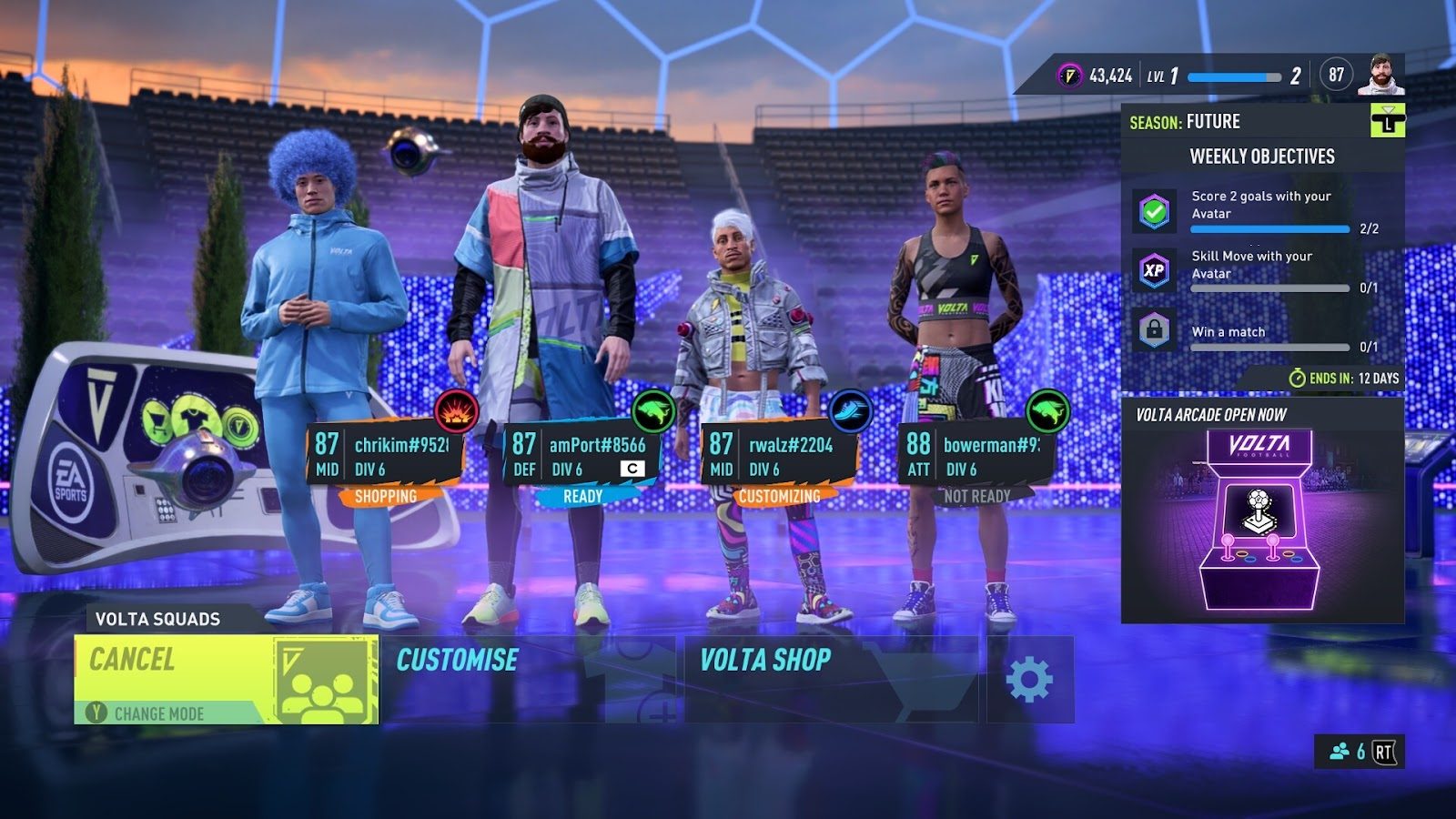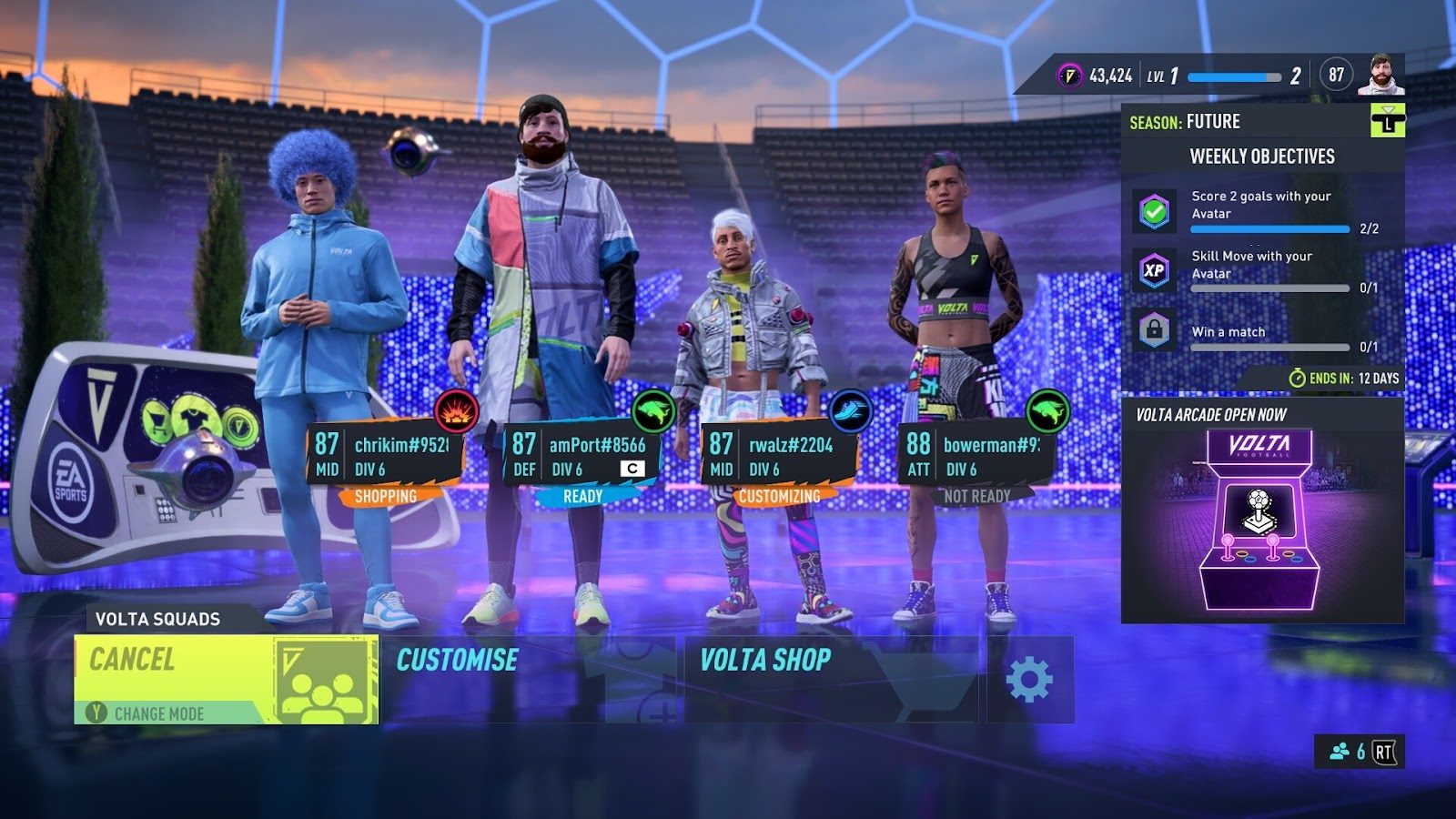 VOLTA Seasons
Just like in Ultimate Team, starting with FIFA 22, VOLTA FOOTBALL will include Seasons! Every 6 weeks there will be a new Season full of objectives to complete and will include:
Seasonal Gameplay Environments
Seasonal Clothing Collections
Seasonal Progression Unlocks
Weekly Objectives
VOLTA SEASONS Lobby Environment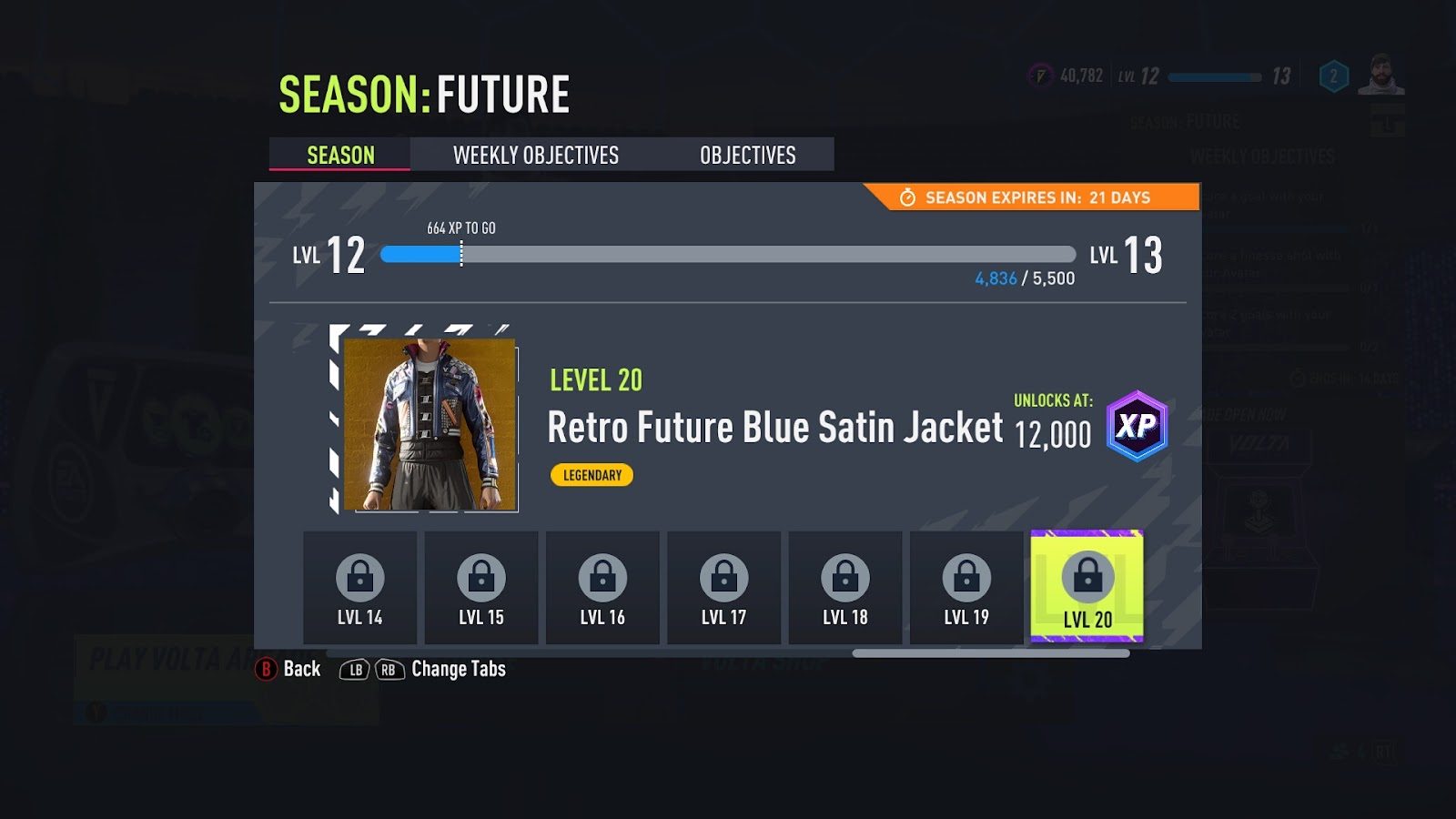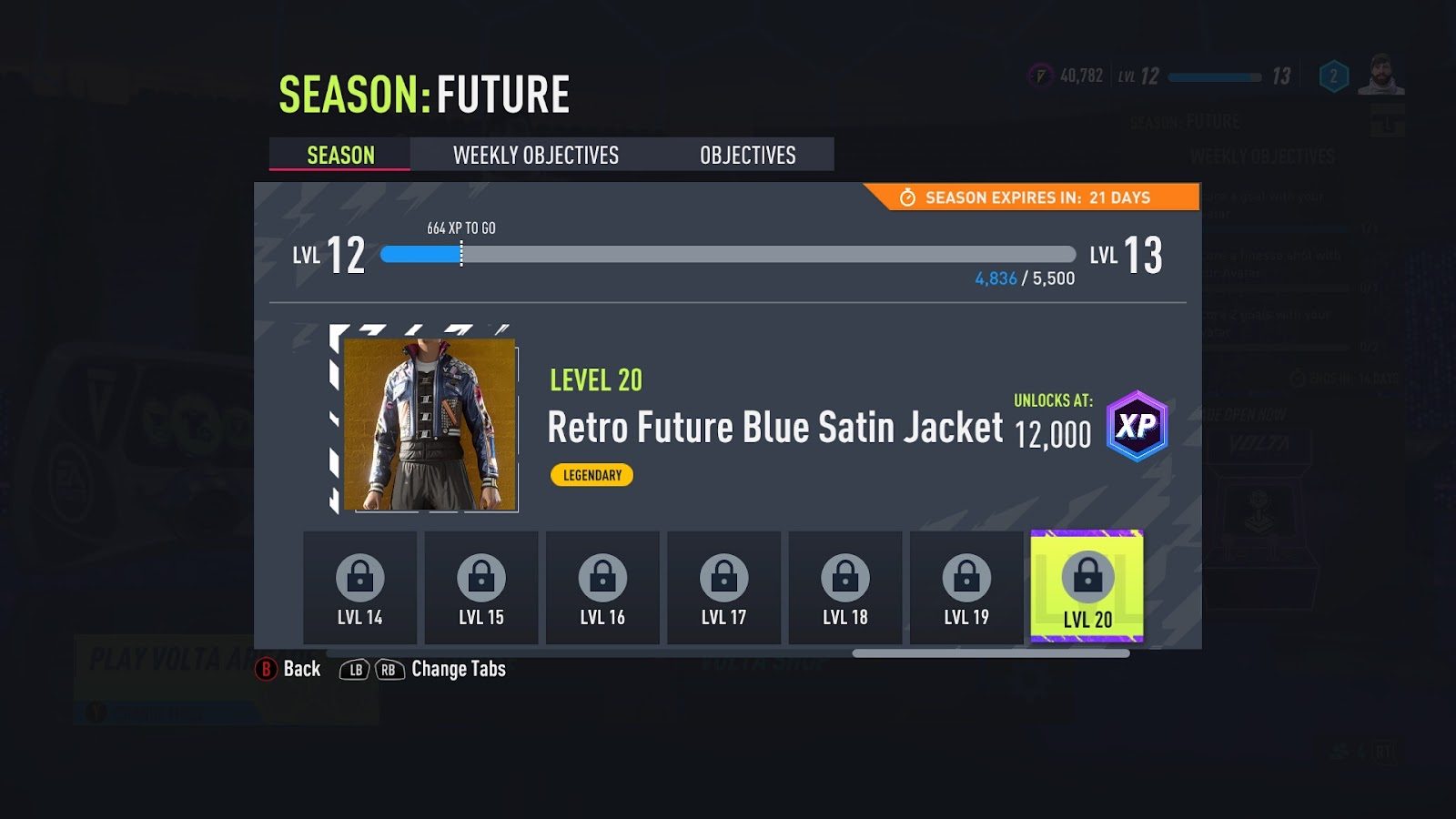 Playing matches and completing Weekly Objectives will allow you to gain Seasonal XP that unlock various rewards as you progress.
Removed VOLTA Features
Some previous features and game modes present in VOLTA Football won't return in FIFA 22. The developers confirmed that the next features has been removed in the next FIFA edition:
Recruiting Players – No more recruiting players, icons, and celebrities for your squad.

Team Chemistry – Without the need of recruiting players and manage formations or positions, the need for chemistry is useless online.
The Debut Story Mode – Removed in order for players to focus more on online play.
Solo Online Play – This mode was removed so players can engage in online multiplayer matches. You can still play solo thanks to VOLTA BATTLES.
Of course we can't forget to mention that there will be loads of new outfits available in-game from Adidas, PSG x Jordan to Killa Villa and a brand new 5v5 pitch called City-X set in a futuristic environment similar to Cyberpunk 2077.
And that's about it with VOLTA features for FIFA 22. For more news don't forget to follow us on twitter.
FIFA 22 will be released worldwide on October 1st but you will be able to play it earlier on September 22nd thanks to EA Play.