A new trailer announcing the new features for FIFA 21 Ultimate Team was released earlier today unveiling the new game modes and changes that EA Sports has prepared for us.
Here's a breakdown of all the new features revealed today:
FUT Co-Op
This new mode will allow you to team up with a friend online in Division Rivals, Squad Battles or FUT Friendlies against other solos or duos players. Each week there will be a special Co-Op objectives to complete with your friend and unlock rewards.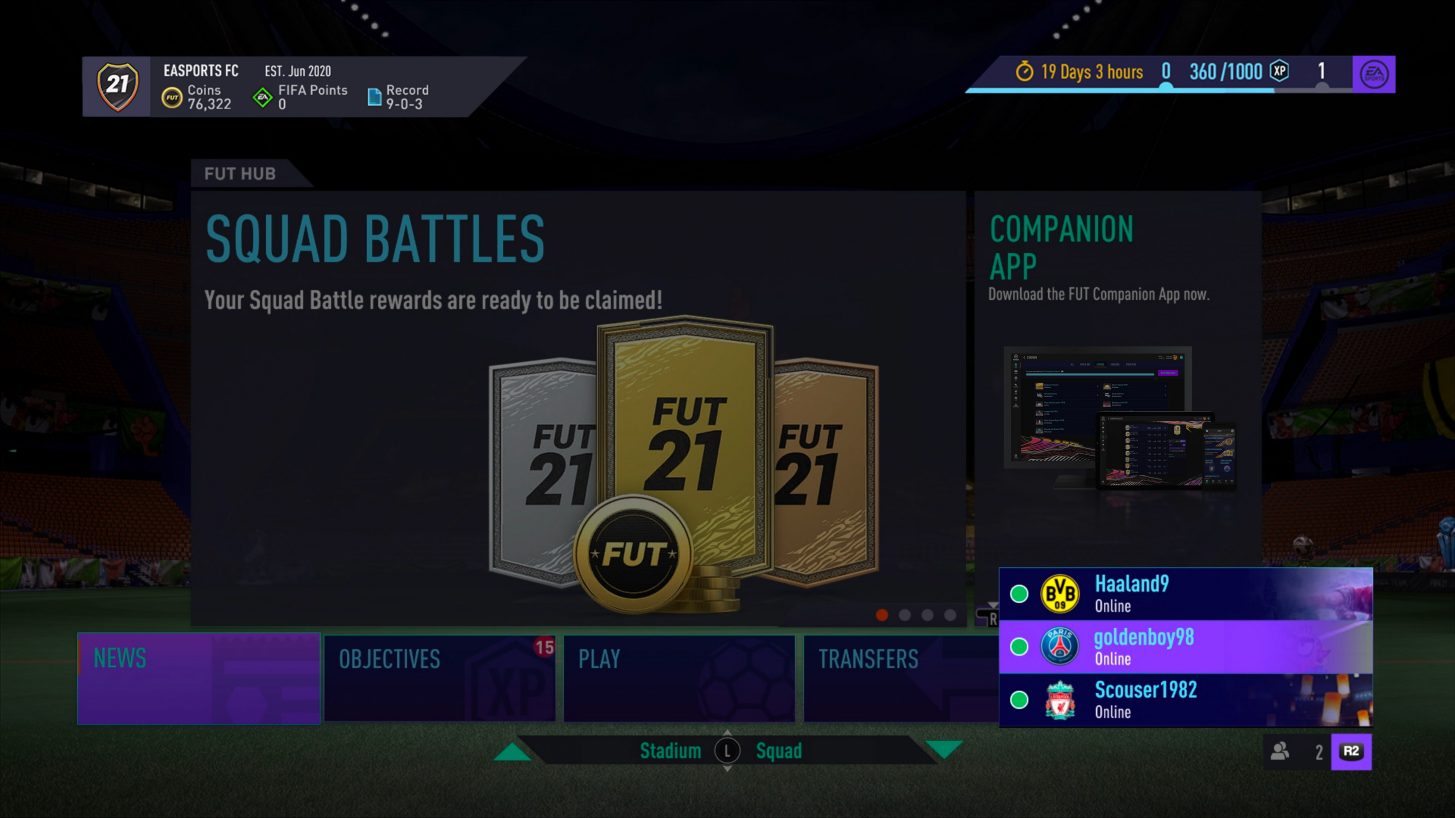 Before each game, the person who sets up the lobby will become the Captain that will have have control over which of their squads will be used for the match and what game mode you will play. From the lobby, both players will see the Captain's top-rated players from their current active squad as shown in the screen below.
For more in-depth details on this mode please check the Pitch Notes article from EA.
FUT Events
In FIFA 21 Ultimate Team you will either compete against or work with the community to unlock rewards via themed Objectives.
Community Events will have a common Objective. Each player will contribute with XP to a gloabl XP pool by completing Objectives in specified groups . As this pool of XP grows, the community will progress towards thresholds that unlock rewards for everyone who's completed at least one objective in the event.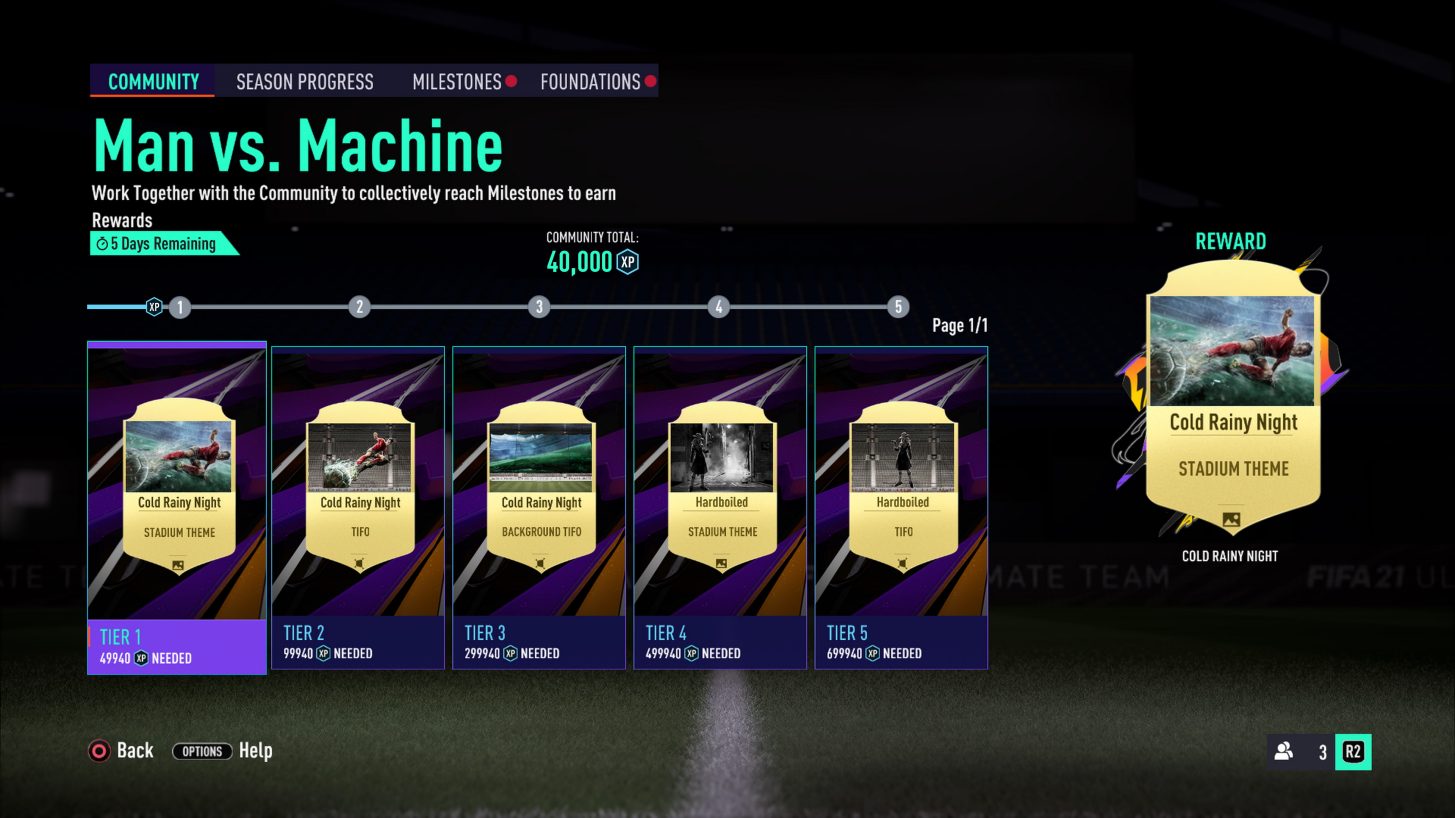 Team Events on the other hand will split the community into different teams and compete head to head for rewards. At the start of each Event you can choose one of up to five team, each with their own set of Objectives and rewards. The winning side receive customization items, coins & packs as rewards.
FUT Stadium
You will able to customize your stadium like never before in FUT 21! While you can still use real life stadiums like Old Trafford or Wanda Metropolitano and customize them to a certain extent, the addition of the FUT Stadium will allow you to upgrade and customize it however you desire.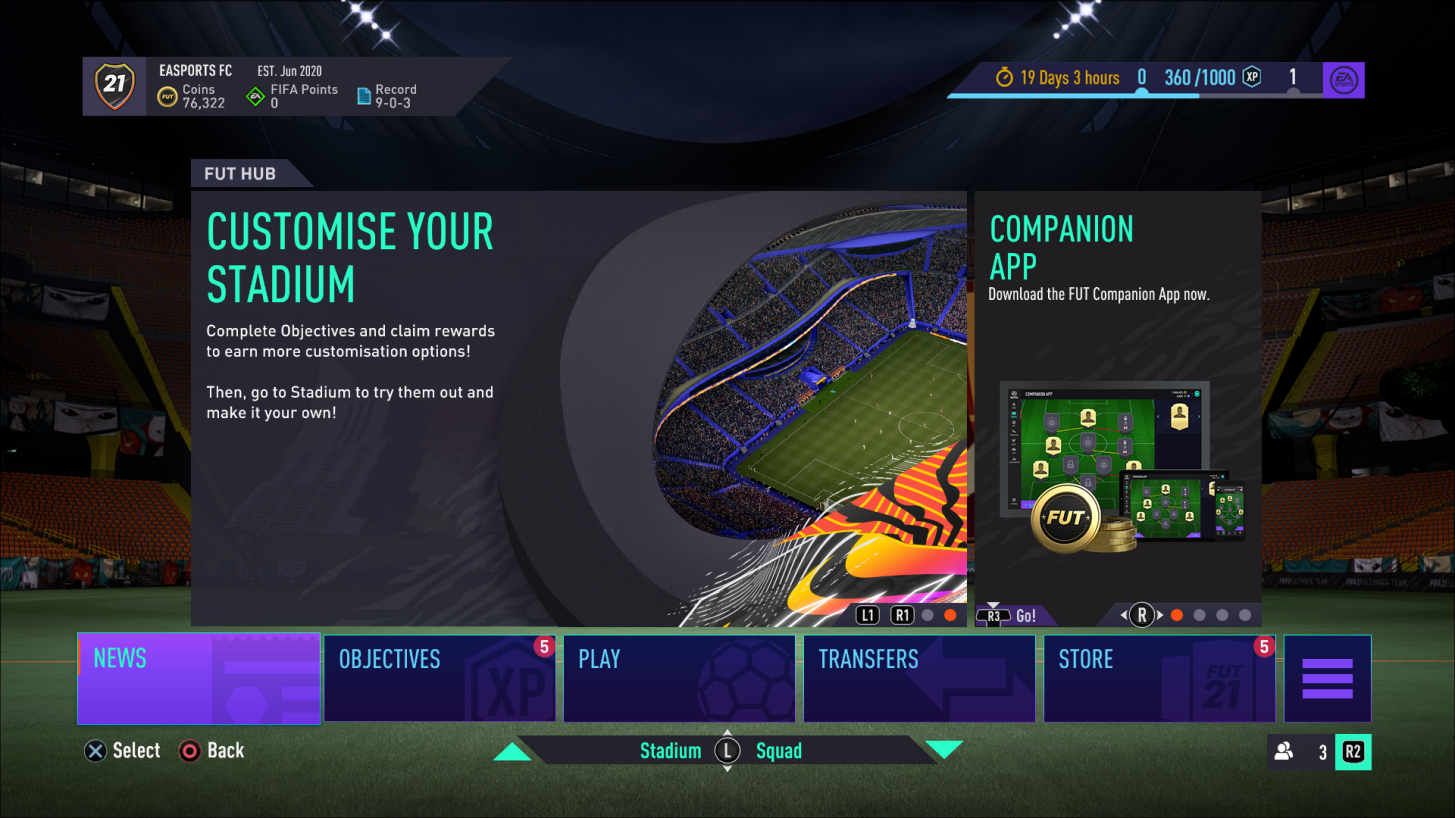 The FUT Stadium is a concept arena designed exclusively for FIFA Ultimate Team that can be upgraded three times based on your club's in-game progression, here's how the three updgrade expansion work:
1) FUT Stadium – You start your club journey with the default FUT Stadium that will allow you to customize the Home Tifo, Stadium Theme, Crowd Chants and base paint colour for your stadium.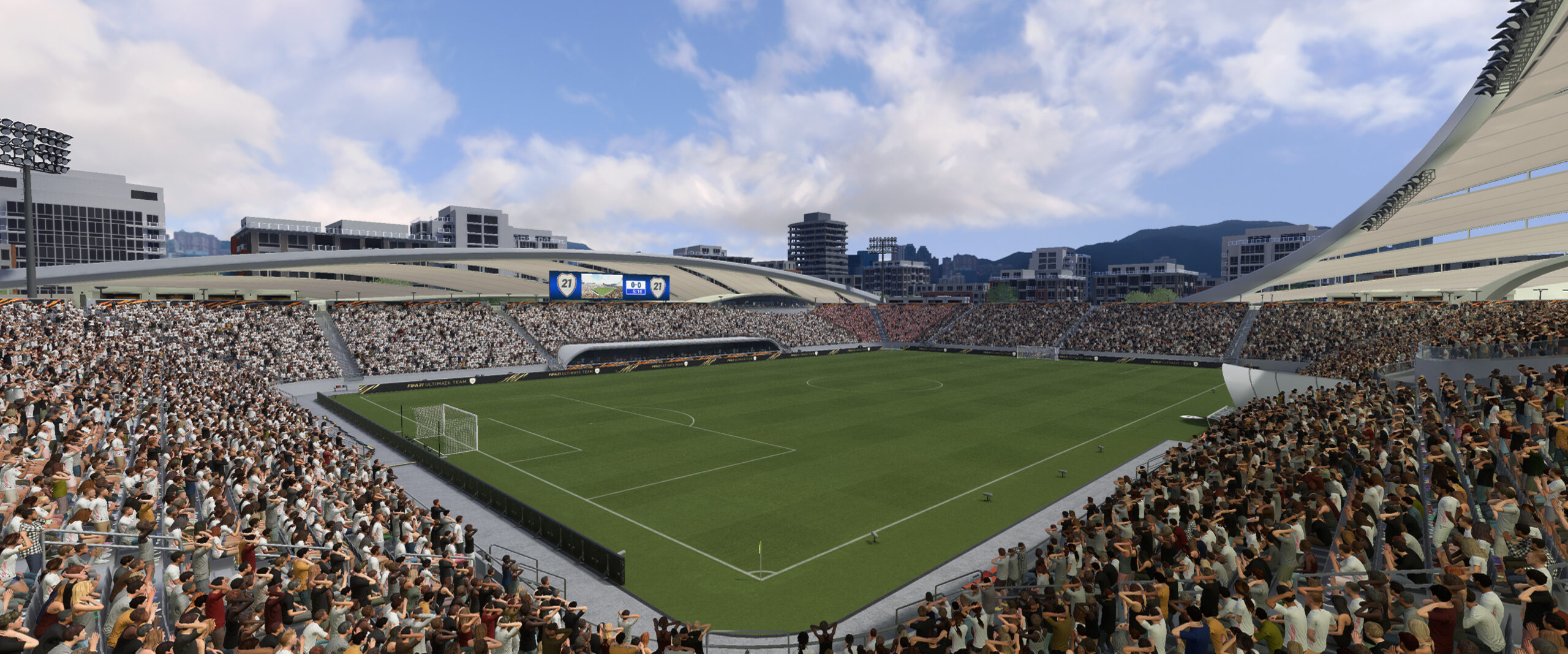 2) FUT Challengers Stadium – Unlocking this expansion will enable your stadium to grow in capacity, giving you even more ways to customize.
3) FUT Champions Stadium – The final expansion will enable all the possible customization options for your stadium.
The more Milestone Objectives you complete, the more options to customize your arena will be available. You be able to customize the Pitch Mow Patterns, Goal Net Colours, Stadium Paint, Seat Colours and Foreground and Background Tifos.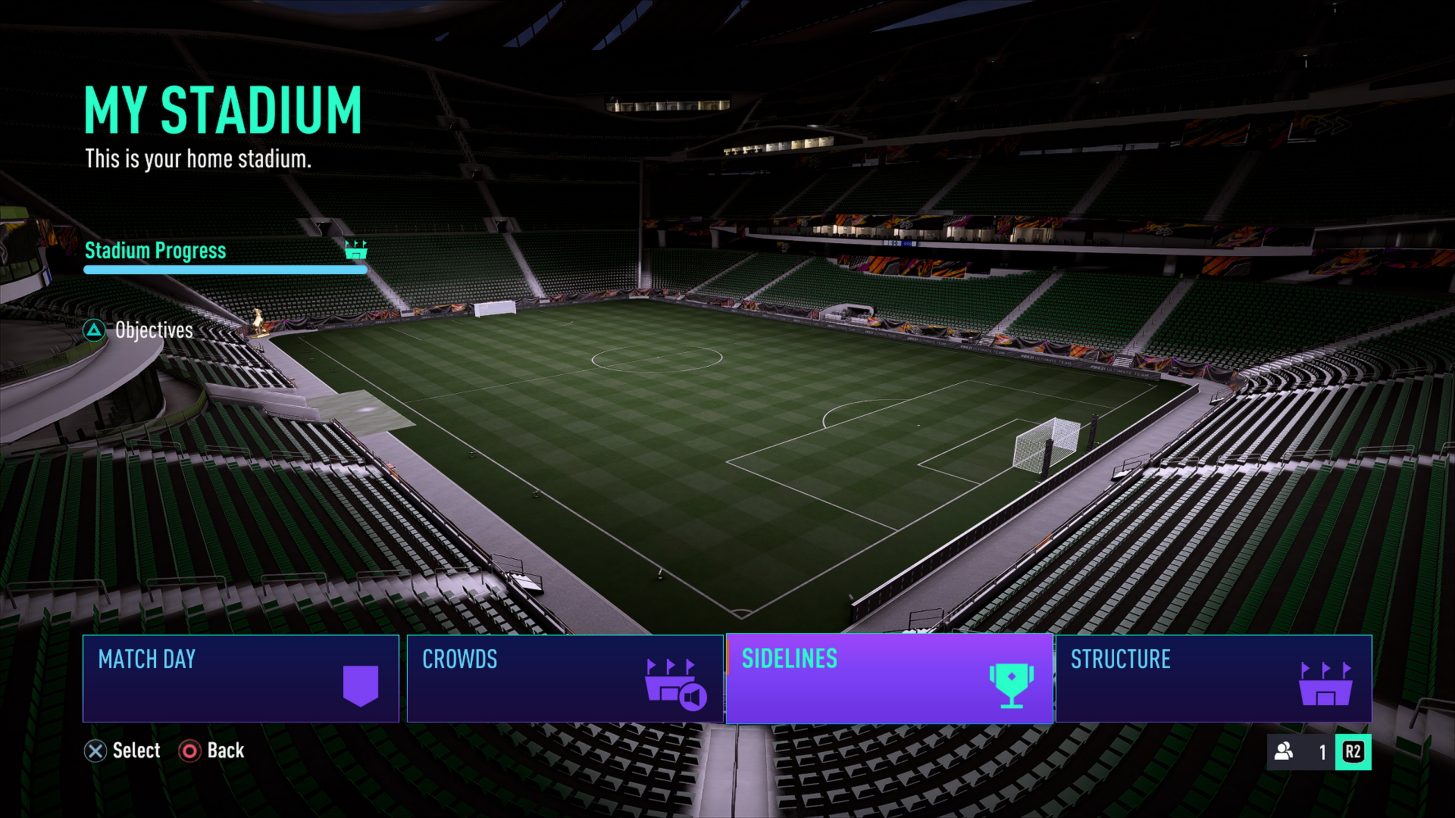 In addition you can display the Trophies you earned on the side of the pitch and select your Club Anthem and Crowd Chants, and feel the passion in every goal you score by picking Celebrations, Goal Music, and even Pyrotechnic Displays!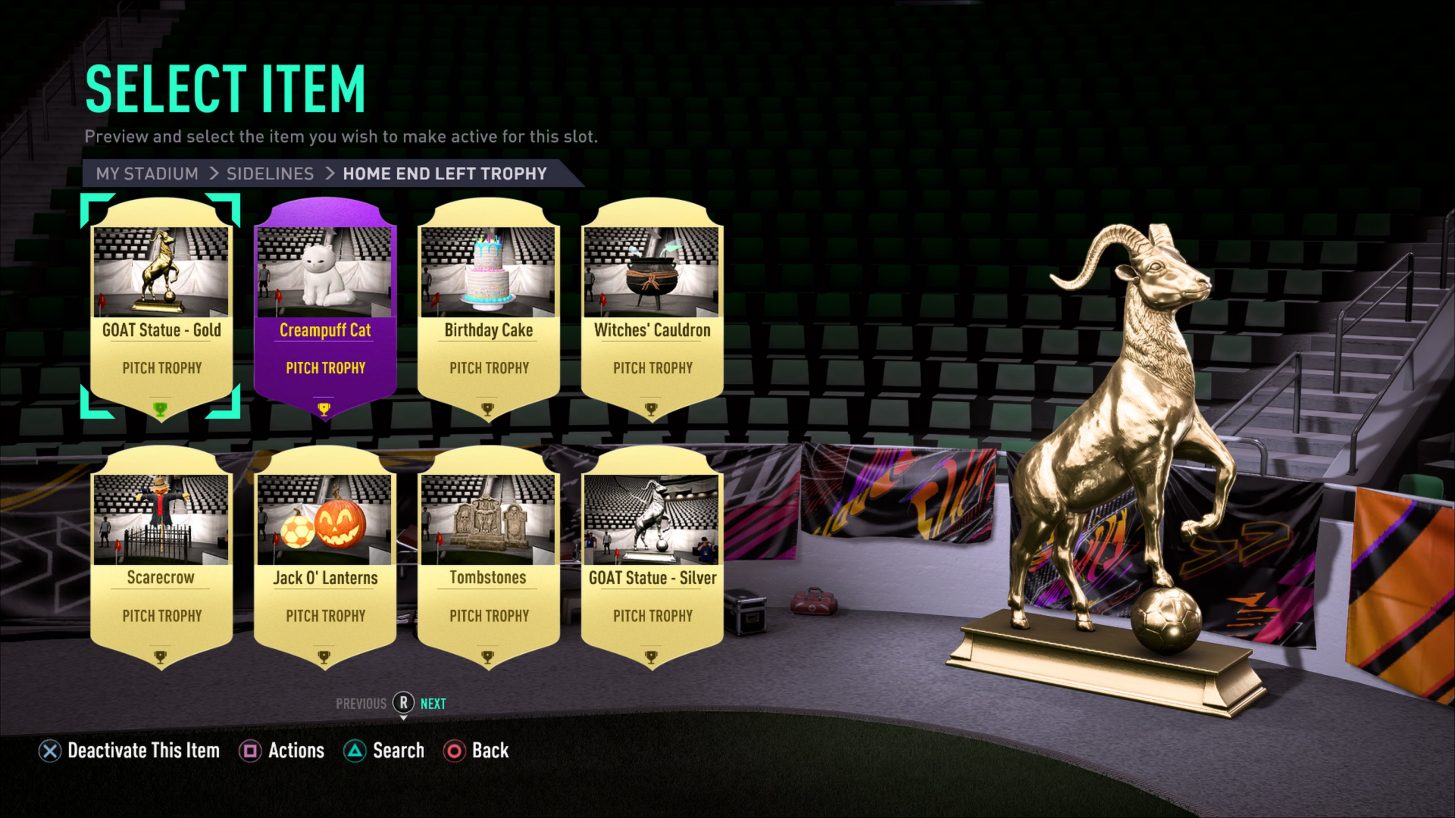 In total you'll have the option to customize up to 34 spaces across your Stadium and Club!
Core Game Modes Improvements
The most beloved FUT modes such as Division Rivals or Squad Battles got a few improvements for FIFA 21.
This year you can achieve your division placement in Division Rivals by playing 30 Squad Battles matches. Your preferred difficulty and results against the AI determine the right division for you. The regular 5 Placement Match method will continue to be an option.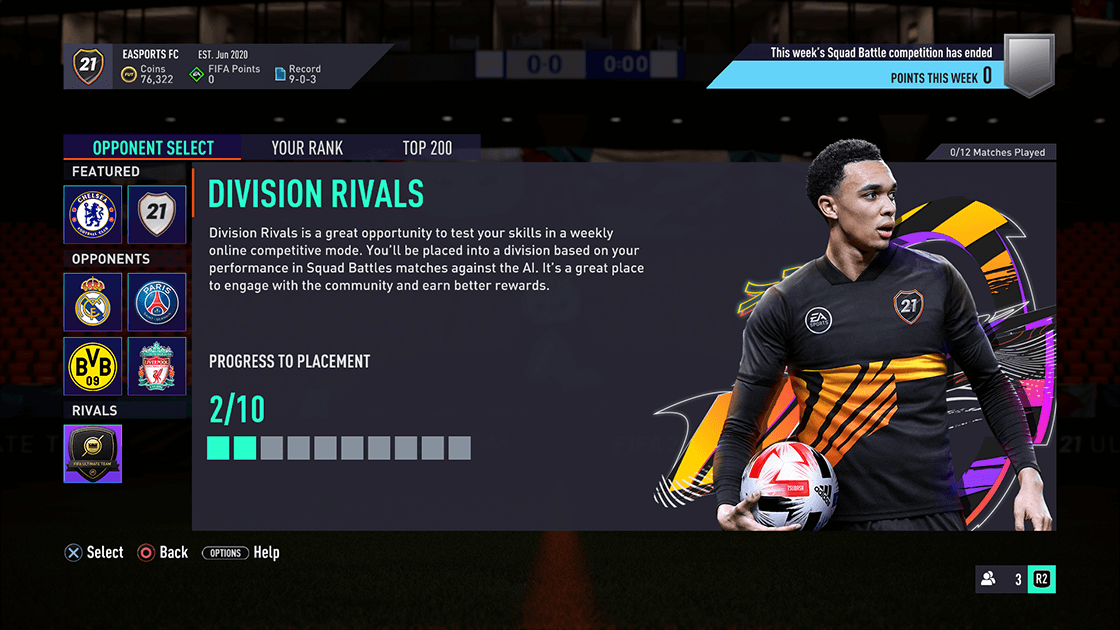 Another addition to this game mode is the new coin rewards for division promotion. Each time you reach a new Division in Rivals, you will get rewarded with a one-time coin reward.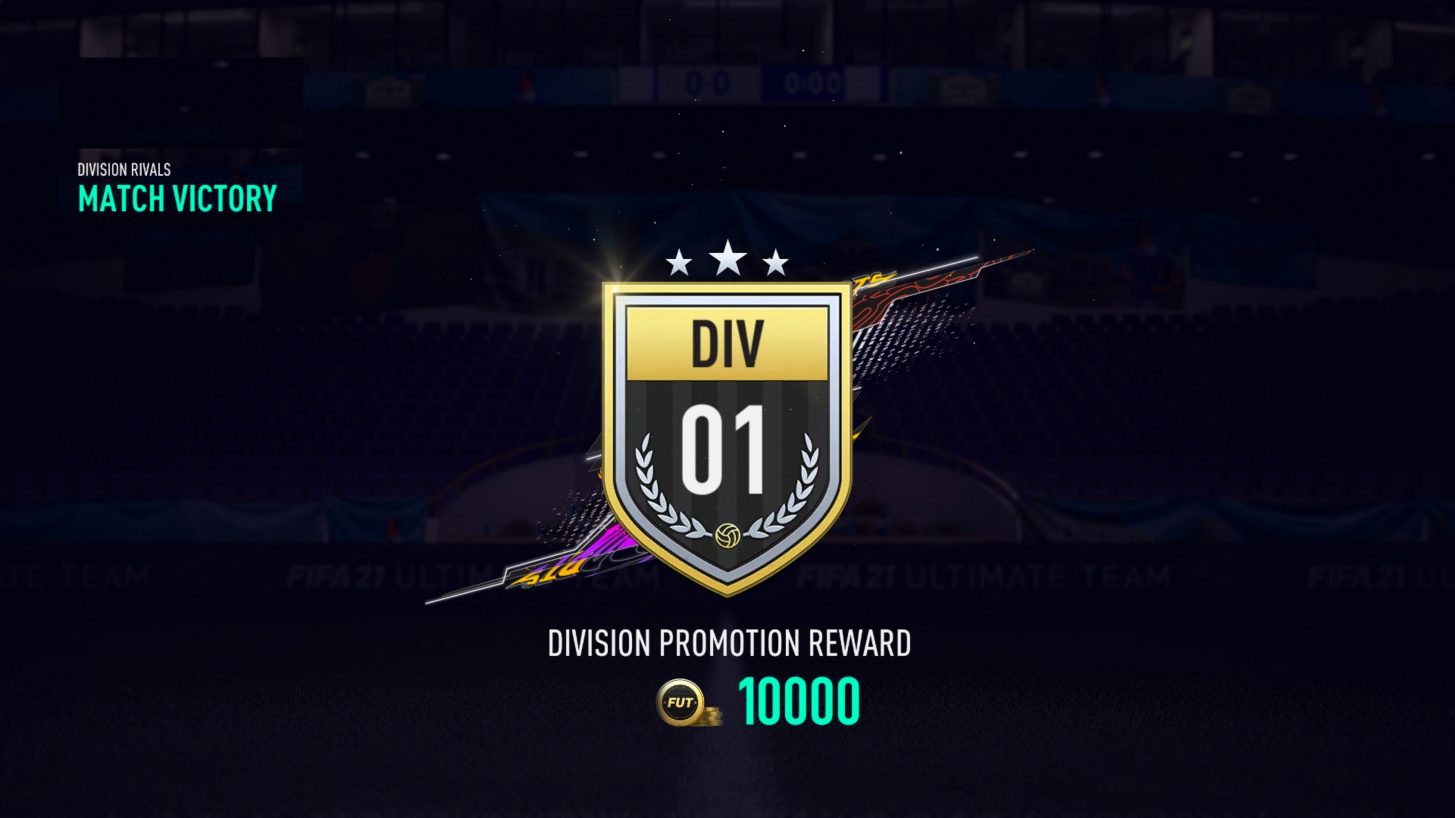 There will be a 30 match cap in the Weekly Competition of Division Rivals. After completing your first 30 games of Rivals, the matches will stop adding to your Weekly Scorebut you can continue to make progress against Objectives, earn higher Skill Ratings, and climb to new Divisions.
This change will allow the addition of a new rank in the leaderboards. Division Rivals will now feature 6 ranks of rewards instead of 5 to split players a bit more.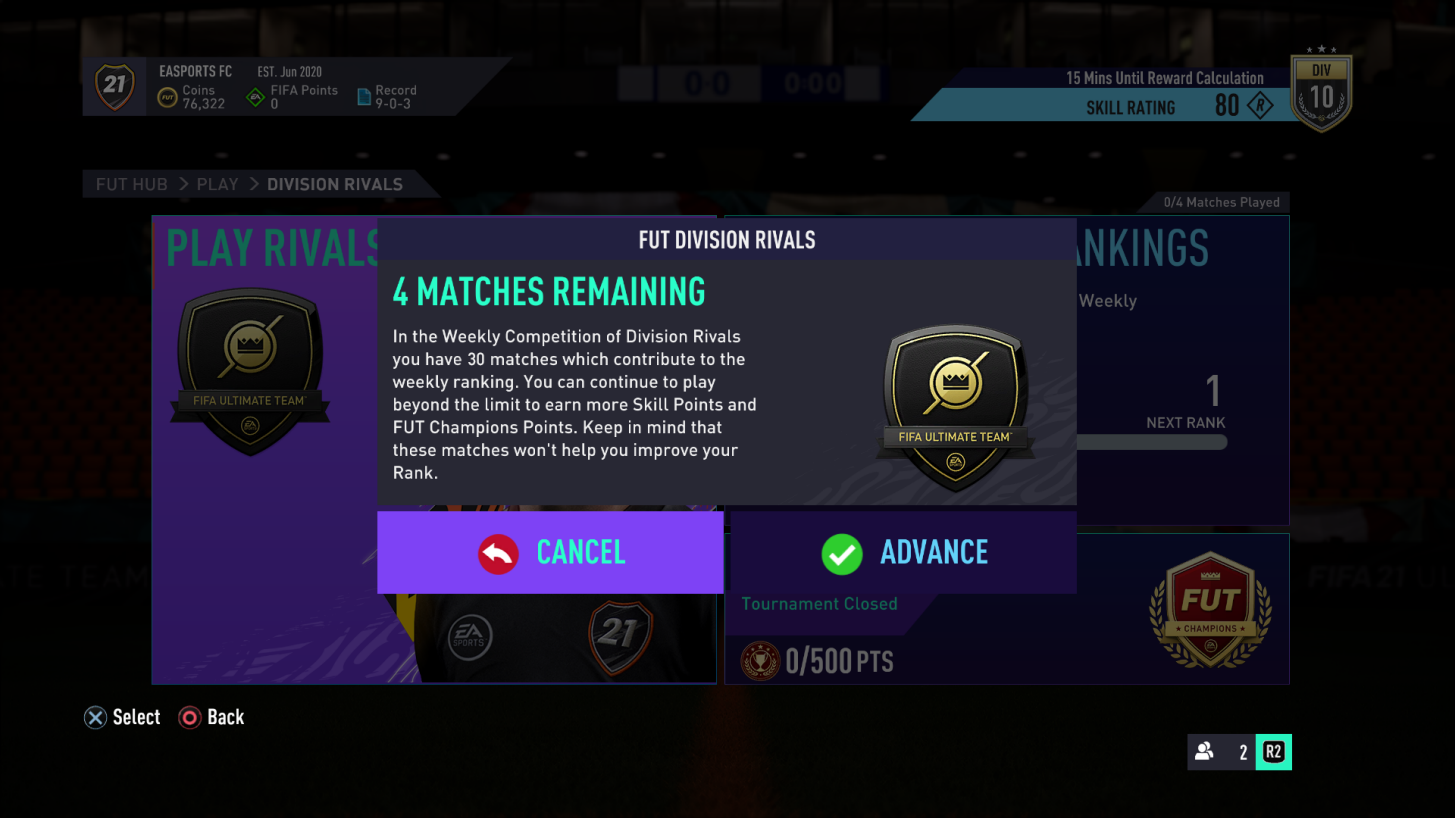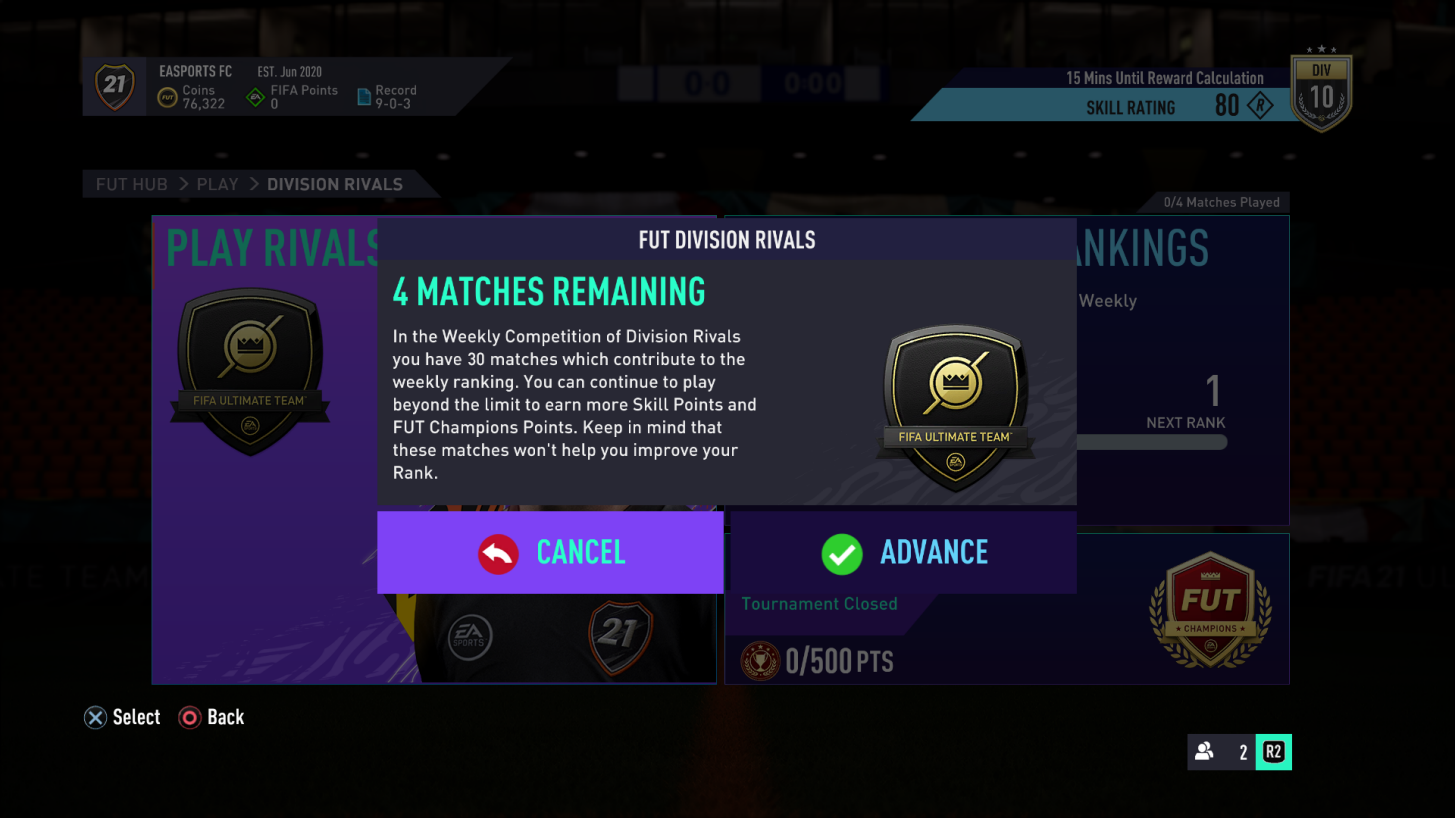 FUT Champions and Squad Battles will both have an increase to the size of the leaderboards from the Top 100 to Top 200. Here's how the reward ranks will be split in the new leaderboards: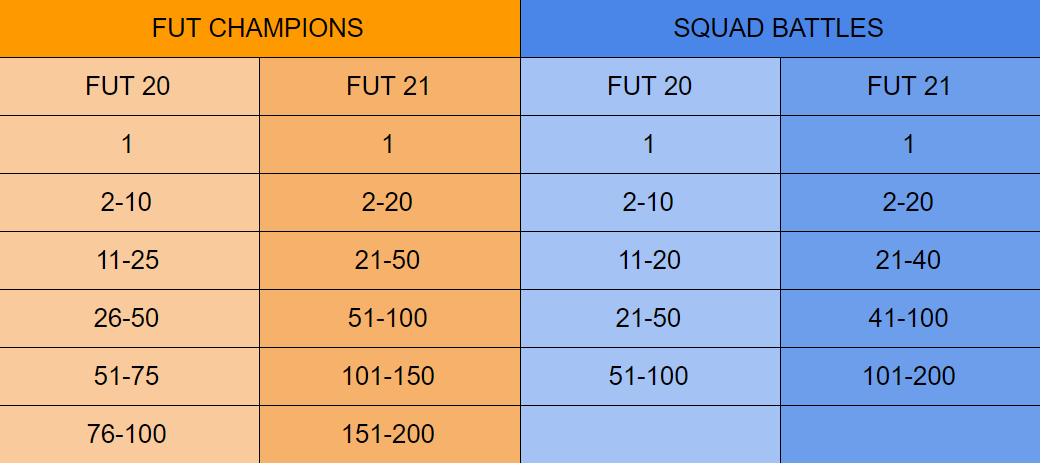 In FUT 21 we will have the Live FUT Friendlies mode that combine the Squad Rules, with the different House Rules in Friendlies and Objectives that will be available for a limited time. This will be similar to the Silver/Bronze tournaments from previous FUT editions but less competitive.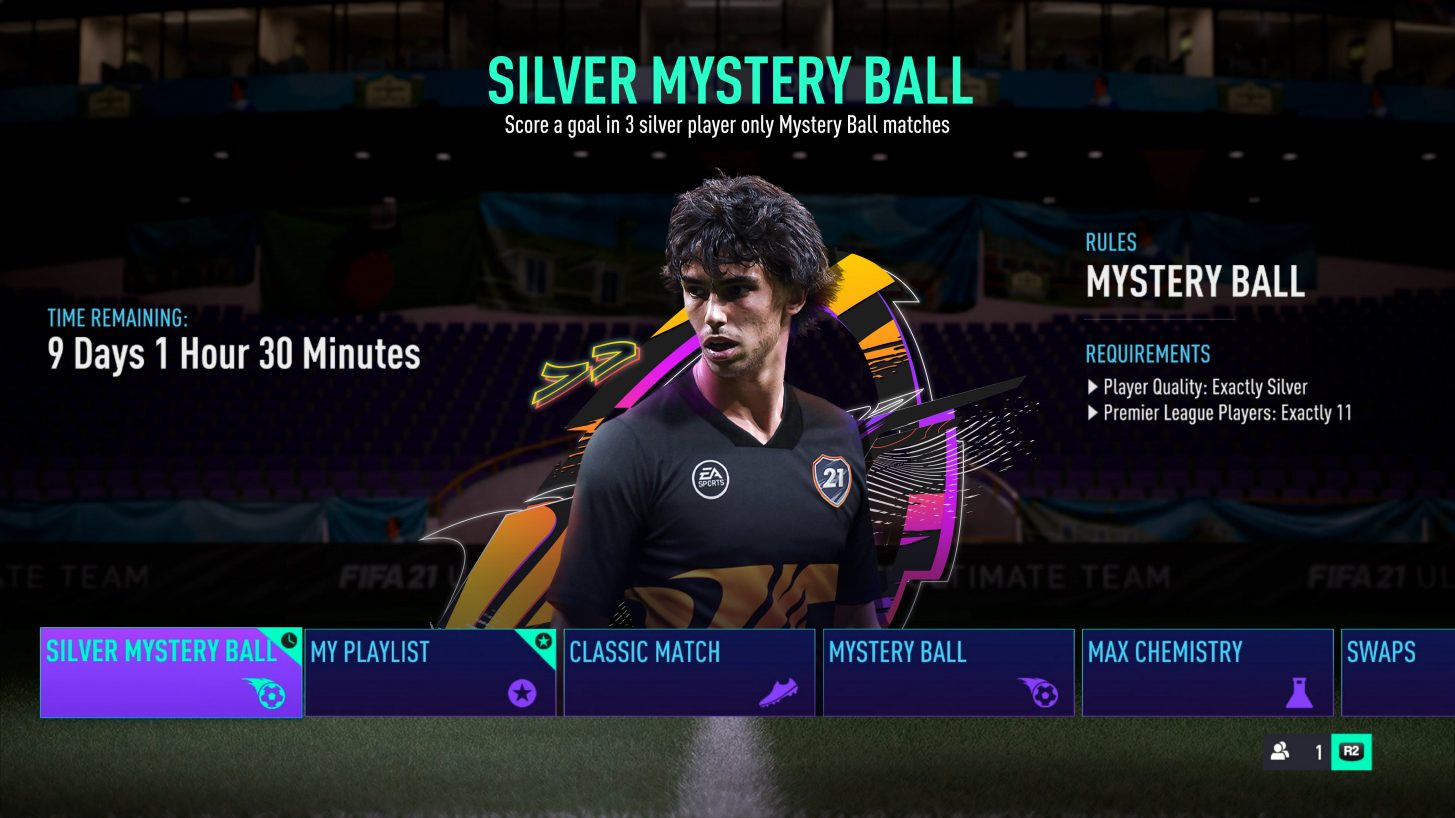 We will see special attribute player upgrades based on real life performances thanks to the new feature called Meaningful Moments. This will allow certain special items such as Moments Items to better reflect the real world performances of a player in a match. For example if a player scores an amazing free kick in real life, his special Moments Item will receive an exponential boost to the Free Kick Accuracy stat without impacting other attributes like in FUT 20.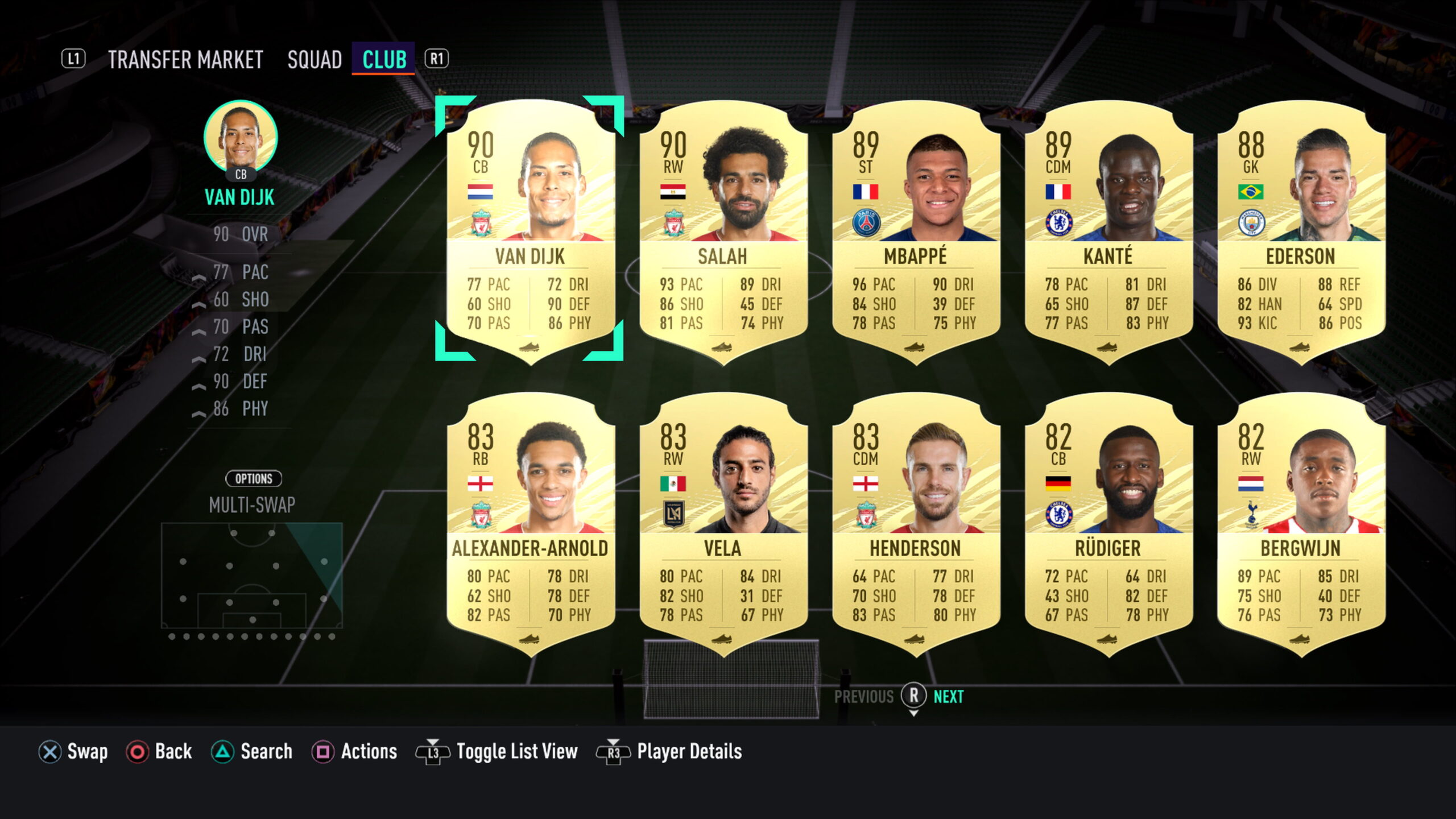 Fitness, training and staff coaches items have finally been removed from FUT 21! This has been requested multiple times over the years by the community and EA Sports finally listened to us. No more player fatigue and players with overrated boost cards. All players in FUT 21 will start every game at full Fitness.
Also there will only be two Healing items in game, the common and rare gold ones. These will be applicable to any injury type and will reduce the injury duration by 2 matches and 5 matches respectively.

Following these changes, the
packs have been rebalanced with new additions such as club Tifos and Stadium Themes items. EA Sports also increased the frequency of Chemistry Styles in packs.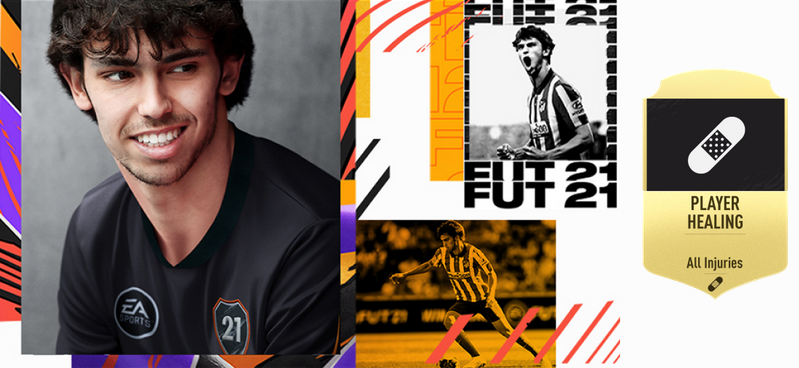 In an effort to maximize the
amount of time you spend playing online, EA also made the following changes to the FUT gameplay:
– Faster restarts when the ball goes out of play
These changes are very welcomed and will help those with tight gaming schedules.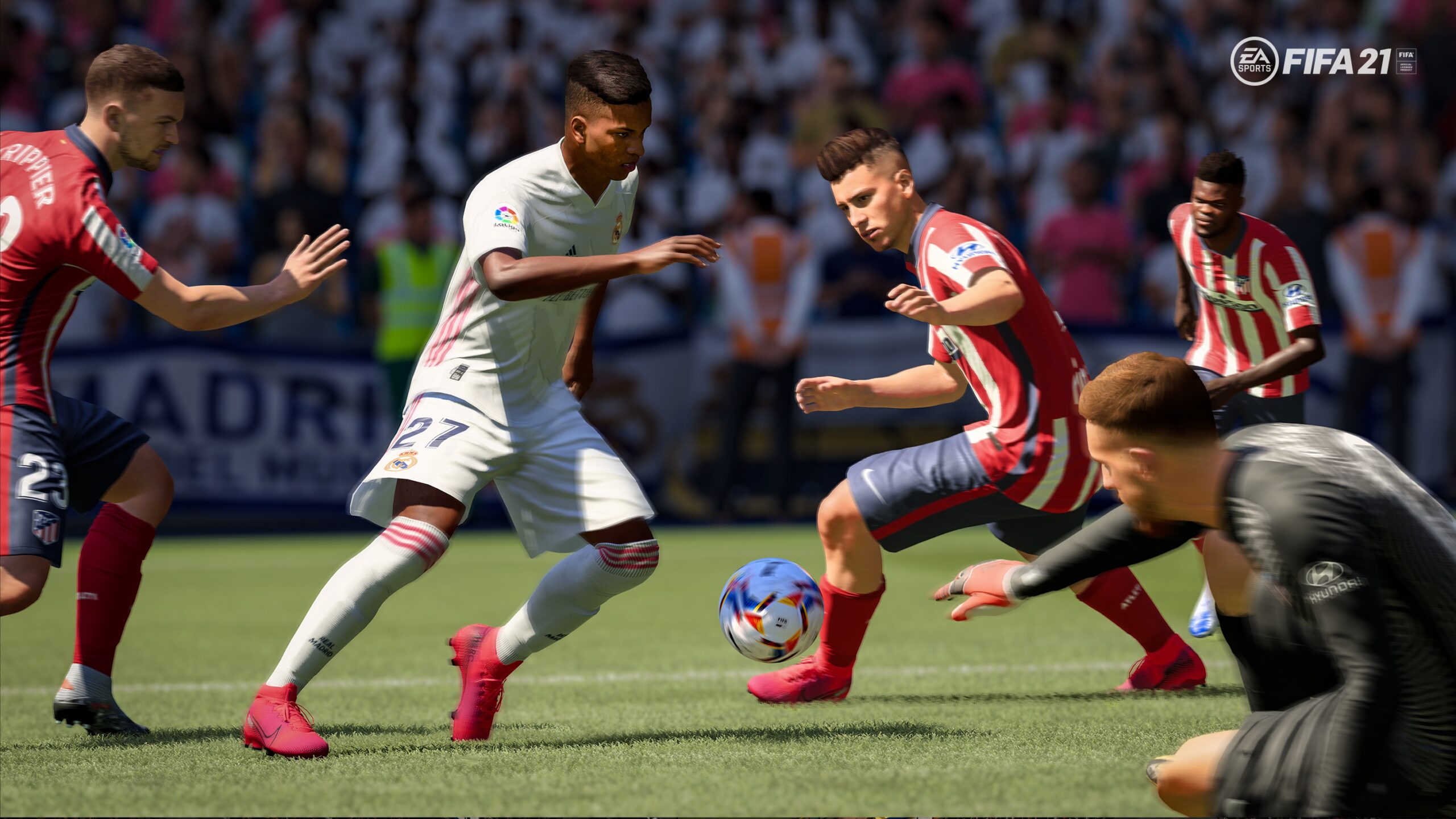 New ICONs have been added as well and you can check all about it right
here
. This wraps up the rundown on the new FUT 21 features, please let us know which is your favorite feature added this year in the comments below.
Next up on the FIFA 21
reveal schedule
is Career Mode, supposedly this Thursday. To stay updated please follow us on
twitter
!