The Headliners promo has returned to FIFA 21 Ultimate Team this week with a new batch of special player items. In addition to the Headliners, Season 3 Objectives has kicked off and a new batch of Icon Swaps are now live in FUT 21.
What are Headliners?
In case you don't know, the Headliners are a particular set of players selected by EA Sports thanks to their impressive form in the first half of this season. The first selection of players will be released with a +1 rating over their latest performance based In-Form (TOTW, MOTM, Hero or TOTGS item) or their base item. These cards are dynamic which mean that the players will get upgraded if they get performance based In-Form in the future. The player positions will not change and will stay the same as they currently are.
Moreover, if the clubs of these Headliners get 4 back to back wins during the remainder of the domestic league season, they will receive an additional +1 OVR permanent upgrade. If this happens, the Headliners players will have a +2 OVR ahead of their last performance based In-Form in game.
Headliners Team 1
There will be two Headliners teams and the first one is already live in packs featuring the next players: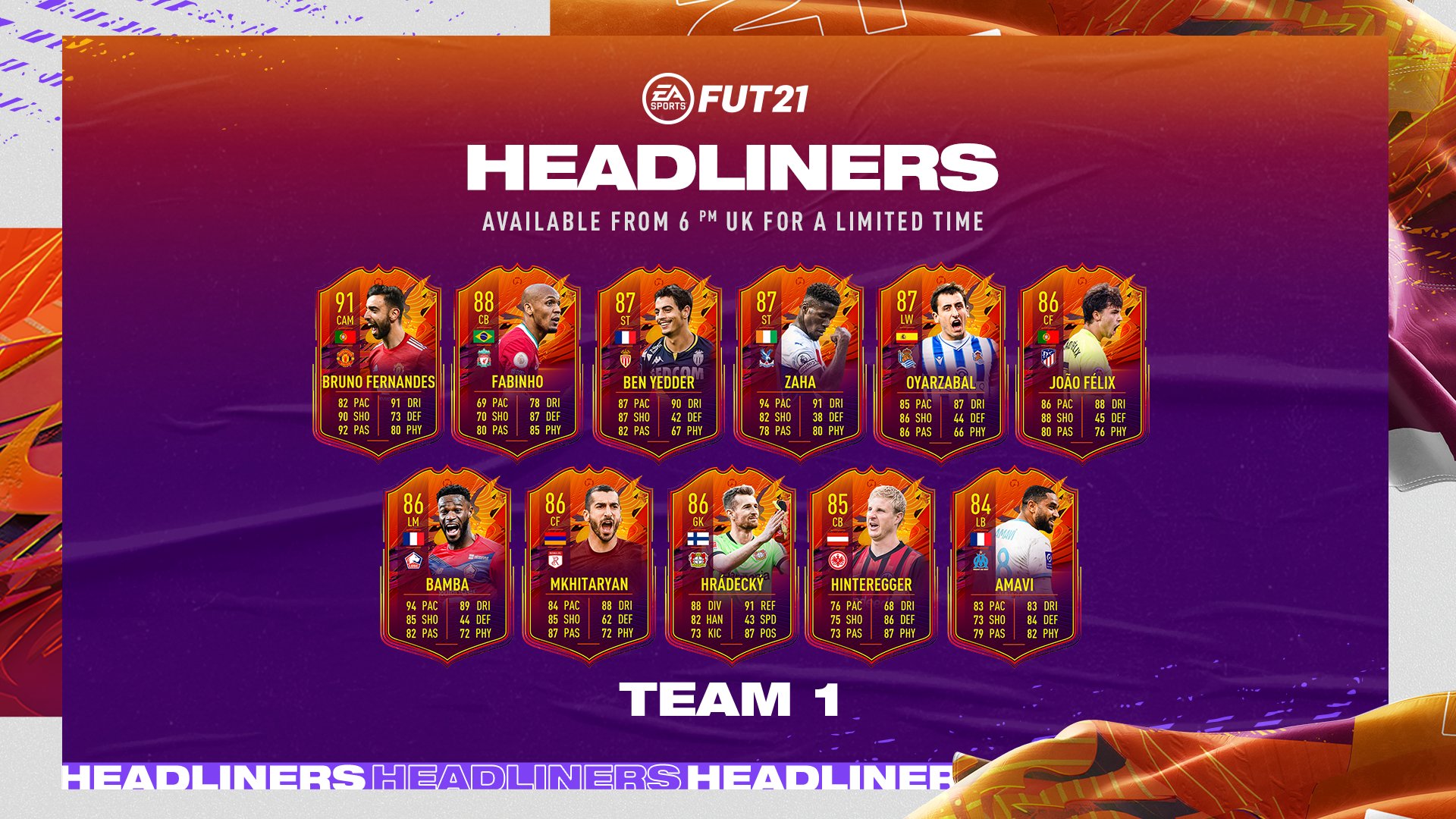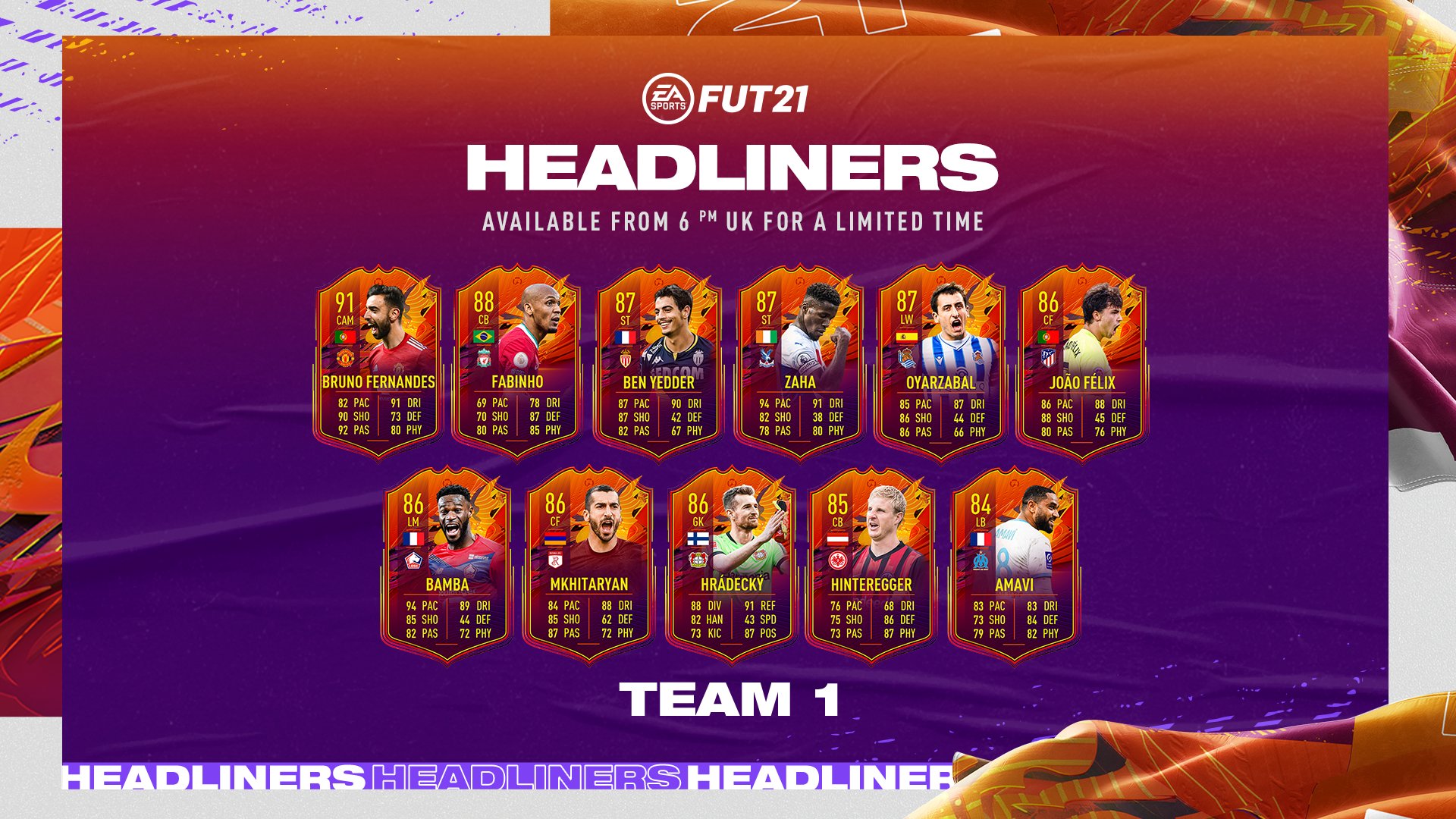 Team 1 will be available until next Friday, January 8th, when the second team will be released.
Flashback SBCs
This past week we saw the release of two Flashback SBCs, one featuring Hatem Ben-Arfa and the latest one featuring none other than the Bayern Munich legend, Arjen Robben. Both are currently available to complete and you can find the cheapest solutions for each of them on FUTBin.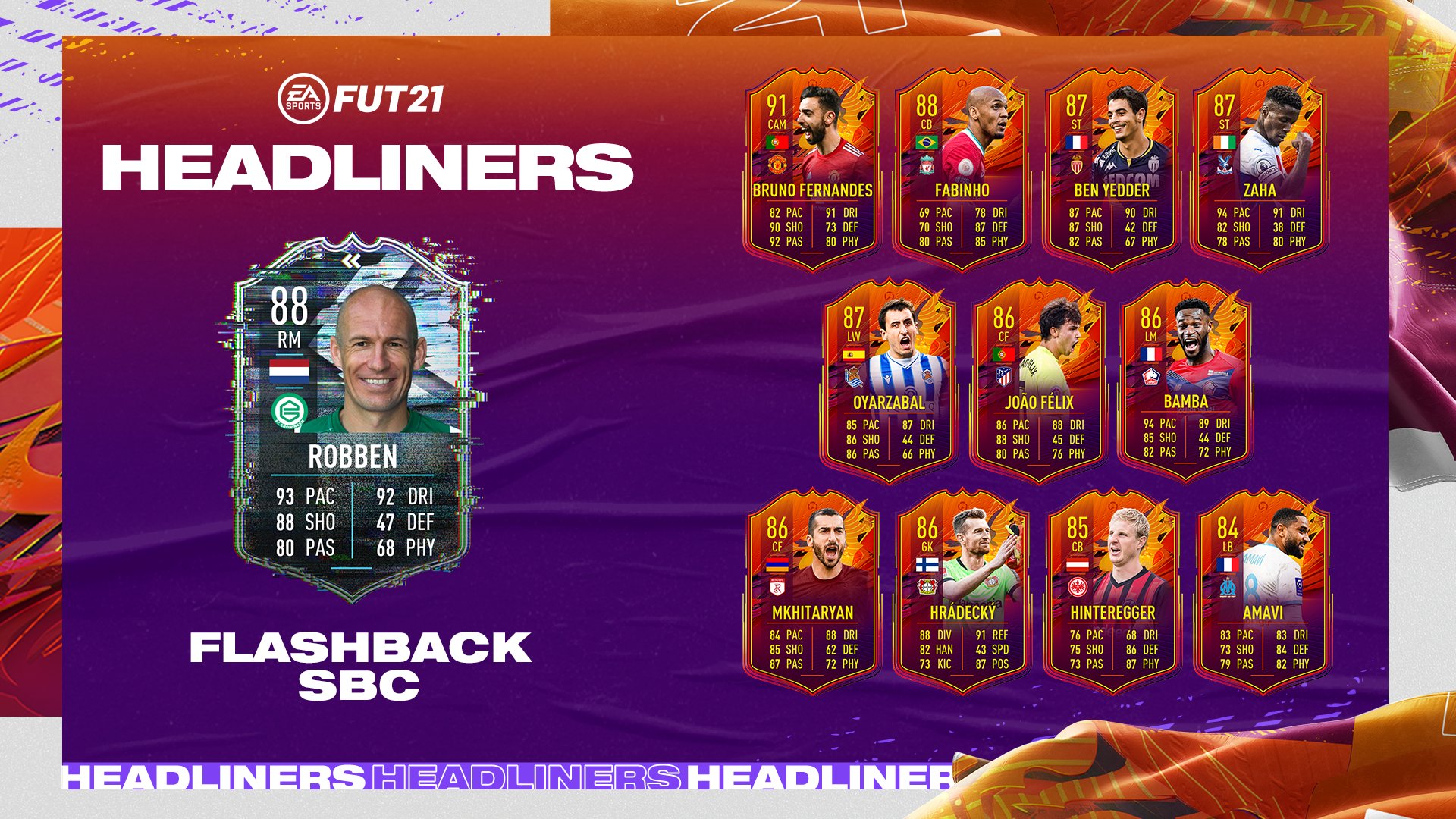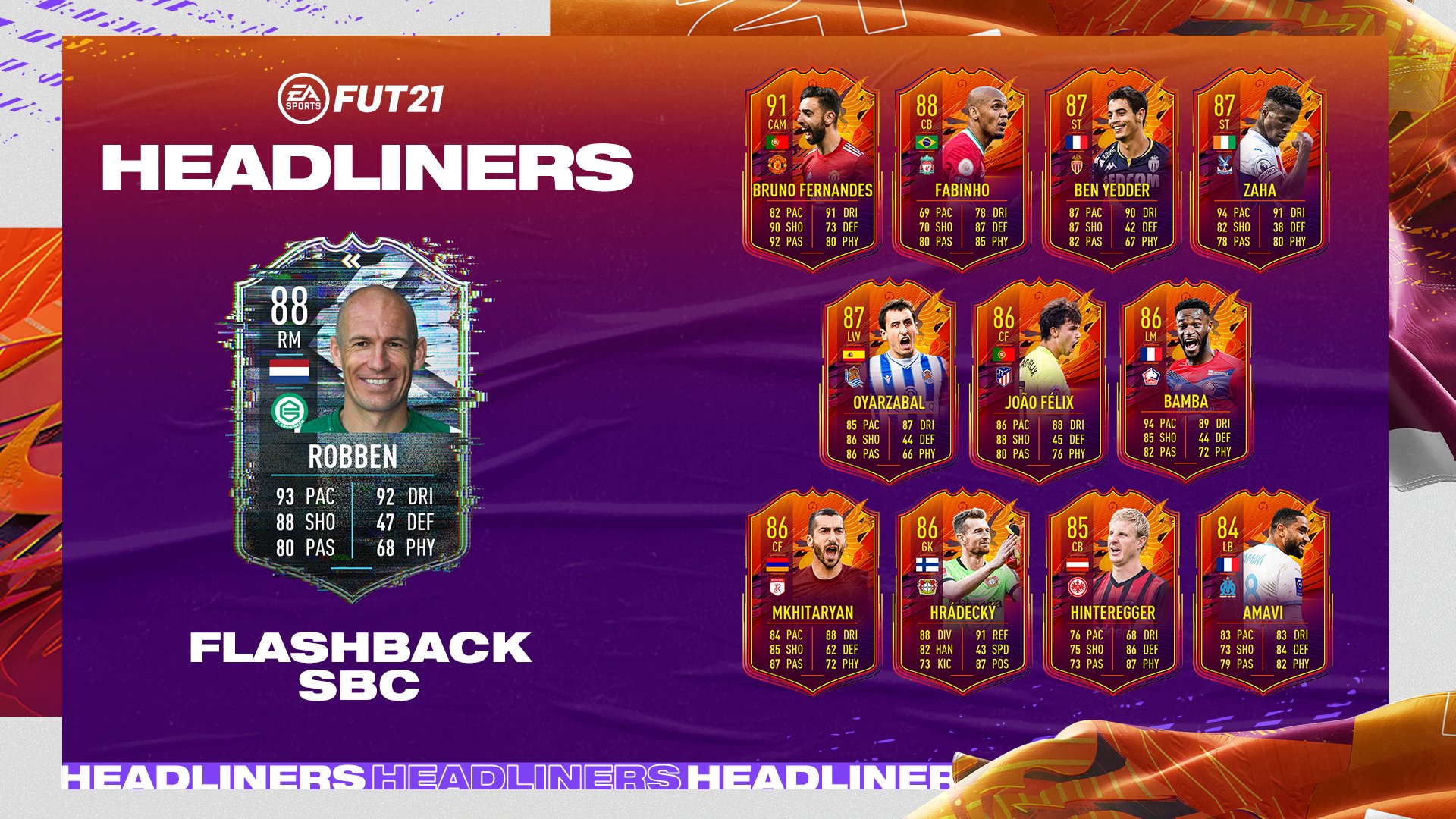 New Objectives Players
A new selection of Objective Players is now available in game with the arrival of Season 3 in FIFA 21 Ultimate Team. Here's what players you can pick once you reach Level 15 and Level 30:
Level 15
CM: Duncan – 83
RM: Thioub – 83
ST: Bakambu – 83
Level 30
LW: Pulisic – 87
ST: Plea – 86
RB: Emerson – 85


Since we're on the Objective Player topic, Headliner Matheus Cunha 84 is available in game that you can unlock by completing the next objective task:
Raising the Heat: Score an Outside of the Box goal in the Live FUT Friendly: Headliners Challenge
Scorching Samba: Score and Assist using Brazilian players in 2 separate Wins in the Live FUT Friendly: Headliners Challenge
Through Temperature: Assist a goal with a Through Ball using player with min. 4* Weak Foot in 3 separate wins in the Live FUT Friendly: Headliners Challenge.
Headline Hero: Win 4 matches in the Live FUT Friendly: Headliners Challenge.
Scoring Streak: Score in 10 separate matches using Bundesliga players in the Live FUT Friendly: Headliners Challenge.
The objective will expire on January 8th.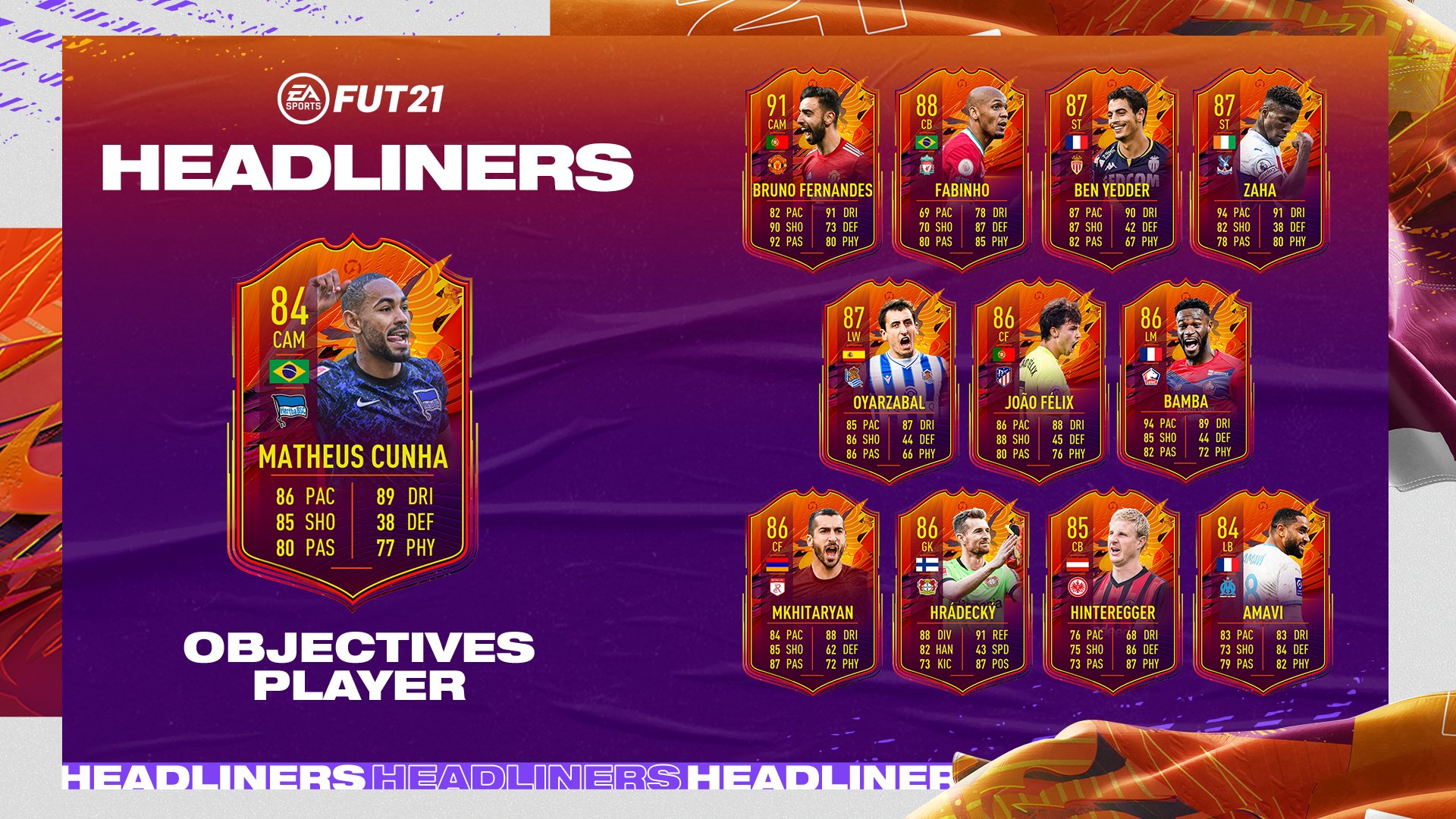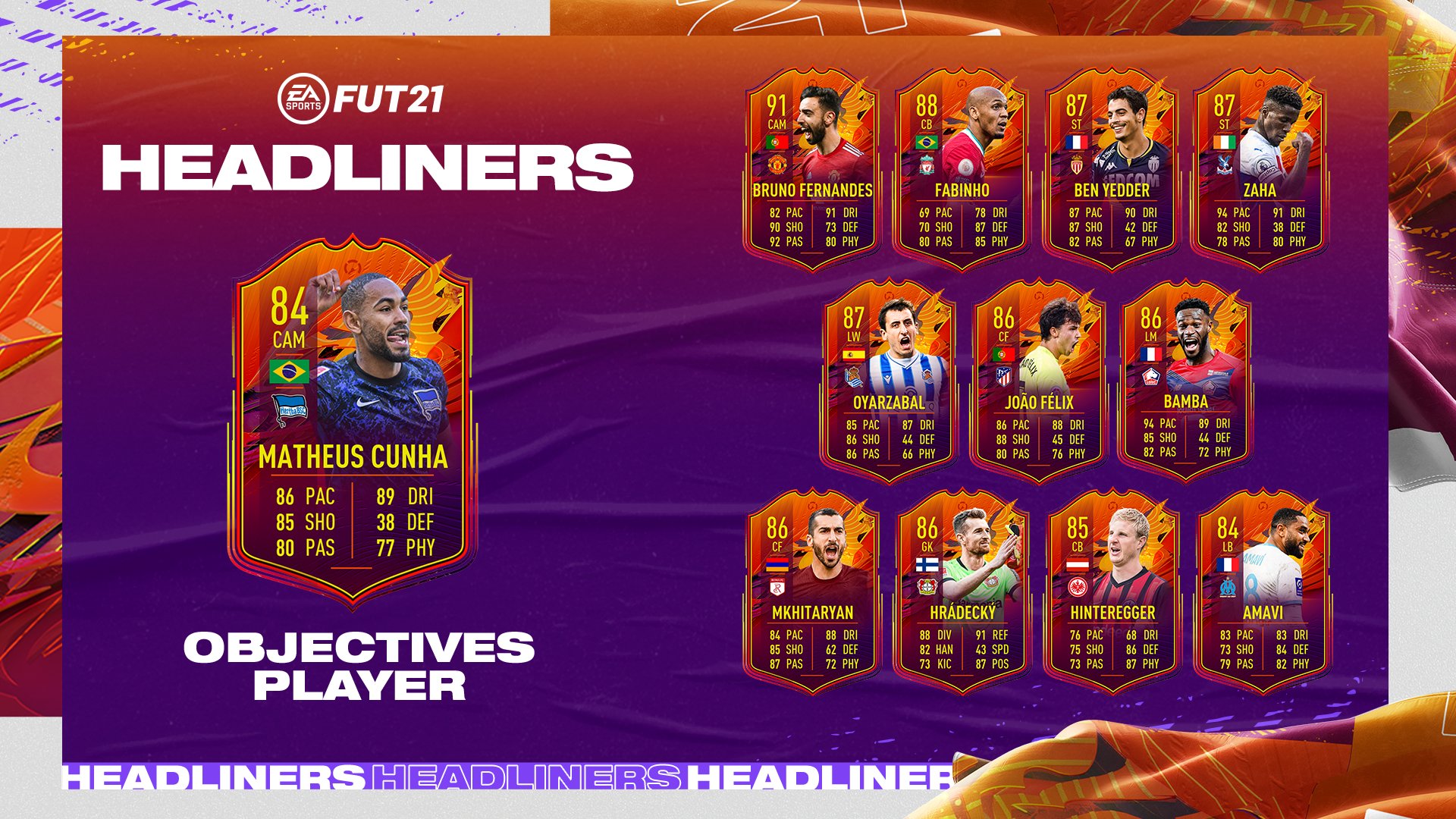 New Icon Swaps Available
With Season 3 live in FUT 21, EA Sports also dropped the remaining 10 Icon Swaps player tokens of the first set that will be available until February 12. You can check the objectives for each Icon Swap here.
For the player tokens that need to get unlocked via the Live FUT Friendly: One League, be careful that now there's a 60 match-cap limit! This is EA's attempt to nerf the Golden Goal system made by the community once the first Icon Swaps were released.
For the Squad Battles objectives you can reduce the number of wins from 30 to 18 by combining the requirements. You can combine a team of First Owned Silver French OR Liga NOS Players and get three player tokens with just 6 wins and combine a team of French OR Liga NOS UCL Players for another 2 tokens with 6 wins.
Une autre optimisation pour passer de 30 à 12 matchs Clash équipes ! #FIFA21

Image 1: B+C
Image 2: A+D+E

Seul bémol: Les UCL en Liga NOS c'est 5k par carte 😅 pic.twitter.com/wewtKqjyrj

— IamFrench (@IamFrench_) January 1, 2021
Let us know in comments if you manage to complete these tricky objectives! For more FIFA 21 news and updates please follow us on twitter.