Most FIFA 21 Career Mode players head straight for the big name – the Cristiano Ronaldos, Lionel Messis, and Robert Lewandoskis of this world. They're happy with a squad made up of luminaries from the EPL, Bundesliga, La Liga, or Serie A. Of course, the major leagues of Europe are chock-full of world-class superstars, but there is a wealth of talent from less high-profile leagues which often goes overlooked – Liga MX.
Football is the most popular sport in Mexico, and the top division – Liga MX drives a plethora of punters all wanting to know the transfer rumors, game predictions, and the best betting lines. According to WSN.com, betting has risen in popularity in recent years. Not only thanks to the states in the USA slowly opening up each year towards a legal sports betting market, but in Mexico as well there is a big market for sports betting. Liga MX produces high-level players season after season, all available for your FIFA 21 squad. If you don't fancy digging through all the teams we've got a selection of future stars right here.
Leonardo Fernández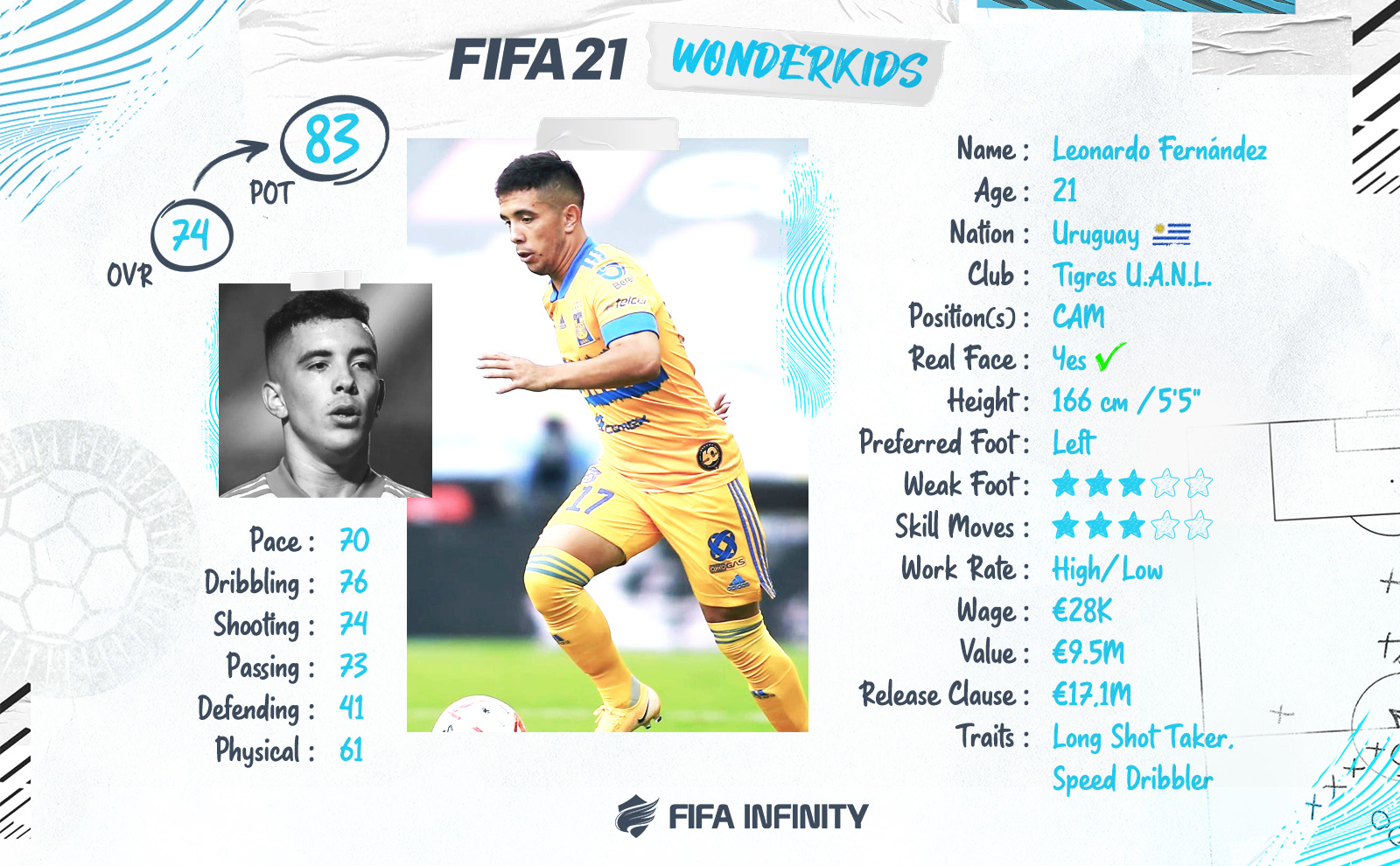 This 22-year-old Uruguayan has been signed to Tigres in Liga MX since 2019 but has had spells on loan in Chile and at Mexican club Toluca. In January 2020, he was Liga MX player of the month and is noted for his attacking midfield role.
In FIFA 21 Career Mode, he is valued at €9.5 million with a wage of €28k. He has excellent shot power (81), long shot abilities (81), and great balance (82). His other great attributes include his vision (77), agility (79), dribbling and ball control. He is however weak in the air, with poor jumping and header accuracy skills. But overall he is a player with excellent potential, certain to be a key part of any career mode player's attack.
Marcel Ruiz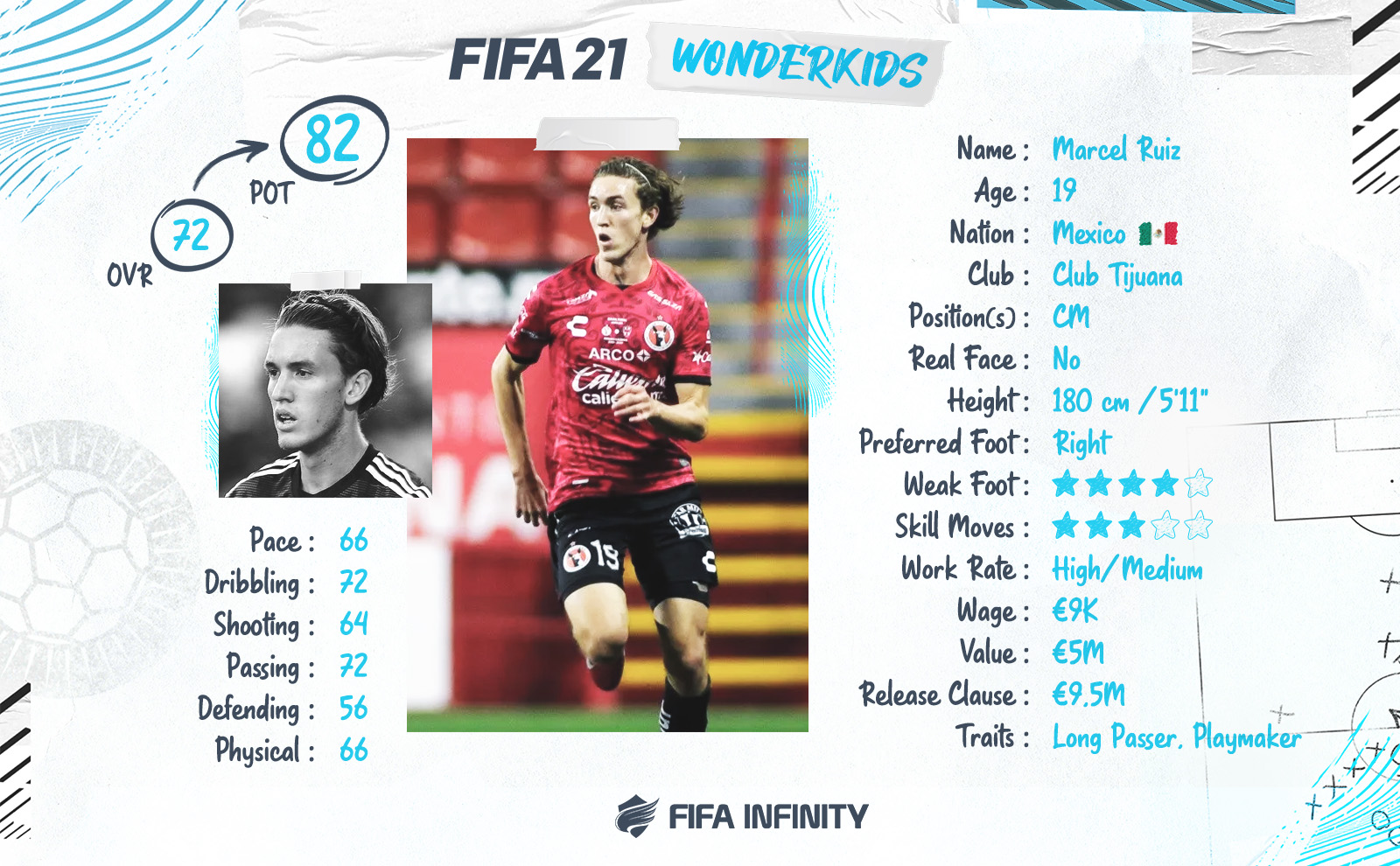 Another attacking midfielder, Ruiz plays for Tijuana, but came up through the Querétaro youth program, scoring six goals for the club during his time there. His attributes make it obvious that he works best as an attacking playmaker, creating chances for forwards with accurate and incisive short passing (75), long passing (75), dribbling (71), and ball control (75). He's also an engine in the midfield, with strong stamina (76), and will keep creating opportunities over 90 minutes. Currently valued at €5 million, with wages at €9k. Ruiz has potential for the future in FIFA 21 Career Mode.
Johan Vásquez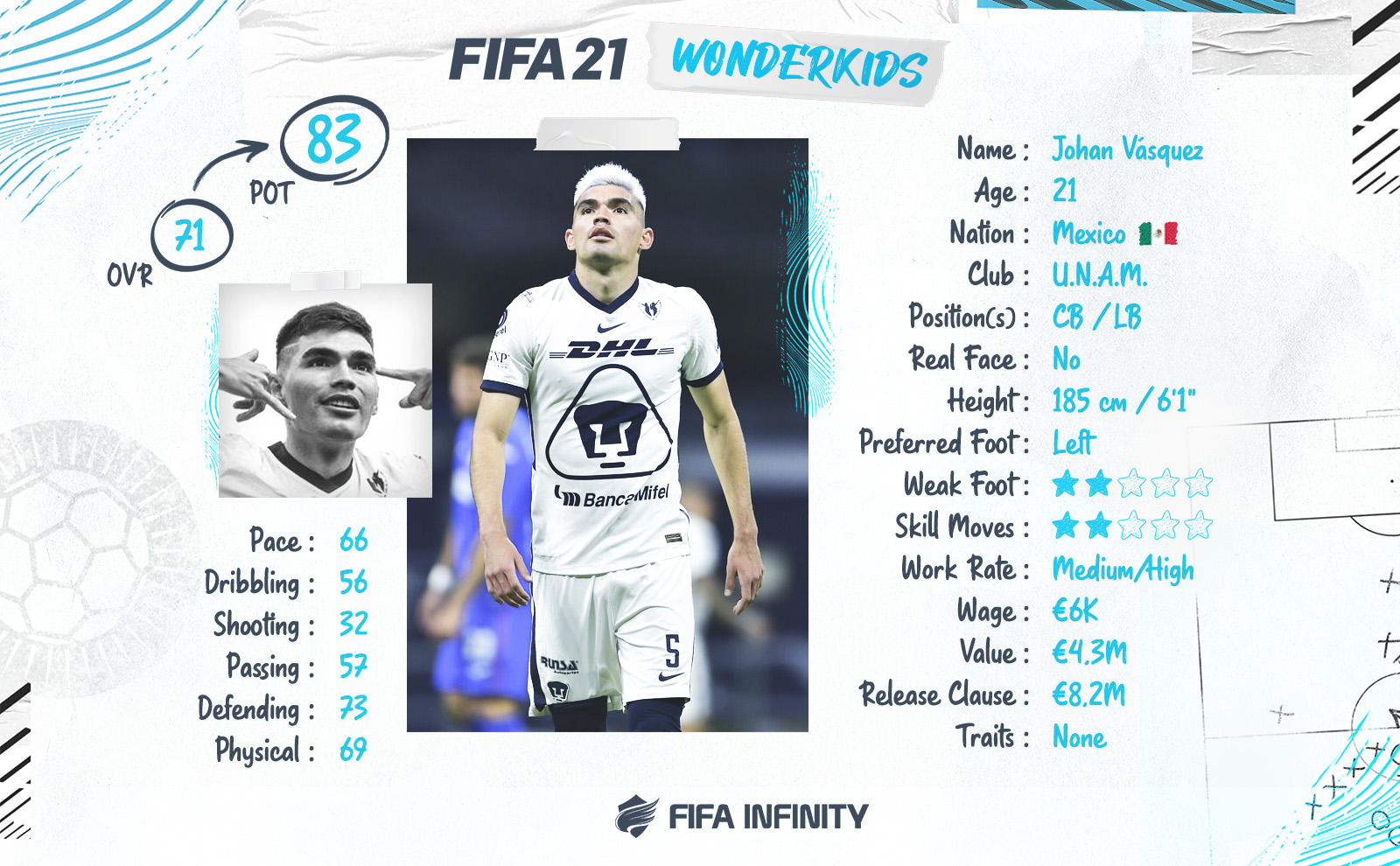 The 21-year-old center back, Johan Vásquez, is currently playing for U.N.A.M. (Pumas). He came up through the junior ranks of Tigres, before debuting on loan for Pumas. He obviously impressed, as the club retained him on a contract from 2020. With two goals already bagged for the Pumas, he makes the most of his 6'1" height with heading accuracy (76) and strength (75), meaning he will cause problems up in the box during set plays.
Liga MX fans should wait to see if his confidence in the air improves, he may well be worth a wager to score in any given game. Overall Vásquez shows excellent anticipation, with a good interception rating (72) and is confident in the standing tackle (75), as well as the sliding tackle (71) making him a solid defensive addition to any squad. An asking price of just €4.3 million, with a wage of €6k, makes him a good proposition for FIFA 21 managers.
Santiago Giménez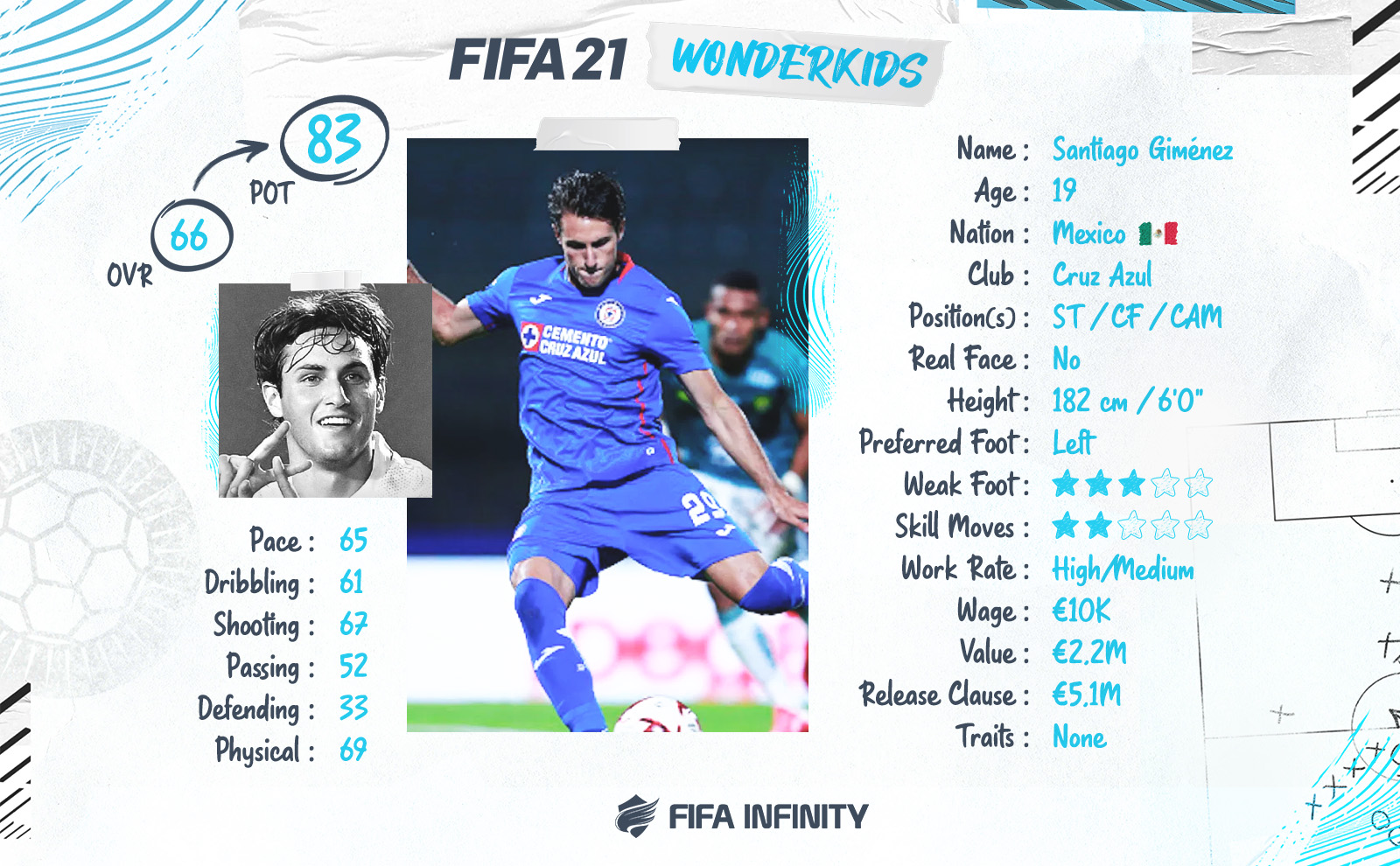 An exciting young forward, Argentine-born Giménez has impressed since his professional debut in 2017 at the age of 16. Despite having the option of representing his native birthplace of Argentina, he decided to represent Mexico, stating that "I feel more Mexican than Argentine," and has shone for the Mexican national youth teams.
In FIFA 21, he is a player whose potential (83) overshadows his current rating (66). Dangerous in the air with his heading accuracy (73), his other top attributes are his shot power (79) and acceleration (72). And if fed great assists, his finishing (70) is solid – he is a proven goalscorer. And when Giménez needs to hold his nerve, he can, putting away penalties (73). Valued at €2.2 million with a wage of €10k, his age must be taken into account, and his potential to grow as a player.
José Macías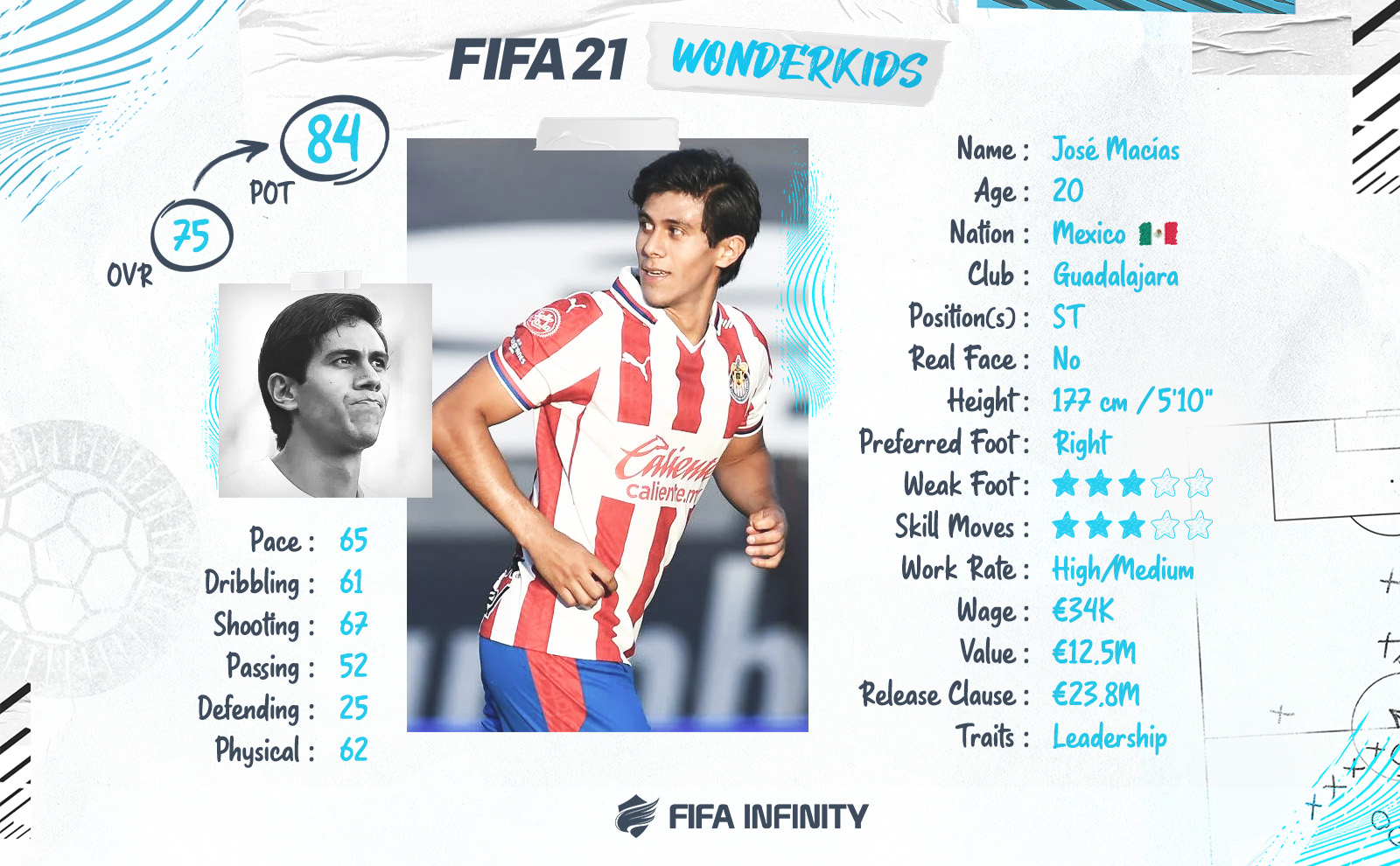 An exciting striker who plays for Guadalajara in Liga MX, Macías has racked up goals in every season he has played professionally. Also, a rising star in international football, he has scored four goals in five appearances for the Mexican national team – a promise of more things to come for the 21-year-old. His FIFA 21 stats are solid, with a potential of 84 against a current rating of 75. He has excellent positioning (80), making him a threat every time a ball comes towards him in the final third. He is quick on his feet, with acceleration and sprint speed both rated 73, and quick to react (76). And when it comes to hoodwinking defenders, his ball control (76) and dribbling (76) make him a real threat.
If you want to find some new and exciting young talent for your FIFA 21 career mode team, why not check out Liga MX? It's a melting pot of excellent footballing prospects.