FIFA has today announced full details regarding the first-ever FIFA eNations Cup, including the participating nations and the Host City for the April event.
In an announcement this week, FIFA said the inaugural eNations Cup will become a major event on the EA SPORTS FIFA 19 Global Series. A new tournament in the eFootball schedule, the first edition of the cup will include teams representing 20 nations from all six FIFA confederations (CAF, CONMEBOL, Concacaf, OFC, AFC, and UEFA).
This is a certainly a tournament FIFA 19 pros want to win. As well as claiming glory for their country, there is a prize pool of USD $100,000 up for grabs and up to 1,500 EA SPORTS FIFA 19 Global Series points for players selected for the FIFA eNations Cup 2019.
Of course, the tournament mirrors UEFA's Nations League tournament, but expands the concept beyond Europe to all confederations. It further highlights how FIFA eSports are becoming as popular as real soccer, including the ability for viewers to bet on tournaments through services like the FanDuel sportsbook.
FIFA says it conducted a "thorough and extensive evaluation and invitation process" to decide which nations will participate in the eNations Cup 2019. Following that process, the organization named the following 20 countries for the inaugural event:
Argentina
Australia
Brazil
China PR
Denmark
England (host country)
Finland
France
Germany
Mexico
Netherlands
New Zealand
Norway
Portugal
Saudi Arabia
South Africa
Spain
Sweden
Russia
USA
Which have been divided in the following groups: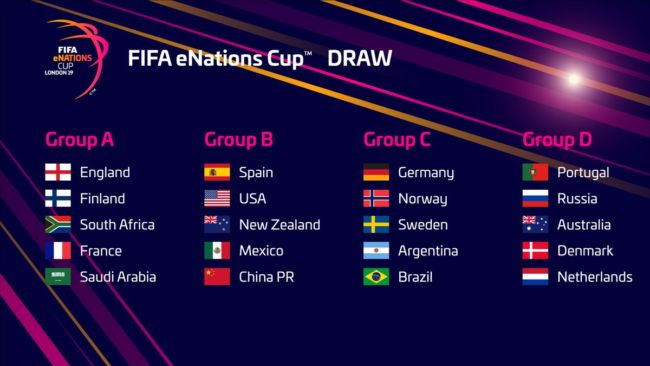 Host City and Dates
In addition to naming the tournament participants, FIFA also announced the first Host Nation of the FIFA eNations Cup and when the competition will take place. London has been named as the host and will hold the event on April 13 and 14 2019. Football's governing body says the tournament will be streamed live on FIFA's digital channels on those dates.
The tournament format will see players and countries play individual (1v1) and team (2v2) matches during the group stages. The top two countries from each of the four groups will move forward to the knockout stages. From there, each winning team progresses to the next round on the road to the final. All games will be played on Xbox One or PlayStation 4.
Christian Volk, Director of eFootball and & Gaming at FIFA, said: "With 20 of the world's best eFootball nations going head-to-head, this year's inaugural FIFA eNations Cup will provide another great example of the passion and excitement that eFootball has to offer, as well as providing the chance for players and member associations to compete for national pride and international glory.
"Following unprecedented interest received in the event, the decision to expand the FIFA eNations Cup from 16 to 20 teams will allow more member associations with a chance to compete at on an international stage in eFootball, as well as providing an important stepping stone for FIFA to continue growing and developing eFootball and the FIFA eNations Cup for member associations and the wider eFootball community in the future."