The 2022 FIFA World Cup is less than two months away from kick-off and EA Sports confirmed that the tournament will arrive in FIFA 23 thanks to a free DLC.
This will be the last time we will see anything related to the FIFA World Cup in the series as Electronic Arts and FIFA announced recently that their nearly 30 years partnership will come to an end on July 2023 and the game will be officially renamed EA Sports FC. FIFA 23 will be the last game in the franchise to display the name of the world football's governing body.
The videogame publisher didn't shared a lot of information beside the formal announcement that the most popular football tournament on the planet will be available in the 'World's Game'. Fans and players are already starting to wonder what will they get with the DLC and we already have an idea based on the little information that EA shared, past World Cup contents in the FIFA series and hidden elements in the game's database.
Release Date
The FIFA World Cup Qatar 2022 will be played from 20 November to 18 December in Qatar and based on this we can expect the World Cup DLC to drop in-game on November 11th.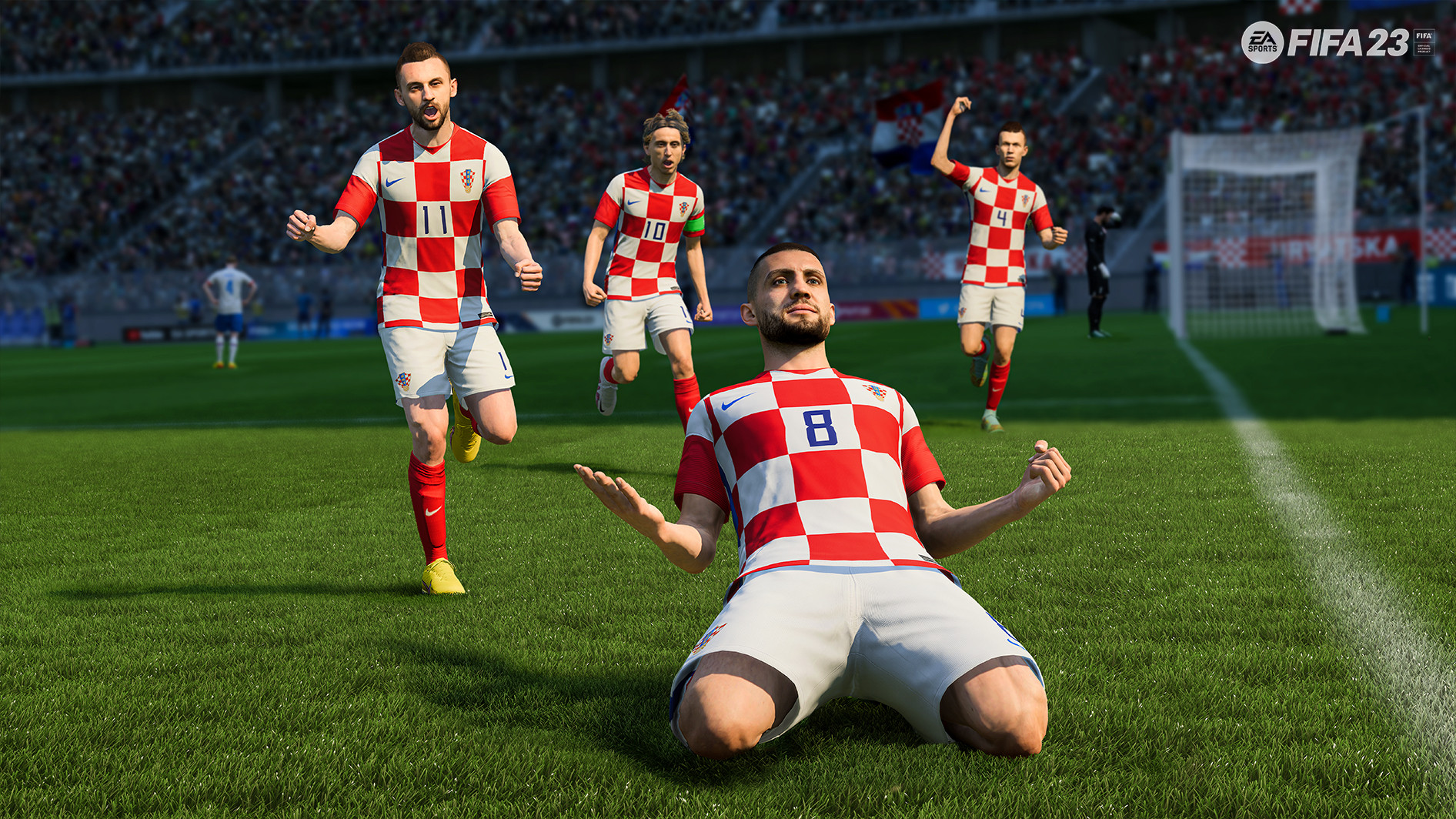 World Cup Game Modes
If we look at past editions, the DLC will introduce new themed game modes in FIFA 23. For starters we will more than sure have a FIFA World Cup Qatar 2022 Mode that will feature all 32 qualified nations where you will be able to play through the authentic tournament structure, from the group stages to the final in Lusail.
Another game mode that we might see is the Custom FIFA World Cup Qatar 2022 Tournament, that will allow you to rewrite history and enjoy a custom version of the World Cup with any licensed national team in FIFA 23 including unqualified nationals like Italy, Romania or Czech Republic.
The FIFA World Cup Kick-Off Mode is also a possibility that will allow players to jump into an offline match solo or with friends.

Last but not least we will definitely see the FIFA World Cup Ultimate Team Mode that will include themed player items and contents. Speaking of…
World Cup Content
Based on the FIFA 23 database we know that all 32 qualified nationals will be in the DLC with authentic crests, kits and players. The qualified teams are:
Group A: Qatar, Ecuador, Senegal and Netherlands
Group B: England, IR Iran, USA and Wales
Group C: Argentina, Saudi Arabia, Mexico, Poland
Group D: France, Australia, Denmark and Tunisia
Group E: Spain, Costa Rica, Germany and Japan
Group F: Belgium, Canada, Morocco and Croatia
Group G: Brazil, Serbia, Switzerland and Cameroon
Group H: Portugal, Ghana, Uruguay and Korea Republic
The 32 teams for the 2022 World Cup are finally confirmed 🏆 pic.twitter.com/qMlzqyO3Dp

— GOAL (@goal) June 14, 2022
Unfortunately the qualified teams that are not present in game at launch will not be available in Career Mode based on previous years DLCs. The teams that will not feature in Career Mode are Ecuador, Senegal, Iran, Japan, Saudi Arabia, Tunisia, Costa Rica, Serbia, Switzerland, Cameroon, Uruguay and South Korea.
However there will be a themed World Cup menu for each game mode and more than likely the DLC will also include the the iconic WC trophy and all 8 official stadiums of the tournament:
Al Bayt Stadium
Khalifa International Stadium
Al Thumama Stadium
Ahmad Bin Ali Stadium
Lusail Stadium
Stadium 974
Education City Stadium
Al Janoub Stadium
🗺 Let's take a tour 🚗

🏟 Al Bayt Stadium

🗓 Opening Match, 21 Nov 2022 13:00 local time + 5 group stage & 3 knockout stage games pic.twitter.com/rnRSJspZnb

— FIFA World Cup (@FIFAWorldCup) July 15, 2020
For Ultimate Team, EA Sports have already confirmed the 21 World Cup FUT Heroes:
Rudi Voller: 91 OVR – Serie A / Germany
Diego Forlan: 91 OVR – LaLiga / Uruguay
Lucio: 90 OVR – Bundesliga / Brazil
Jean-Pierre Papin: 90 OVR – Ligue 1 / France
Yaya Toure: 89 OVR – Premier League / Ivory Coast
Jay-Jay Okocha: 89 OVR – Ligue 1 / Nigeria
Javier Mascherano: 89 OVR – Premier League / Argentina
Rafael Marquez: 89 OVR – LaLiga / Mexico
Tomas Brolin: 89 OVR – Serie A / Sweden
Ricardo Carvalho: 89 OVR – Premier League / Portugal
Claudio Marchisio: 88 OVR – Serie A / Italy
Dirk Kuyt: 88 OVR – Premier League / Netherlands
Landon Donovan: 88 OVR – MLS / USA
Hidetoshi Nakata: 88 OVR – Serie A / Japan
Harry Kewell: 88 OVR – Premier League / Australia
Ebi Smolarek: 88 OVR – Eredivisie / Poland
Saeed Al-Owairan: 88 OVR – Saudi Pro League / Saudi Arabia
Joan Capdevila: 88 OVR – LaLiga / Spain
Park Ji-sung: 87 OVR – Premier League / South Korea
Sidney Govou: 87 OVR – Ligue 1 / France
Peter Crouch: 86 OVR – Premier League / England
In addition to the World Cup FUT Heroes, FUT fans could also expect the following contents rumored on social media this week:
Adidas World Cup Items

World Cup ICONs
World Cup Stars
World Cup Path to Glory
World Cup Swap Tokens
Free World Cup Pack
Don't forget that the FIFA Women's World Cup Australia and New Zealand 2023 will also come to FIFA 23 as a free DLC with all qualified teams next year in early July. More details on this will be revealed in Spring 2023.
FIFA 23 will be available worldwide on PlayStation 5, Xbox Series X|S, PC, Stadia, PS4, and Xbox One on September 30. Early access for FIFA 23 Ultimate Edition begins on September 27, 2022.