With every major TOTS release, there is a minor TOTS release as well.
Today, EA Sports revealed the Turkish Süper Lig TOTS in FIFA 23 after recently releasing the Ligue 1 TOTS.
With the Super Lig TOTS release, players can now enhance their FUT squads with some of the best performers of this season from the Turkish league. It's always exciting to see who makes the cut each year, as it adds another layer of realism and connection to the actual football season.
The selection is based on real-world performances and statistics. As such, the Süper Lig TOTS celebrates the players who have made a significant impact in the 2022/23 season. Now let's dive into the details of this promo, shall we?
What is Team of the Season (TOTS)?
The Team of the Season is an annual event within FIFA's Ultimate Team (FUT) mode. This event acknowledges the best players from different leagues around the world who have shown excellent performance during the real-life football season.
Each selected player receives a special TOTS card with upgraded stats, making them highly coveted among FIFA players.
Süper Lig TOTS Squad
The line-up for this year's Süper Lig TOTS features some familiar faces alongside some breakout stars, reflecting the competitive nature of the Turkish Super Lig. Among these we can find former Inter striker Mauro Icardi, Enner Valencia or Dries Mertens.
Here's how the full squad looks like:
ST: Enner Valencia (Fenerbahçe) – 93 OVR
LW: Fabio Borini (Karagümrük) – 92 OVR
ST: Mauro Icardi (Galatasaray) – 92 OVR
CAM: Dries Mertens (Galatasaray) – 91 OVR
CDM: Badou Ndiaye (Adana Demirspor) – 90 OVR
RB: Ferdi Kadioglu (Fenerbahçe) – 89 OVR
GK: Mert Günok (Besiktas) – 89 OVR
CB: Abdülkerim Bardakci (Galatasaray) – 88 OVR
Galatasaray leads with squad with three of their players, shortly followed by Fenerbahçe with two players, while the remaining Turkish giant Besiktas have only one player featured in this TOTS selection.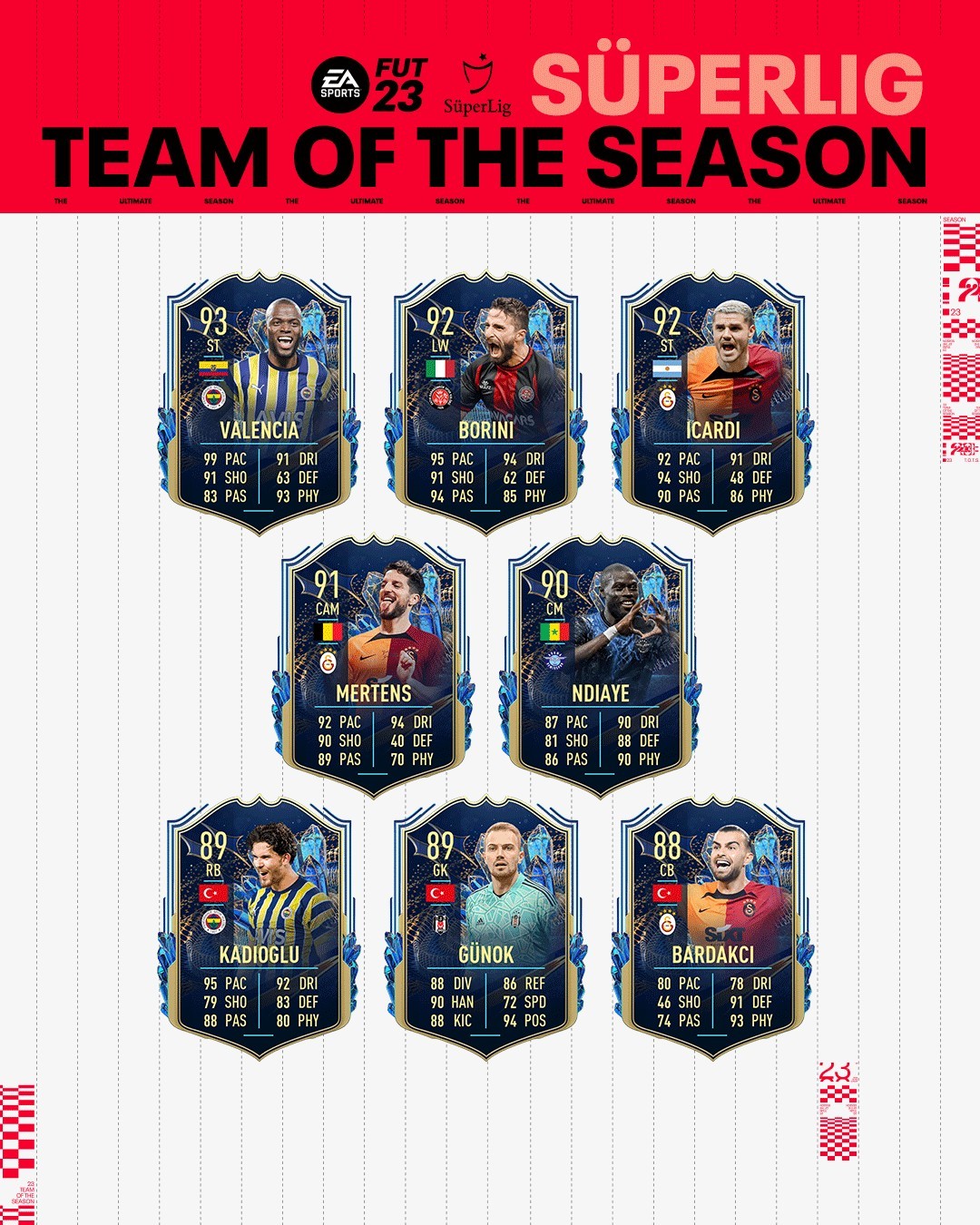 These cards provide a significant upgrade to the standard FUT cards of the selected players, which can help gamers to gain an edge in their matches. All these players will be in packs for a full week and will be removed next Sunday.
When crafting your perfect squad in FIFA 23 Ultimate Team, it's like playing on the best crypto gambling site, where every strategic choice could yield incredible rewards.
Süper Lig TOTS Nathan Redmond Objective
Additional TOTS cards can be achieved by completing themed player objectives. In this specific case, players can unlock Southampton's former winger Nathan Redmond.
The Englishman boasts a 90-rated TOTS card in FIFA 23 Ultimate Team and can join anyone's club by performing the following tasks in-game:
Super Goals: Score 5 goals using players from England in Squad Battles on min. Semi-Pro difficulty (or Rivals and FUT Champions). – GOLD PACK (Untradeable)
Five Assists: Assist 5 goals in Squad Battles on min. Semi-Pro difficulty (or Rivals and FUT Champions). – PREMIUM GOLD PACK (Untradeable)
Come On Lad: Score and Assist using English players in 3 separate Squad Battles on min. Semi-Pro difficulty (or Rivals and FUT Champions). – PREMIUM MIXED PLAYERS PACK (Untradeable)
Süper Lig Starter: Win 7 Squad Battles matches on min. Semi-Pro difficulty (or Rivals and FUT Champions) while having Min. 1 Süper Lig player in your Starting 11. – SMALL PRIME GOLD PLAYERS PACK (Untradeable)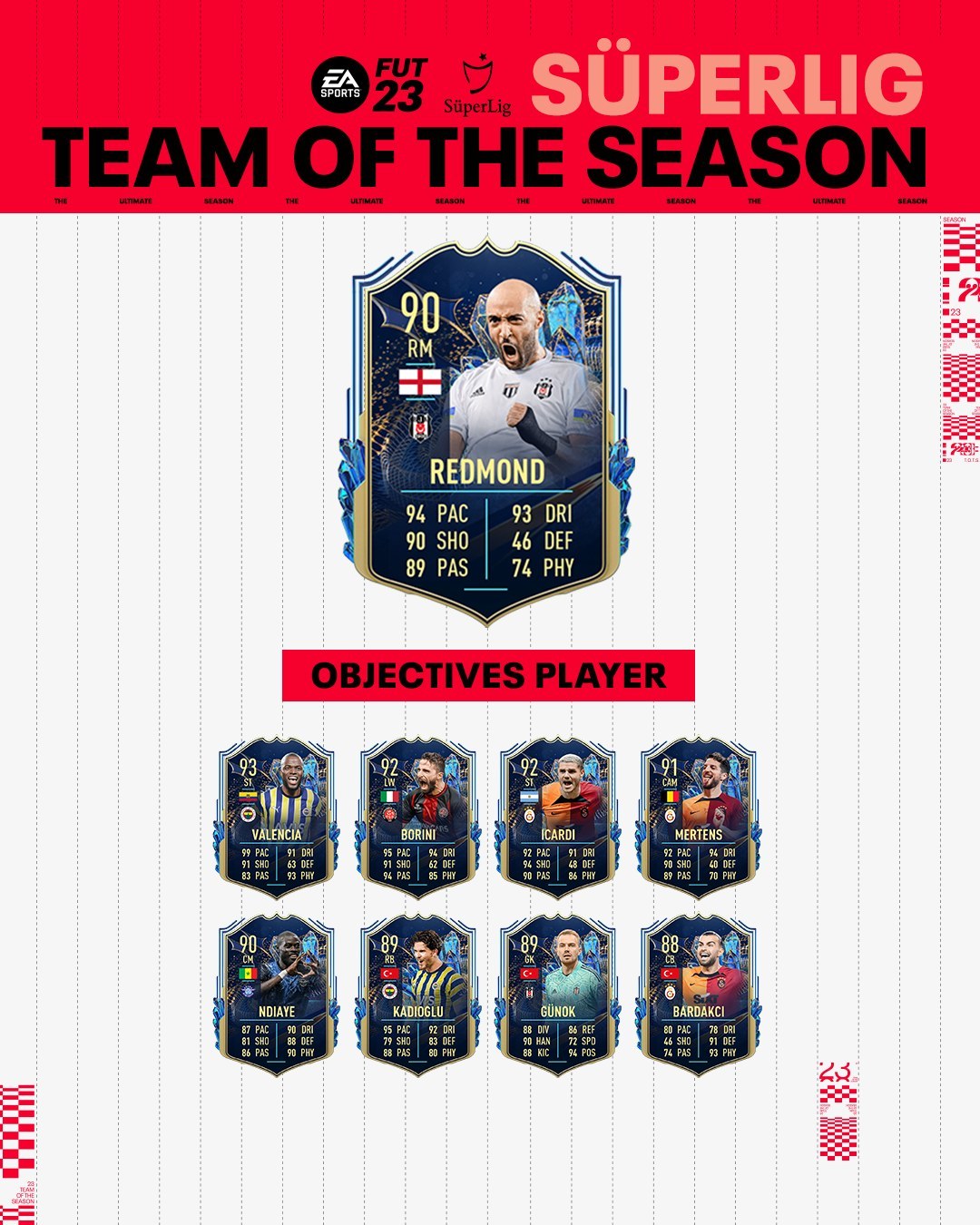 This Objective is set to expire next Sunday, June 4th.
Süper Lig TOTS Sérgio Oliveira SBC

Furthermore, players can expand their TOTS roster with another player – Sérgio Oliveira from Galatasaray. His themed SBC can be completed for just 24.000 coins that will net FUT players a fantastic 90-rated TOTS card with all-around attributes for a central midfielder.
Here is what you need to submit in order to get him:
Minimum OVR of 85 :

Min 2

Squad Rating:

Min 83

# of players in the Squad: 11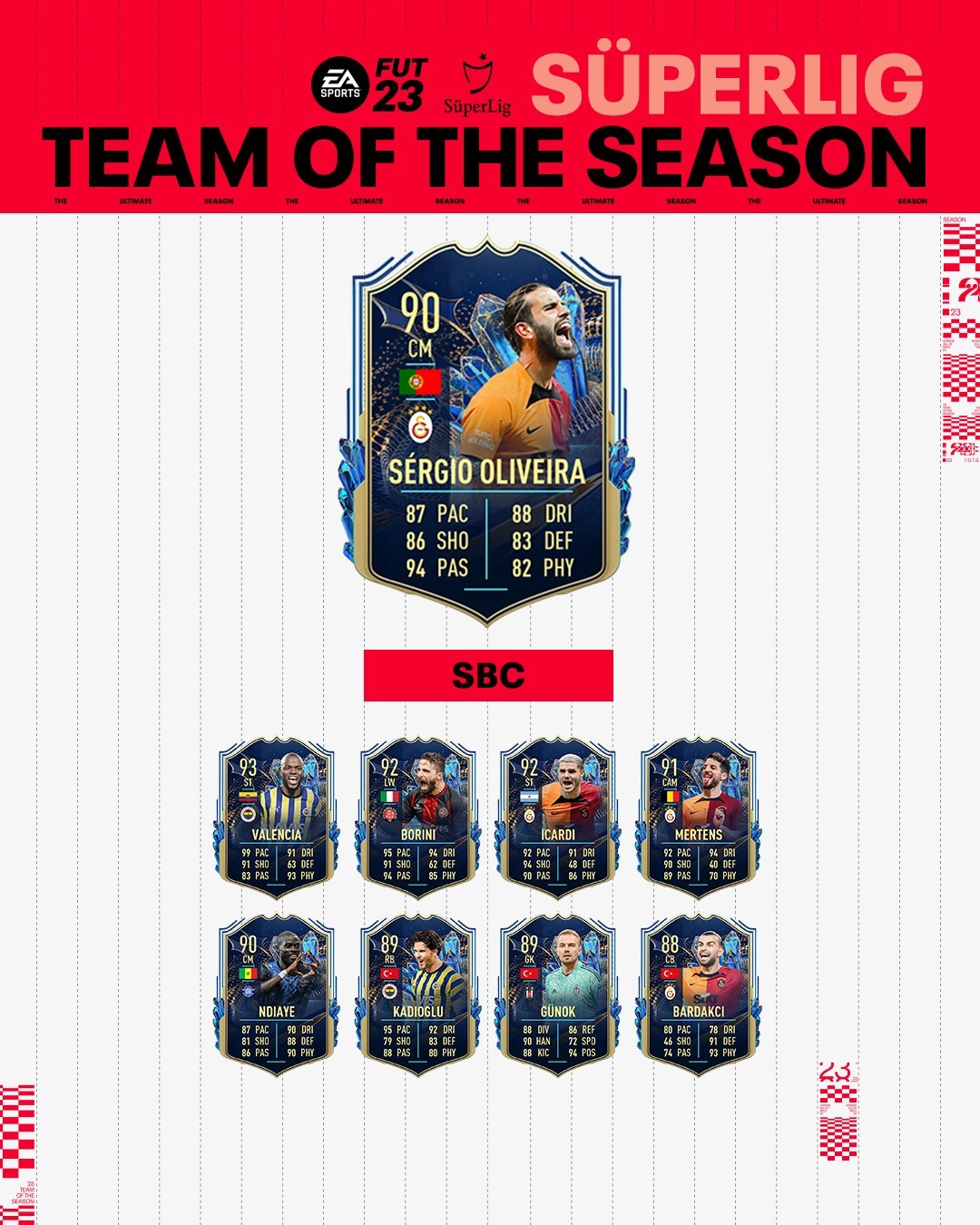 Next week we will see the release of Serie A and Liga Portugal TOTS, followed by the final Ultimate TOTS release set for June 9th.