Team of the Season (TOTS) action continues in FIFA 23 as EA Sports announces the release of the Major Soccer League (MLS) TOTS.
The MLS TOTS celebrates the outstanding performances of players throughout the current season, acknowledging their exceptional contributions for their respective clubs.
This prestigious squad features top performers across all positions, providing FIFA players with the chance to assemble a formidable team of MLS stars in FIFA 23 Ultimate Team.
MLS TOTS Squad
Here is how the MLS TOTS squad lines up:
GK: Andre Blake (Philadelphia Union) – 88 OVR
LB: Kai Wagner (Philadelphia Union) – 90 OVR
CB: Jakob Glesnes (Philadelphia Union) – 89 OVR
CAM: Thiago Almada (Atlanta United) – 93 OVR
CAM: Sebastián Driussi (Austin FC) – 91 OVR
RW: Carlos Vela (LAFC) – 92 OVR
CF: Hany Mukhtar (Nashville SC) – 94 OVR
CF: Jesus Ferreira (FC Dallas) – 90 OVR
The standout players are of course Hany Mukhtar from Nashville SC and Thiago Almada from Atlanta United. Mexican football star Carlos Vela is the only representative of the current MLS champions Los Angeles FC, while Philadelphia Union can boast with three of their players in the lineup.
The ultimate performers from the top flight in the United States and Canada 🙌

The @MLS Team of the Season is here in #FUT in #FIFA23 🇺🇸🇨🇦#TOTS pic.twitter.com/GfzoKWYSc6

— EA SPORTS FIFA (@EASPORTSFIFA) May 21, 2023
These players will be available in packs until next Sunday, May 28th.
MLS TOTS Moments: Lorenzo Insigne Objective

Former Napoli star Lorenzo Insigne has also been added as a Player Objective for this promo. Details on how to complete the objective in FUT 23 and the rewards you can get can be seen below:
Finesse King: Score 4 Finesse goals using players from Italy in Squad Battles on min. Semi-Pro difficulty (or Rivals and FUT Champions). – GOLD PACK (Untradeable)
Speed Up: Assist 5 goals using players with Min. 80 PACE in Squad Battles on min. Semi-Pro difficulty (or Rivals and FUT Champions). – PREMIUM GOLD PACK (Untradeable)
Forza Azzurri: Score and Assist using Italian players in 3 separate Squad Battles on min. Semi-Pro difficulty (or Rivals and FUT Champions). – PREMIUM MIXED PLAYERS PACK (Untradeable)
MLS Masterpiece: Win 7 Squad Battles matches on min. Semi-Pro difficulty (or Rivals and FUT Champions) while having Min. 1 MLS player in your Starting 11. – SMALL PRIME GOLD PLAYERS PACK (Untradeable)
Finishing off each of these in-game tasks will net you a 91-rated TOTS Moments Lorenzo Insigne. This objective is set to expire next Sunday, May 28th.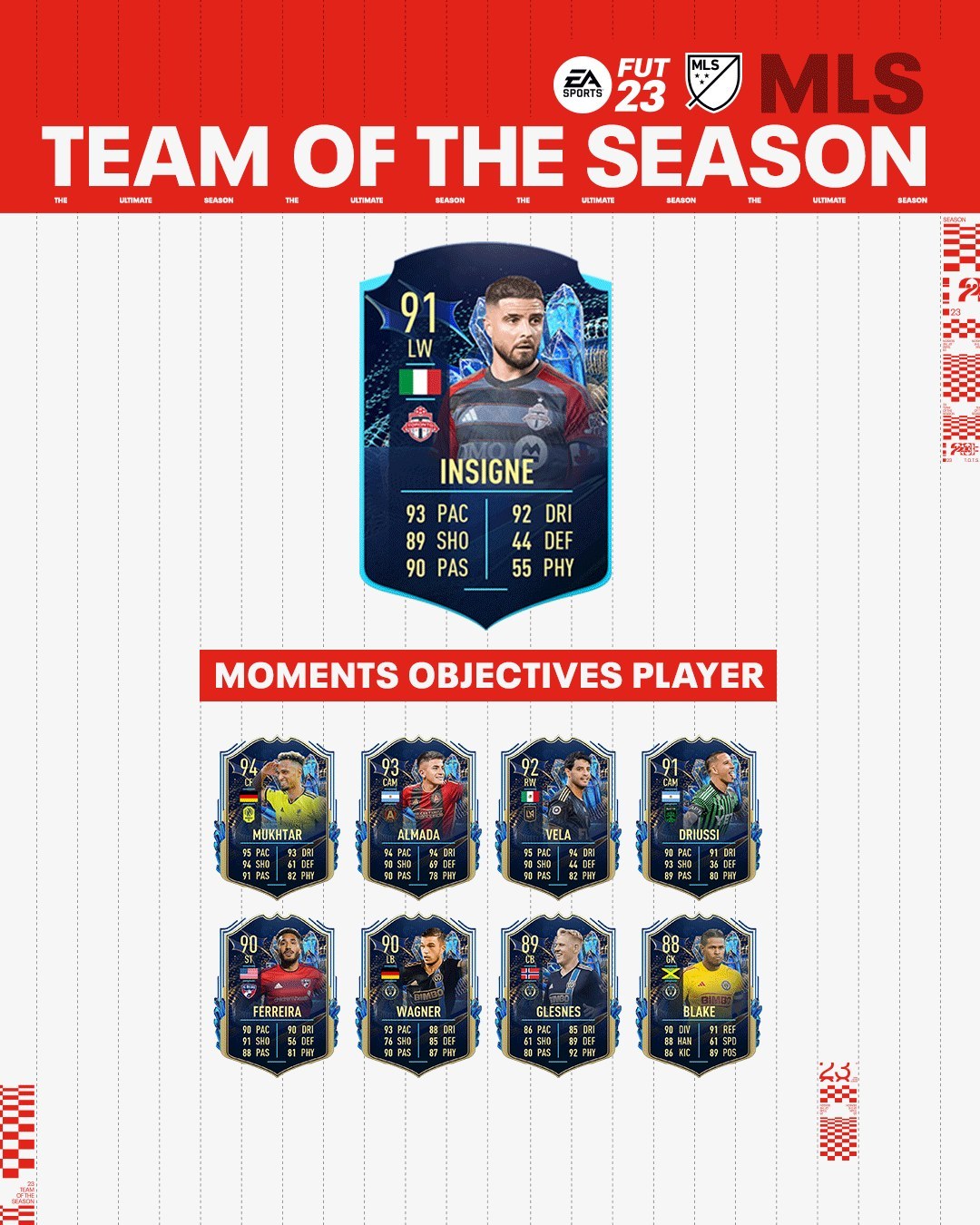 While completing these type of objectives might be time-consuming, players can take a break and try other online games. Alongside the traditional gameplay experience, gamers can now delve into the thrilling realm of crypto dice games, where the roll of the dice holds the potential for incredible rewards.
Bitcoin dice sites, like those offering BTC dice, have emerged as popular platforms that combine the excitement of chance with the allure of cryptocurrency. These platforms offer players a secure and transparent environment to participate in this fast-growing phenomenon, unlocking new opportunities for gamers to engage with their favorite titles.
MLS TOTS Moments: Giorgio Chiellini SBC
Italian legend Giorgio Chiellini has been added to this promo as well! Currently playing for LAFC, fans can unlock his 90-rated TOTS Moments card by completing his themed SBC.
To complete this SBC you need to submit one Italian player in an 84 rated squad and Chiellini can join your FUT club.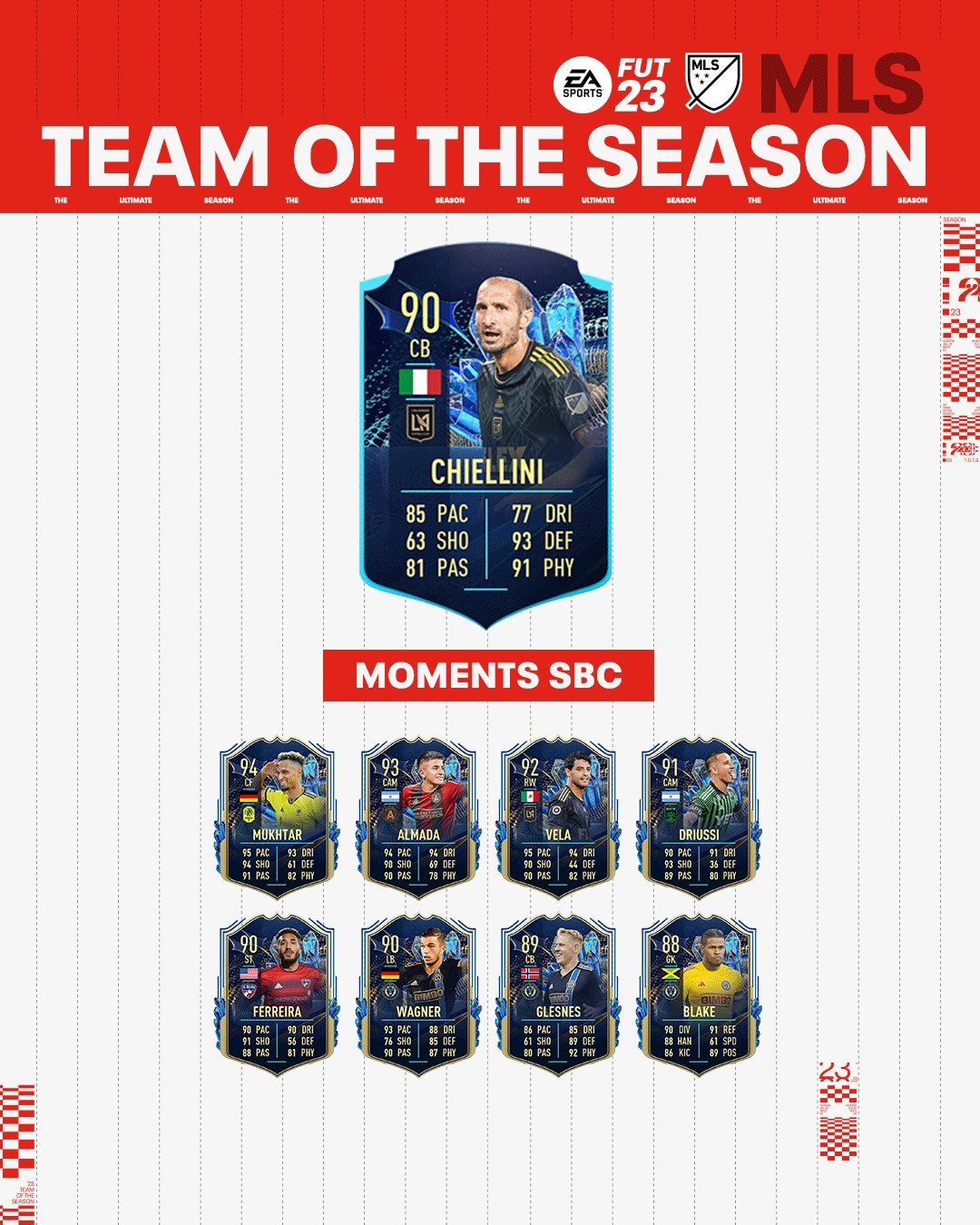 TOTS Schedule
Thanks to the recent rewards update in FUT 23, we already know the full schedule release for the entire TOTS campaign. Here's when all League TOTS will drop in packs:
• Community – April 28th
• Eredivisie – April 28th
• Premier League – May 5th
• EFL – May 7th
• Bundesliga – May 12th
• Saudi League – May 14th
• La Liga – May 19th
• MLS – May 21st
• Ligue 1 – May 26th
• Süper Lig – May 28th
• Serie A – June 2nd
• Liga Portugal – June 4th
• Ultimate – June 9th
The next TOTS reveal will feature the best performers of Ligue 1 so stay tuned for that on the 26th!