In recent years, EA Sports FIFA has notably expanded into the thriving esports scene. Esports has dramatically grown in popularity, creating an entire ecosystem of professional gamers, teams, leagues, and tournaments
One of the shining gems in this esports constellation is the eLigue 1 tournament. The eLigue 1 is the official esports league for the French professional football league, Ligue 1. Powered by EA Sports FIFA, this digital competition mirrors its real-world counterpart, with players representing various Ligue 1 clubs and battling it out in the virtual football field.
The tournament has successfully expanded the football fanbase, connecting the traditional sport to the digital gaming world, and amplifying the dynamism and global reach of the FIFA esports scene.
From 17th of January, fans witnessed the best pro FIFA players from France battle in this year's edition of eLigue 1 2023 that will culminate with the Grand Final set to played on May 31st. In this article, we'll discuss why eLigue 1 2023 is one of the best tournaments of this season of pro FIFA 23 gaming.
eLigue 1 Has A Prize Pool Of $65,000
Many fans are looking forward to watch the eLigue 1 Grand Final as the stakes are incredibly high, with $65,000 up for grabs. Most FIFA tournaments have prize pools that still need to reach the five-digit mark. With such low prize pools being standard in the FIFA community, having a tournament in the mid-five-digit range is something passionate FIFA fans can get excited about.
With such a big prize pool in this local tournament, these eLigue 1 participants will play for amounts that can change their lives. As viewers, the viewing experience becomes much more exciting as the tournament progresses, as the stakes for these players get increasingly higher.
Not only will the winner of eLigue 1 go home with $32,000 in their pockets, but they will also receive a direct invite to participate in the FIFA 23 Global Series Playoffs, an international tournament featuring a prize pool of over $400,000!
eLigue 1 Has The Most Hours Watched Among Other FIFA Tournaments
The numbers support evidence that eLigue 1 is a very successful FIFA tournament, as according to ESCharts, eLigue 1 2023 is the FIFA tournament with the highest number of hours watched in 2023.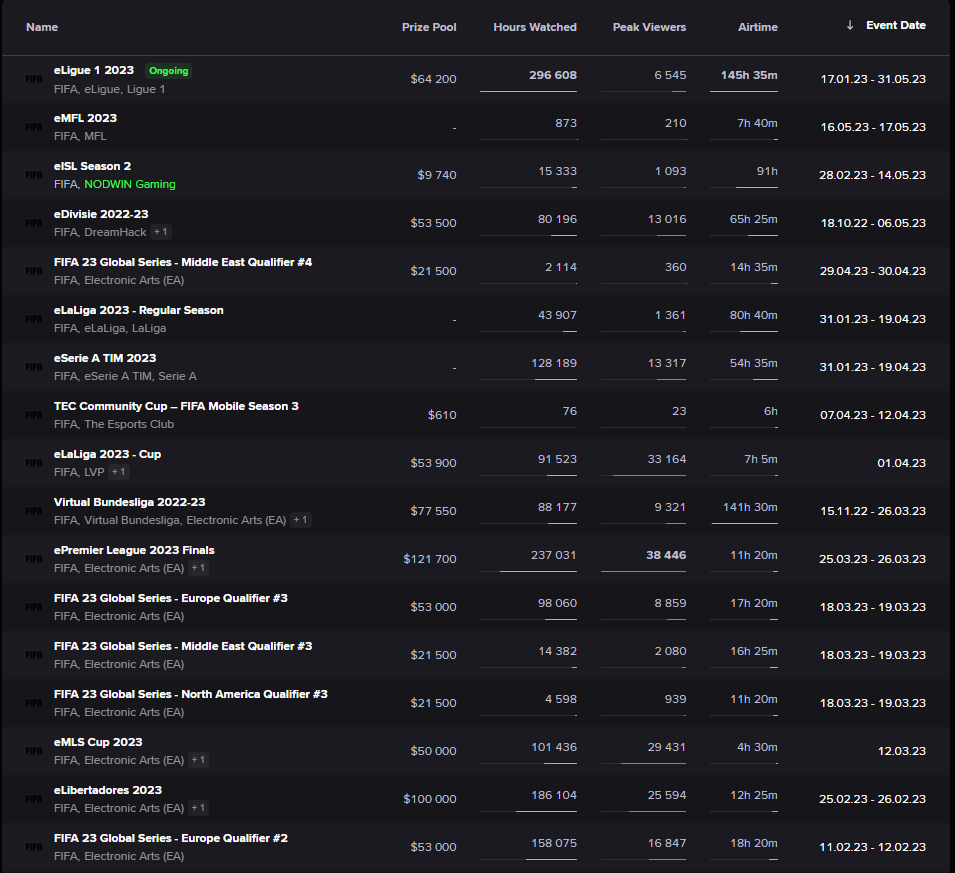 These figures show that there is heavy interest, particularly from the French community, for eLigue 1 2023 regarding the total hours watched. eLigue 1 2023 also had a peak viewership of 6,500 people and an average viewership of around 2,000 people. These numbers are incredibly promising for FIFA tournaments, an excellent sign for eLigue 1.
It should be noted that eLigue 1 2023 has the most airtime out of the other FIFA tournaments, but regardless shows the tremendous potential of the support being shown by the French FIFA community. We can expect viewership to rise at the later portion of eLigue 1, where the Grand Final will be showcased.
FIFA Betting Is Available in eLigue 1
Another reason eLigue 1 is finding lots of success is that FIFA fans can partake in FIFA betting throughout the tournament. Esports FIFA betting is one reason for FIFA's popularity in the esports scene, as the esports tournament viewing experience is enhanced if fans bet on FIFA matches.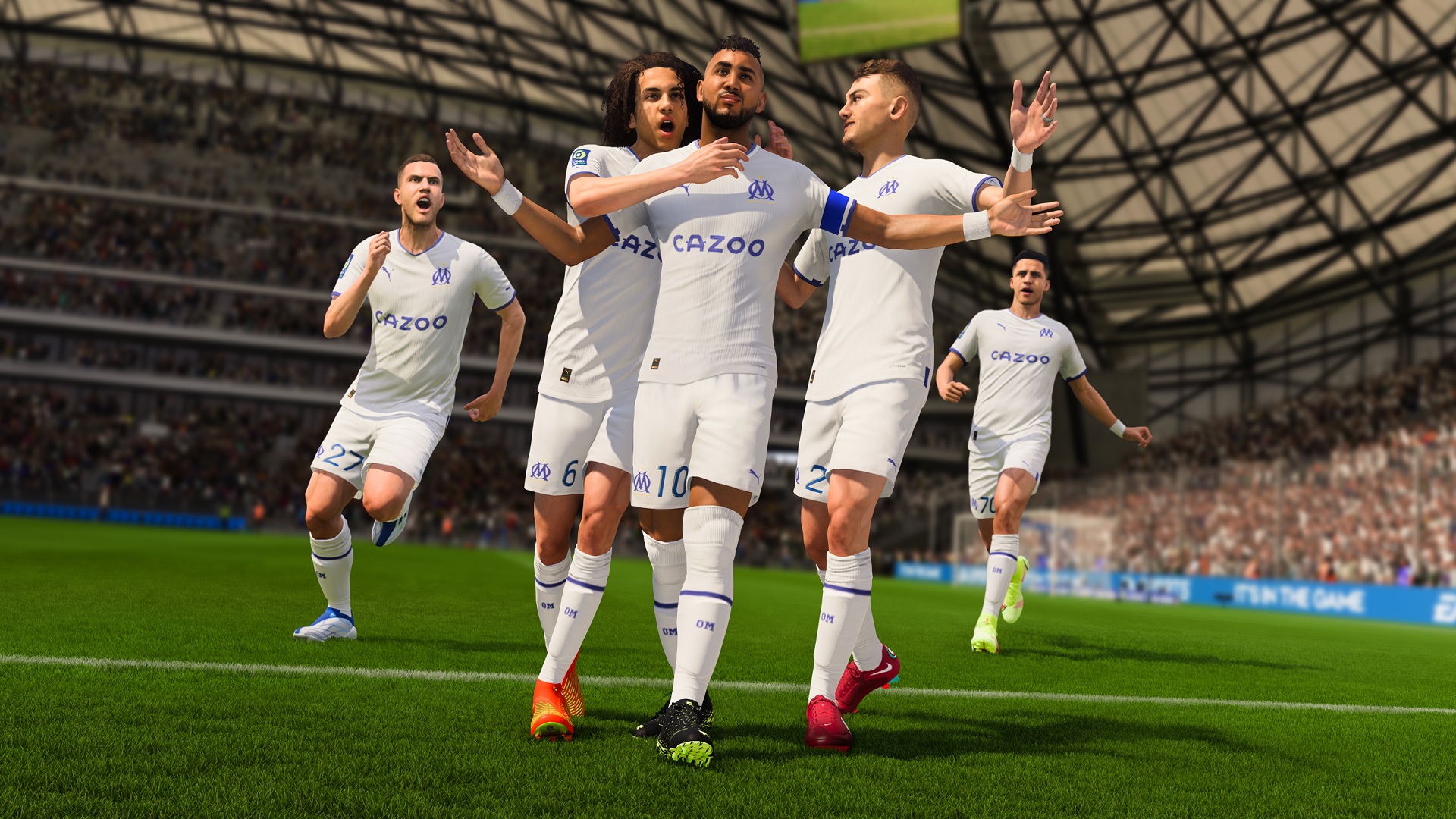 FIFA tournaments such as eLigue 1 are an ideal choice for fans to bet on FIFA, as fans can conduct research and analysis on all the players and teams to have a better chance of winning their bets. FIFA matches last briefly, like other esports games such as CSGO or Dota 2.
Short match durations will help keep fans engaged and settle their bets faster. Many FIFA betting experts offer tips on which teams and matches to bet on. These esports FIFA betting tipsters are also available throughout eLigue 1 2023.
eLigue 1 2023 Is More Popular Than Other Sports Games Tournaments
FIFA is a sports simulator game, similar to NBA 2K and UFC. Though these three games have similarities, FIFA undoubtedly stands on top of these two games as the most popular sports video game, making eLigue 1 2023 a very popular tournament.
According to research, there are around 150,000 to 200,000 active players in FIFA 23 daily. Meanwhile, NBA 2K only has less than 50,000 average daily players. These statistics suggest that FIFA is more popular than NBA 2K and has much more potential in its esports scene, shown by eLigue 1's viewership count.
𝐂𝐨𝐦𝐦𝐞 𝐮𝐧 𝐚𝐢𝐫 𝐝𝐞 𝐝𝐞́𝐣𝐚̀ 𝐯𝐮… 👀

Pour la 3ème saison consécutive, Marseillais et Lorientais se donnent rendez-vous en finale d'#eLigue1UberEats !

🗓️ le 31/05 à 19h30
🖥️ en direct sur https://t.co/FHFu7tSJFT pic.twitter.com/MoFZNpHjWh

— eLigue 1 Uber Eats (@eLigue1UberEats) May 27, 2023
Not only does FIFA have a more extensive player base than NBA 2K and UFC, but FIFA tournaments also excel in the prize pool department. Among all FIFA games combined, from FIFA 17 to 23, over $20,000,000 has been distributed to professional FIFA players, with eLigue 1 being one of the contributors.
These professionals can make a living off of playing FIFA, which is not a luxury that NBA 2K and UFC players can afford. By being able to make a living off of FIFA, professionals can put more time to improve their game and appeal to the audience.
Conclusion
In conclusion, eLigue 1 2023 is a French FIFA 23 tournament that has recently gained lots of traction and views. The tournament features a considerable prize pool of $65,000, and the tournament winner will have a spot in the FIFA 23 Global Series Playoffs. The eLigue 1 tournament has consistent viewership and almost 300,000 hours watched. The best part about the tournament is that it is open for FIFA betting online.