Another week, another promo.
EA Sports' creativity in creating FIFA Ultimate Team promos is unmatched, and this week we have the proof yet again. The latest FUT campaign is dedicated to 'Captains' celebrating club and national team captains and vice-captains with special boosted player items.
Along with current captains, the event will also celebrate past captains with upgraded FUT Hero cards of select FUT Heroes that wore the armband for their club or country.
FUT Captains Team 1
The first squad of the campaign is already live in packs and features the following skippers:
ST: Antonio Di Natale (Italy/Serie A) – 93 [Hero]
ST: Diego Milito (Argentina/La Liga) – 93 [Hero]
LM: Freddie Ljungberg (Sweden/ Premier League ) – 92 [Hero]
CAM: Clint Dempsey (USA/MLS) – 91 [Hero]
CF: Marco Reus (Borussia Dortmund) – 93
ST: Wissam Ben Yedder (AS Monaco) – 92
GK: Hugo Lloris ( Tottenham Hotspur) – 92
LW: Lorenzo Insigne (Napoli) – 92
ST: Fabio Quagliarella (Sampdoria) – 92
CB: Tyrone Mings (Aston Villa) – 90
CM: Mark Noble ( West Ham United) – 89
CAM: Iker Munian (Athletic Bilbao) – 89
LB: Christian Gunter (SC Freiburg) – 88
RB: Leo Dubois (Lyon) – 87
CDM: Michael Hector (FC Koln) – 87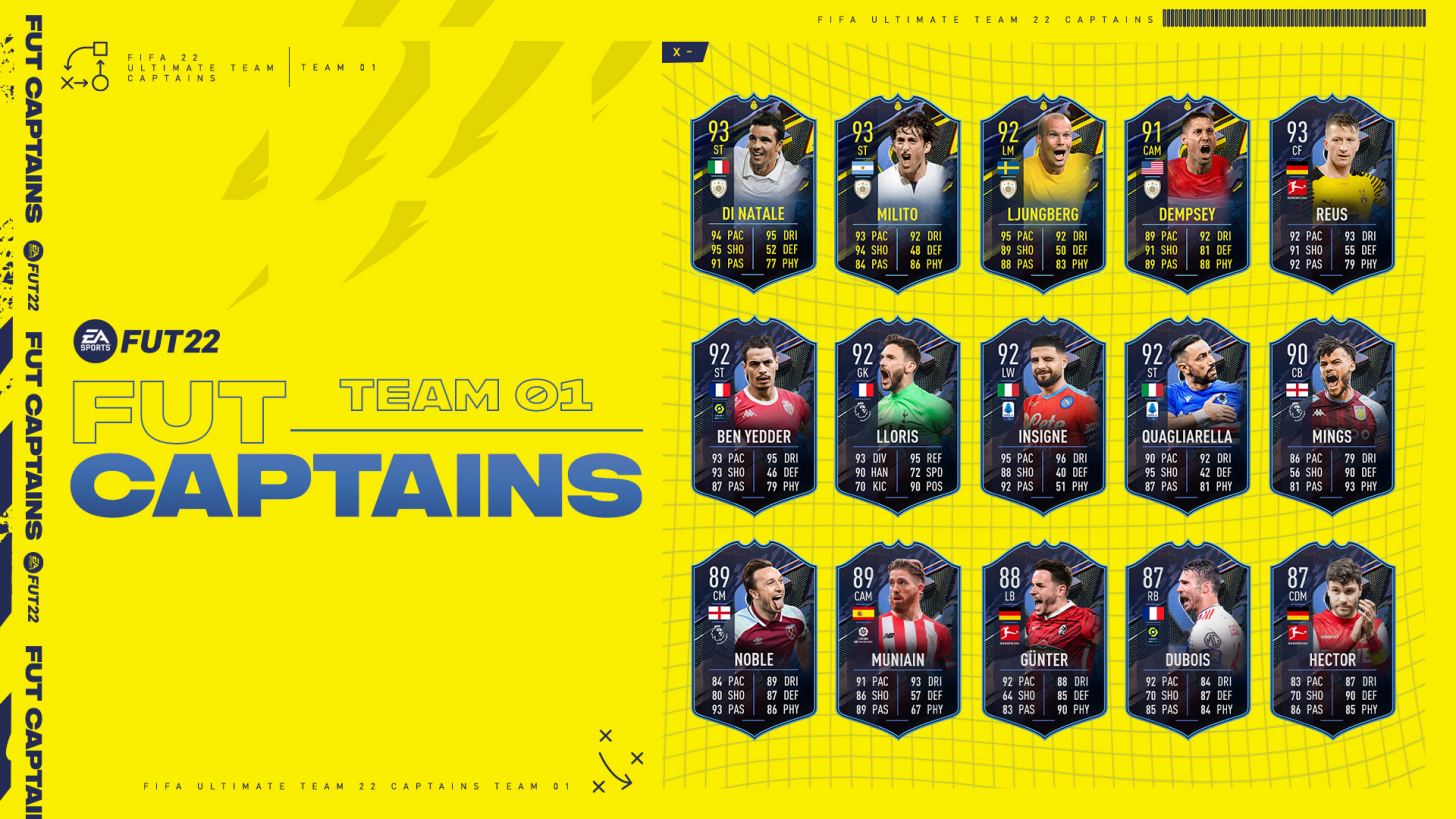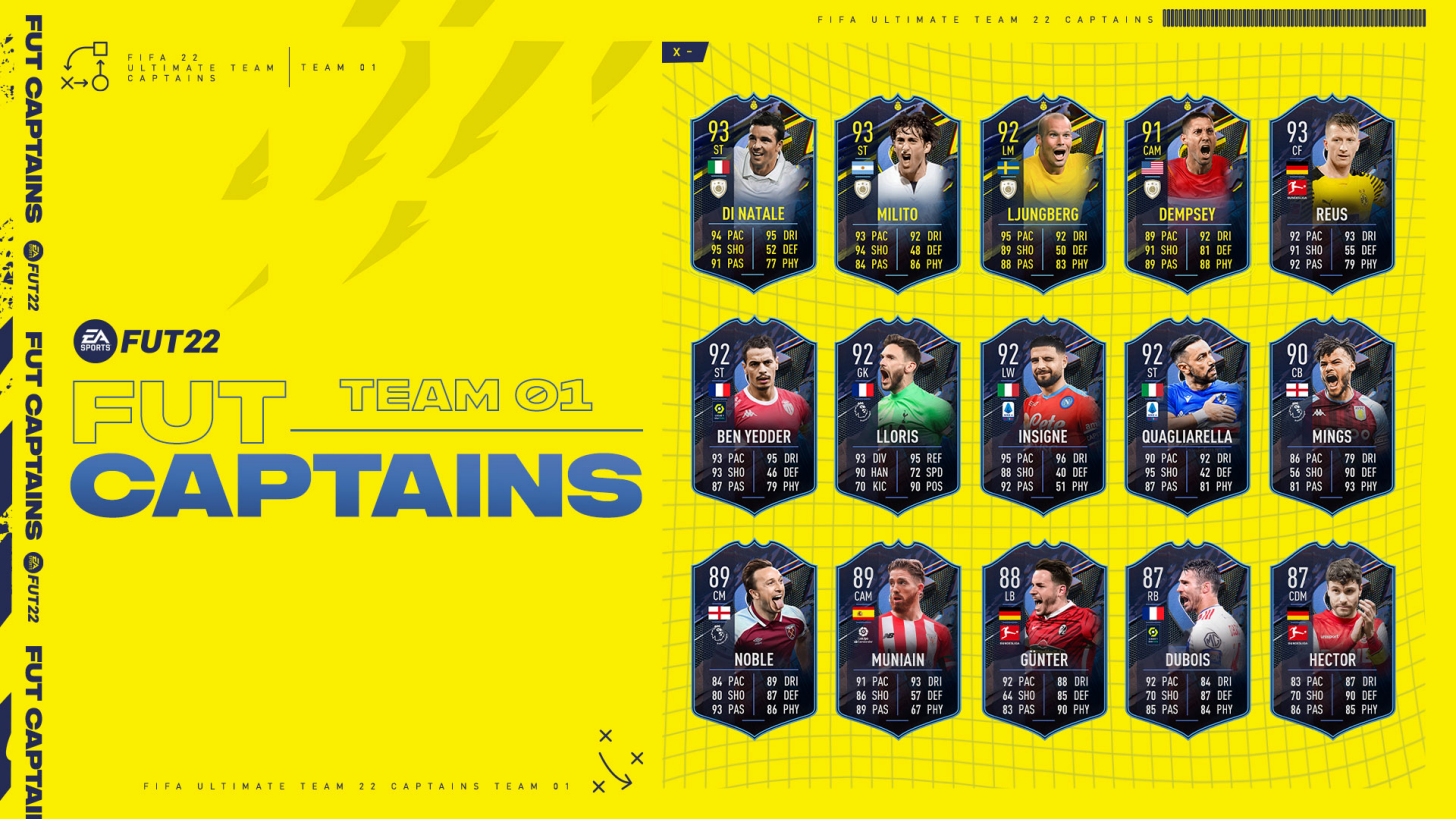 You may have noticed that Diego Milito is now assigned to La Liga instead of Serie A, the reason is that some FUT Hero Captains may have a different league association based on when they captained their team during their career. In Milito's case, he captained Real Zaragoza during his spell in the Spanish top league.
In addition to Team 1, three more FUT Captains were added in packs recently:
ST: Mario Gomez (Germany/Bundesliga) – 93 [Hero]
CM: Koke (Atheltico Madrid) – 91
LB: Liam Copper (Leeds ) – 88
Packing these special players is like playing at an online casinó as everything is based on luck. These players will be in packs until Friday, April 15th 6PM UK when the second team of this promo will be released.
FUT Captains SBCs & Objectives
The fun part of these promos are the themed Squad Building Challenges (SBCs) and Objectives.
If you have the coins or fodder cards (high-rated player cards that are cheap in price) in your club you could try and complete one or all of the next themed SBCs:
Also don't forget to check the Daily Login Upgrade SBC that gets refreshed every 24 hours for some extra two Rare Gold Players Packs rated 81 OVR or higher!
As far Objectives are concerned you can grind some games and unlock Borussia M'gladbach's attacking midfielder, FUT Captain Lars Stindl 89. Here are the in-game tasks you need to complete in order to get this special card in your club:
Sweet Strike – Score two Volleys in the Live FUT Friendly: The Chosen One (rewards are 75+ OVR Rated Rare Player Pack and 50 XP)
Marauding Midfielder – Score four goals using Midfielders in the Live FUT Friendly: The Chosen One (rewards are Gold Pack and 50 XP)
Grabbing Glory – Win four matches in the Live FUT Friendly: The Chosen One (rewards are Small Electrum Players Pack and 50 XP)
Scoring Streak – Score in 10 separate matches in Live FUT Friendly: The Chosen One (rewards are Premium Gold Pack and 50 XP)
As you can see you will need to compete in the Live FUT Friendly: The Chosen One mode that has the next squad rules:
Clubs: Max. 1
85 and higher OVR players: Max. 1
First Owned Players: Exactly 0
This challenge is set to expire on April 15.
Stay tuned for Team 2 of this campaign set to drop this Friday!