FIFA 21's Career Mode might be the best one the series has seen in a long time but the full potential of the game mode has not been explored yet. We all know that FUT, and especially the pack openings, bring the maximum viewers on live streams. But the attachment you get to your team/club and the players can only be experienced on Career Mode. Additionally, how strongly you feel for your career save depends on the type of story you create.
A lot of players normally go for the heavyweight clubs in the top leagues and top countries. Having millions to spend, the best players in the world and the allure of the biggest competitions, coupled with the difficult board objectives and pressure make top clubs exciting to manage. We bring to you a basic guide to starting your own Road to Glory career save, where you take a small club from the bottom leagues and take them to the topmost pinnacle of success on the world stage.
The League
The first question that needs to be asked here is, "Which country do we pick?". The best RTGs are always started in the bottom-most divisions of the top footballing nations in the world. For FIFA 21, picking a club from England, Spain, Germany or France will give you the most enjoyment long-term. Italy was also a good country to pick until FIFA 20 as Serie B has been removed from FIFA 21. The next stage is picking the division or the tier you wish to start in. The lower the division, the longer your journey to the top.
Spain and France offer 2 tiers in total. Germany offers 3 tiers in total and England offers 4 tiers in total. The longest RTGs can be formed in England and Germany. You can take a look at the full list of Leagues and Clubs available in FIFA 21.
The Club
The next step is to pick a club to manage. There are 2 ways to go about this. Maybe you want to build a story along with your club and can go for one of the more popular/stronger teams in the lowest divisions. For example, you can pick German third division club Bayern Munich II and create a story which sees you build a team that can finally defeat their parent club Bayern Munich. Or maybe you could pick Spanish second division club Girona FC who sadly just missed out on promotion last season. With Espanyol in the same league as well, it's time to show who is the second-best Catalan team in Spain after FC Barcelona, or maybe even the best Catalan team a few years into the future!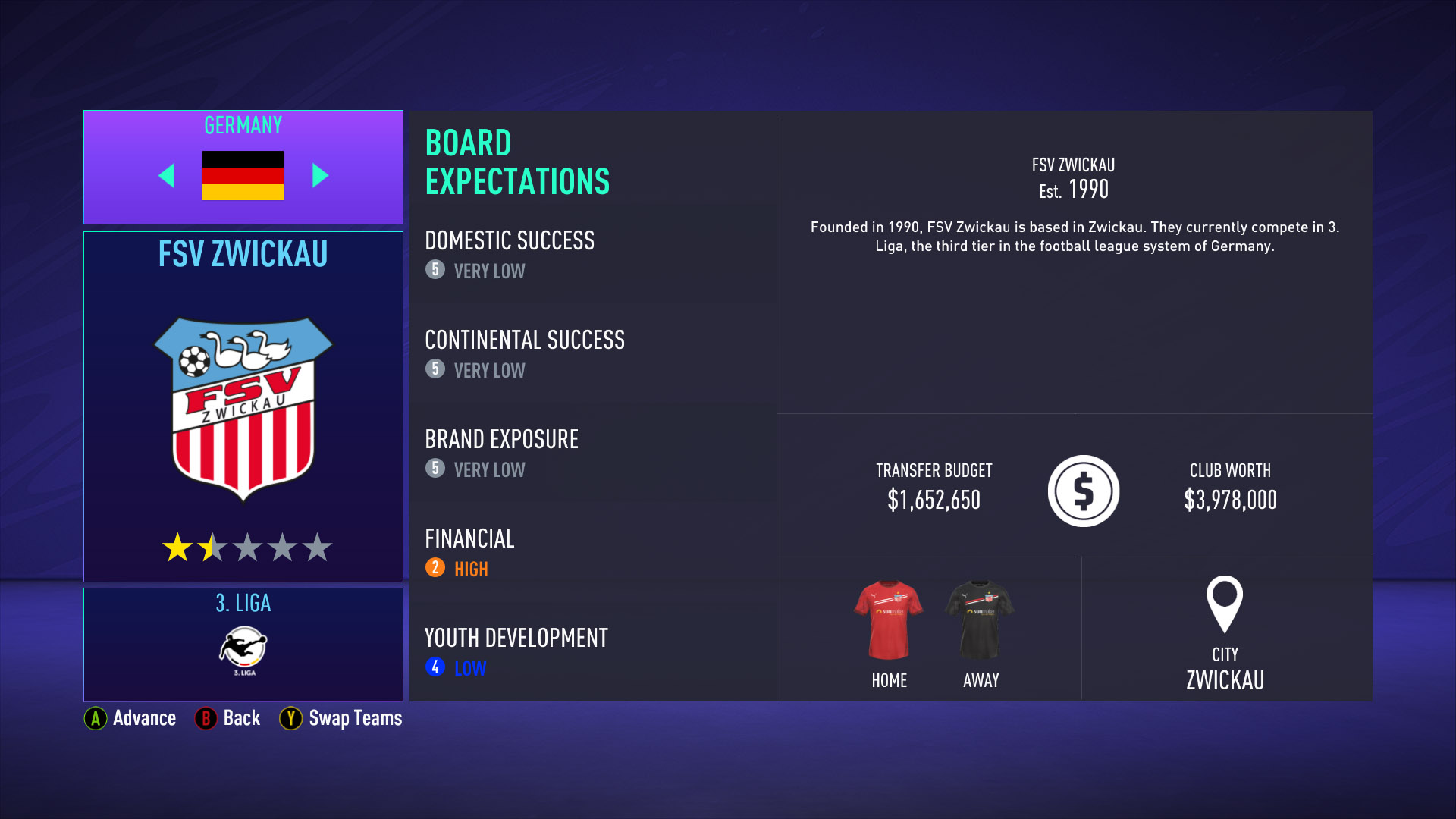 Or you could go the other way and select the weakest team that exists in the lowest division and build everything from scratch. A few of the weakest clubs in the above-mentioned countries are Sportclub Verl, FSV Zwickau, CD Castellón, CD Mirandés, USL Dunkerque, FC Chambly Oise, Cambridge United, Stevenage and our favourite RTG club this year, Harrogate Town, who have achieved promotion to a professional division for the first time in their club's history.
The Squad
Once you have picked your club and finished your interviews (supposedly) and the initial setup, it's time to take a look at your squad. You will be able to see all your players and their ratings in the Squad Hub and take a decision on your transfer and youth development policies based on that. Try to gauge out the highest-rated players in your team, the lowest and then look at their age to determine who gets to be a starter and who doesn't as well as low rated players who are young and can potentially improve under your coaching.
Keep in mind that lower-level clubs often have squads majorly made up of older players who are way past their prime and/or are local heroes. You should also check which players you have loaned in as well as loaned out and see if you want to terminate any of them based on your requirement. Finally, take a look at the contracts of these players and if expiring in the current season, hold on until the start of January to renew them, based on their performance. This should help you get things started as smoothly as possible.
The Setup
This is the most crucial part of your RTG saves. How you choose to build your team will dictate how fast you grow. You might want to buy low rated wonderkids who you can buy for cheap at the start but that will not work for teams with very low budgets. You can also choose to train your current players and hope that they grow quickly. But these players are normally capped at low potential overalls and you won't be able to build a title contention team with them. So, what should the ideal approach be?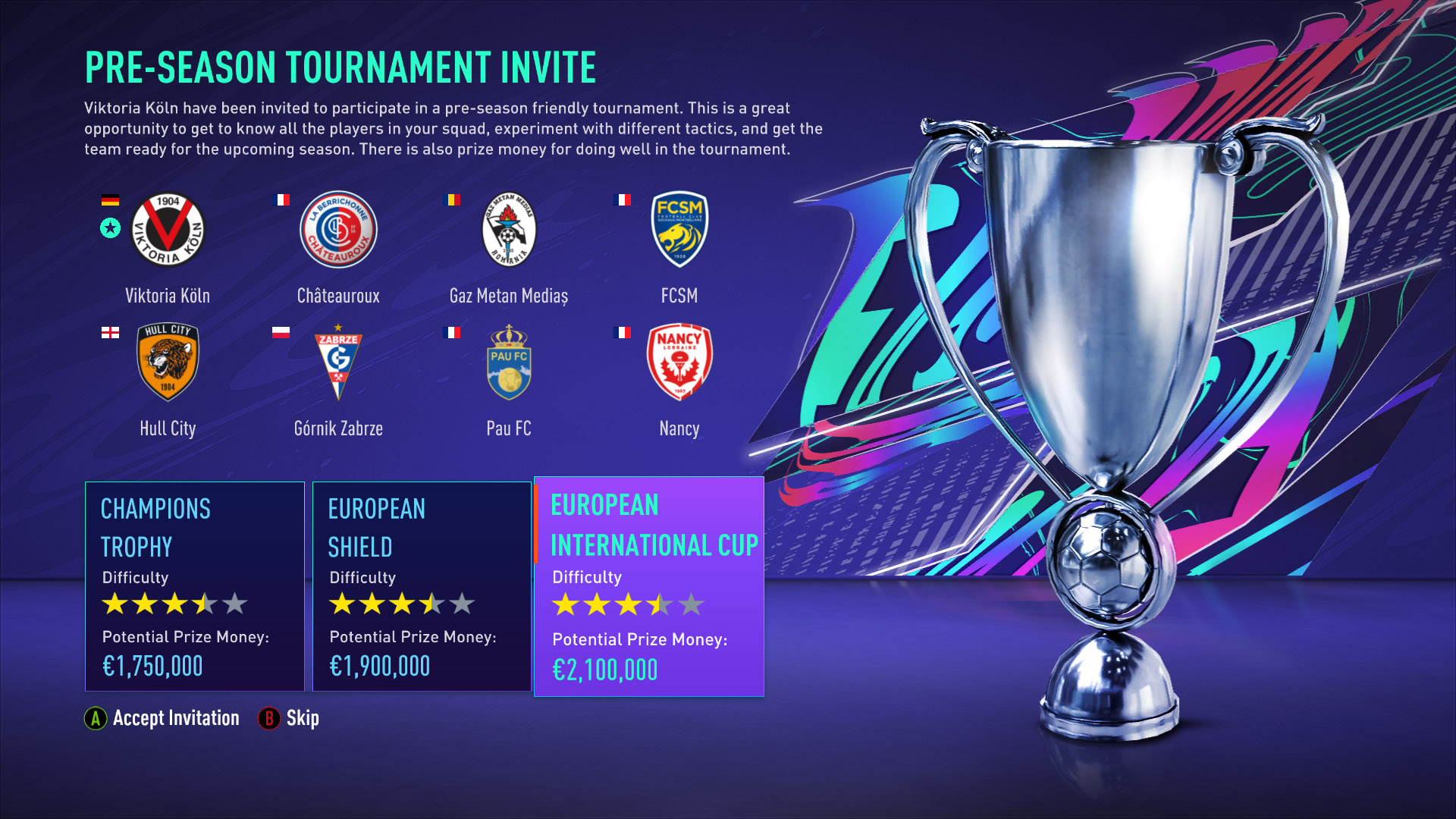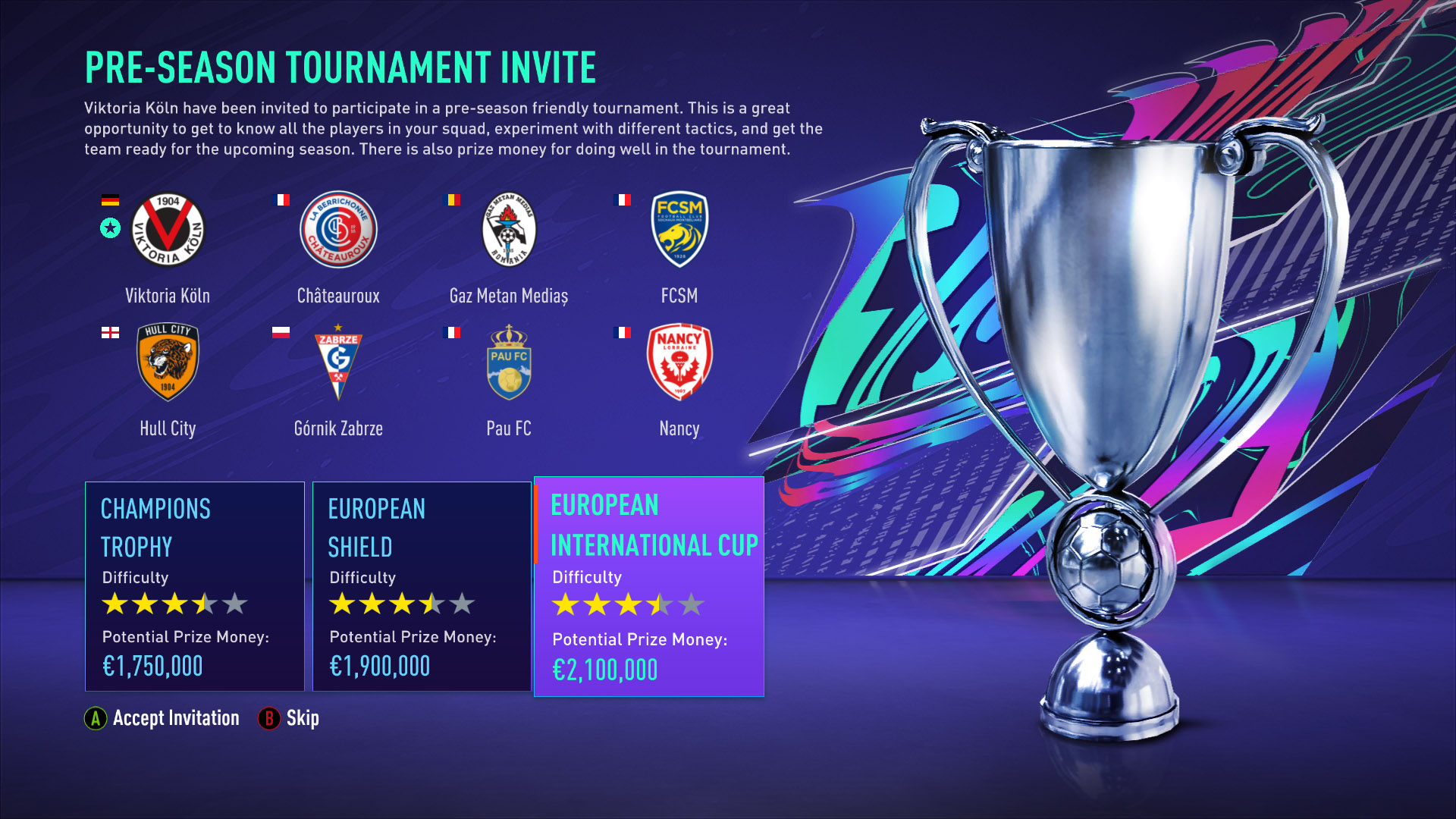 The first and foremost step is to take part in the Pre-Season Tournament each season. It will provide a huge boost to your finances and makes things easier. The next stage is to set up your Youth Academy. Proceed to hire a scout that is within your budget. Leave around half of your transfer budget aside for your academy, which should include the hiring cost of your scout as well as enough money to send him on a 6-month scouting campaign. In FIFA 21, you are already provided with a scout when you join the club. So, you may choose to skip this step or go for it so that you have 2 scouts and hence, 2 countries to scout. The remaining budget should be kept for crucial signings and contract negotiations. Try to make more free transfers, you will be surprised by the number of hidden gems you can find. So, keep an eye out for those free agents.
The Journey
Please keep in mind that everything written above is applied for the first season only. Building a solid foundation will help you build and grow your club quickly and as strong as possible. The first-year plan has already been laid out but what next? Well, that is up to you to decide but we can certainly offer you a few pointers.
Take all games seriously, especially cup games. They offer you prize money for every round cleared.
Take part in Pre-season Tournaments.
Aim for Free Agents before trying to sign a player from a club.
Try to sign younger players
Keep improving your youth academy scouts and increase them to the maximum amount. Focus on promoting youth players rather than buying players of similar caliber wherever possible. They cost way less in both, signing fee as well as wages. Check out our Youth Academy Guide to learn how to set up your youth system.
For the first few seasons, do a major part of your transfer business in January, aiming for pre-contract signings mainly. Once you are financially stable, you can try normal transfers for higher-priced players.
Try selling older players and loaning out younger players who are surplus to your requirements. That will help you balance the books better as well as meet most of the financial objectives set by the board.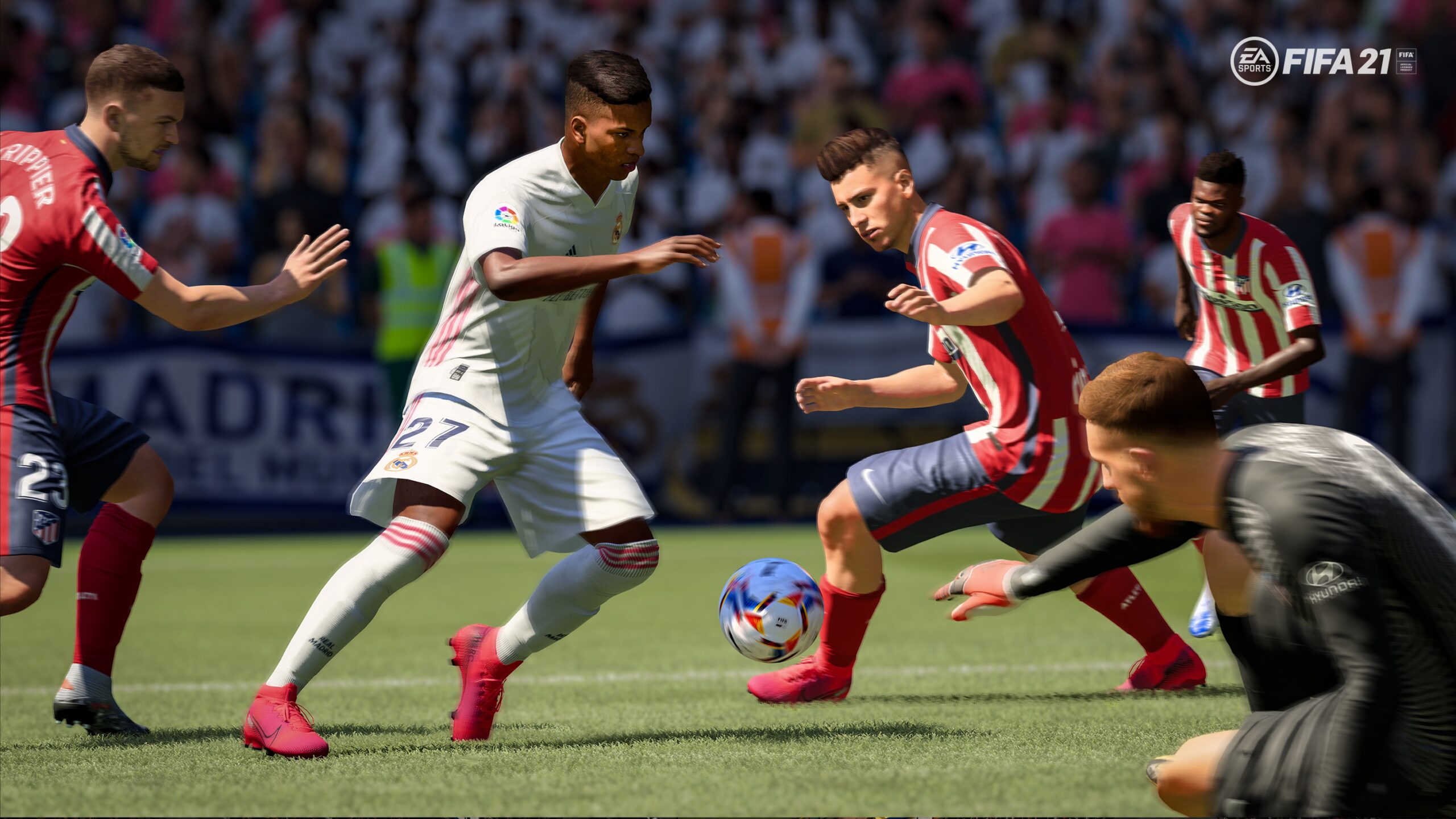 And there you have it. With this comprehensive guide, you can definitely start your RTG career on a strong foot and taste domestic and continental success after a few seasons. But most important of all will be the emotional attachment you develop with your players, especially your youth academy players you'll see grow up under your care. Now go plan your football domination!