It has almost been a month since the launch of the heavily anticipated next-gen version of FIFA 21. Exclusive to PS5 and Xbox Series X/S, this edition was meant to deliver a game changing experience to FIFA players and a few weeks on, the reviews seem to be mixed. Many users were left baffled as to what features changed/got added, which is a generic statement now. If you are amongst that crowd, worry not as we have the definitive list right here compiled just for you! Enough teasing, let's get down to business.
1. Player Faces and Hair
The most easily noticeable difference between the two editions is player faces and hair styles. Every starhead in the game received a healthy upgrade. While the players were not technically "rescanned", their skin textures, eyebrows and facial hair were upgraded substantially. Counting the pores on Joao Felix's face has never been easier. Similarly, counting the individual hair follicles on everyone's head also classifies as a hobby on FIFA 21 now. Important to note though, is the fact that such a massive graphical upgrade has only been restricted to starheads and generic/custom faces remain more or less the same as current-gen faces.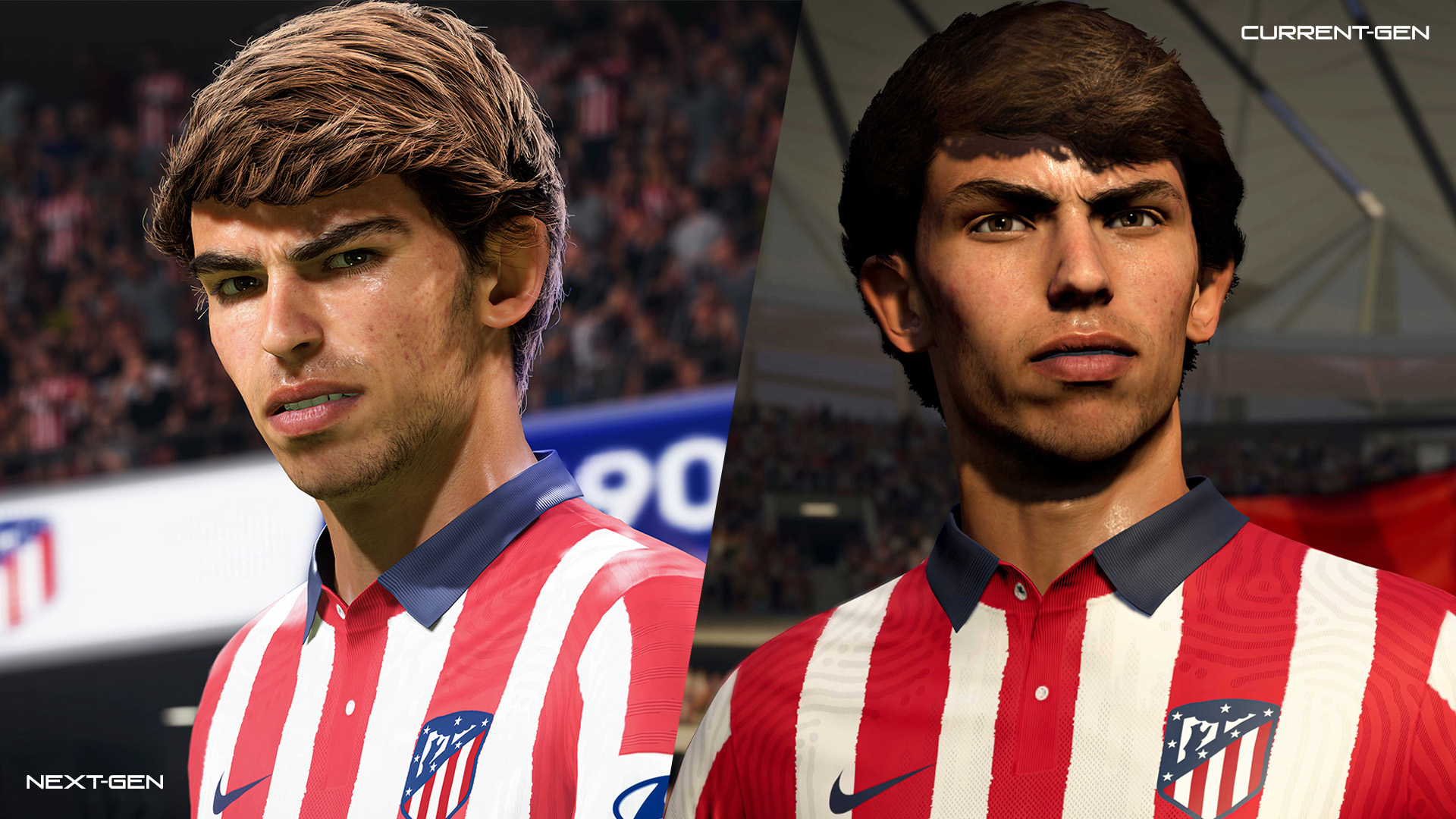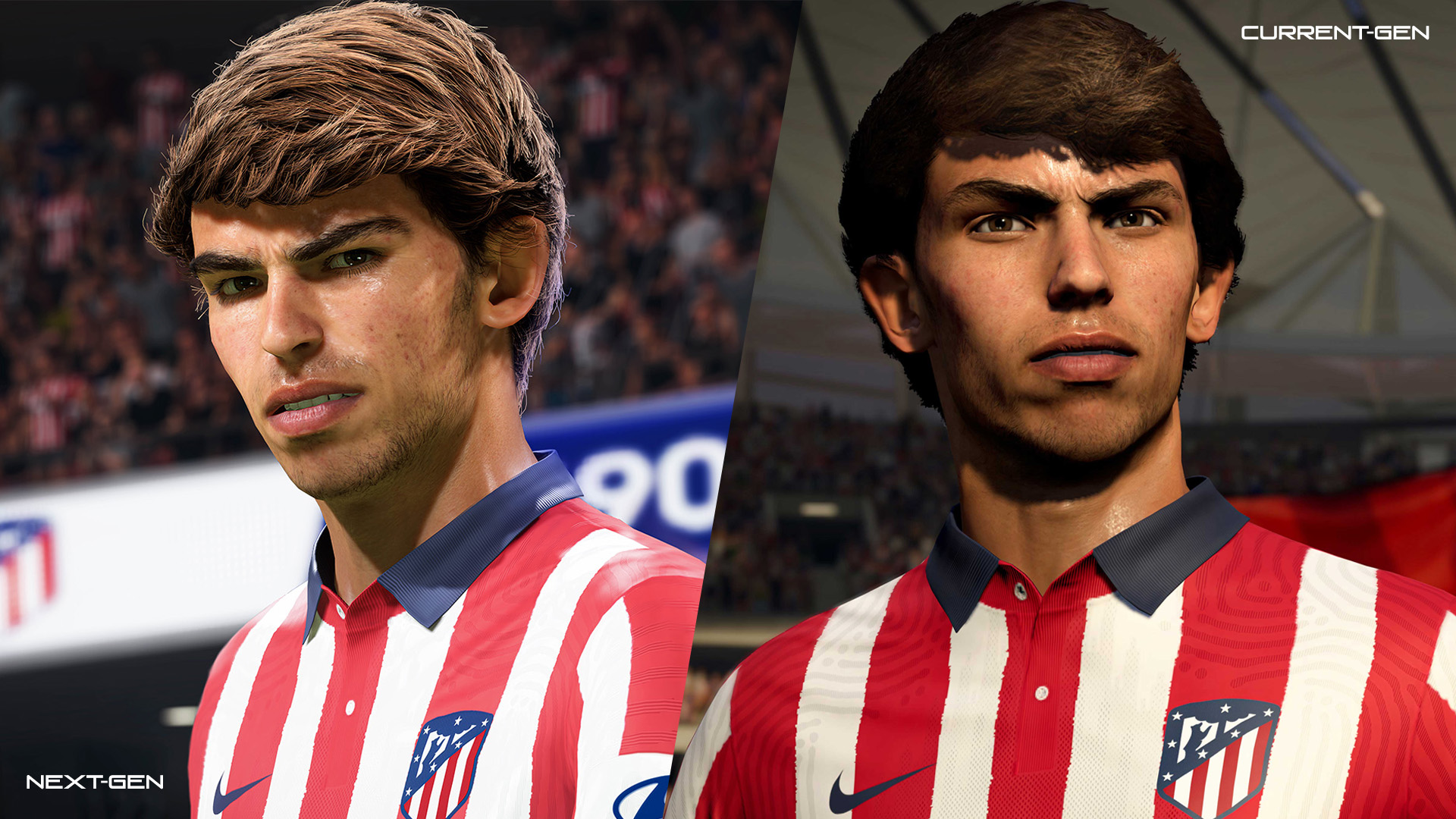 2. Stadium Atmosphere
Perhaps the most wanted upgrade by FIFA fans since forever, stadiums are now a little livelier, thanks to updated crowds and crowd actions. You will often find spectators jumping and dancing with joy in cutscenes after their team scores an all-important goal, or busting out the smoke bombs in the stands; for example, Portland Timbers (USA) or Racing Club (Argentina). Crowds also have more variety compared to current-gen, where you had the same 3 individuals repping every club in the world. Talk about loyalty! There are some brand new cutscenes with crowds and players as well as pre-match scenes but more on that later.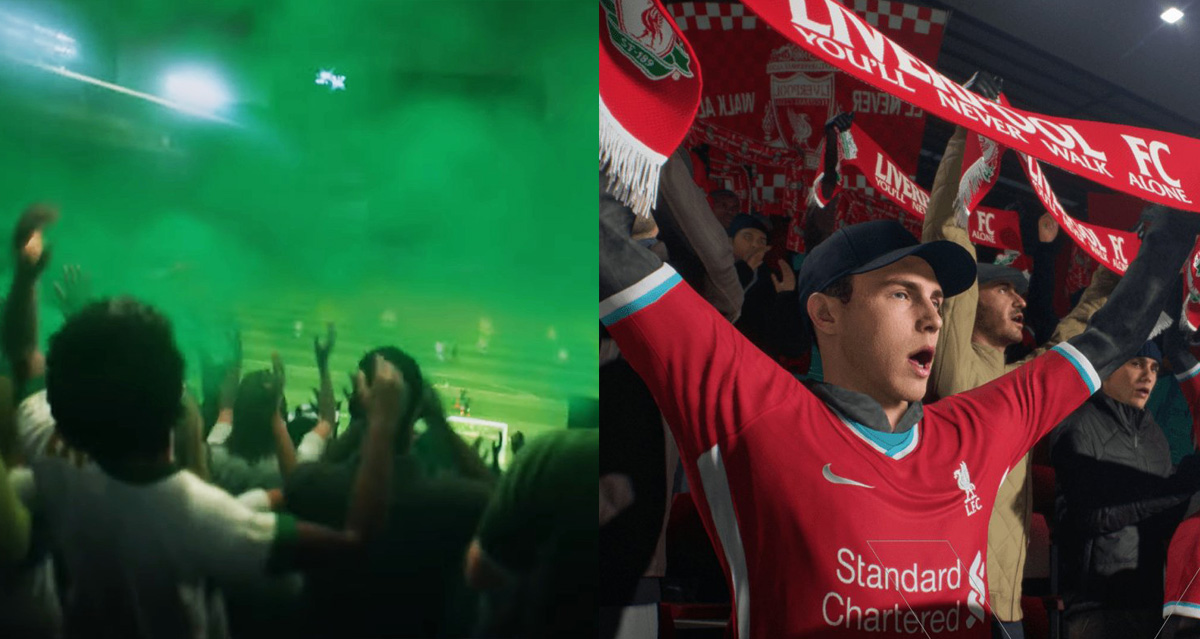 3. Lighting and Sound
The most teased feature by EA in the run-up to the next-gen edition's launch, everyone expected an improvement in both, visual fidelity as well as performance. Speaking of pure graphics, lighting does look more sophisticated in FIFA 21 next-gen, but not by much. In fact, it has somehow made all the pitches kind of bleached out and sunlight feels washed. Despite the tiny eccentricities, stadiums look beautiful during sunrise/sunset, night atmosphere is a joy to behold and weather effects are significantly better than current-gen FIFA 21. Sound-wise, there are no substantial differences to be found and other than a few touched up sound effects, there isn't much else to notice.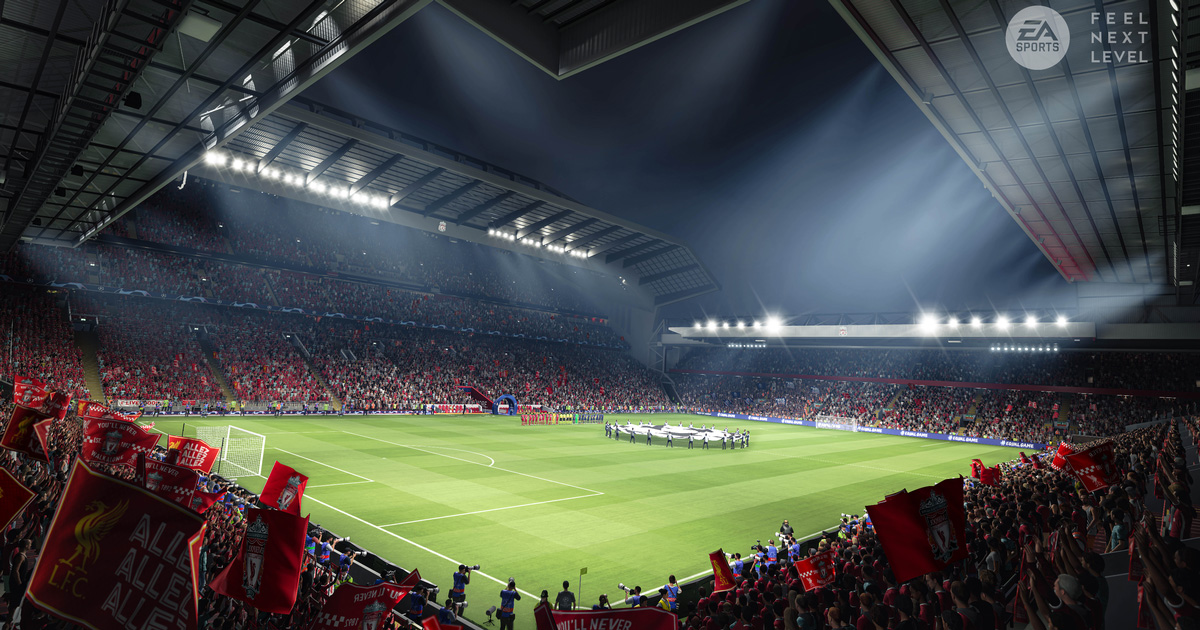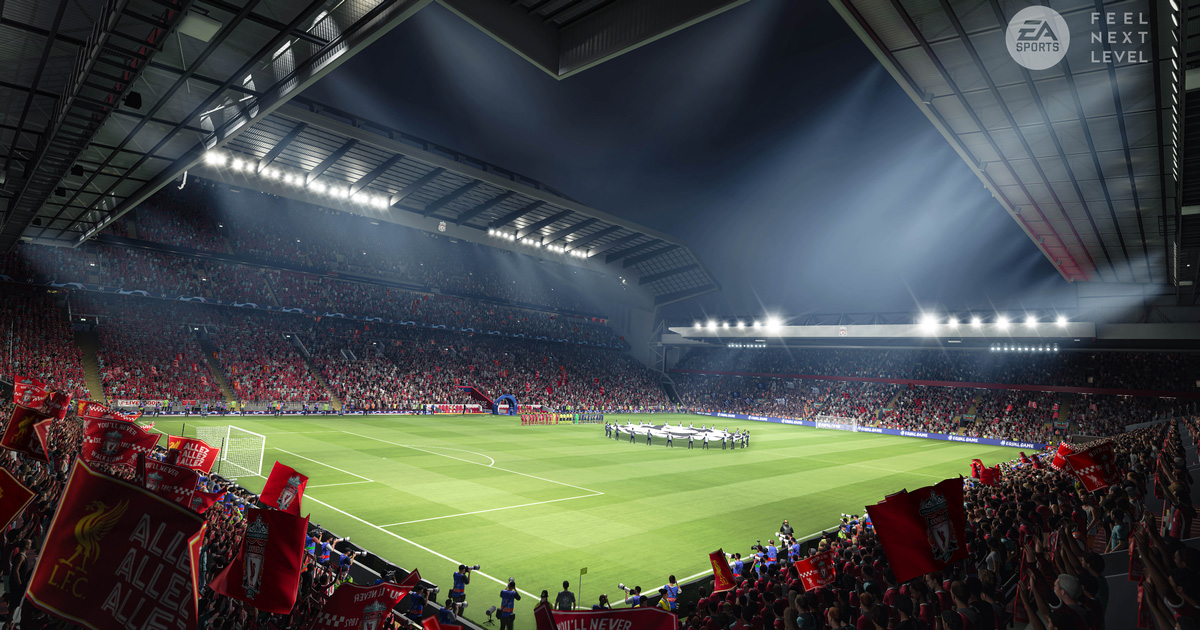 4. Pre-Match Cutscenes
This one is a personal favourite of ours. The pre-match cutscenes add some more life to each matchday. Gone are the days of watching players warm up with keepy-ups and other training drills. They have been replaced by numerous situation-based cutscenes like players entering the pitch with mascots. Have an exciting derby game comping up? Watch fans flock to an empty stadium through the turnstiles. Top of the table clash or perhaps an important away game? Watch the team bus arrive to the grounds and your players walk inside. There is also a special cutscene for your manager's debut match in charge of a new team. This is one feature we would love to bring to the current-gen FIFA 21.
5. New Camera and Camera Angles
The brand-new EA GameCam has the FIFA community in two minds. On the one hand, we have people in love with the camera. The realism it offers is unparalleled and is the closest thing you can get to the real-life TV broadcasts. On the other hand, the angle of the camera hampers gameplay, especially in the final third where shots and crosses often turn out to be inaccurate. We are yet to give our own opinion but the new camera is definitely good for spectating, maybe not so much for actually playing. Maybe some AI vs AI gameplay is the best time to try the new camera out, you won't be disappointed.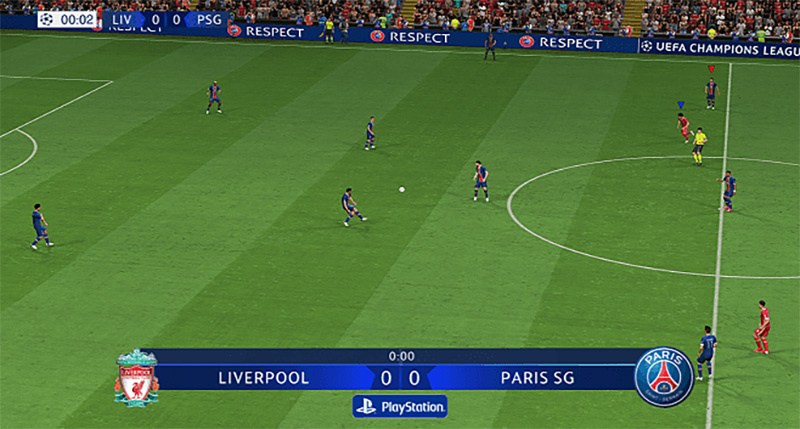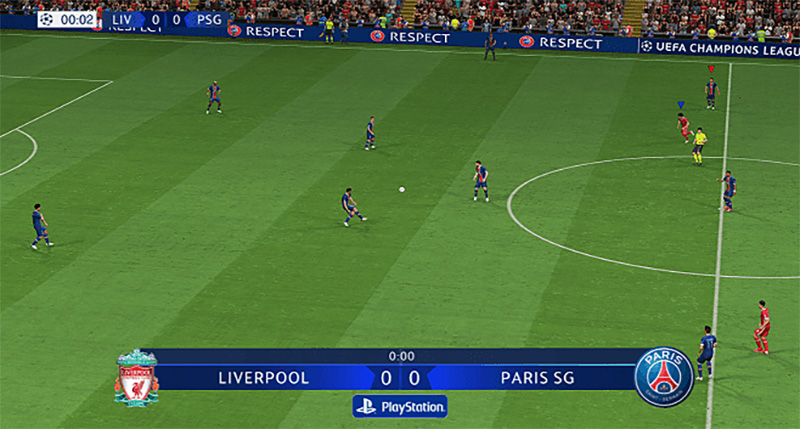 6. New Animations and Celebrations
"Feel Next Level" was EA's tagline for next-gen and it best holds true for player animations and the celebrations. There are over 700 new animation sequences added in the next-gen version. Current-gen FIFA 21 does have players falling to the ground after conceding a late winner and other minor touches but next-gen is where the game steps up. Scoring a late winner does not just dishearten the losing team but it sends the winning team into a frenzy. All-team celebrations, subs joining in, even the manager at times, are all unique and beautiful cutscenes. Crowds join in on the celebrations too at times. Besides goal celebrations, we also see players adjusting their shin pads, their kits. Reacting to each knock and/or foul and having more natural reactions and animations for ball contact as well as player-to-player contact.
Scoring a 90th minute winner in #FIFA21 Next-Gen 👀

Credit: u/williamcharman pic.twitter.com/WU8avFxS93

— FIFA Infinity (@FIFA_Infinity) December 6, 2020
7. Refreshed Menu and UI
Not much is to be said about the menus except that they are much faster compared to current-gen consoles and that includes faster loading times from menu to kick-off in under 2 seconds! Navigating between tabs is much more convenient and certainly a huge positive. Another subtle difference observed was that every heading of a menu tile has been italicized and boldened. The tile headings in current-gen FIFA 21 is a normal regular straight font. So, yeah, make of that what you will.
8. Ball and Player Physics
Now this feature is more of a gimmick than a life-changing addition. The football finally has body physics of its own. Up until now, we only had ball physics with respect to how it was kicked and how it travelled in the air (FIFA 17 still has the best free kick ball physics, fight me). With next-gen, the ball also has deformation physics. You can see the ball deflating and returning back to shape every time it is shot, visible in the Instant Replay option. Similarly, players have also been given some visual improvements. Better sweat (coz why not?), better dirt and grass graphics and most importantly, muscle flex. If you look closely in replays, you can see players flexing their calves and thigh muscles while shooting, passing or jumping. Both these features are a nice touch but they are only visible up close, making no difference during regular gameplay.
#NextLevel Realism 😍

Taking the world's best players to a whole new level of dynamic realism on December 4: https://t.co/mRd7cEUoUR pic.twitter.com/Ok9ziR9ye2

— EA SPORTS FIFA (@EASPORTSFIFA) November 29, 2020
9. Console-Exclusive Features
There are some pretty snazzy console only features on offer as well. Exclusive to the PS5 are Adaptive Triggers. Running with or without the ball, tackling or being tackled and very shot can be felt right on your controller. Not just that, running with a fit player lets you tap the triggers easily whereas tired players will offer more resistance when sprinting or passing. The feature has mixed reviews as people do find it tiring but if you're looking for added challenges, PS5 is the way to go. Both platforms offer faster load times, quicker simming, more processing power, higher resolutions and FPS and much more. Celebration cutscenes and replays remain at 30 FPS sadly and this is something EA should definitely fix for FIFA 22.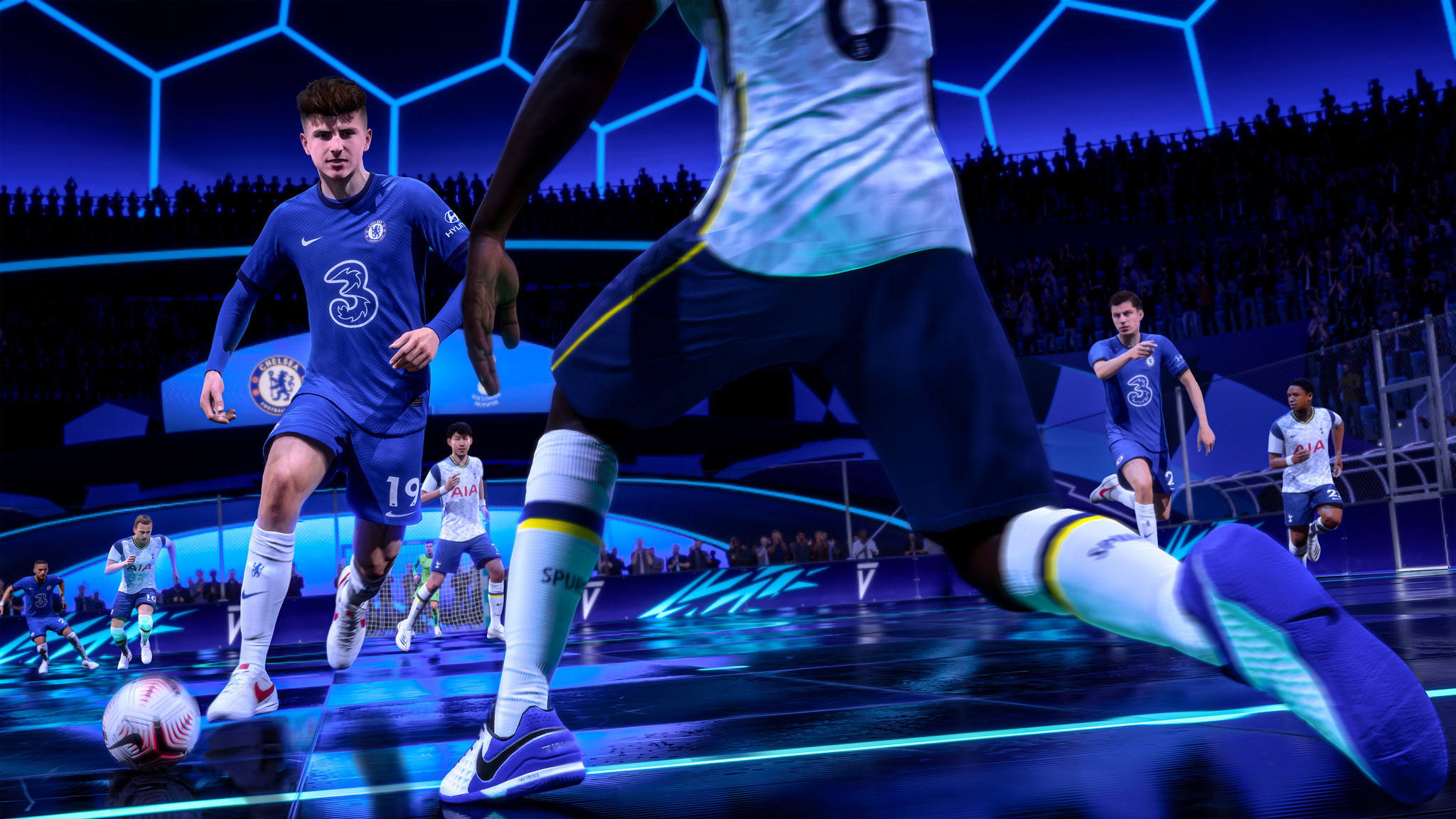 10. Dual Entitlement and Cross-Progression
If you're a current-gen console owner, then you're in luck. FIFA 21 owners on Xbox One and PS4 are entitled to a free upgrade to the next-gen version on the Xbox Series X/S and PS5 when you buy those devices. You can easily upgrade to the next-gen version of FIFA 21 using our handy Upgrade Guide for next-gen console users. The free upgrade has been termed Dual Entitlement and allows users to own 2 titles; one current-gen and one next-gen FIFA 21, with a single purchase. Coupled with that is the ability to carry over your progress from current-gen to next-gen. Cross Progression allows you to continue your game progress on next-gen from where you left it off in current-gen. Sadly, this feature is only for FUT and VOLTA. Career Mode and Pro Clubs saves do not carry over to next-gen, so keep that in mind when starting new saves on current-gen.
And that pretty much does it for the "new" next-gen features. Most of the features in FIFA 21 next-gen are more to do with visual improvements rather than under-the-hood changes. On paper, it makes sense as this is still FIFA 21. We will not see any major upgrades until FIFA 22 and this is all next-gen users will have to be content with until then.
Is it worth an upgrade? Short answer, If you're buying a next-gen console just to play FIFA 21, then no. If FIFA 21 is one of the games you intend to play on them, go for the free upgrade option. Otherwise, it is best to wait till FIFA 22 arrives.
And now for the long-awaited rant, it is an absolute shame that the next-gen version of FIFA 21 will not come to PC. All of the features listed above can be easily handled by most PCs in the world. EA chalked the non-upgrade reason to keep the system requirements low. In that case, the voluntary upgrade option should have been offered to PC users as well. In any case, PC players, and next-gen players for that matter, will have to wait for FIFA 22 to experience a proper next-gen game.