Filled with talented players and European powerhouses, the Italian Serie A is also a honeypot of amazing wonderkids. With so many talents in the league, there are some youngsters who have gone under the radar that you will discover in this article, so let's get it started!
Pierre Kalulu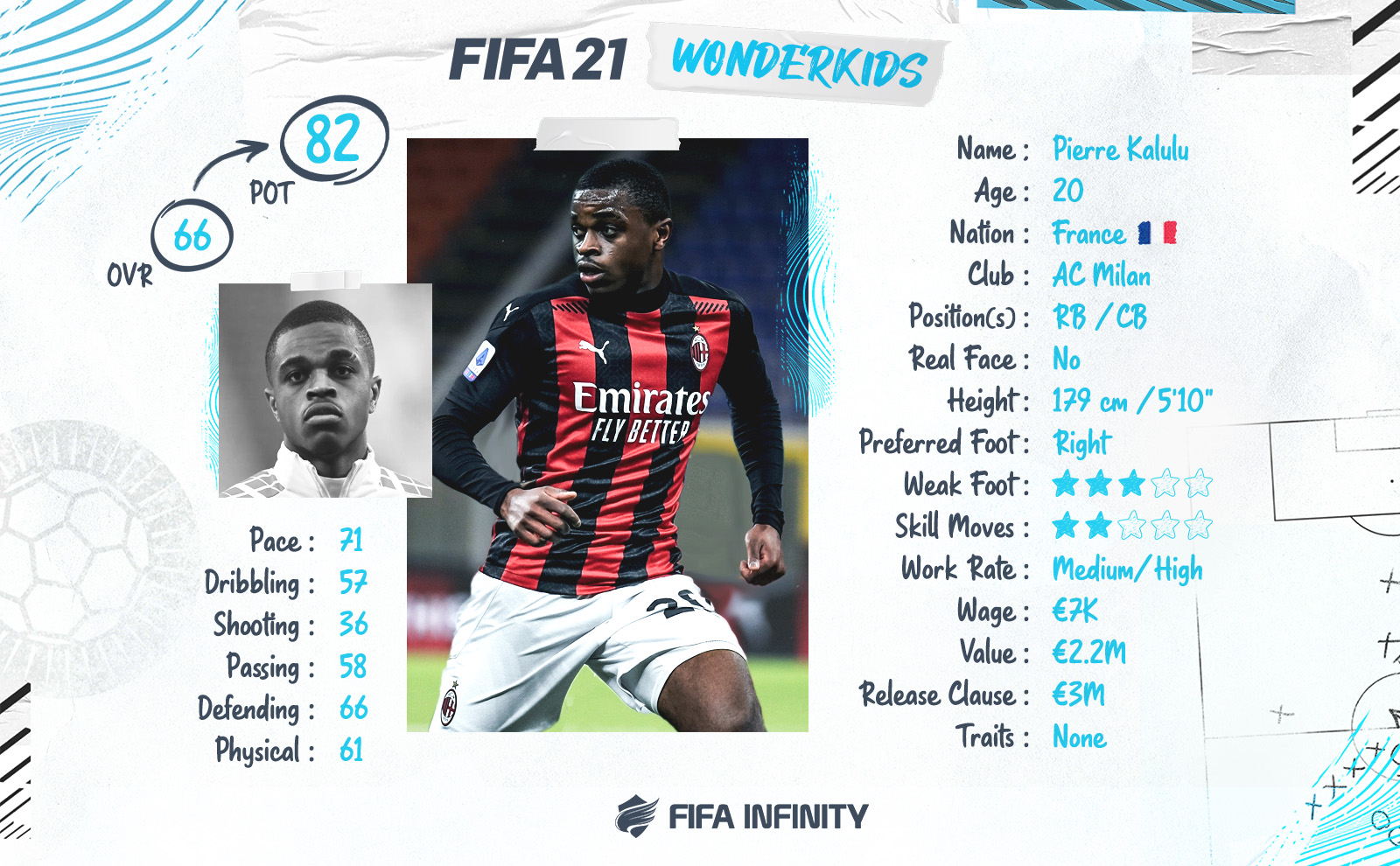 The first name on our list is a defender that can play as a right-back or as a center-back. Pierre Kalulu is an impressive talent that commands presence on the pitch. The 20-year-old currently plays for AC Milan after he transferred from Olympique Lyonnais last year and has already made a mark in the first team with 13 appearances in his debut season. Kalulu is rapid, strong and defensively sound and is valued at 3.2m euros. He starts at a 69 OVR with a potential of 82.
Nicolò Fagioli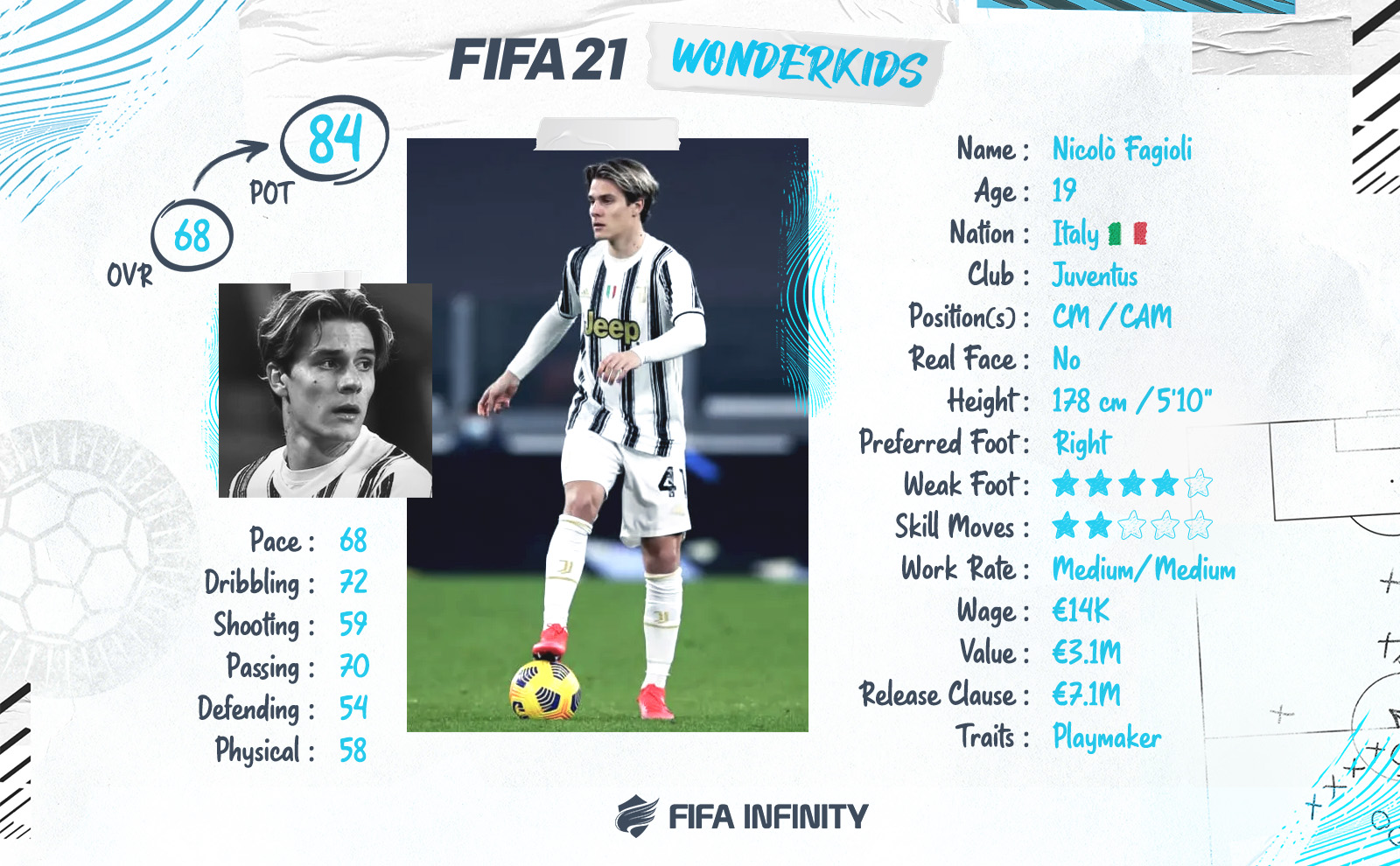 You may have already heard of Nicolò Fagiolo but let's take a closer look at him. The young Italian midfielder is already a popular name in Turin and in Italy. He currently plays for Juventus B but has already made a few appearances for the first team this season under the command of Andrea Pirlo. Fagiolo can play as a CM or CAM and is an efficient dribbler and playmaker and his valuation of 3.1m euros justifies his talent. The 19-year-old has already caught the eyes of other clubs in Italy and we can expect a loan next season for this special player.
He the perfect starting midfielder for your Career Mode save if you manage a lower rated side, it is almost like bagging a heap of the best casino bonuses. He has a starting OVR of 68 with a potential of 84.
Aaron Hickey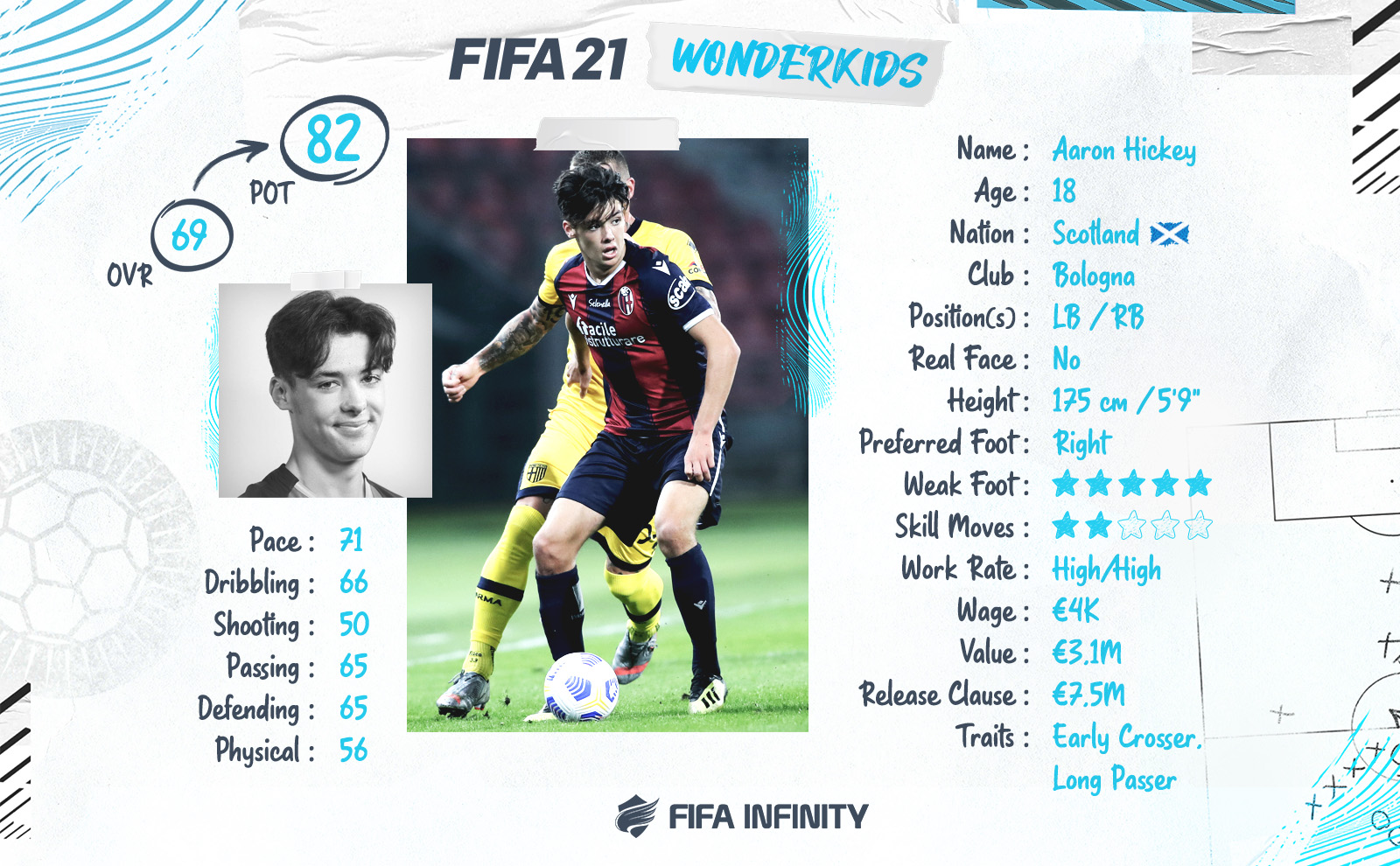 It is strange to find a British player outside the UK but Aaron Hickey is one of those exceptions. The 18-year-old fullback from Scotland has recently arrived in Italy from Scottish side Hearts. Currently playing for Bologna, Hickey can play as a LB as well as a RB. The Scotsman has already made 11 appearances this season and is on the scouting list of many English clubs. He possesses a 5-star weak foot making him highly adaptable on both wings with a Pace of 71 to match his position. He is valued at 3.1m euros and starts at an OVR of 69 with a potential of 82.
Radu Drăgușin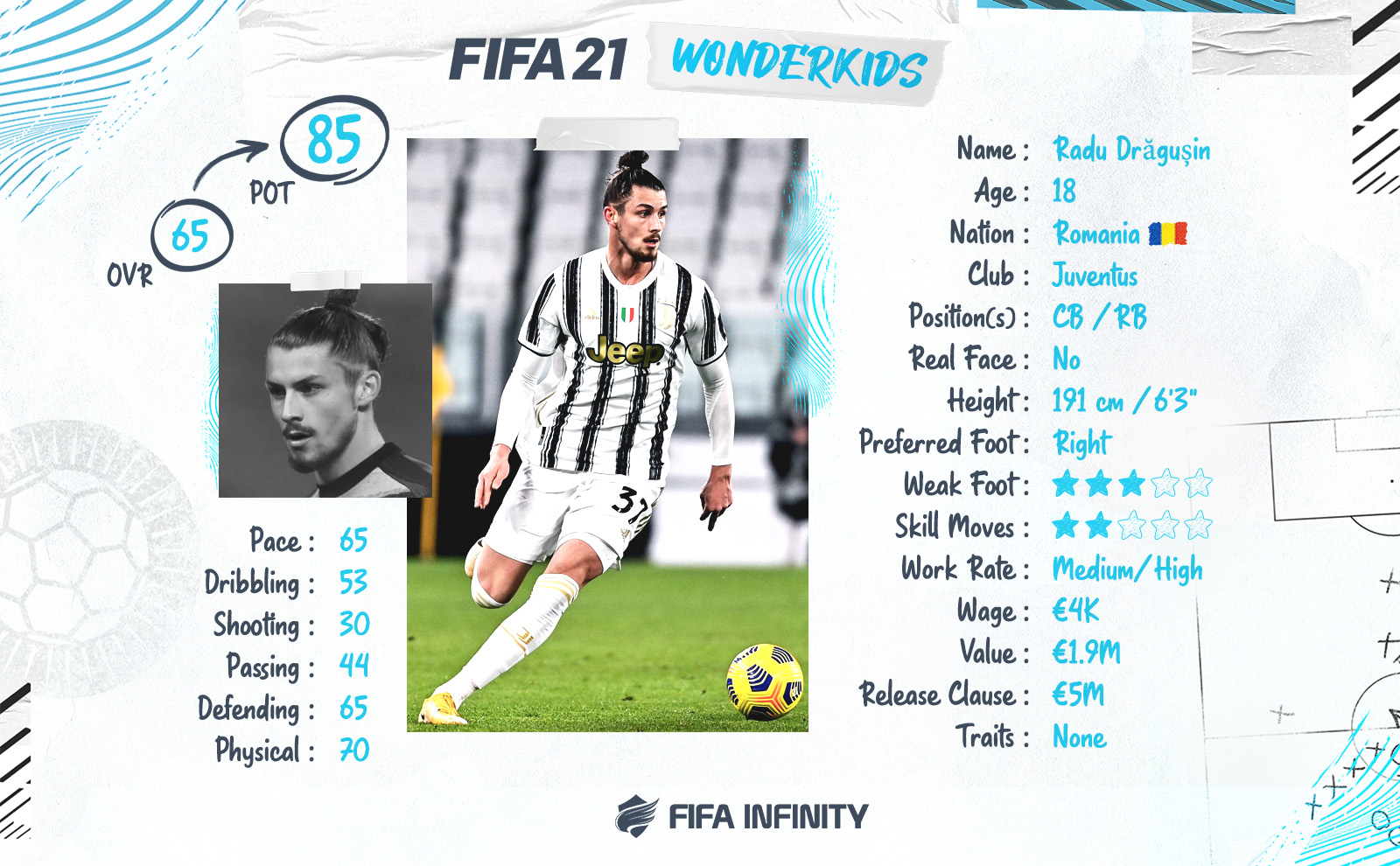 Sometimes, a player without a 2D face in-game may put you off but Radu Dragusin is a player you don't want to ignore. The 18-year-old Romanian is central defender playing for Juventus. Dragusin can play as a CB or RB and mainly plays for the B team at Juventus. However, the teenager has made his first team debut this season in UEFA Champions League and has some very decent stats for a defender right from the start. Valued at just under 2m euros, his OVR starts at 65 with an exceptional potential of 85.
Jayden Braaf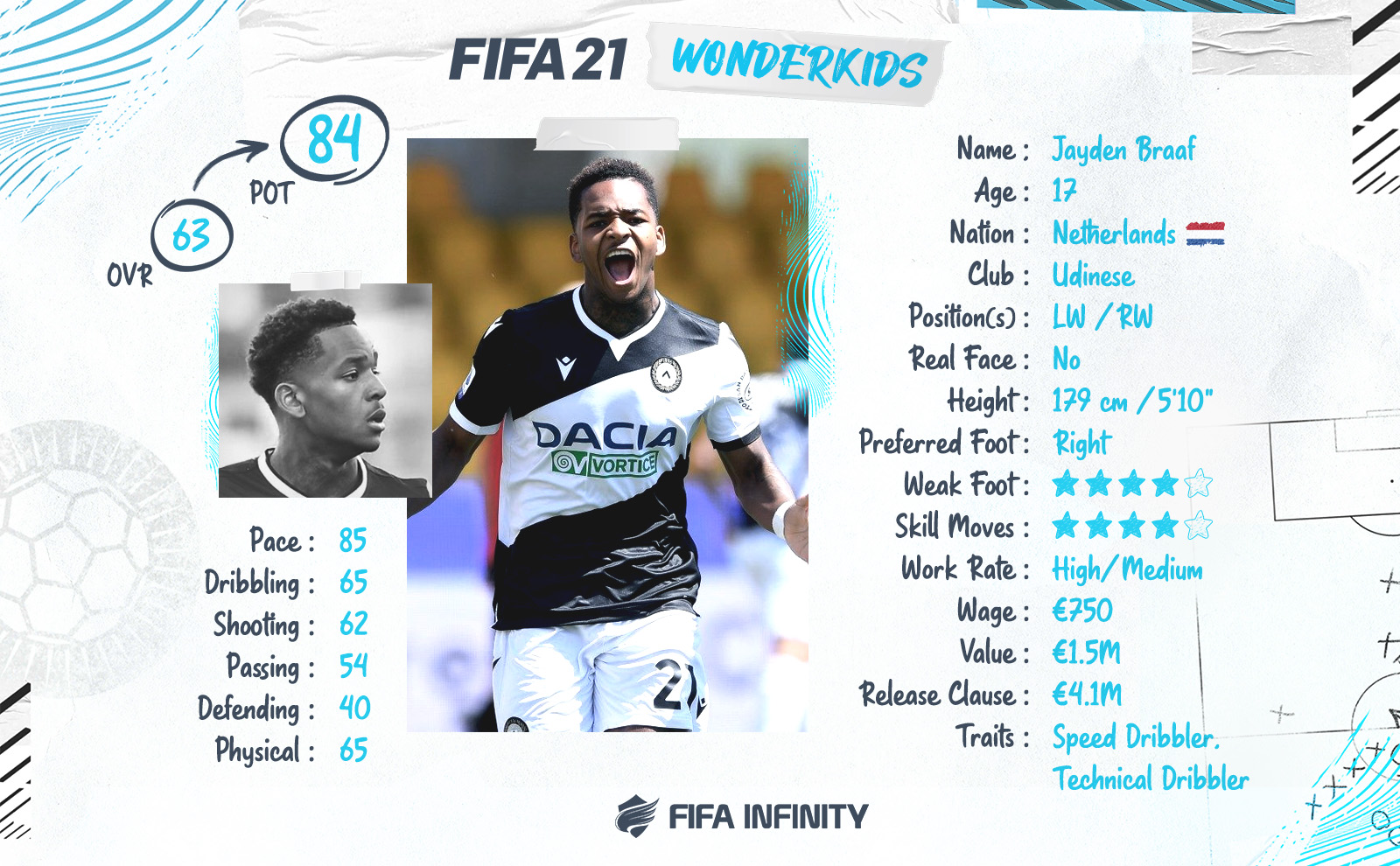 No wonderkids list is complete without a Dutch wonderkid and Serie A has them too. Jayden Braaf is a Dutch winger who plays for Udinese. Braaf can play LW and RW and at just 17 years of age, has already grabbed headlines. A Manchester City youth product, Braaf moved from the U23 squad at City to Udinese this season. So far, he has made 4 appearances for the first team and has already scored a goal. Lightning fast and with a 4-star weak foot and 4-star skill moves, Braaf is valued at a rather cheap 1.5m euros. His OVR starts at 63 with a potential of 84. Definitely a must buy!
Serie A has its fair share of youth talents and more often that not, it is the unknown ones that burst onto the scene every season. We recommend you to check these players out for your career mode saves and maybe, some of them just might make it big at your club. Happy scouting!