Without any previous announcements, this weekend EA Sports added a new section in the FUT 21 store called 'Stadium' where players can now acquire Cosmetic Packs that include stadium themes, tifos, kits and more for FIFA Points or Coins.
This is a first in FUT history and so far, the community reactions are divided. But before we dive into that, let's take a closer look at what these new packs are. EA already tested the ground this year with the release of multiple Kit SBCs where players had to complete SBCs in order to unlock new and special kits. Now EA decided to take it to next level with the release of the first Cosmetic Packs acquirable via FIFA Points and Coins. These packs are designed to just give visual additions to each player's FUT club. So far, EA has released the 'Football Means Everything' theme with a special logo, tifo, and a home and away kit.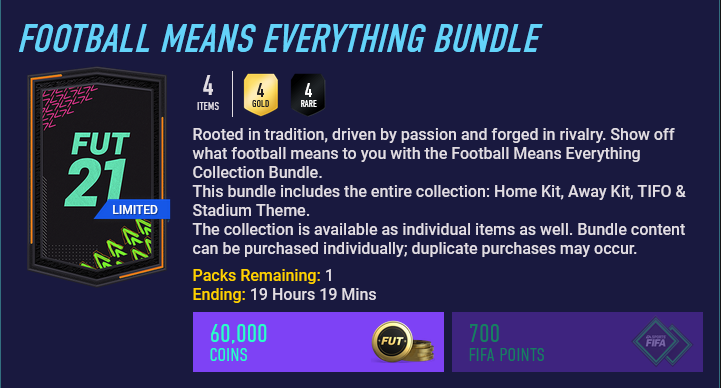 These type of packs are available for a limited time, implying new and different packs in the near future. A cause of worry, however, is the pricing of each pack or even the bundle. For example, the Football Means Everything bundle costs 60,000 Coins, which is significantly more than even a Prime Gold Players Pack.
It's pretty obvious that EA is trying to emulate the same system that popular franchises like Call of Duty and Fortnite have impletemented from the beginning in their games. The incredible sales from cosmetic items in these games may have driven EA to copy the system and there is a very fair chance that it may work. The cosmetic market has been so successful that Fortnite has managed to generate loads of revenue despite being free-to-play. Call of Duty has a free-to-play multiplayer mode that relies solely on microtransactions and Counter Strike: Global Offensive, which was a paid game previously, is also free now and solely relies on its marketplace. Interestingly, these cosmetic items can tradeable and can be bough and sold in the Transfer Market.
With EA facing bans from multiple countries on Player Packs and FIFA Points being heavily questioned, it was only a matter of time before EA would have to look at different ways to create a source of income. Cosmetic Packs are the way to go as they do not influence gameplay in any way but can become very attractive to players nonetheless. This is where the divided opinions come in. A handful of FIFA content creators are opposing this move, citing increased microtransactions and very little investment-to-reward ratio. These Cosmetic Packs do feel overpriced and add very little to your squad or gameplay experience in the end.
A new era of FUT has begun. Shameless. #FIFA21

📸 – @bateson87 pic.twitter.com/8if8jWnD06

— DANN TCF – 𝙁𝙐𝙏 𝘾𝙊𝙉𝘾𝙀𝙋𝙏𝙎 (@FUTCONCEPTS) May 1, 2021
Many creators are skeptical from the start and warn players from falling into this. On the other hand, many community heavyweights took the news in a more jokey manner and indicated that such content was bound to happen and has in fact happened in the past. A user even pointed out on Twitter that this may not work out at all as the demand of cosmetic additions in FIFA is way less compared to that of CoD/Fortnite. In fact, nummerous users have already started to buy these items for half the original price on the Transfer Market. This shows that the cosemtic demand may indeed be few and rare in the community. While true, the scope of this system cannot be ruled out.
🤣🤣🤣🤣🤣

So the new card type added to the code was for cosmetics that can be purchased on the store.

Such a weird day for FUT this could be, who knows.

In my opinion, these kind of cosmetics just aren't ever gonna be demanded to the level of Fortnite/COD etc. pic.twitter.com/6I06SFOroO

— Matt (@MattFUTTrading) May 1, 2021
However, there are also content creators that welcome this initiative from EA and would gladly spend "big bucks" for funny kits like Pro FIFA Player Zwë addmited in the next tweet:
Some of you guys aren't old enough to remember this kit from FIFA 17 but I'm here today letting you know I'd yeet 125k coins into a pack for this. pic.twitter.com/3j2kTwPzH4

— Zwë 👑 (@ZwebackHD) May 1, 2021
A couple of users on r/FIFA have pointed out that EA might be going the Epic Games route with Rocket League as an example. The cosmetic items have been a tremendous success in Rocket League as well that Epic Games decided to make the game free in order to attract more and new players. However, this may also mean that EA could eventually end up making FIFA free-to-play. It is difficult to imagine a 60 USD title becoming free-to-play as EA could loose quite a major income. This is all speculation, of course, but the possibility is very much real. It is difficult to imagine players paying for the offline game modes unless EA massively improves the Career and Pro Clubs modes.
Agreed.

But they'll be afraid the Pro Clubs community will hate monetization. They'll see how it goes in FUT tho. https://t.co/21pyTjCgVy

— The Boi 🇳🇬🇨🇦 (@ChuBoi) May 1, 2021
There is one tiny bit of good news though. The addition of cosmetic items could give Pro Clubs a new breath of fresh air. There is a good chance that this unlocks new opportunities for content creators and have a creator system very similar to the Epic Games Store's Creator Tag. This will allow kit creators to have their items be published in-game and as a way to earn a share for their work. This will also allow various content creators to represent themselves in-game and the ability for fans to support their favourite creators monetarily by purchasing their content. It remains to be seen if EA will make cosmetic items a first-party system or allow other creators to explore it too. Knowing EA, having a marketplace for third-party, player/modder driven marketplace seems less likely to happen and Cosmetic Packs will remain a first-party business for EA.
♥ Our favorites on Showcase:

1️⃣ Pumas UNAM – Glitch (𝒈𝒆𝒓𝒎𝒂𝒏𝒂𝒄𝒉𝟗𝟔)
2️⃣ Inter Total 90 x Versace (𝒅𝒂𝒑𝒖𝒔𝒌𝒊 (@dapuskits))
3️⃣ Corinthians Glitchy Home (𝑺𝒑𝒓𝒆𝒏𝒈𝒐)
4️⃣ Italian National New kit (𝒎𝒊𝒄𝒌𝒈𝒚𝒔)

▶ https://t.co/VFLxDXuDaI pic.twitter.com/Ptwr24S4RP

— fifakitcreator (@fifakitcreator) April 28, 2021
The possibilites are endless on what EA can do with this new-found Cosmetic Pack industry. A free FUT mode, free FIFA titles, community driven markets, the exclusion of Player Packs altogether in the future (a huge point) and increased microtransactions, all point towards a turbulent few months for the FIFA community while EA figure this out. We are just as skeptical as you and only further announcements will clarify the direction EA wishes to undertake. Stay tuned for developments in this.