Ultimate Scream is back in FIFA 19 with a squad of 21 shapeshifting beasts. These beasts have been released in the form of special player items that will get periodic boosts throughout the FUT season—but only to two of their six stat categories. Players will never know when or how the stats will get boosted, keeping everyone on their toes.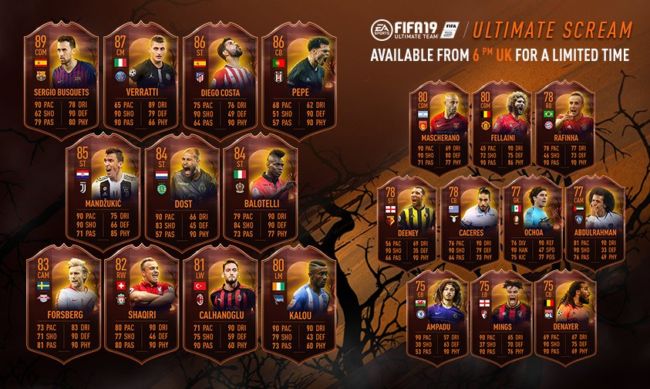 In case you don't know how these live items works please check out the following FAQ:
Q: What makes Ultimate Scream items special?
A: Ultimate Scream players will have a unique item shell and a +1 to their overall rating. But this year, each player will always have two attributes boosted to a minimum of 90.
Q: How does the boost work?
A: All 21 Ultimate Scream players will have two attributes boosted to 90 at the launch of Ultimate Scream. When a shift occurs, two different attributes will be boosted to a minimum of 90.
Q: How long are Ultimate Scream players in packs for?
A: All 21 Ultimate Scream players are in packs from October 19 at 10am PDT until November 1 at 10am PDT.
Q: Are Ultimate Scream Players tradeable?
A: Yes. You can trade the 21 Ultimate Scream players that you find in packs. You can also potentially acquire them from the Transfer Market, starting on October 19.
Q: When will Ultimate Scream items have their attribute boosts changed?
A: These changes will occur throughout the year at different times.
Q: How long will it take for the attribute boost to be applied to a player item when a shift occurs?
A: Dynamic Player Items can take a few hours to update in-game.
And throughout the event, look out for 2 Ultimate Scream players available only through SBCs and 1 Ultimate Scream player available only through Objectives!