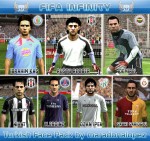 New download is up today! Our facemaker,maradonalopez,created a facepack containing 7 turkish players faces:
– Demirel (Fenerbahçe) in collaboration with Sameh Momen
– Ibrahim Kas (Getafe)
– Mevlut Erdinc (PSG)
– Nihat (Besiktas)
– Rustu Reçber (Besiktas)
– Ozan Ipek (Bursaspor)
– Sabri Sarioglu (Galatasary)
 Check the in game faces in the cover above!
 Enjoy!