FIFA 23 is less than a month away from global release and Career Mode fans are already planning their first save.
In this post we will challenge future FIFA 23 managers to help three new promoted teams stay in their respective top European leagues this season and why not go on and achieve some silverware while they are at it.
Ahead of this challenge, remember that this year you will be able to play as a real manager in FIFA 23 Career Mode and will have the option to choose from 350+ authentic football managers, of which 30+ have star heads. So with that in mind, let's see the teams that you will need to save from relegation this season.
Fulham
The first team on our list today is the historic English club, Fulham FC. Founded 143 years ago, the London based club had their ups and downs in the English Football Leagues over the years. After winning the Championship last season, they have now returned to the Premier League and their main objective is to finish above the relegation line at the end of the 2022/23 season.
Fulham play their home games at the historic Craven Cottage which is authentically represented in-game. Currently in the squad we can find the likes of Harry Wilson, Kenny Tete, Nathaniel Chalobah and the Serbian star, Aleksandar Mitrović that scored over 100 goals for the club since signing with them in 2018.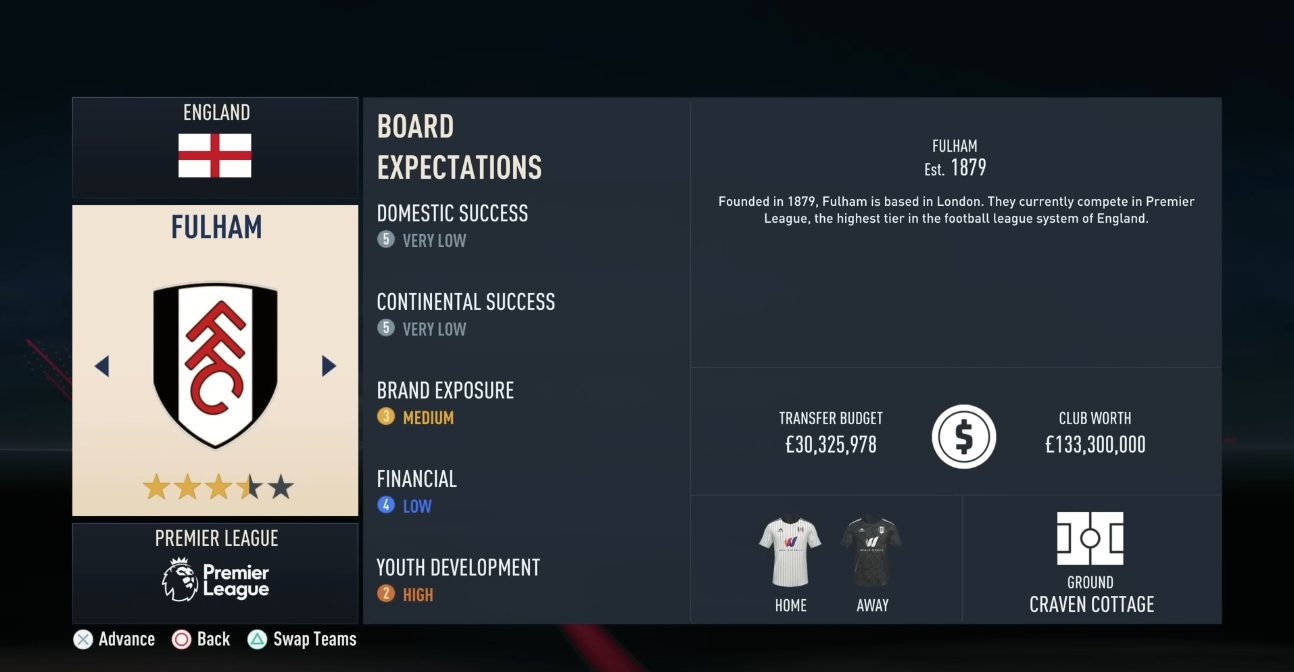 With a starting budget of £30M you can immediately start bringing in some quality players to improve the overall rating of the squad.
Speaking of quality players, this summer 'The Cottagers' managed to sign João Palhinha from Sporting CP, Kevin Mbabu from Wolfsburg, Bernd Leno from Arsenal and got the former Chelsea winger Willian on a free transfer. Another transfer to highlight is the signing on-loan from Shakhtar Donetsk of the Israeli wonderkid, Manor Solomon.
It's also worth to mention the the club never won a major trophy in in their existence and it's up to you to change that
Football specialists are almost certain that Fulham and Bournemouth will be favourites to be relegated this season. One of the best places to track those odds is at ArabianBetting.com where the best sports betting sites in Kuwait and beyond list prices for all teams in the EPL.
Are you ready to fight those odds and save Fulham from relegation in FIFA 23?
Real Valladolid
Next we move to Spain where we find the newly promoted, Real Valladolid. The Spanish club has been a constant presence in the first three divisions of the Spanish league system since its foundation back in 1928.
After struggling in Segunda Division for a period, in 2018 the 'Blanquivioletas' got acquired by former Real Madrid and Brazilian legend, Ronaldo Nazário. Following the acquisition and with big promises from the new owner, the club returned to the Spanish top flight after a pause of 4 years. Unfortunately after 3 season, Real Valladolid got relegated last year but managed to bounce back immediately in LaLiga in 2022.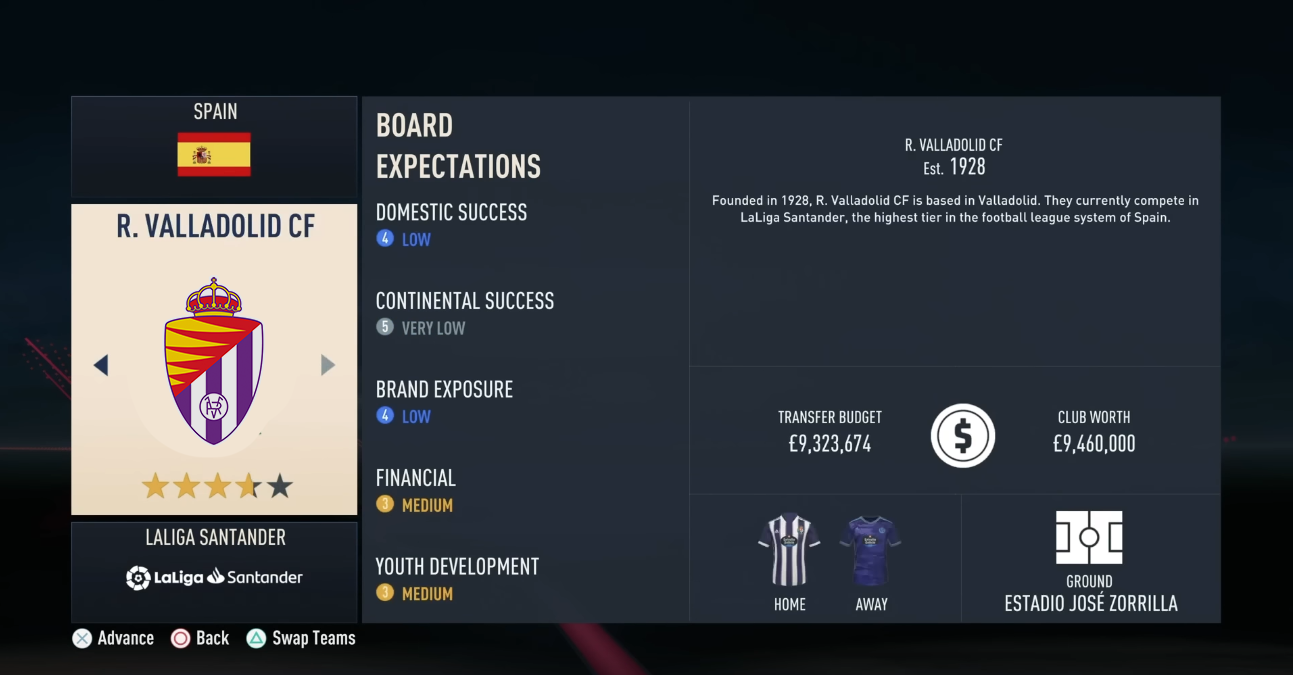 Their home games are played at Estadio José Zorrilla that has been rebuilt in FIFA 23 to reflect the real life updates of Real Valladolid's stadium.
The roster features players such as Jordi Masip, Gonzalo Plata, Shon Weissman or Roque Mesa. This summer the club also signed the Brazilian winger and former Chelsea player, Kenedy. The club's starting budget in-game is £9.3M that allows you to bring in some decent players if you're good at scouting and negotiations.

AC Monza
Mostly known for the Formula 1 Circuit, Monza can now proud themselves with a football team in Serie A as well. Following Silvio Berlusconi's 2018 takeover of the club, Monza returned to the Serie B in 2020 after a 19-year absence and reached promotion to Serie A for the first time in their history this year.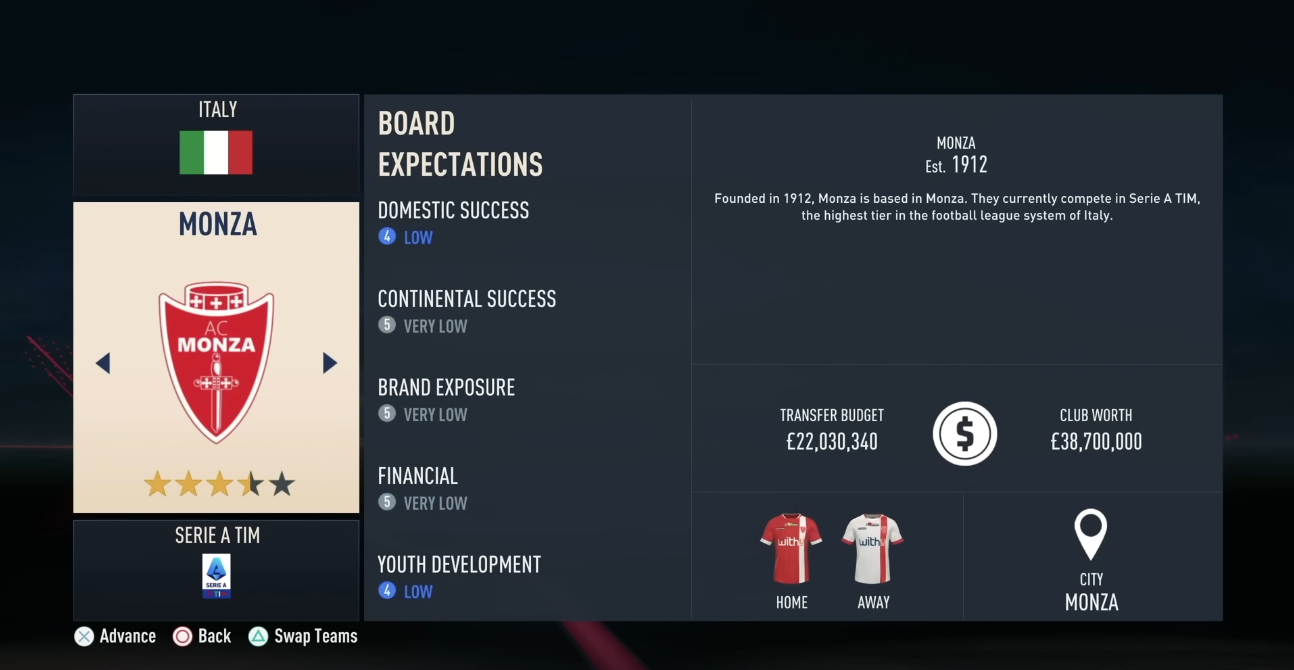 After the promotion, the club managed to sign quite a handful of quality players during this summer transfer window. Most of the new players came on loan and the most noticeable transfers are Andrea Ranocchia and Stefano Sensi from Inter Milan, Alessio Cragno from Cagliari, Matteo Pessina from Atalanta, Marlon from Shakhtar Donetsk, Pablo Marí from Arsenal, Andrea Petagna from Napoli and Armando Izzo from Torino FC.
It's also important to highlight that in AC Monza's roster we can find the 18-year old wonderkid Samuele Vignato that has an 83 Potential in FIFA 22. The £22M budget is definitely helpful in order to avoid relegation as you can transfer some very good players with that amount of cash.
Unfortunately the team doesn't have their authentic stadium (Stadio Brianteo) in FIFA 23.
Watch the #FIFA23 Career Mode Deep Dive and learn about:

✅ Player Personality
✅ Playable Highlights
✅ New Menu
✅ Dynamic Moments
✅ Transfer Analysis
✅ Authentic Managers

Watch now ➡️ https://t.co/FCahBI5lj1 pic.twitter.com/20acyQOPE2

— EA SPORTS FIFA (@EASPORTSFIFA) August 1, 2022
Are you up to save these teams from relegation?
FIFA 23 will be available worldwide on PlayStation 5, Xbox Series X|S, PC, Stadia, PS4, and Xbox One on September 30. Early access for FIFA 23 Ultimate Edition begins on September 27, 2022.