Feel it, it is nearly here. EA Sports has finally released a new trailer which delivers a first taste of what to actually expect from a plethora of new gameplay features coming to FIFA 22.
Already announced by EA, FIFA 22 is powered by a new technology called HyperMotion. According to EA lead gameplay producer Matt Prior, "HyperMotion delivers a cutting-edge proprietary machine learning algorithm learning from over 8.7 million frames of advanced match capture, then writes new animations in real time to create organic football realism across a variety of interactions on the pitch". Fancy stuff right there but It's probably just marketing gimmicks!
Anyway, moving on, HyperMotion is sadly exclusive to new-gen consoles, PS5, Xbox Series X|S and Google Stadia. However, that does not mean that PC and old-gen console players will be completely left behind. Alongside the trailer, EA Sports also dropped the FIFA 22 Gameplay Pitch Notes, a COLOSSAL ESSAY diving, even more, deeper on what to expect from the upcoming FIFA title, including a wide range of new features coming to PC and old-gen consoles, PS4 and Xbox One.
We've rounded up some of the most vocal points from the gigantic deep dive article that were not previously disclosed. Alright, let's get into it!
N. B: You will see a ᴺᴳ or [NG] symbol/tag whenever a topic or feature discussed is exclusive to the new generation of consoles and Stadia (i.e. PlayStation 5, Xbox Series X|S, and Stadia), so keep that in mind when reading below.
[NG] Tactical AI
EA has extensively worked on the intelligence and tactical approach of all 22 players on the pitch, emphasizing their roles, personality, and teamwork. The new Tactical AI allows attacking players to be more aware of their surroundings, make smarter runs in the build-up, exploit spaces in the defence, and much more. Defenders, on the other hand, now operate more as a unit and maintain the shape of the formation when moving across the pitch, covering vacant spaces, marking each defending zone accordingly, and provide a better overall shape.
As a neat addition, defensive Work Rates and fatigue have a massive impact on defensive positioning. Also when using a player in the Center Back position that isn't a Center Back, his defensive play will be affected!
Competitive Settings / Master Switch
While mandatory in some modes, the Competitive Settings are available for all players in every mode of FIFA if they wish to play with them.
The mandatory Competitive Settings changed by the Competitive Master Switch are:
Contextual Agile Dribbling: Off
Auto Clearances: Off
Auto Flair Pass: Off
Auto Shots: Off
Assisted Headers: Off
Jockey: Manual
Through Pass Assistance: Semi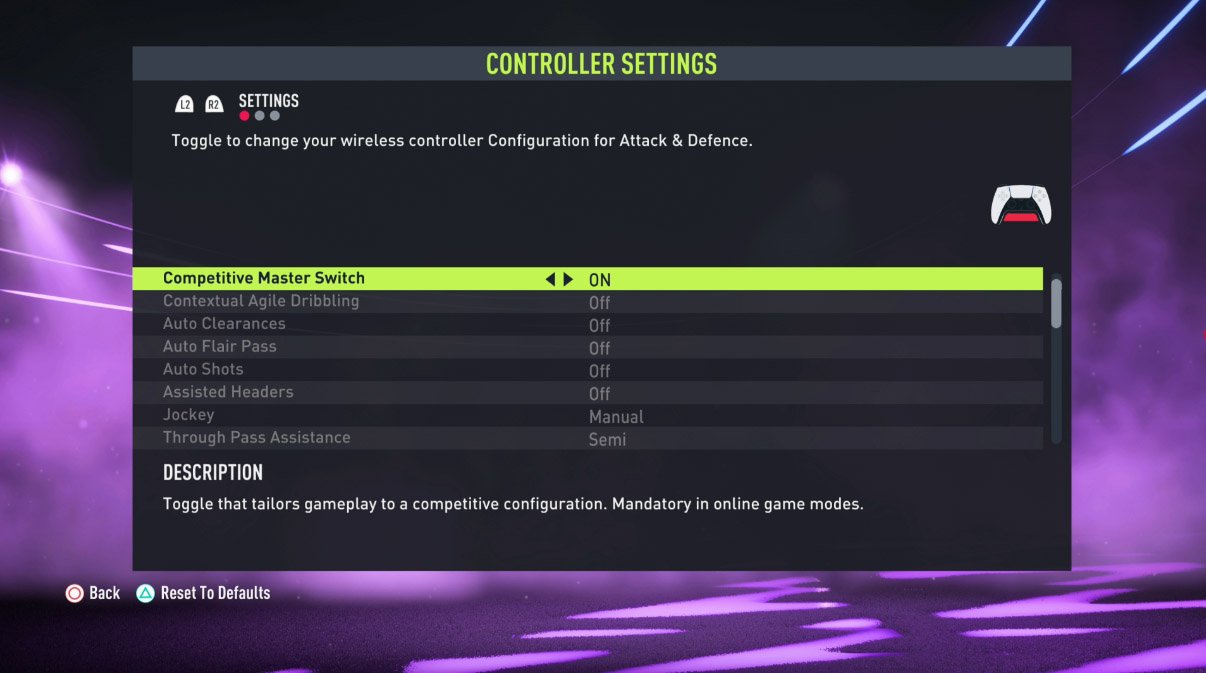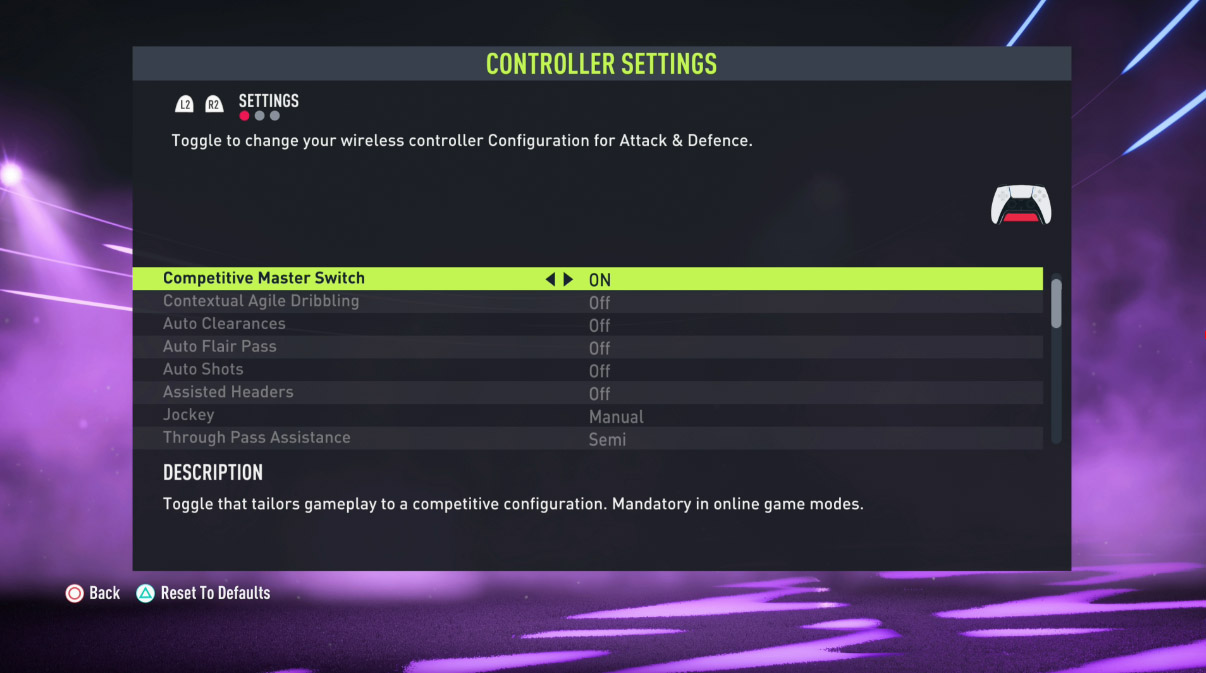 Modes where Competitive Settings are always active:
FUT Rivals
FUT Champions
Online Seasons
Co-Op Seasons
Pro Clubs
Deeper Match Analysis
Deeper Match Analysis is probably the most anticipated feature for FIFA players, career mode players in particular. Match Facts and Player Performance screens have been overhauled with much more data available for you to peruse. This info will help you better understand how you and your players, as well as your opponents, are performing. There are deep dive screens for Match Facts (for both teams) with Expected Goals (xG) making its debut and Heat Maps get a nifty little upgrade.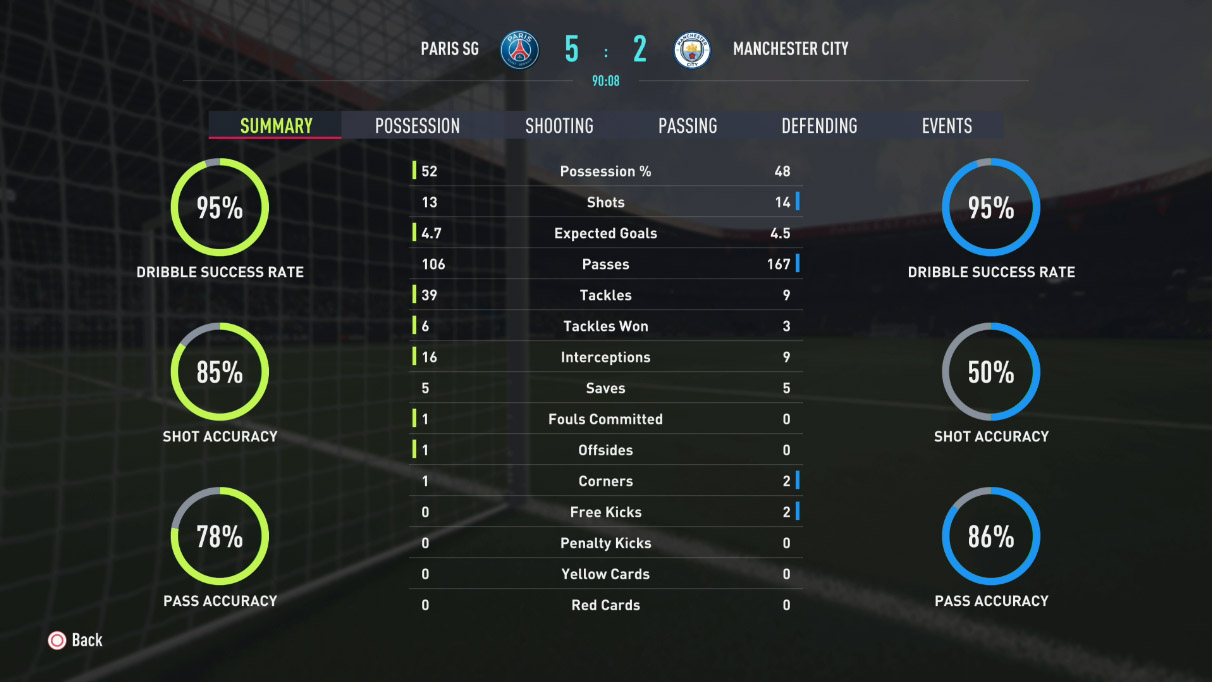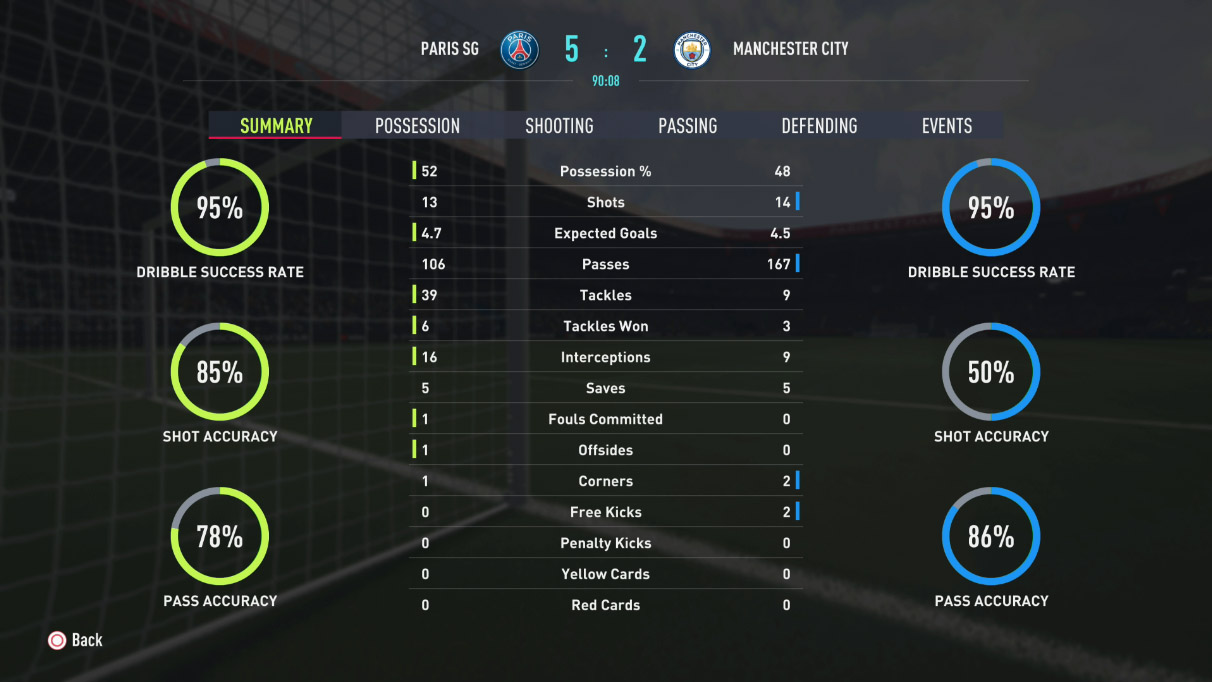 There are new screens for teams and individual players with data going as in-depth as PES and Football Manager. FIFA 22 will still lag behind in the data department to those games but the game has done well enough to start bridging the gap at least. Stat nerds are about to have a whale of time navigating this new UI experience and the system definitely looks promising.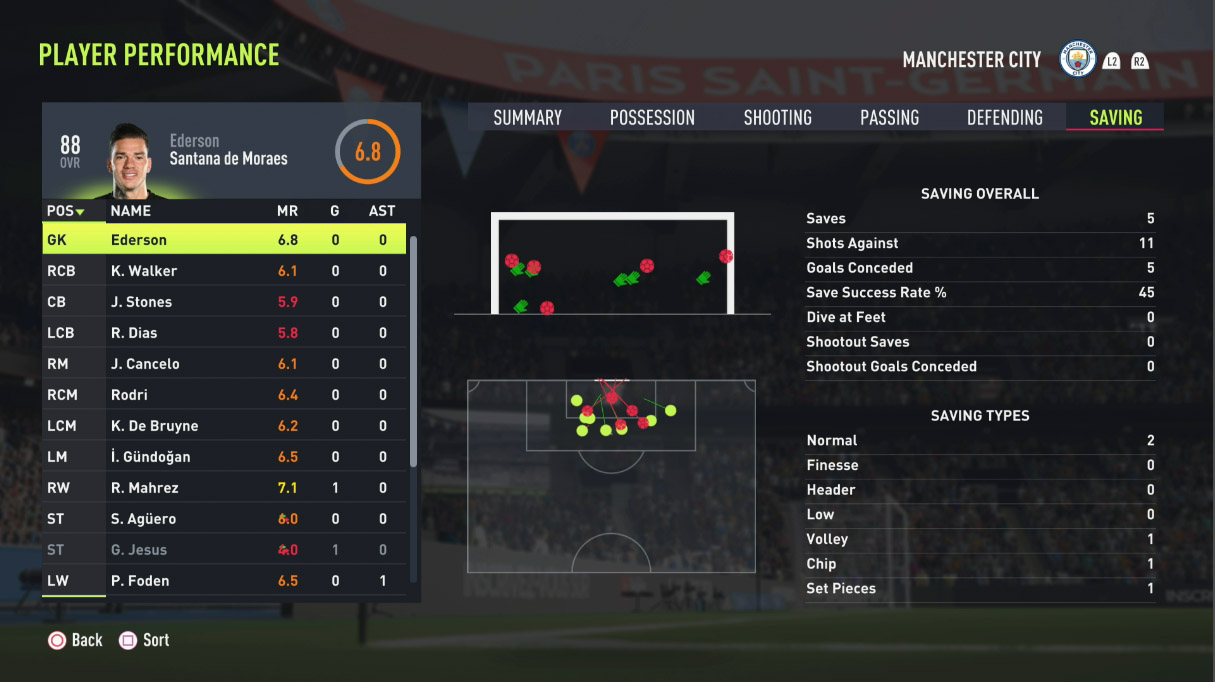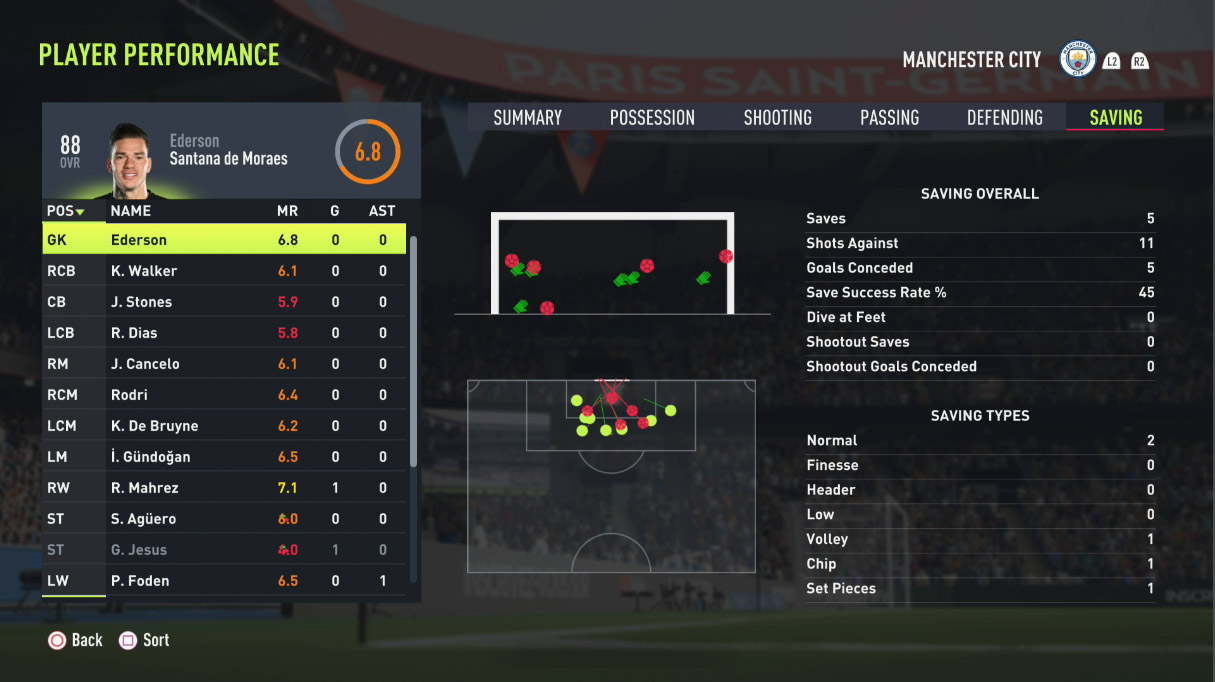 New Tactics and Player Instructions
The new Attacking Tactics and player instructions can be combined to create 16 distinct tactics, each with their own benefits and styles of play. New Tactics include Slow Build Up and Chance Creation (e.g Forward runs when attacking). Depth and Width Sliders now range from 1 to 100, allowing for more nuanced customization both in defence and attack.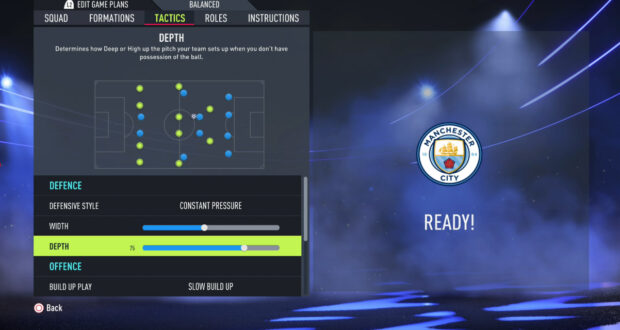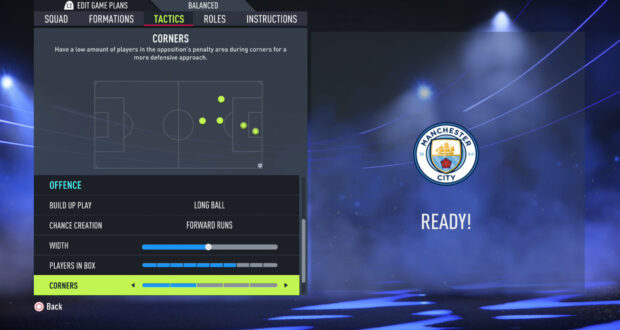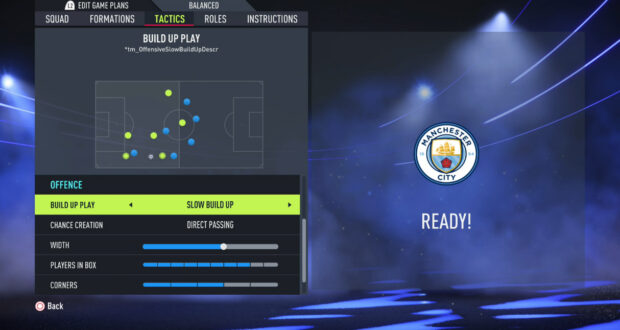 New Player Instructions include Free Roam for CDMs, Step Up for Center Backs and Full Backs which can have them step out of position and mark opposing attackers tighter when they are free to receive a ball and Overlap Instructions for Center Backs (only for 3 or 5 defender formations) allow the CB to overlap wide when in the correct position and provide attacking support to teammates.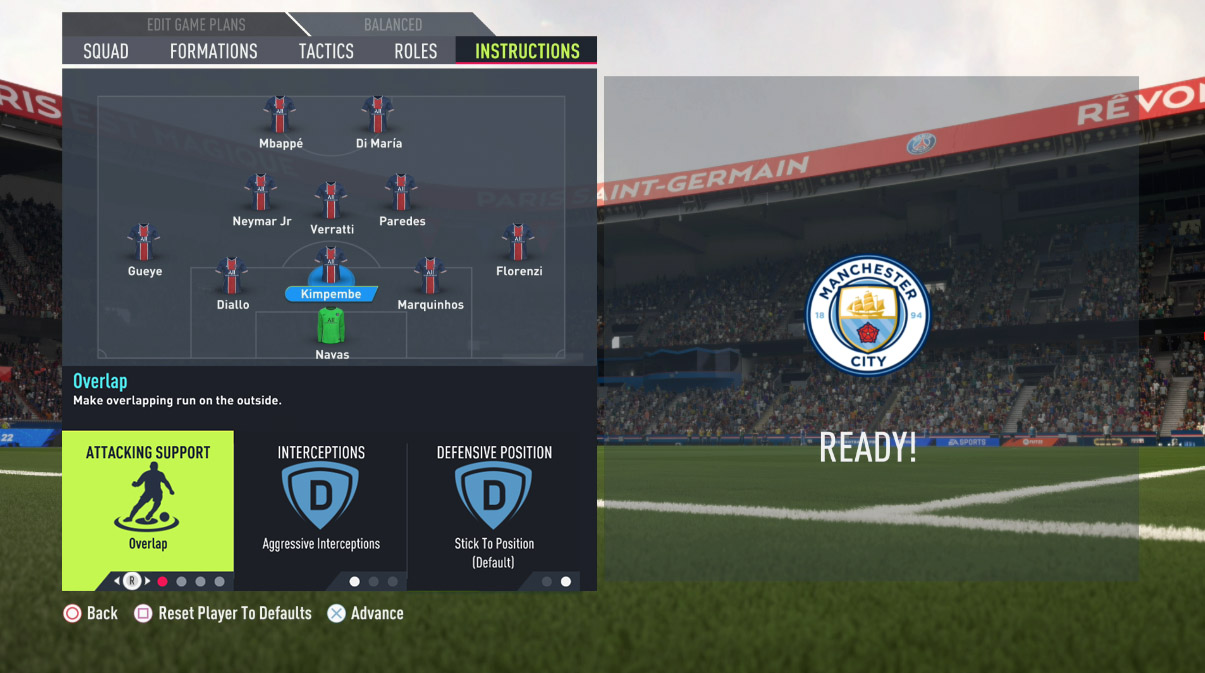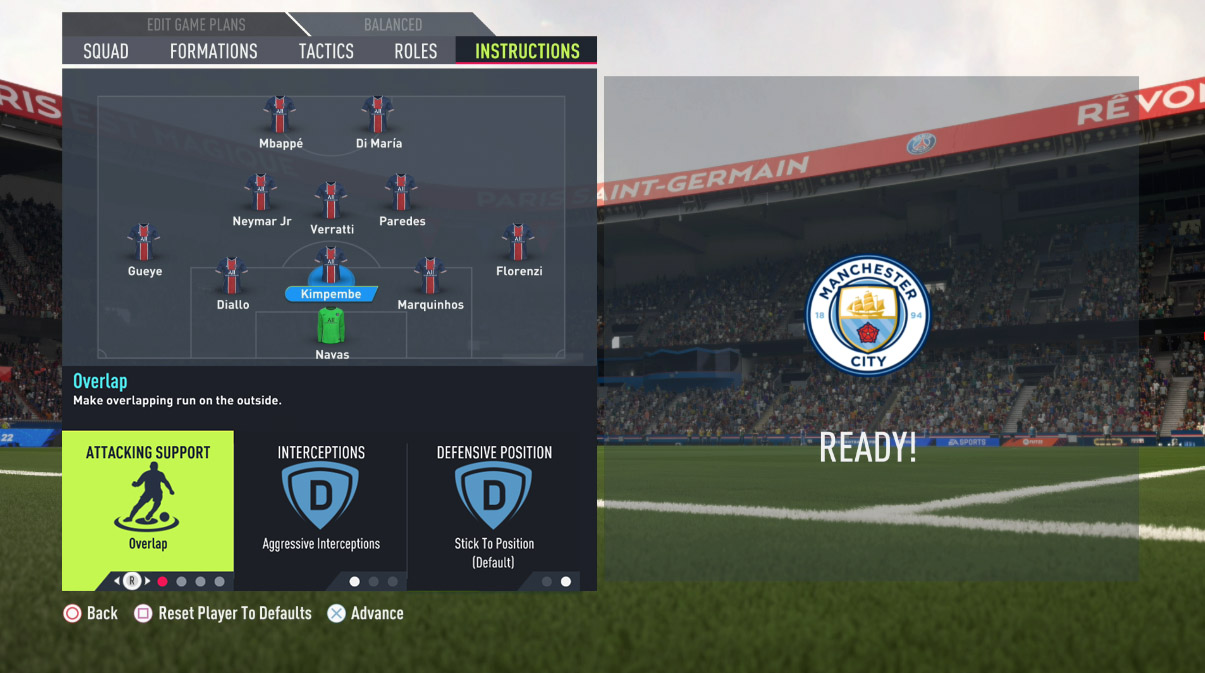 [NG] Bigger Goal Moments
You can experience new crowd moments, camera angles, opponent's captain reactions and unique player celebrations incorporated into scenes. The improvements to Big Goal Moments allow you to celebrate big goals with select players as they would in real life, with subs, managers, and crowd, all involved in the spectacle.
Skill Moves Balancing

Certain Skill Moves in FIFA have always been a bit OP either playing against the AI or an online opponent. That's why for FIFA 22, EA Sports devs have toned down the effects of certain skill moves like:
Removed Skill Move Cancel for La Croqueta, Elastico, Reverse Elastico, and Scoop Turn.
Reduced animation speed for Bridge and Directional Nutmegs.
Drag Back Spin, Four Touch Turn, and Step overs can now be cancelled (LT + RT).
Drag to Drag Skill Move can now be triggered by holding RS backwards.
The Heel to Heel Skill Move is more difficult to successfully perform.
New animations for Directional Nutmeg 90 degree turns.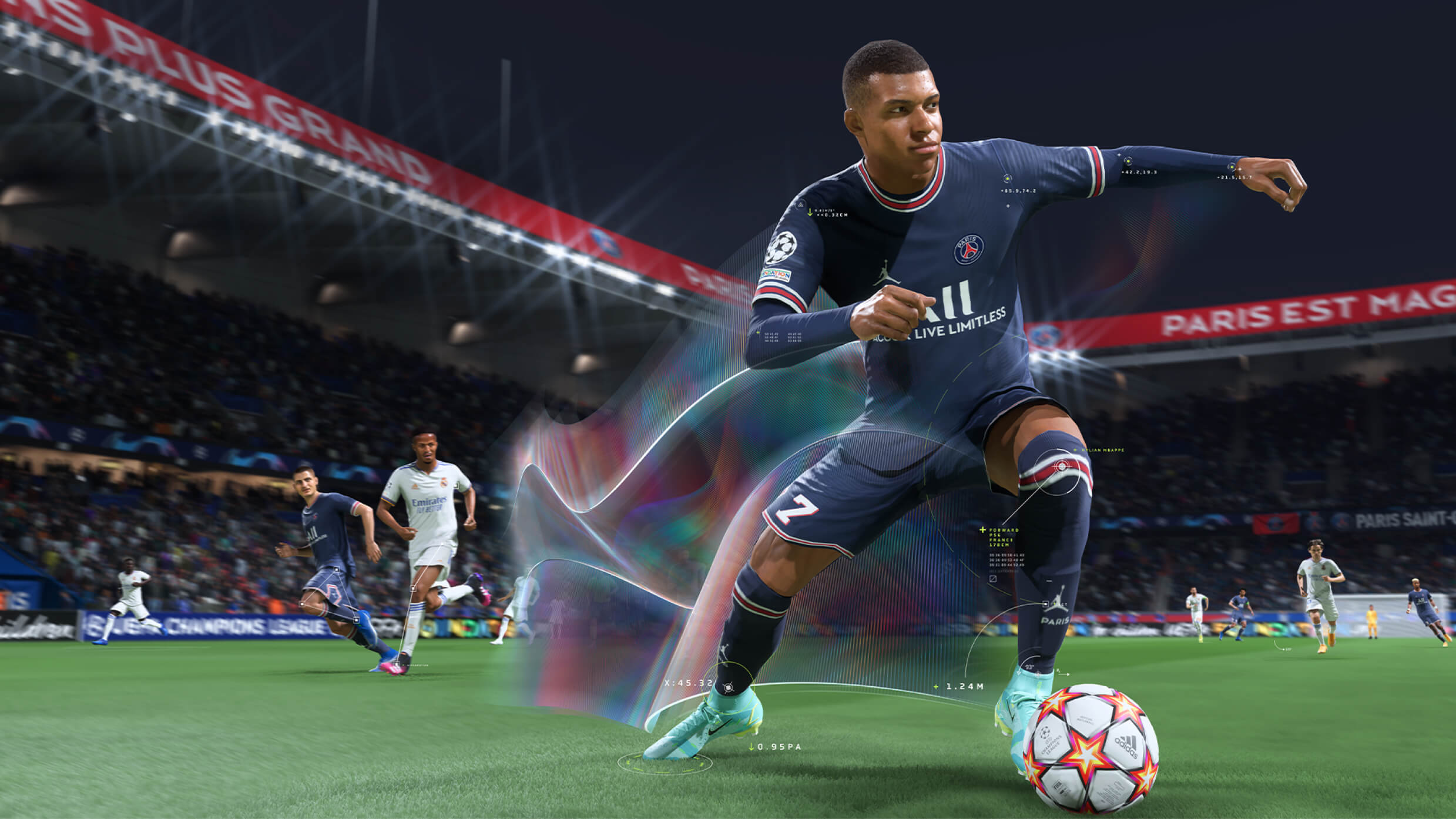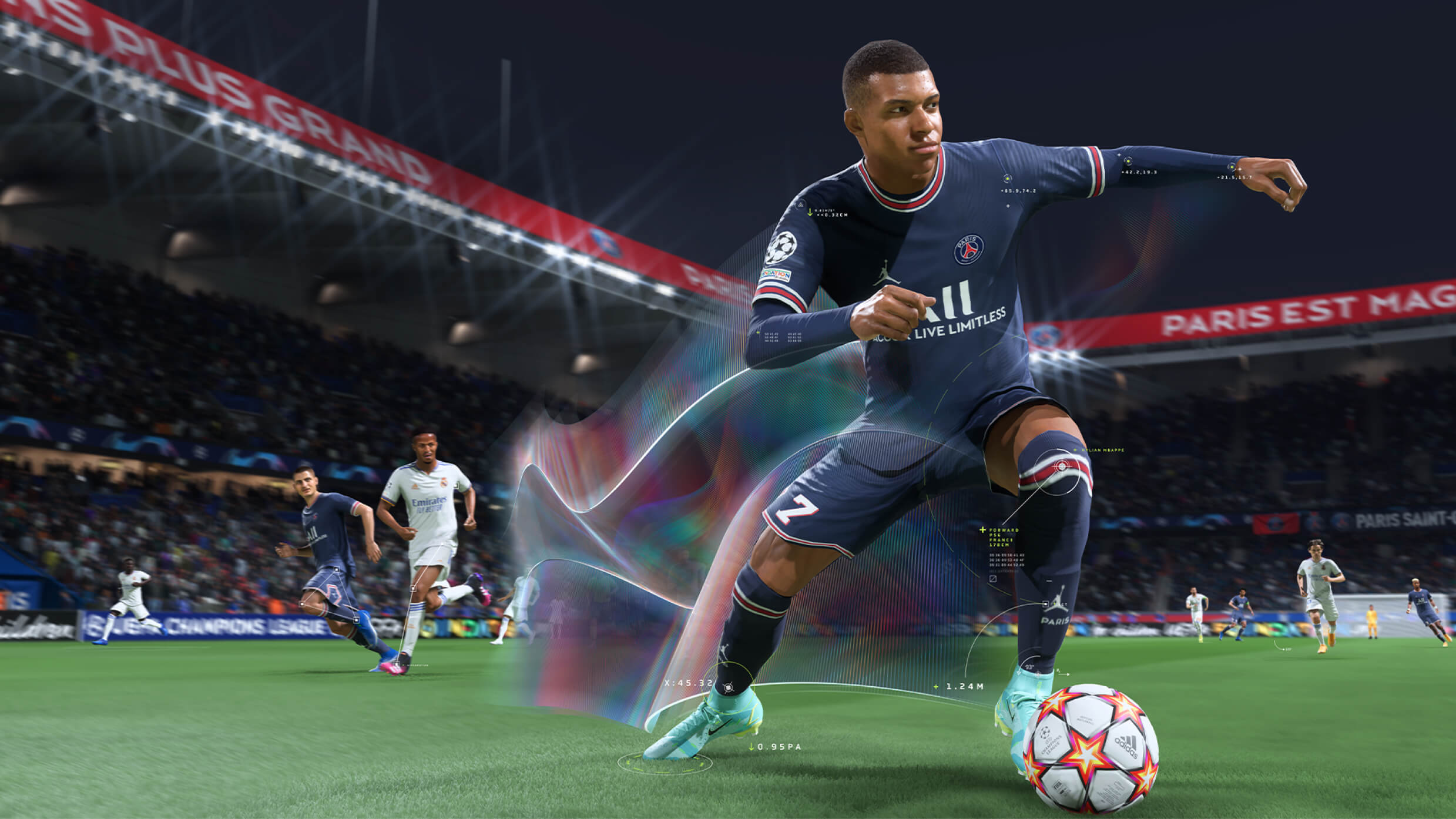 Moreover, you will be able to perform certain Skill Moves in first-time situations when the ball is coming towards your player. Just like above, some of these First Time Skill Moves had their effectiveness toned down like:
Certain moves cannot be performed the first time such as Step overs, Body Feints, and the Bridge/Directional Nutmeg.
Skill Moves in first-time situations will be harder to control than while dribbling, especially if the incoming ball velocity is high.
First time Skill Moves will not work from Driven Passes.
Although these have previously been revealed on social media, EA Sports confirmed that the following skill moves have been added in FIFA 22:
Four Touch Turn: Hold L2/LT + Flick RS Back + Flick RS Back
Skilled Bridge: Hold L2/LT + Double Tap R1/RB
First Time Spin: Hold L1/LB + R1/RB as the ball comes towards the player first time
Scoop Turn Fake: Hold LS in the opposite direction after doing a forward Scoop Turn
Four new Skill Moves confirmed in #FIFA22:

⚽️ Skill Bridge
⚽️ Four Touch Skill
⚽️ First Time Spin
⚽️ Scoop Turn Fake pic.twitter.com/GegV7iWyzr

— FIFA Infinity (@FIFA_Infinity) July 21, 2021
Teammate Contain Stamina

Teammate Contain has largely been an overlooked mechanic when it comes to defending. However, EA has focussed on it for FIFA 22. In the next FIFA title, every player has their own Contain Stamina that allows them to keep containing as long as it is not depleted. Once the containing teammate runs out of that stamina, they will go back to their regular instructions and enter a cool-down period for a few seconds during which you cannot use that particular player to help you out. This will prevent players from abusing the Teammate Contain features like in previous titles. The Contain Stamina is represented by a UI element above the teammate that is currently pressing.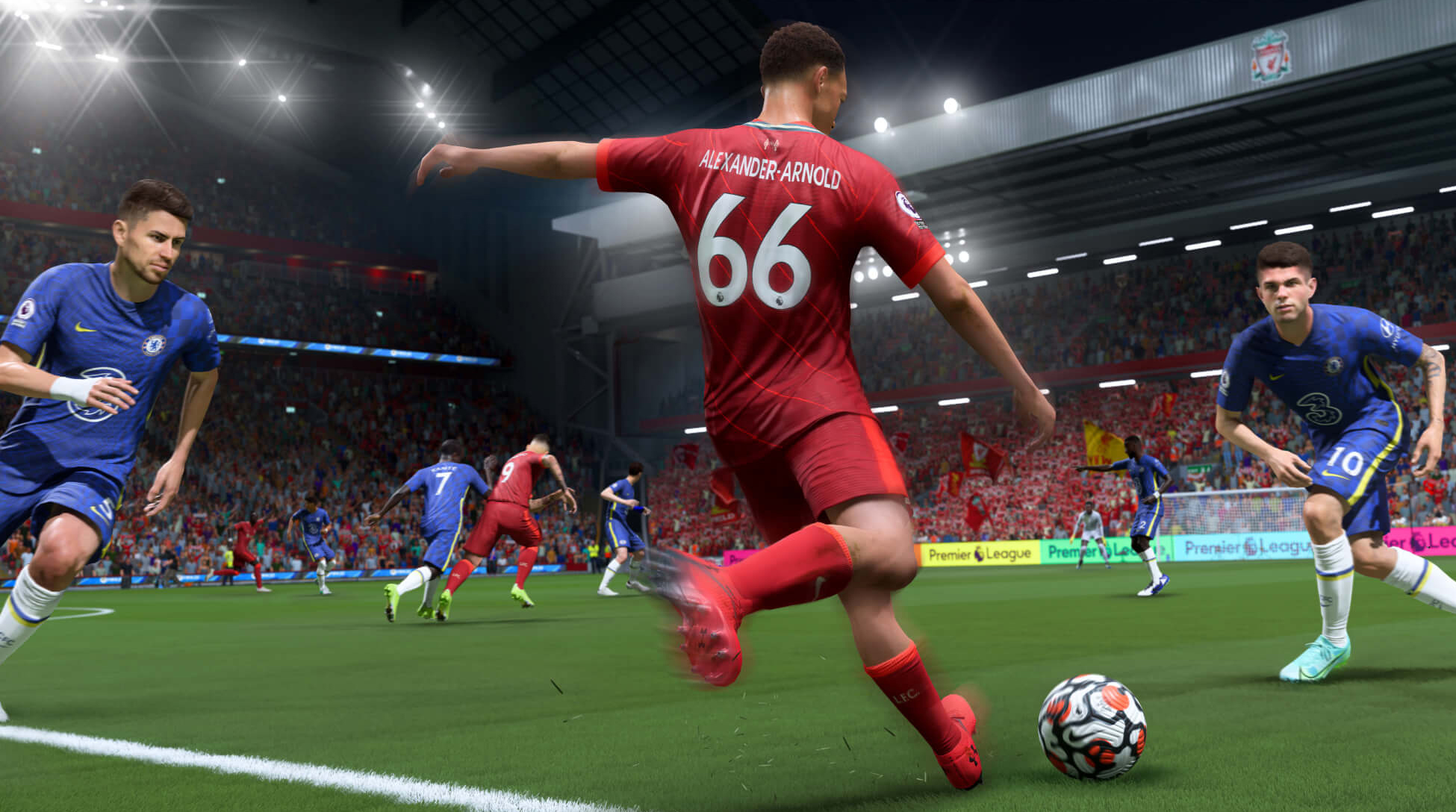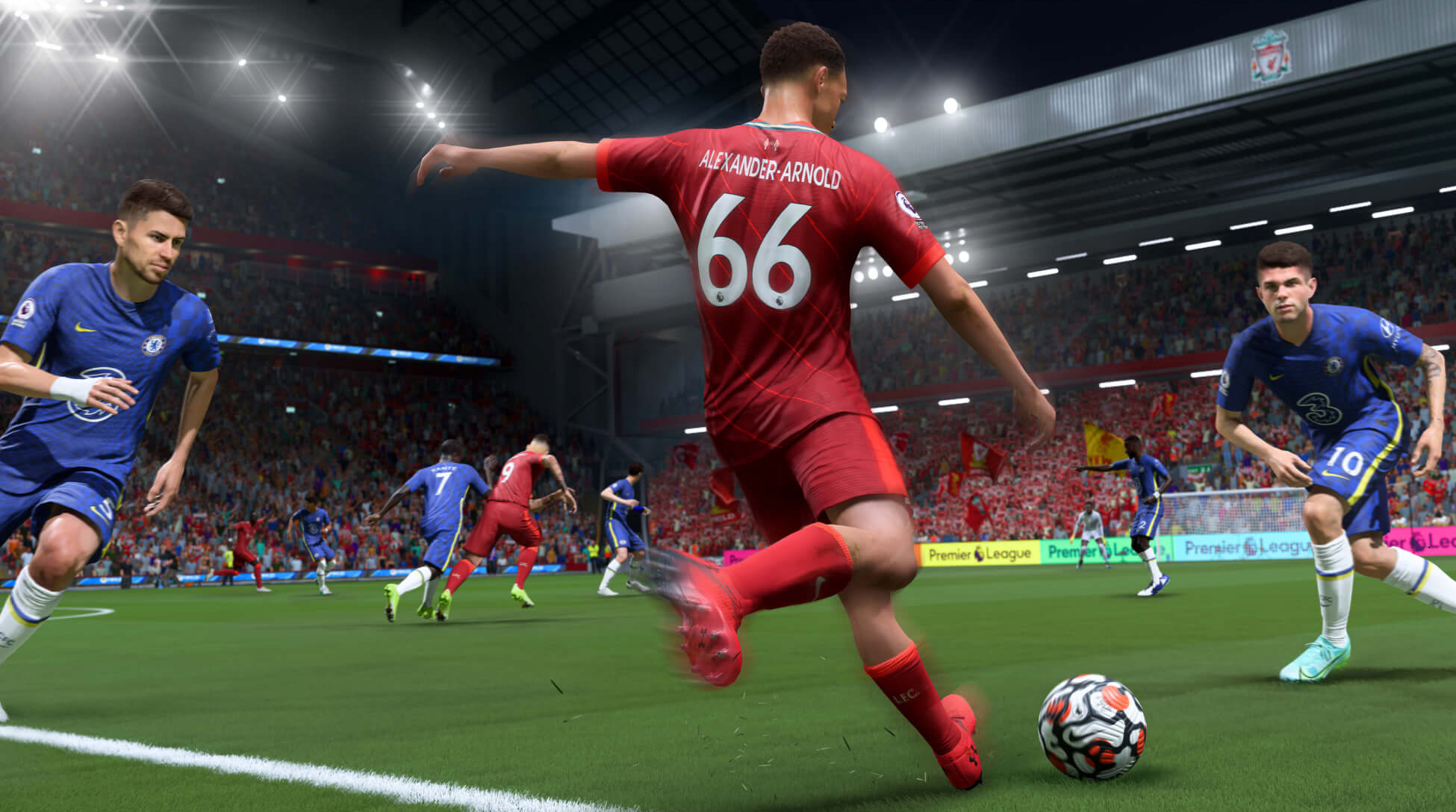 Icon Switching
A pretty tiny yet nifty feature has been implemented in FIFA 22. To quote EA, "This is a new form of switching that provides players with a surefire way to select their desired player. To activate Icon Switching, press R3 while defending and you will see UI elements above 4 of your players, each with a specific direction. After pressing R3, you can flick the right stick in the direction shown on the icon above the player's head, and the switch will happen." Players will have the option to turn it off from the settings.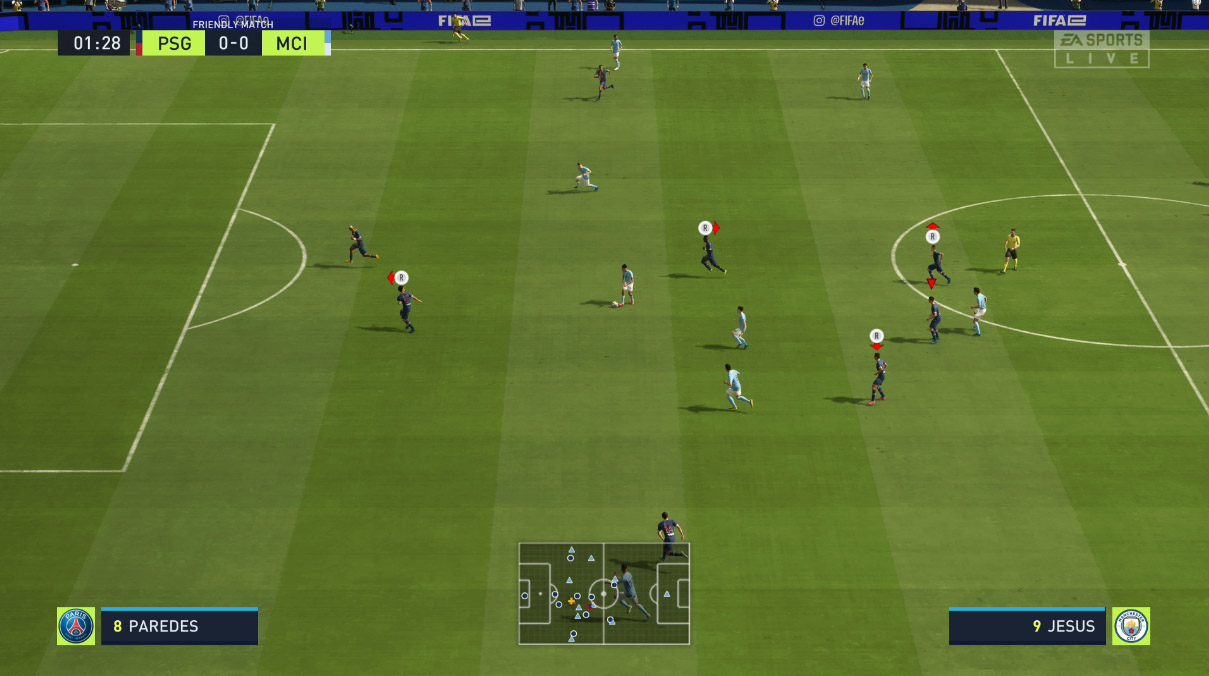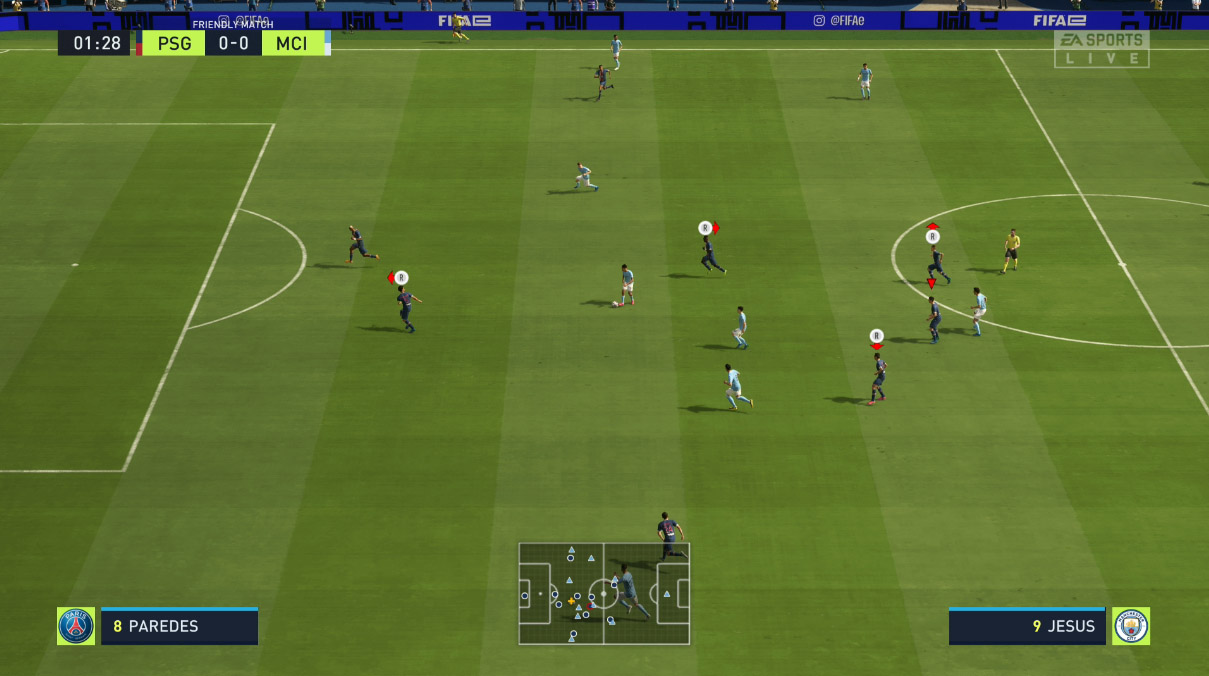 CPU AI
Player Based Difficulty is a new setting when playing against the CPU AI. The idea is that when you play against a team like PSG, Mbappé really stands out as being a more dangerous player, due to his attributes. Similarly, if the opposition team is starting a low rated player among a team of highly rated ones, they will be easier to tackle or dribble past.
Competitor Mode Tweaks
Competitor Mode was an experimental success if we're being kind. But the potential wasn't ignored as the system has been tweaked to be more organic. With a new sub-mechanic called Threat-Based Defending, the CPU better understands who the players they should mark are, which off-ball runs they should chase, and which dribblers they should close down.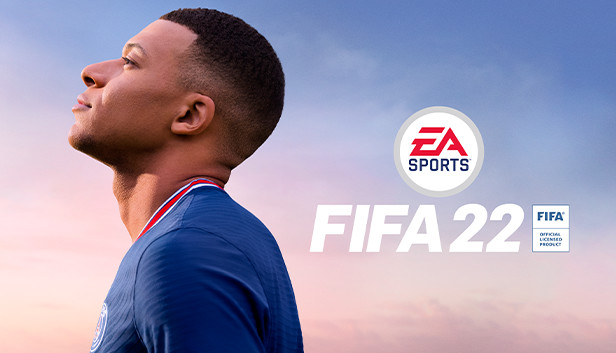 This creates an added challenge for players. Simultaneously, EA has also tuned the attacking moves with Space-Based Attacking. This allows the CPU AI to have a better understanding of spaces and when to perform dribbles and passes, including performing killer through balls or bending precise crosses in the box.
Physical Play & FIFA Attributes
Players often have the tendency to feel hollow and mechanical with battles not being satisfactory enough. This time, players have been given a new dimension with reworked player physicality with redefined strength, tackleback, passing and shooting physique and a fair stumble and fall system to offer a realistic error model while competing.
FIFA Attributes refers to Player Personality in particular. Introduced in FIFA 21, this system has been further developed. These Attributes are modified depending on each player's position:
Attackers (Forwards and Wingersa

Acceleration +8, Sprint Speed +8
Positioning +10, Finishing +8, Shot Power +8, Long Shots +6
Agility +8, Balance +4, Reactions +6, Ball Control +6, Dribbling +8
Midfielders (Central, Attacking, Wide)

Acceleration +8, Sprint Speed +8, Positioning +8
Vision +8, Short Passing +8, Long Passing +8
Agility +8, Balance +4, Reactions +6, Ball Control +6, Dribbling +8
Defenders and Defensive Midfielders

Acceleration +8, Sprint Speed +8, Aggression +6
Vision +4, Short Passing +4, Long Passing +4, Reactions +6
Interceptions +10, Defensive Awareness +10, Stand Tackle +10, Slide Tackle +10
Goalkeepers

Diving +8, Handling +6, GK Kicking +4, Reflexes +8, GK Positioning +6, Reactions +8
Player Personality
New Star Player Movements have been added for a few players when moving in certain conditions, such as Phil Foden when sprinting and Son Heung-min when Dribbling. Assigned Avatar running styles to over 50 players resulting in their movement being closer to real life, including Christian Pulisic, Erling Haaland, Theo Hernandez and many more. EA also added David Beckham's unique free-kick animations to replicate the iconic technique of David Beckham's free kicks.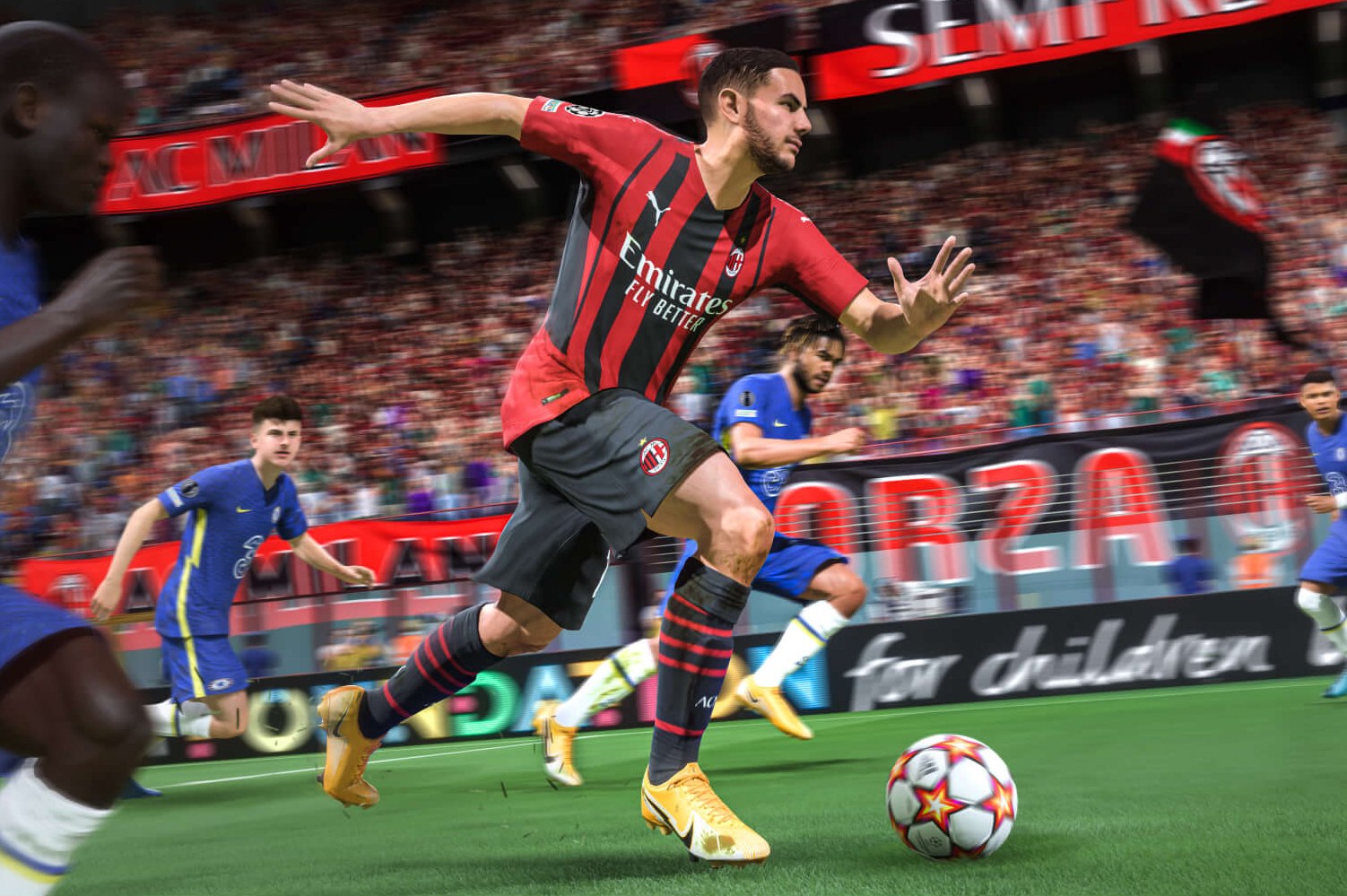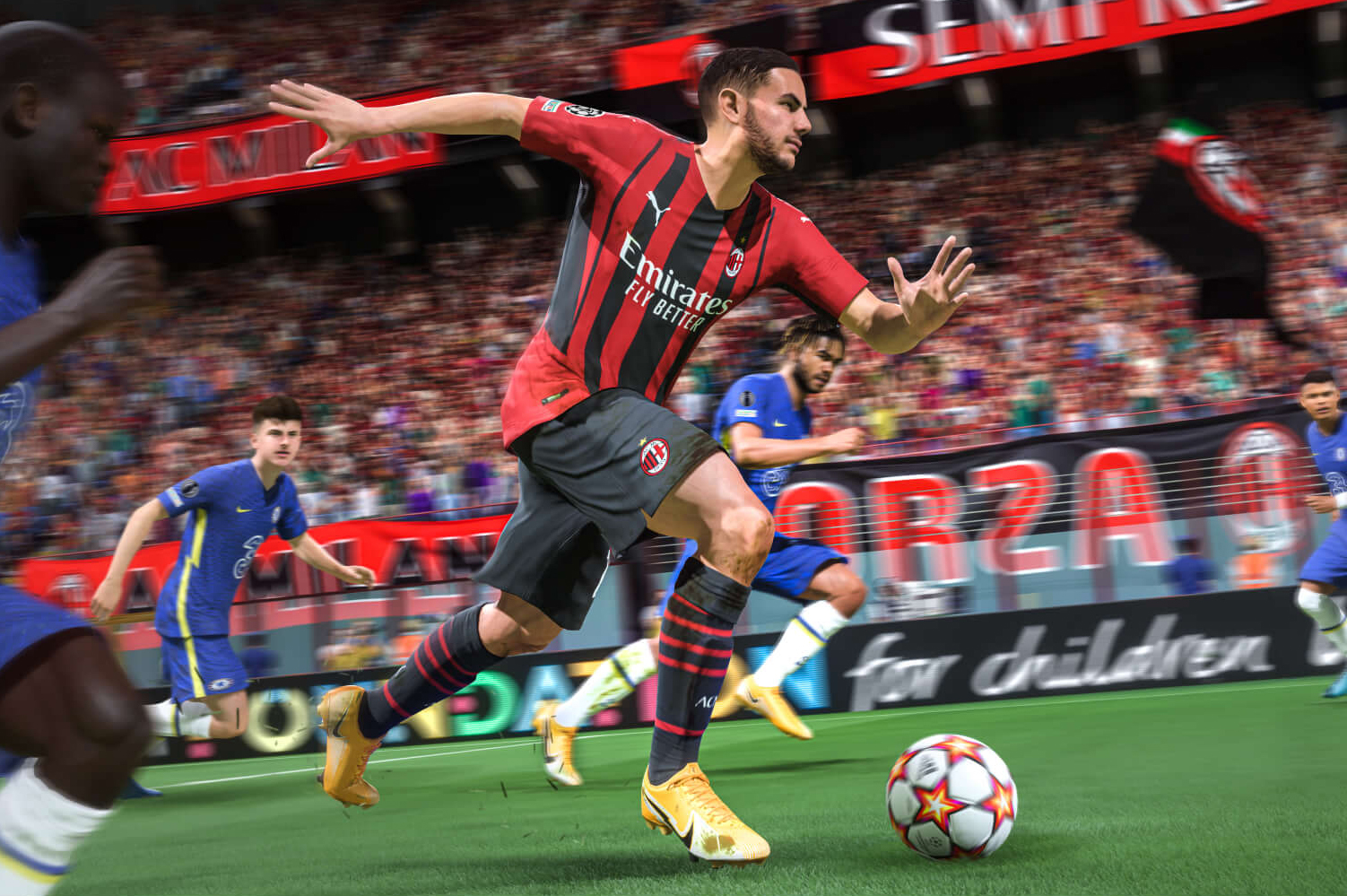 EA Sports was truly hard at work and also made a multitude of improvements to all gameplay aspects including Defending, Passing, Dribbling, Shooting, Set-pieces and other general aspects of the game such as Net Physics for Next-Gen, New Player Celebrations such as "Time Check", "Short Point" and "Tea for Two" and increased consistency and accuracy of Assisted Headers.
In addition, The EA devs are promising more gameplay changes are still to come tailored especially for FIFA modes such as Career Mode, Pro Clubs and Volta Football. Credit to Thomas Caleffi, Gabriel Zaro, Goran Popovic, and The FIFA Gameplay Dev Team for much of the information on this article. FIFA 22 is available to pre-order now for PS5, PS4, Xbox Series X|S, Xbox One and PC and it will hit the shelves on 1st October 2021.