Career Mode is simply one of the premier parts of EA Sports FIFA every year.
A long stretch of time in-game means you can easily get over hundreds of gameplay hours from a single career. Merge this with all the options you are able to make and you have got a riveting and gratifying game mode, but before you start thinking about transfer targets, scouting and winning trophies – you need to start somewhere, and that is choosing a team for your journey.
Choosing which team to manage is sometimes a difficult proposition. Do you begin with a 'super heavyweight club' and aim for immediate success and long-term domination? Do you start in a lower division or outside one of Europe's big five leagues to create a new world order?
Which team should you take over in Career Mode and guide to the top? Below are some of the best options.
1. Southampton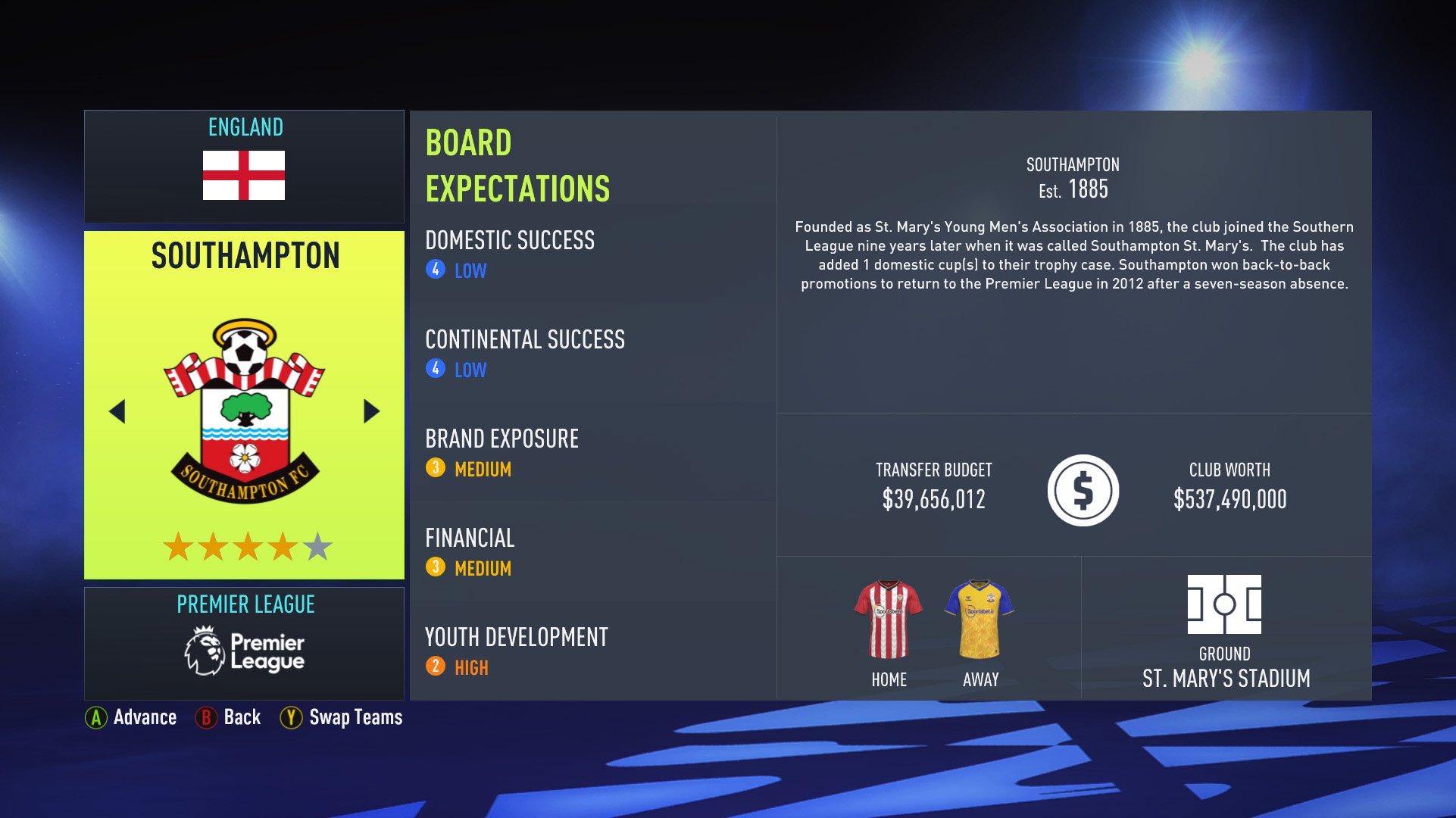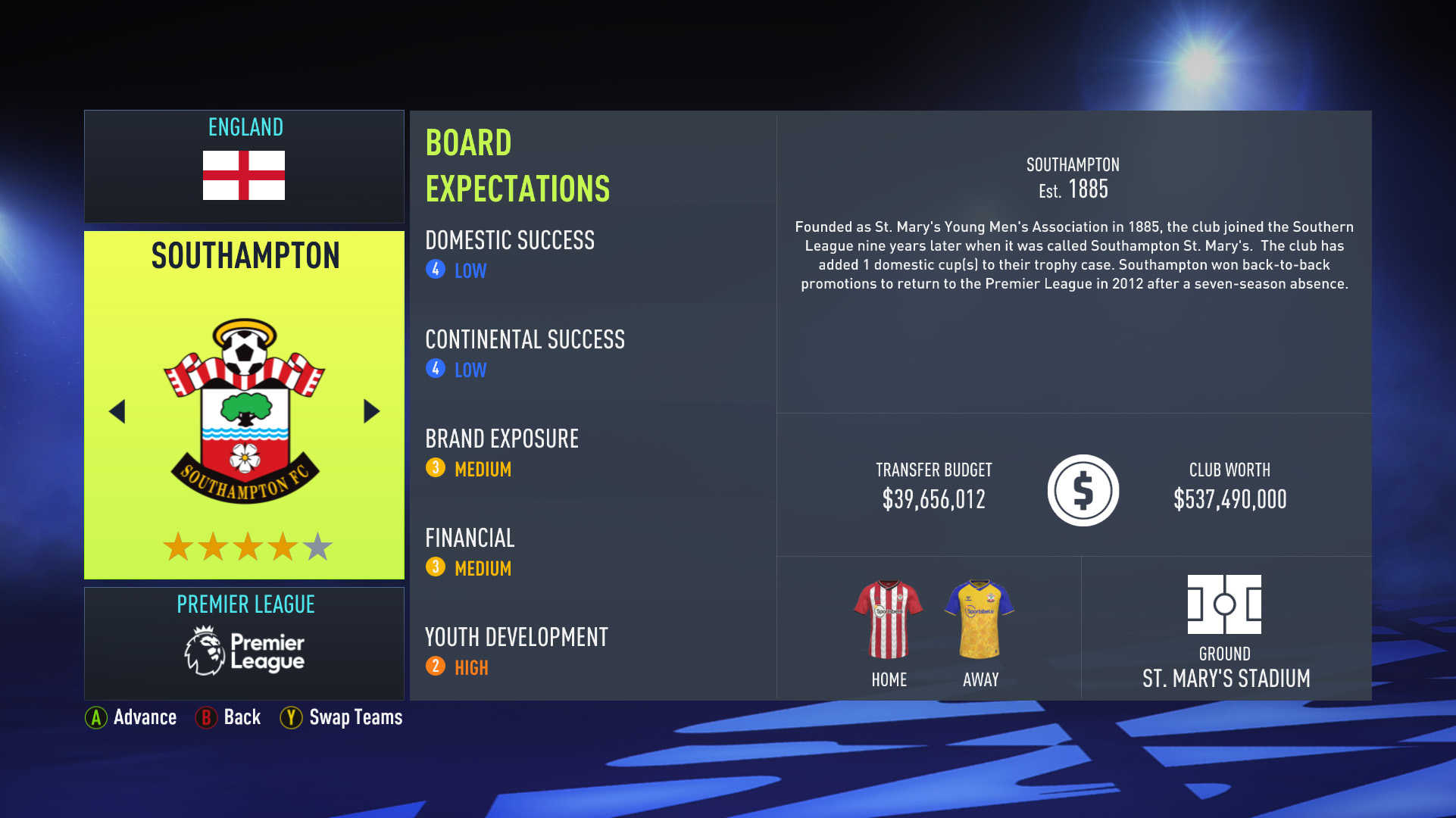 League: Premier League (England)

Club Rating: 4 stars
Budget: £32.5M
Average Squad Age: 24
Southampton are presently wobbling above the relegation zone in the Premier League, but their squad has adequate quality to be a lot higher in the table. As manager of Southampton in FIFA 22 Career Mode, you have the opportunity to decipher the potential of this Saints squad and be the light that proves that the sky is the limit! Now what makes Southampton one of the best options for Career Mode is that it ticks all the right boxes. Almost the entire squad has a head scan and we all know it's always enjoyable to play with players that have real in-game face as it immerses you more into the experience. Southampton's St. Mary Stadium is also authentically captured in-game allowing you to feel closer to the real roar of the crowd.
Mixture of talent and experience in the Southampton side is also a massive plus. It means you will have plenty of young options to choose from while slowly closing the gap on the aging members of the team. It is safe to say "in youth we trust" is the motto of Southampton as it prides itself in developing its own talents but also nurturing the talents of other young players from other teams. This explains Southampton's relatively young squad in FIFA 22 with the whole team averaging the age of 24.6 y.o.
To this day, The Saints have only won one top tier trophy, FA Cup back in 1976. The team is in need of "Mr. Saint" to bring them all the glory.
2. AC Milan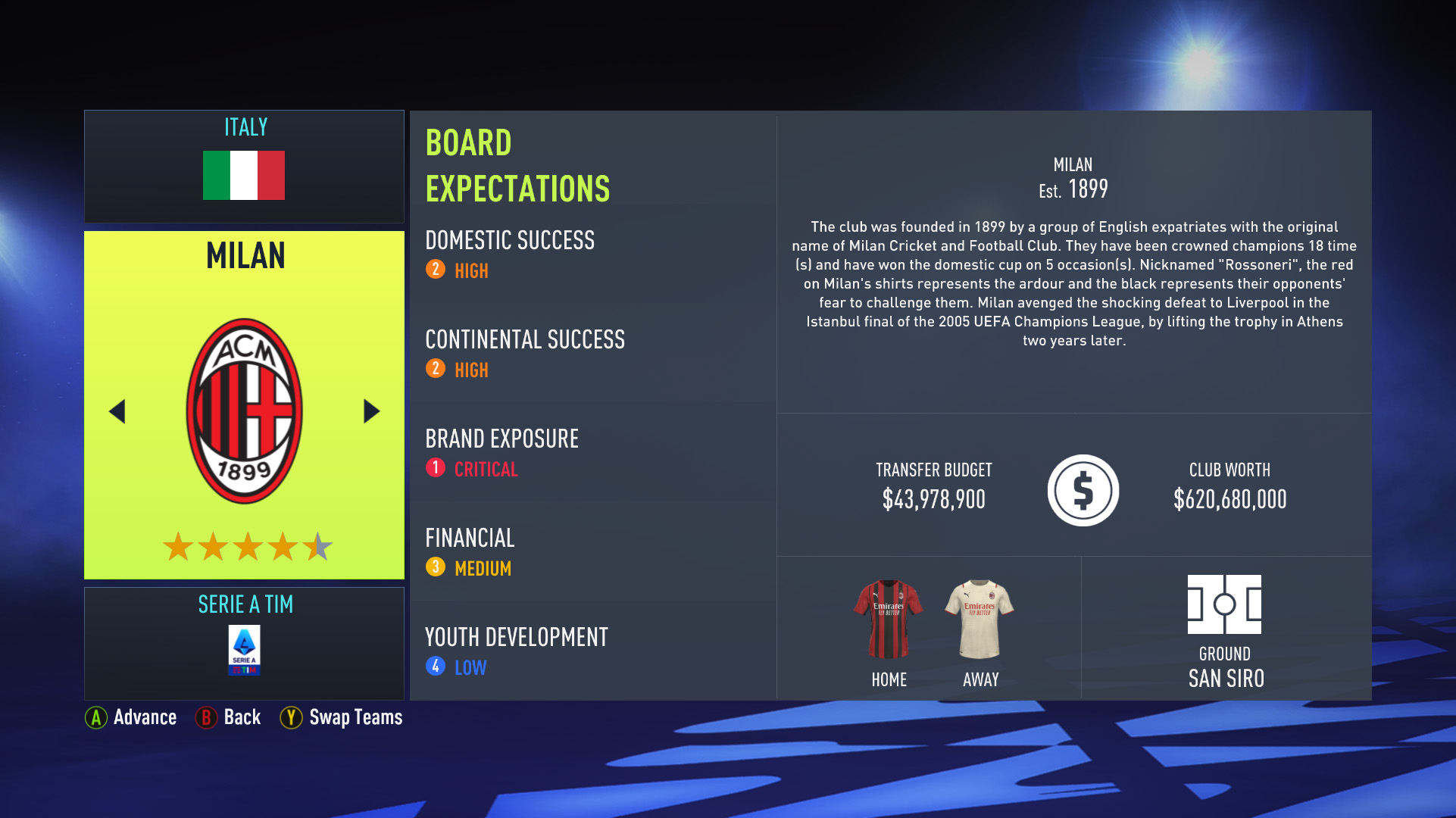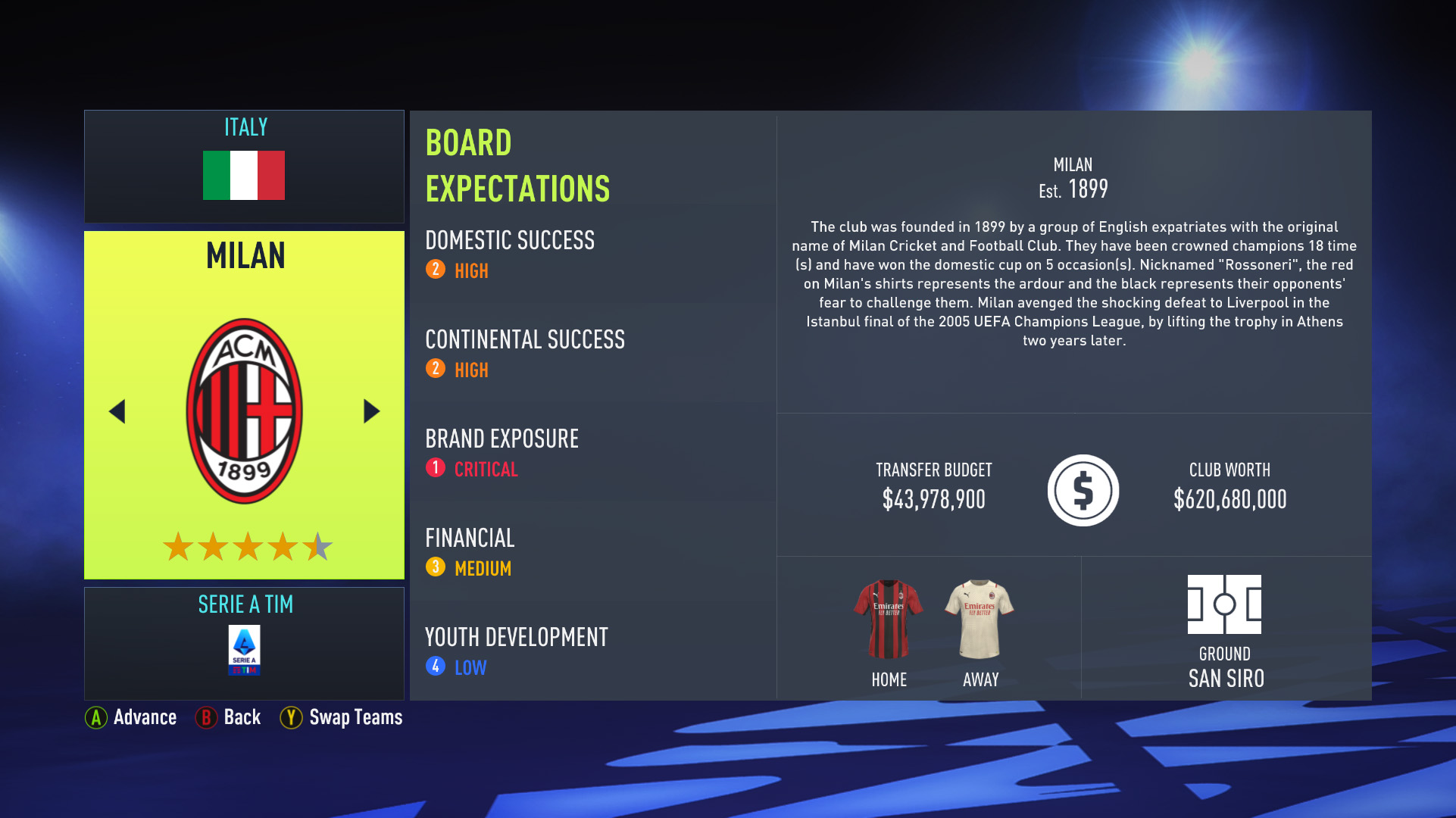 League: Serie A (Italy)

Club Rating: 4.5 stars
Budget : £37M
Average Squad Age: 25
The last 10 years were extremely harsh for AC Milan and their fans. The club has gone through immense slump of form, which has seen their prestige as one of the elite clubs in Europe dispersed with Europa League spots being the uttermost that Rossoneri could count on in the last several seasons.
Milan were the perfect fallen giant story for a lengthy time on FIFA and offered the ideal getaway into another European league where competition is still heightened and amusing. However, it is a bit overplayed these days and the Rossoneri are actually on the up again, but there is still plenty of work to be done. Get in there, clear them out, maybe impose some spending rules or homegrown policies and bring AC Milan back to its former glory.
With the amount of talent and experience in the AC Milan side, it shouldn't be long until you dethrone the mighty Juventus and Inter Milan from the top.
3. Red Bull Salzburg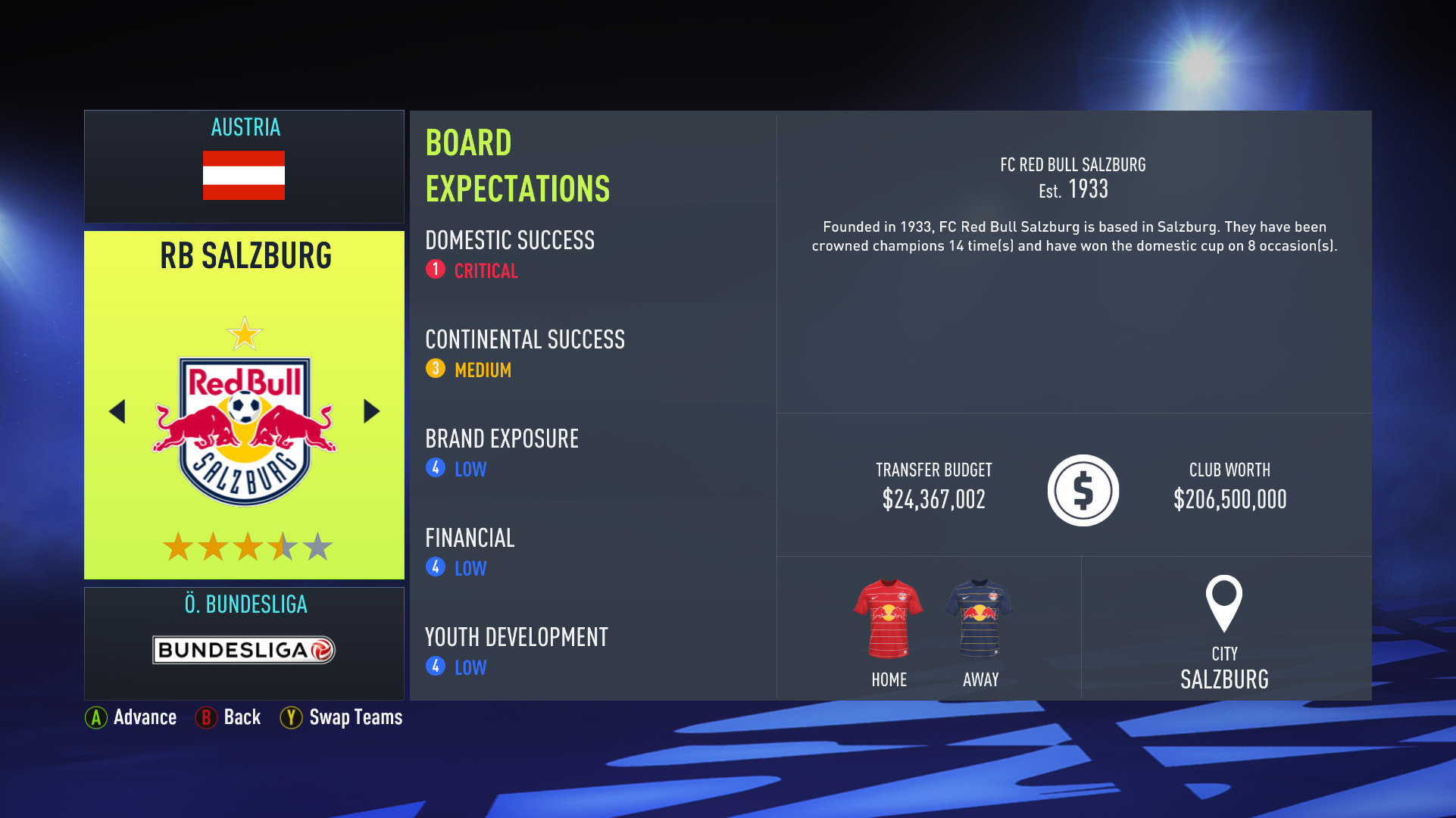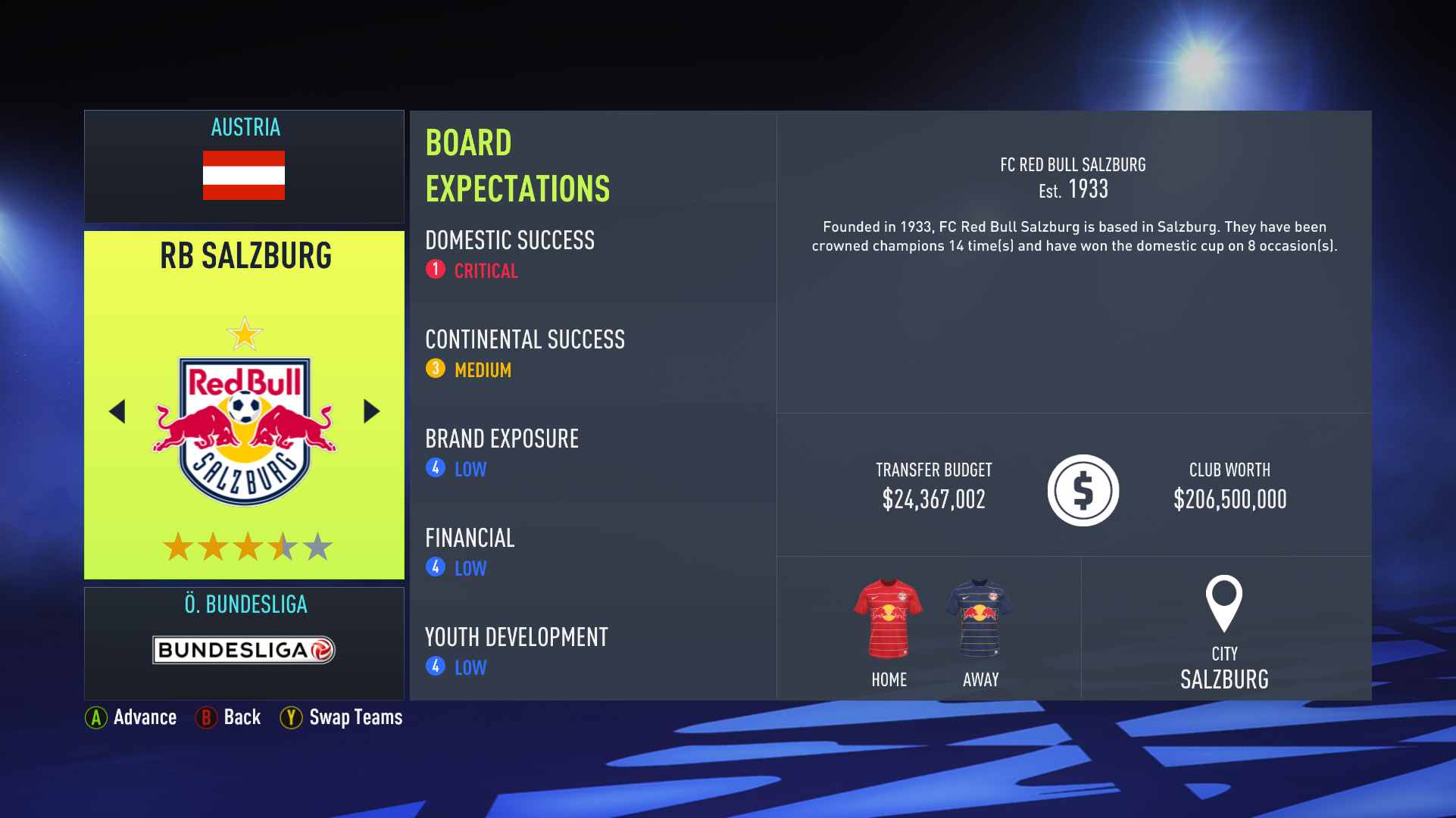 League: Bundesliga (Austria)
Club Rating: 3.5 stars
Transfer budget: £20.5M
Average Squad Age: 22
Starting a Career Mode save outside the top 5 Leagues in Europe is an overlooked option sometimes. If you are looking to do something unique and fresh, RB Salzburg from the Austrian Bundesliga is a great project featuring many unpopular gems for a potential save. While RB Leipzig is now a familiar name throughout Europe, Salzburg currently serves as a feeder club. However, with the opportunity to get into the Champions League, there is absolutely no reason why they can't become the main club in the Red Bull football franchise.
The club's array of young talent is particularly evident, with Oumar Solet, Mohammed Camara and Austrian wonderkid Nicolas Seiwald. Morever a duo of exciting young strikers are part of the team with Karim Adeyemi and Benjamin Sesko available as forward options.
RB Salzburg arguably boast some of the best young players in FIFA 22 and under your direction it won't be long until they are dictating European football. However, to make it intriguing and challenging, strictly accept all transfer offers you receive from other Red Bull football teams present in-game. In other words, let Red Bull teams cooperate just like in real life.
How will you win the first UEFA Champions League trophy for the Red Bull franchise? Do you decide to sign older more experienced players or try to continue investing in youth and try for long-term success?
4. Saint-Etienne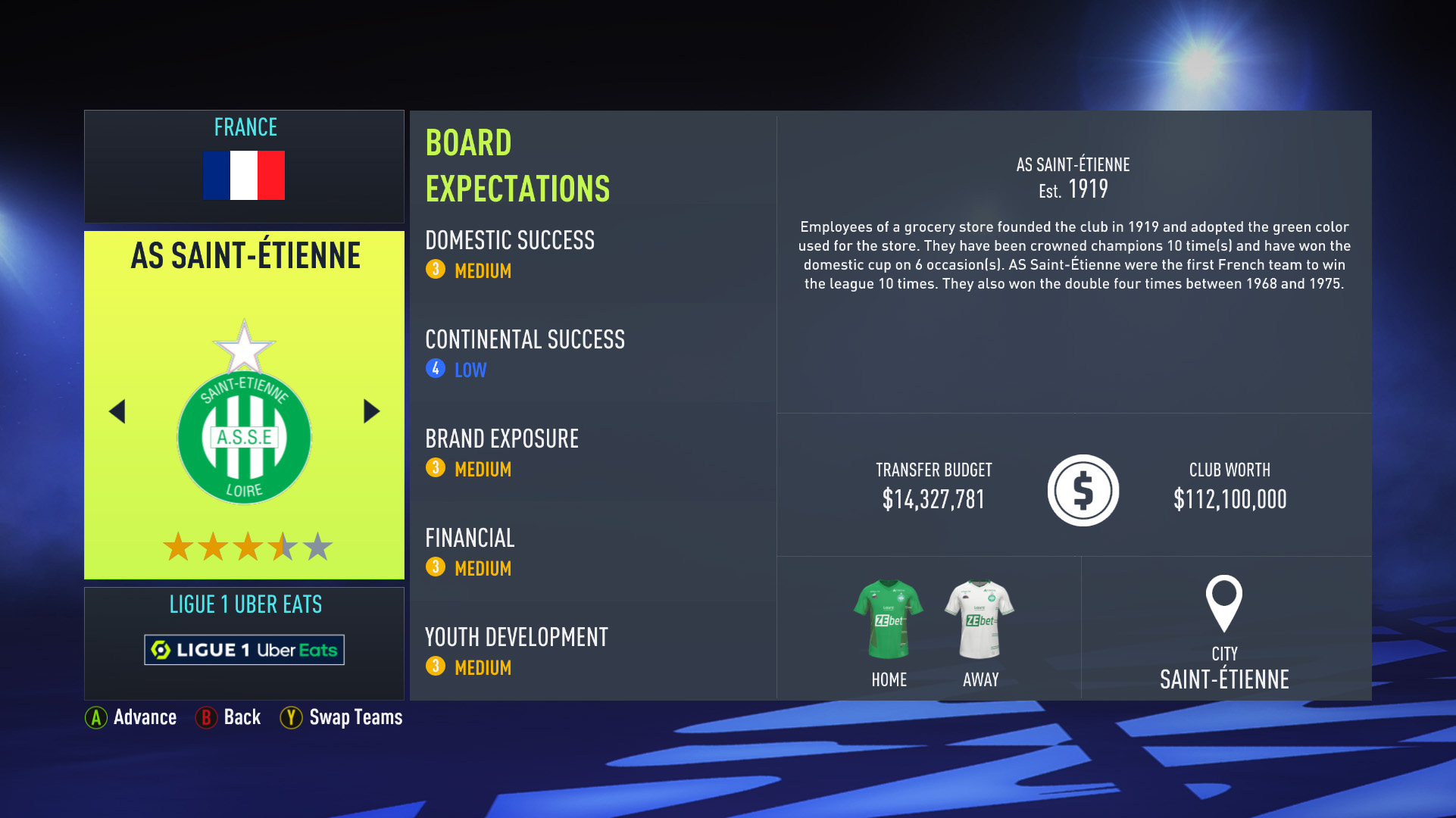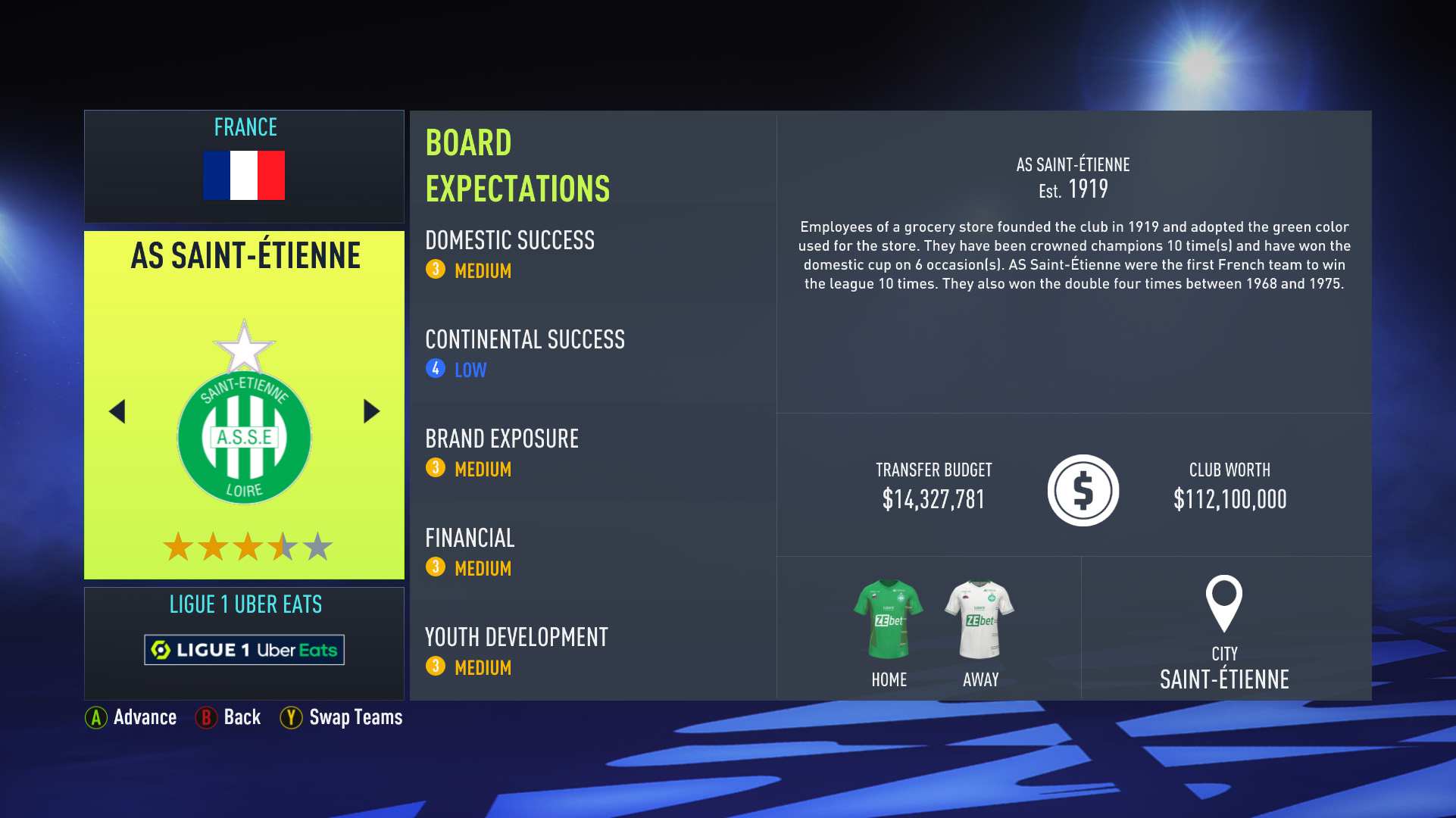 League: Ligue 1 (France)
Club Rating: 3.5 stars
Transfer budget: £12M
Average Squad Age: 23
Saint-Etienne, no not the music band of the same name that pops up on Google when searching, I'm talking about the French football side that was prominent in the 1960's and 70's and by 1981 they had won 10 titles in 25 years, including a run of six titles in nine years during a remarkable run of success. Somehow though, they haven't won a single top flight title ever since and their local rivals Lyon have eclipsed them in popularity regardless of only winning their first league title in 2002 and are now closing in on Saint-Etienne's joint-record of 10 titles.
For this challenge, re-assert Saint-Etienne's dominance of French football and prevent the club from losing its title record in the midst of Paris Saint-Germain's spending power who are currently on 9 league titles.
It is, however, important to note that Saint-Etienne aren't presently built for success. Their top players are all rated under 77 overall and aged 27 or older, such as Wahbi Khazri, Eliaquim Mangala, Timothée Kolodziejczak and Ryad Boudebouz. They have a small budget of £12M which leaves less room to add world class players to the squad. You will have to work with what you have, luckily the squad boasts a number of promising talents with the likes of Paul Bernardoni, Adil Aouchiche, Lucas Gourna, Etienne Green and Saïdou Sow all rated over 70 and with the potential of over 80.
Think you can build a new Saint-Etienne dynasty that is strong enough to take on your rivals Lyon and the mighty PSG? Also try to make history along the way by winning their first European title.
5. Hertha Berlin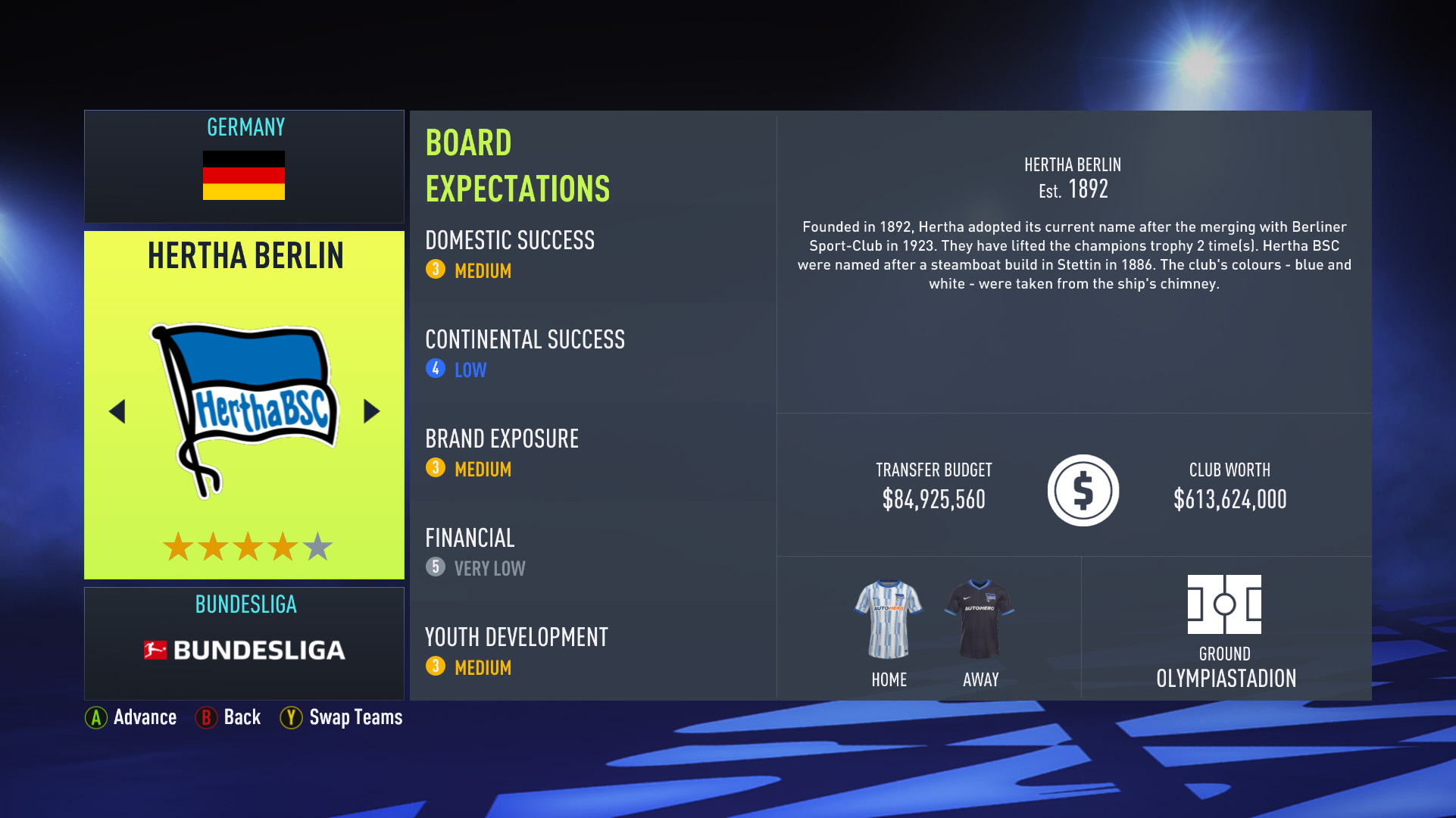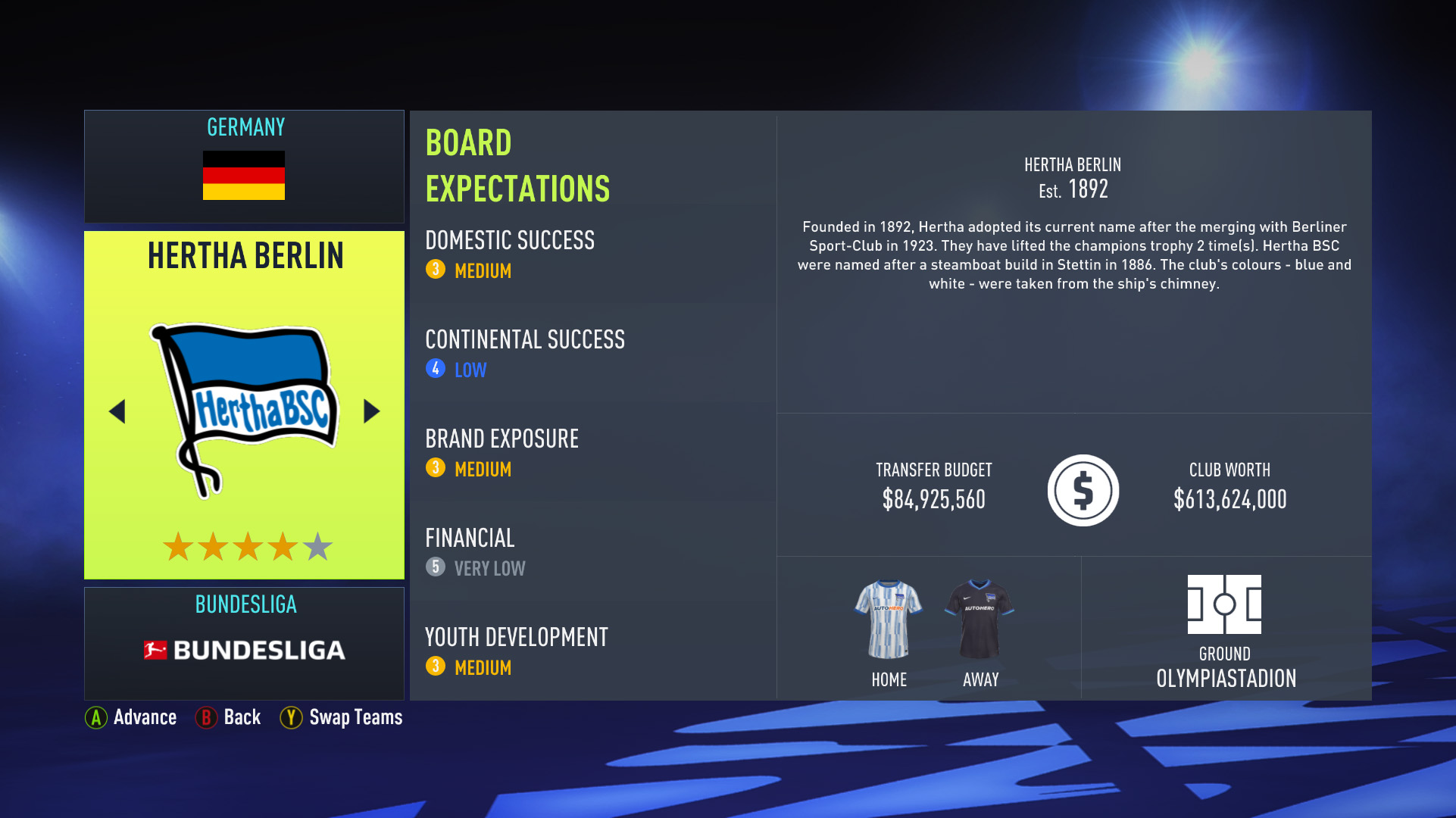 League: Bundesliga (Germany)
Club Rating: 4 stars
Budget: £60M
Average Squad Age: 27
The German capital has been starving for football success for a long time. Hertha have not won the German top flight since 1931 and have never won the DFB-Pokal (German Domestic Cup) or any European titles meaning there is still so much to do with the club who finished 14th in the previous Bundesliga season. Their authentic stadium is in the game, their budget is good enough to fill the gaps and you have more than enough to build around; Lucas Tousart, Suat Serdar, Dodi Lukébakio, Arne Meier, Omar Alderete, Jurgen Ekkelenkamp, Márton Dárdai and Jordan Torunarigha all have potentials over 80. You should be able to shape Hertha Berlin into a club that Germany's capital can be proud of.
Hertha Berlin is not a heavyweight name like Borussia Dortmund or Bayern Munich, however over the past few years, they have gradually expanded their power in all areas including finances and their squad. They have potential to be one of the top contenders for the Bundesliga Championship and a strong possibility for European success in competitions such as UEFA Conference and Europa League in the future. They do however need a huge push to beat Bayern Munich to the title and that's where you come in. Be the influence that dethrones the force that is Bayern Munich and reward the capital city of Germany with the taste of glory they have been craving for the last 91 years and cement your place in their history books by winning their first DFB-Pokal, UEFA Europa League and UEFA Champions League trophies.
With plenty of authentic teams to choose from, including ability to create your own club, FIFA 22 offers more ways to play Career Mode than ever before. FIFA 22 is now available globally and you can play it on PC, Xbox One, Xbox Series X|S, PS4 and PS5.