Once the flagship of FIFA, days are gone when Career Mode was the pinnacle of EA SPORTS FIFA, thanks to Electronic Arts' new favourite child, Ultimate Team. While Ultimate Team earns abundance of love and attention each year, Career Mode has not changed significantly in modern times. In fact, Career Mode displayed much promise in the Playstation 2 era than it did in Playstation 3 and Playstation 4/Xbox One which is deplorable given the power of the latter consoles.
In a technological world where the future looks brighter than the past, FIFA Career Mode has experienced quite the opposite. The Mode has over the years, saw minor features added while a remarkable amount of high impact features removed. Hence, begging the question, "will Career Mode ever live up to the potential it originally showed?".
Today, we take a look at 10 Removed Career Mode Features, we would like to see return in FIFA 22, If EA won't add, the least they can do is bring back right?
1. Create a Club
Few may remember, back in FIFA 09, 10 and 11 just to name a few, it was possible to Create a Club in FIFA that could be used in both Career Mode and kick off. Create a Club enabled you to create and customise your own club from top to bottom, club crest, kits and stadium not to forget to mention club name and abbreviation. It also allowed you to assign your own preferred club budget and place your custom team in a country and competition of your own choice, e.g. English Premier League, Spanish La Liga or lower tier divisions such as EFL Championship and La Liga 2. Moreover, fans could choose real players like Ronaldinho and Kaka at the time or create their own custom players to add in their own team roster.
The Create a Club feature provided fans with the ability to create distinctive content and in so doing unleash their creativity and hit the pitch in spectacular fashion. Imagine Your own Club, Own Style and Look in FIFA 22 Career Mode, possibilities will be endless!
#TBThursday #18:

Only few may remember or know but it was possible to Create a Club in FIFA that could be used in Career Mode and even kick off:

– Create Club Crest
– Create Kits
– Assign your preferred starting budget
– Add real or created players to make the Team's Squad pic.twitter.com/5eBNYIJJBm

— Career Mode Insider | Johan Morer (@CareerModeInsid) July 2, 2020
2. Staff
Staff upgrades referred to backroom members of the club who kept everything running from behind the scenes. Bigger and richer clubs started with better staff and eligibility to hire more staff given their huge budgets compared to smaller clubs, which is of course realistic. Staff Upgrades consisted of 8 members. Each one divided into 10 levels of advancement:
Striker Coach – upgraded Strikers' factors, e.g kept eye on Strikers condition and finishing
Midfielder Coach – upgraded midfielders' factors e.g passing
Defence Coach – upgraded defenders' factors e.g defensive awareness
Goalkeeper Coach – upgraded goalkeepers' factors e.g GK positioning
Negotiator – this upgrade allowed you to buy players for less money;
Scout – gave more information about players from other clubs and increased scouting efficiency;
Medical Staff – advanced players' regeneration after an ordinary tiredness and serious injuries;
Stadium Manager – the most expensive upgrade. Increased number of seats on the stadium, resulting in a bigger ticket income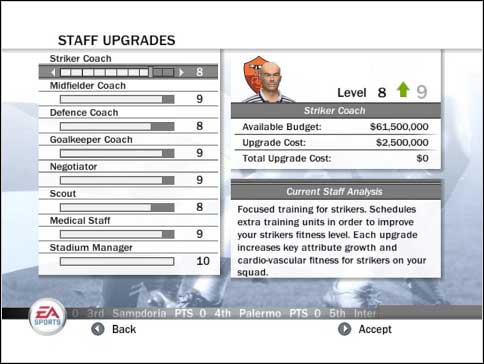 3. Sponsorships
The third feature that we would like to see return in the next iteration of FIFA is a feature that was removed over 11 years ago! In FIFA 10, after choosing your management club, you were offered a range of sponsors that would give you a cash instream during the season. Sponsorships were, however, generic and not branded on club kits. This is understandable considering license implications this would bring. The sponsorship contract entailed the following:
Funding Per Game – cash paid for each match;
Loyalty Bonus – extra money if you sign a contract with the same sponsor in the next season;
League Bonus – money given for winning the league cup;
Domestic Cup Bonus – reward for winning the domestic cup;
Int. Cup Bonus – extra money paid for winning tournaments like Champions League or UEFA Cup;
Extra Bonus – reward for special achievements (clean sheets or, as you can see in the picture below, winning 5 leagues in a row).
4. Request Funds
Fourth on the list is arguably one of the best & well implemented Career Mode Features. It was also the only way to interact with the Board. Request funds enabled you to receive extra funds from the board during the season for that supplemental transfer or lengthen the contract of that crucial player, when your budget was running low. However, there was a twist, you needed to promise the board that you are going to achieve certain objectives. The board would thereafter, agree or disagree depending on a number of factors, e.g. Are the funds requested obtainable? or are your promises attainable? et cetera.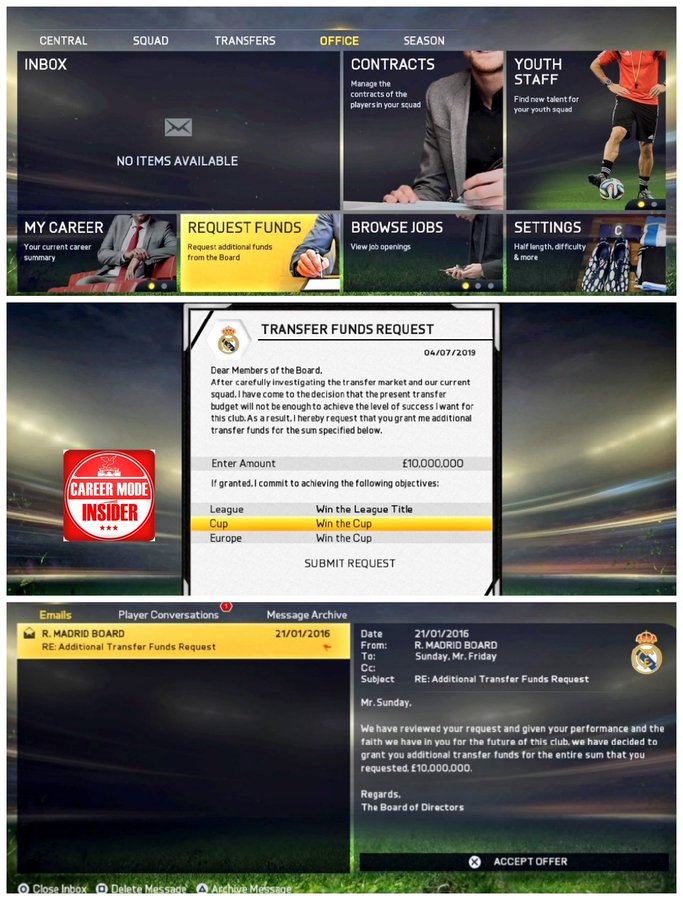 5. Player Storylines
Player complaints and interaction in FIFA21 have little to no impact on the club whatsoever and every problem can be solved with just one solution, "ignore". This wasn't the case in FIFA15 Career Mode, I remember my best defender Aymeric Laporte became Homesick at Real Madrid, I tried everything to convince him to stay but he refused, the media went abuzz over the situation, eventually it started to affect the dressing room and ultimately the board intervened by forcing a sale. The following season I tried everything to bring him back to the club but he refused because he hasn't forgotten the history between us.
Other Storylines included players being Unsettled, older players considering retirement throughout the season and deciding if they'll retire or not at the end of the season. Players would sometimes miss training or refuse to sign autographs for fans. Therefore, creating a clumsy dressing room.
#TBThursday #14:

Throw back to when it was DAMN HARD to keep hold of players because they were "Homesick" "Unsettled" etc

I would like them back in Career Mode but some need to be well implemented: "Neymar from 🇧🇷 is sick of the weather in 🇪🇸 yet moves to another club in 🇪🇸" 😅 pic.twitter.com/gbDYiFRVED

— Career Mode Insider | Johan Morer (@CareerModeInsid) April 16, 2020
6. Practice Mode
The last few years has seen Career Mode receive significant attention to player growth with most emphasis on player training. However, lacking in this area is still full squad practice, a feature that was last seen in Manager Mode on PS2. Practice Mode enabled you to schedule up to 3 days per week, training with your entire team according to varied scenarios, e.g. 11v11, 10v5.
Therefore, allowing you to experiment with different tactics, formations and instructions before Match Day. But, you had to watch out for player fatigue and injuries during practice sessions. Although no longer part of Manager Mode, Practice Mode continued to part of FIFA until it was ultimately removed in FIFA15.
7. Job Security and Fan Support
Managing football clubs is a cruel business. The scrutiny is intense and the repercussions are usually dire. FIFA 09 Manager Mode replicated exactly that with Job Security and Fan Appreciation. Job Security referred to how the Board rated your position at the Club. It increased or decreased depending on your performance at the Club. Perform below expectations, the Board showed you the door.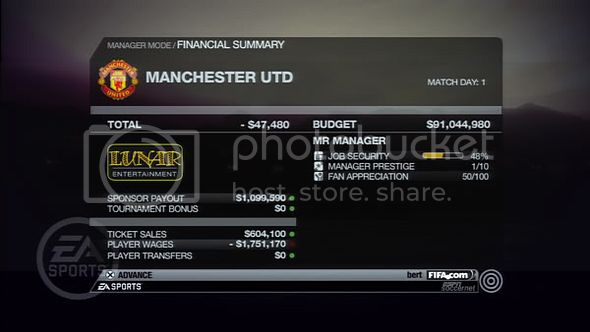 Fan Support on the other hand was about how your Club was faring in the eyes of the supporters. Higher fan support allowed you to increase ticket prices (You could manually increase or decrease ticket prices) and still maintain good levels of attendance, when Fan support was low, you may need to decrease ticket prices to attract fans back to the stadium. The higher the attendance, the higher the income, the lower the attendance, the lower the income.
8. Team Chemistry
Solely having good players at the club shouldn't be enough to cement your team as one of the best on the pitch. Teams that have a chance to come together as one and move, act, think, block as a unit are almost always most successful. This phenomenon was known as Team Chemistry back in FIFA 07. The Team chemistry icon in Manager Mode indicated how well your team worked together. High Team Chemistry allowed your team to start a match with some momentum that can be used to overcome a lack of individual player skill. Low Team chemistry on the hand meant that players didn't exactly know their roles on the pitch and they needed more time to, among other things, move from defence to attack.
9. Manager Prestige
Manager Prestige in Manager Mode related to reputation arising from your success, achievements, rank, or other favourable attributes during career mode progress. Manager Prestige influenced offers, transfer talks, board confidence and transfer budget. High Manager prestige meant you could attract better job and sponsorship offers. Low Manager Prestige caused reputed players to be more likely not to join your club among other things.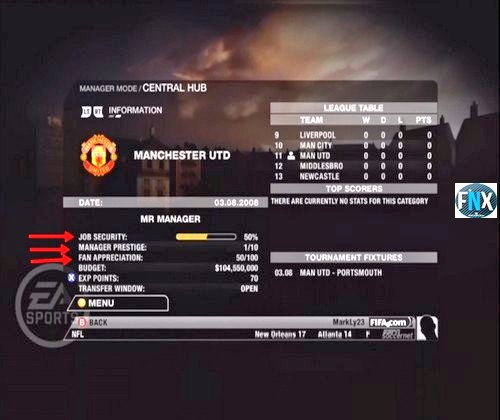 10. Trophy Room
Awards can make us feel proud, overwhelmed, and delighted. They give us validation and boost our confidence. And what better way at the end of an illustrious career, you could just sit back and showcase all your achievements from over the years. Trophy Room in Manager Mode did exactly that for you, it recorded and displayed all the trophies you won in your career. From Pre-season, league cup, league trophy all the way to Champions League trophy. Seeing trophies accumulated gave you feel good sense of further achievement.
The volume of features removed from Career Mode over the years is astounding and it remains questionable as they represented a plethora of factors influencing football in reality. In FIFA22, we hope EA SPORTS can look back at some of the best features that made Career Mode stand out in the past and incorporate them back into Career Mode. An effort that can once again bring Glory days to EA's neglected child.