You may think we are kidding but we're certainly not. EURO 2020 is here and it makes an appearance in FIFA 21 as well. However, it comes with a twist. This year, The EURO 2020 license has been awarded to Konami and the entire tournament features only in PES 2021. Despite the lack of an official license, the FIFA community can rejoice as they can also play the EURO 2020 tournament, and a few more, thanks to the magic of PC modding.
Here are a few of our choicest mod selections that you can download for FIFA 21:
Created by Nonoloko specially for the international tournaments, this mod is probably the most immersive mod on offer for FIFA 21 currently. Not only do you get the Euro 2020 tournament, you also get the Road to EURO 2020 mode, Road to Qatar 2020 (2022) and the Copa America 2021.
The EURO 2020 mod is very comprehensive with all teams included in the mod, along with their official squads and the real-life kits for each team. You also get the official match ball of the tournament and the official scoreboard. However, the most eye-catching feature might just be that almost every player has an accurate or at least a realistic looking player face, including the managers as well!
Installing the mod is very simple and also very quick. Make sure you have installed Frosty Mod Manager before you proceed. Download the mod and extract it. Import the mod through the Mod Manager and set up your FIFA 21 game with the Manager. Once loaded, launch the game and you are good to go. Please note that the mod only works in tournament mode and you will not be able to use it in career mode, nor online.
Having this mod handy will at least take away the struggle of finding a game to play the Euros. You can focus on more important decisions such as things to consider when deciding on who to root for this summer.
The second mod on our list is more than just the EURO 2020 tournament. It is one of the best career mode mods you can find in the community when it comes to European football. And it is very easy to install too.
The EEP 21 mod enables you get all the licensed teams that play in the top European leagues as well as teams not present in FIFA 21 for the Champions League and Europa League. Additionally, you also get fully licensed Juventus and Roma teams with official crests, kits and much more. The mod also adds official teams for the Brazilian league, original manager names and original stadium names for all clubs. You also get the option to add updated mini-faces, official scoreboards and realistic squads.
The installation process, as described by the mod creator, is as follows:
1) Download and extract EEP.
2) Download and extract FIFA Mod Manager.
3) Launch Mod Manager as Admin.
4) Import EEP and (if you have other mods installed) put it to the BOTTOM of your Mod Manager.
4.1) Import the Theme-Addon from directory "Addons" if you want new graphical UI-experience.
5) Copy and paste the Squad-File from EEP Download into your Documents/FIFA 21/settings directory.
6) Launch it via Launch-Button.
7) Inside your FIFA 21 main menu, just go to "CUSTOMIZE" -> "PROFILE" -> "LOAD SQUADS" -> load EEP squads.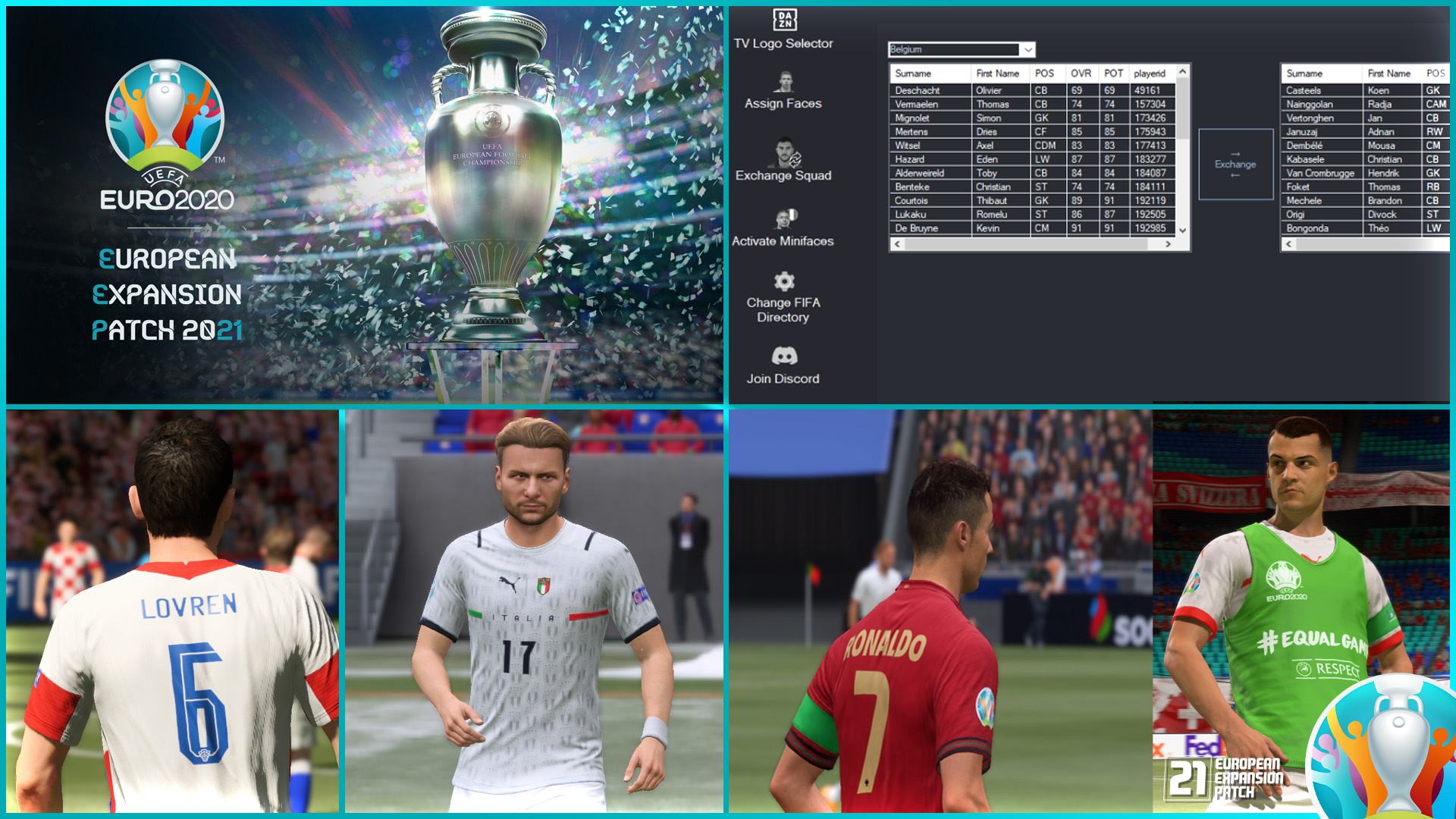 We hope these mods can help you spend your summer playing football the way it's meant to be played. These Euro 2020 mods will offer the most realistic experience you can have on FIFA 21. So pick a nation and lead them to European glory!