The FUT 21 season is near its end and one of the most popular promos has returned once again, of course we are referring to FUTTIES!
FUTTIES will celebrate the best content released this during this FUT cycle and will also include brand-new content such as Objectives, SBCs, Loyalty Packs and more.
"Best of" Batch 1

During this promo there will be three different batches of the best player cards released throughout FUT 21. The first batch is already live in packs and contains special player items from previous promos like:
Kevin De Bruyne – 96 (TOTY)
Karim Benzema – 95 (Headliners)
Mohamed Salah – 94 (UCL Live)
Sadio Mane – 92 (Freeze)
Raheem Sterling – 92 (FoF)
N'Golo Kante – 91 (What If)
Claudio Reyna– 91 (Future Stars)
Kylian Mbappe – 91 (Record Breakers)
Harry Kane – 91 (Haloween)
Ciro Immobile – 91 (TOTY Honourable Merit)
Luis Suarez – 90 (OTW)
The full list of the player cards can be viewed here. With so many special cards available in packs you can bet that the chances of packing one of them is rather high. For high betting chances check NJ Gaming Society.
🔥 TODO LO QUE PUEDE SALIR EN SOBRES 🔥

Puede que encontreis algun error ya que lo que ha publicado EA habia medias mal puestas.

UN ❤ Y RT🔁 PARA QUE LLEGUE A MAS GENTE!!! pic.twitter.com/hb6jwvNJvQ

— Rasta 🇯🇲🤙🏽 (@RastaFut) July 16, 2021
Player Pick Fan Votes SBCs & FUTTIES Favourites
On select days during the FUTTIES campaign, players will be able to help decide which popular FUT player items will receive boosted FUTTIES Winner items. FUT players will receive a Player Pick pack once they login to their account which will showcase loan versions of 2 FUTTIES Nominee. To cast your vote simply choose the player you like between the two.
The nominee that receives most votes will end up available in a SBC. However, the nominees that lose in the voting will be considered FUTTIES "Close Call" Player SBCs towards the end of the promo!
This week players had to pick between Kostas Manolas (83 OVR) and Dani Carvajal (86) and the latter one got the most votes and a 95-rated FUTTIES Winner card. You can get this OP card by completing this SBC.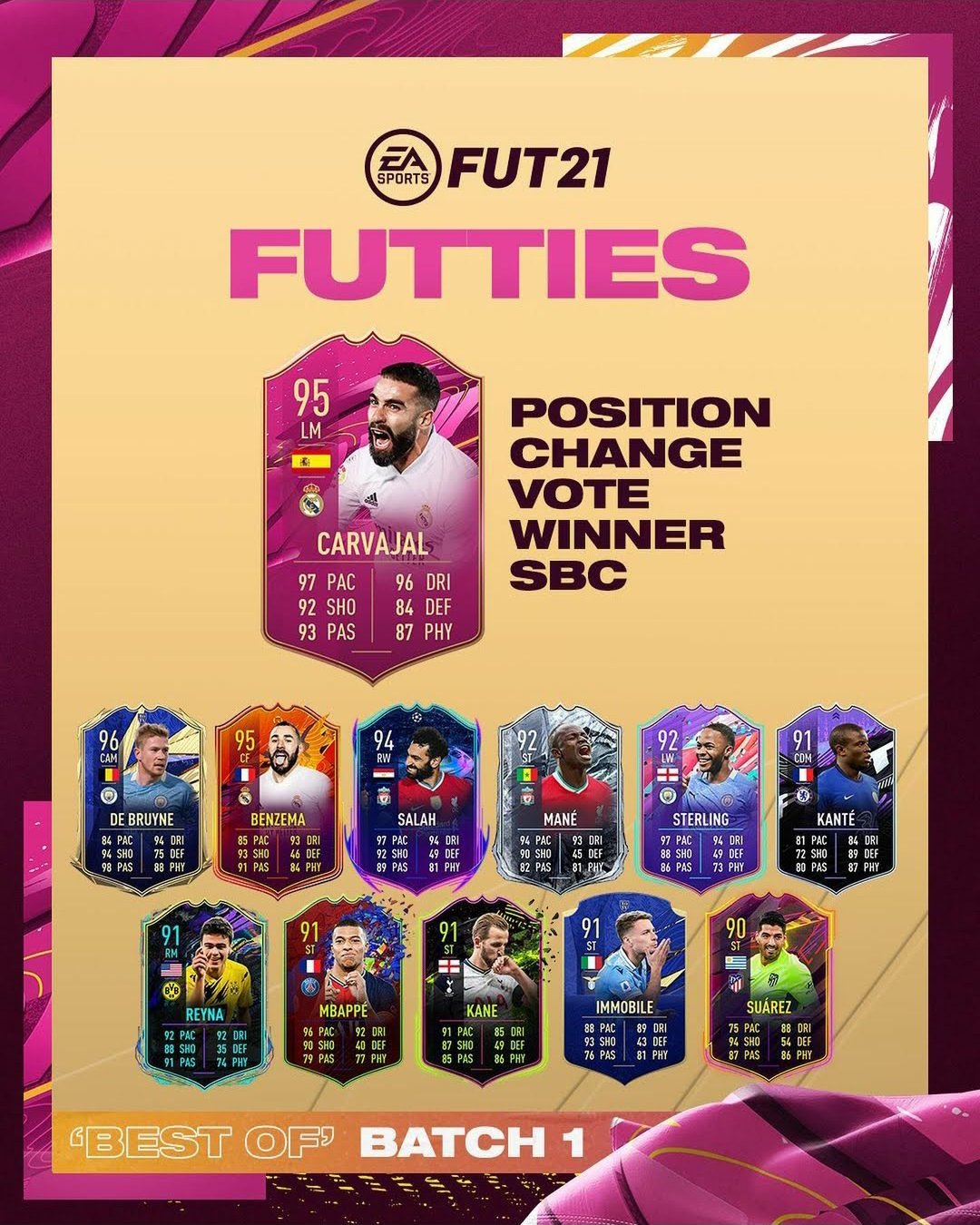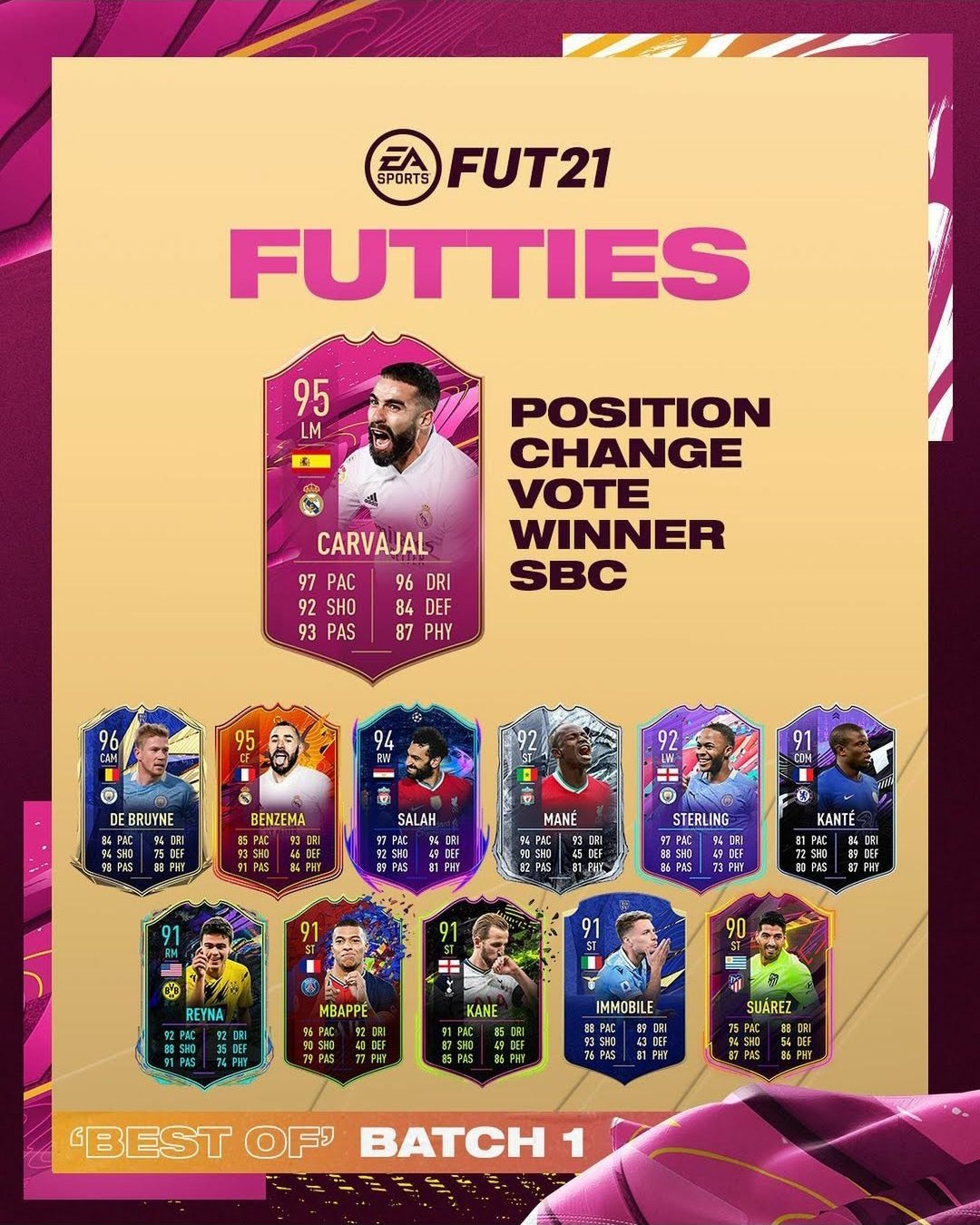 But that's not all, other type of FUTTIES cards will be available via SBCs during weekends. FUTTIES Favourite Player SBCs will be themed around a specific month and a popular FUT player card. Fir this weekend we have October Allan Saint-Maximin celebrating his TOTW version.
The cost for this SBC is quite pricey, around 600.000 coins. You can find cheaper options to complete this SBC by checking here.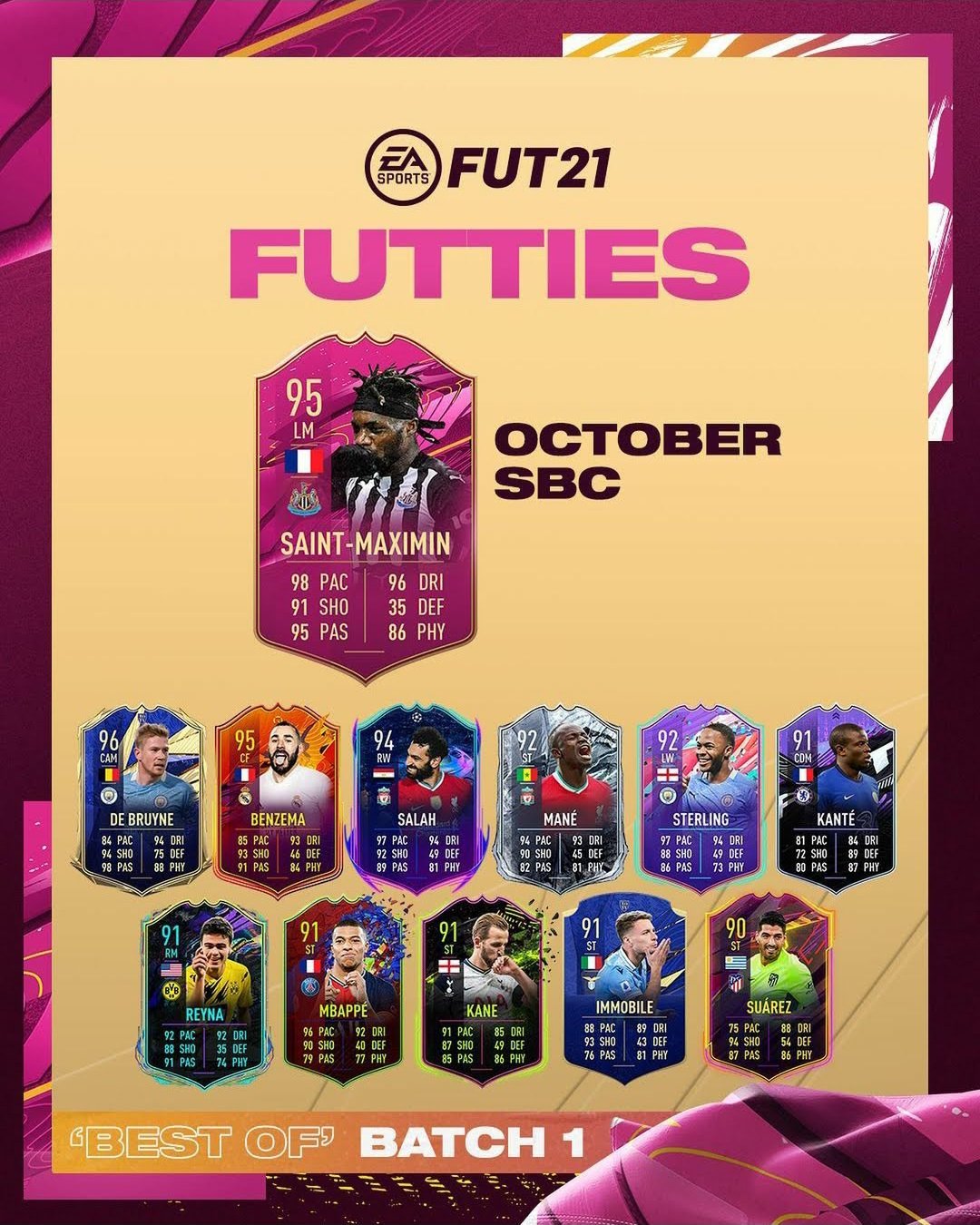 More FUTTIES Favourites will also be released via Objectives during the FUTTIES promo.
Derby Day Team Event Voting
Speaking of Objectives, for this special campaign there will be a FUTTIES fan voting through the FUT Team Events feature! Just like the previous Team Events in FUT 21, you select one of the two teams you wish to compete for and complete the assigned in-game objectives. In this case you will have to choose between two players and just as the Player Pick Fan Vote mentioned above, the player you choose to play for is the player your vote goes to.
The nominee with the highest XP at the end of the Team Event will win the vote and receive a FUTTIES Winner item that will be available via Objectives.
This weekend you will have to choose between Rafael Leao (74 OVR) or Andrea Pinamonti (68 OVR).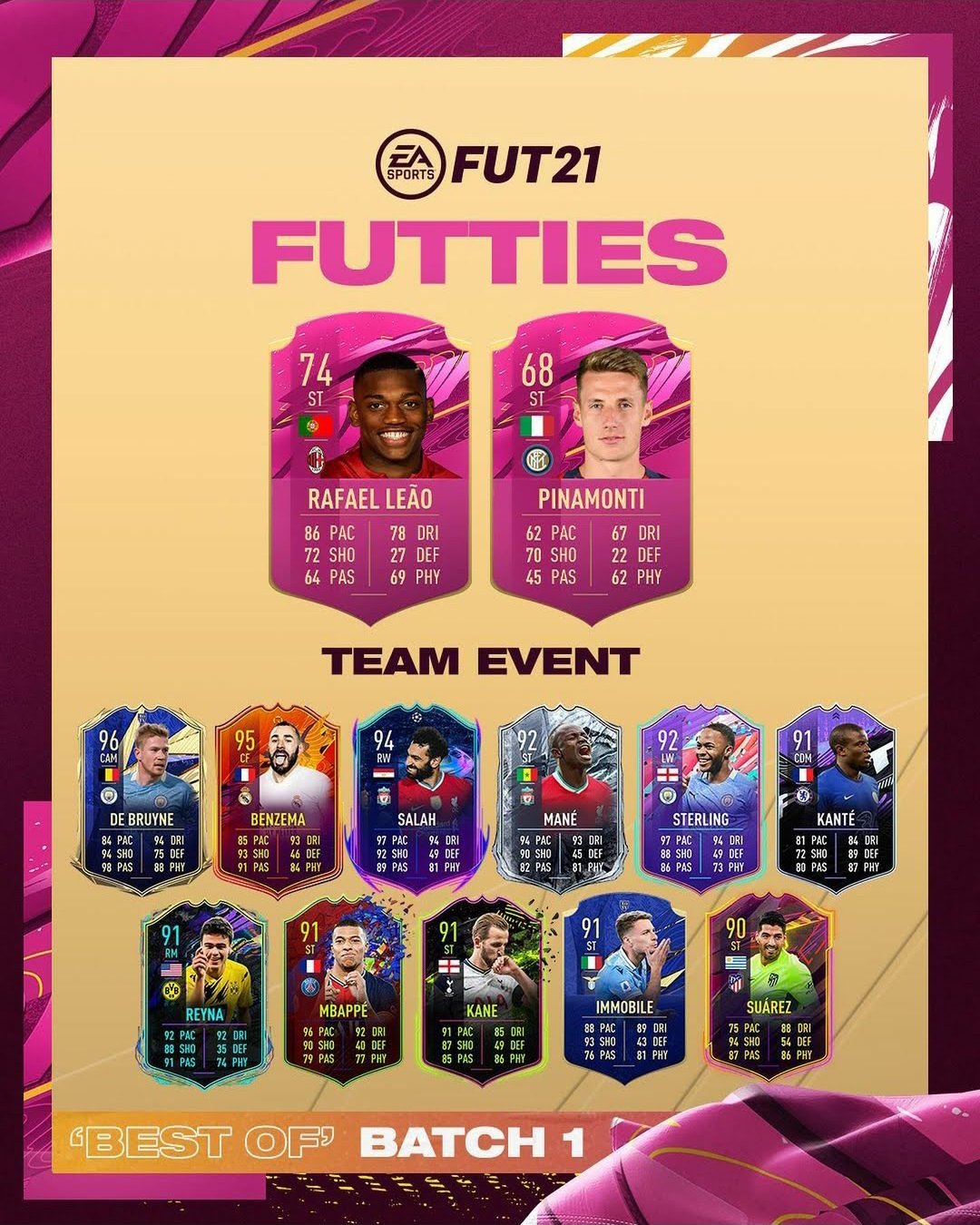 Loyality Packs
During FUTTIES there will be three opportunites to claim your Loyalty Packs based on your activity in FUT 21. The first pack can already be claimed by logging in to your account. The remaining two will be up for grabs from July 16 – July 25 and July 16 – August 9 and your rewards will be based on how many FUT Session Days you accumulate. Here's how the rewareds are ranked:
| | |
| --- | --- |
| FUT Session Days | Loyalty Pack Reward |
| 10 – 70 | Jumbo Premium Gold Pack |
| 71 – 160 | Prime Gold Players Pack |
| 161 – 235 | Rare Mega Pack |
| 236+ | Ultimate Pack |
Weekend League Rewards Update

Weekend League reward Player Pick Packs during FUTTIES will contain Team of the Season items. The reward tiers are currently as follows:
| | |
| --- | --- |
| WL Rank Achieved | Rewards Earned |
| Top 200 | Ultimate TOTW Packs will be replaced with a TOTS Pack containing 11 TOTS Players from English, French, Italian, German, or Spanish Leagues (the Premier League, Bundesliga, LaLiga, Serie A, and Ligue 1) aka 'EFIGS', with a minimum OVR of 91 |
| Elite 3+ | Premium TOTW Packs will be replaced with a TOTS Pack containing 3 TOTS Players from EFIGS Leagues with a min. OVR of 91 |
| Gold 2+ | TOTS Player Pick pack rewards will have a min. OVR of 89. A minimum of 1 TOTS item will be from EFIGS leagues. |
| Silver 1 & Gold 3 | TOTS Player Pick pack rewards will have a min. OVR of 88 |
| Silver 2/3 | TOTS Player Pick pack rewards will be capped at 89 OVR |
| Silver 3+ | All Red FUT Champions TOTW items will be replaced with Red FUT Champions TOTS items from all leagues |
For more news and updates on this event please follow us on twitter!