The latest update of FIFA 21 Career Mode brings even more pleasure to its fans than previous versions. Do you want to know why? If yes, let's take a closer look at its features in case you don't know them.
The FIFA 21 Career Mode enables a whole new way to play out your season. Imagine, you can jump in and out of gameplay during matches, which helps you control the outcome of the match, as well as manage key moments like penalties and free kicks. When you are inside the Interactive Match Sim, you can access all the tools to reorganize players on the fly if needed. FIFA 21 Career Mode allows you to interact with Team Management, modify Game Plans, and view the information about your and your opponent's team in real-time. While playing, ou can check the following tabs:
Fitness (provides data on players that might run out of stamina first)
Player Rating (shows summary of players' performance)
Match Stats (offers a snapshot of teams' performance)
Game Plan (displays the systems adopted by teams on the field).
The new Active Training System offers the concept of a Training Day that features 3 distinct training session slots focused on a particular training drill and specific players. Every session enables various scenarios for improving a specific area of the game: defense, dribbling, passing, or shooting.
The FIFA 21 Career Mode also has a new activity management system to plan your team's training schedule. You can decide what your players do every day of the season to achieve better results. The system allows you to balance fitness, sharpness, and morale in order to reach success. Besides, it's possible to make changes at a daily level or to establish some patterns for pre-match and post-match days in advance. Anyways, if you are not good at micro-management, you can adjust scheduling rules anytime during a season.
The new Player Development feature enables you to grow your squad and make the most of it. You can specialize players in different roles based on their position and your style of play. Whether you prefer playing out from the back or fast counter-attacks, you can guide your players to grow in the direction you want. Note that just like in real life, the speed at which players develop their skills depends on their age, abilities, potential, shape, and experience. If you give a young player with good potential a few games, he will improve his skills faster. On the contrary, if you keep him on the sidelines for some time, you'll get the opposite effect. Hence, the decisions that work best for your team are entirely up to you.
If you are not sure about which players to choose for your game, consider the most outstanding footballers from Argentine League described below.
Lautaro Morales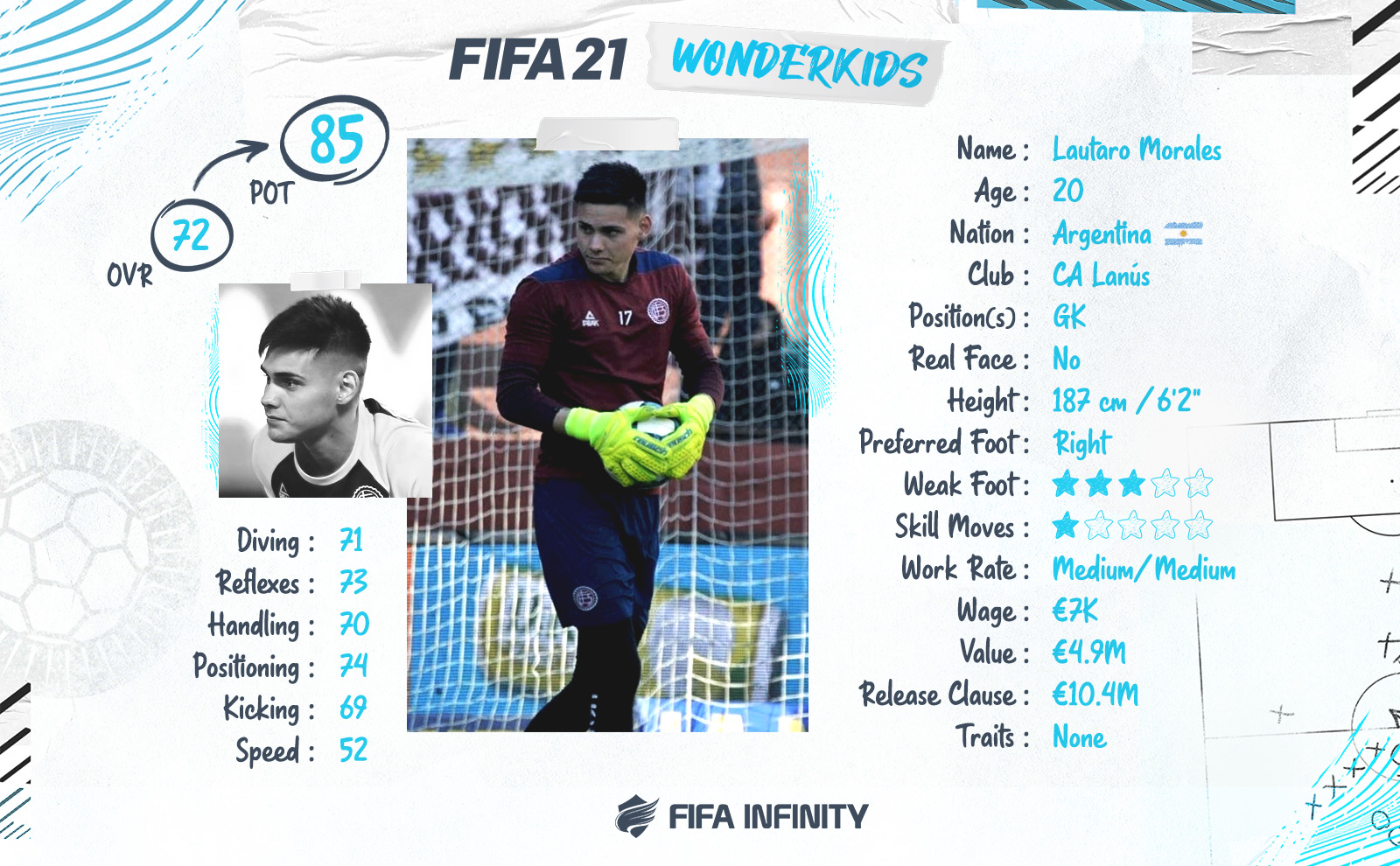 The 22-year old Lautaro Alberto Morales plays as a goalkeeper for Lanus since 2011 when he joined the team's academy. In 2017, he was selected to train with the Argentine senior squad and in 2019, he was called up for the 2019 South American U-20 Championship in Chile without making an appearance in all nine matches. Morales was part of the first-team at the start of the 2019–2020 campaign but made his senior debut between the posts the following season in Copa Sudamericana against São Paulo. In FIFA 21 he's currently rated with an OVR on 72 and has an amazing potential of 85.
Agustín Urzi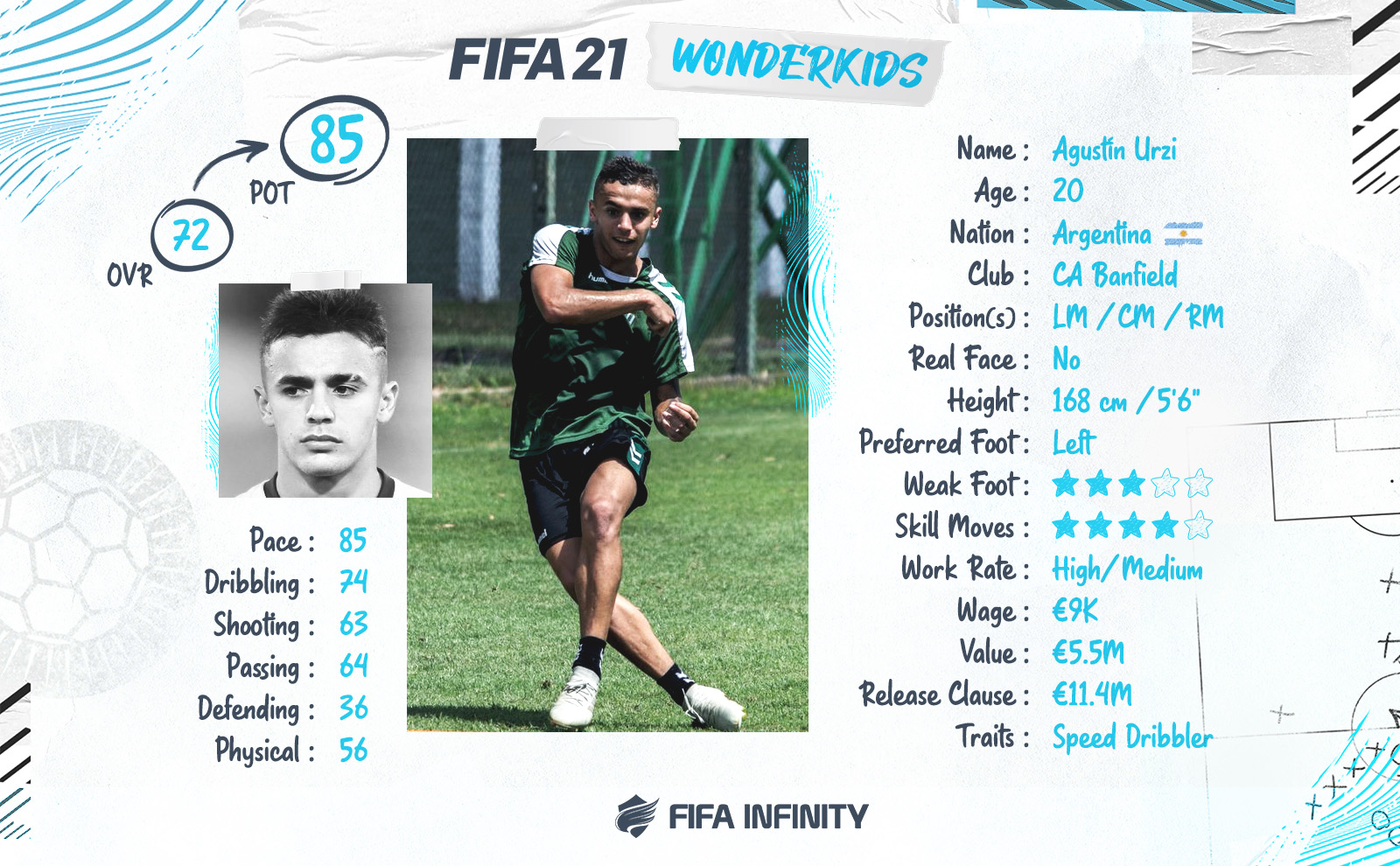 Agustin Jose Urzi is just 21-years old and plays as a winger for Banfield. The young Argentine joined the academy of the club back in 2008 and played only for Banfield since then. He made his professional debut in the 2018/2019 season in a match against Argentinos Juniors. When I turned to experts to ask them to write my assignment on the most successful young footballers in Argentina, they mentioned Urzi as one of the most talented players of his generation. He currently holds a 72 OVR in FIFA 21 and a potential of 85.
Thiago Almada
Thiago Almada is a 20-year old Argentine playing as an attacking midfielder or winger for Velez Sarsfield. His first-team debut was in August 2018 against Newell's Old Boys and in the same year he was included in The Guardian's "Next Generation". A very talented and skillful player, he is widely considered to the next big thing to come out of Argentina and already caught the attention of Italian giants Inter Milan who are rumored to sign him in the next transfer window. He is 74 rated in FIFA 21 with an immense potential of 88.
Alan Velasco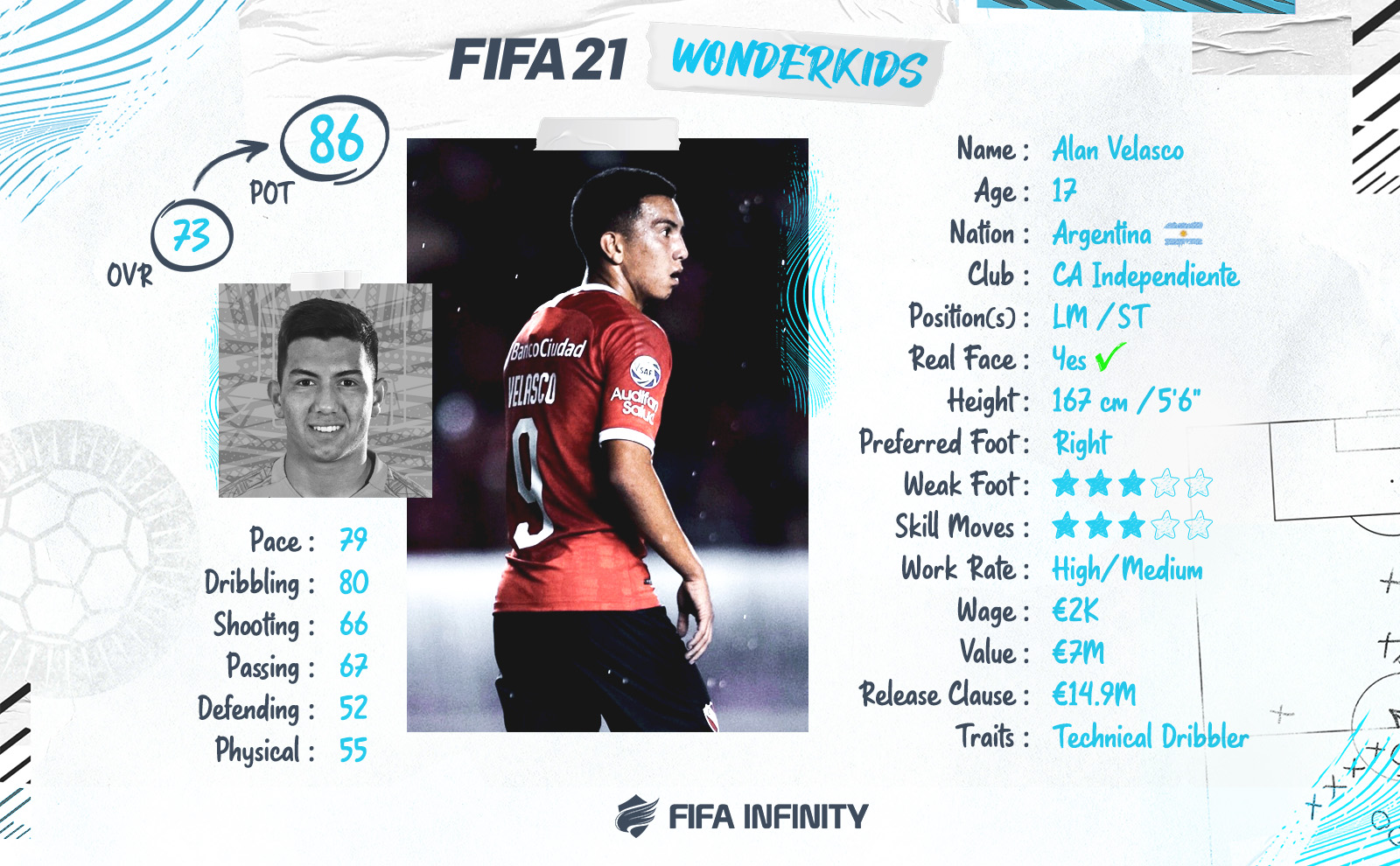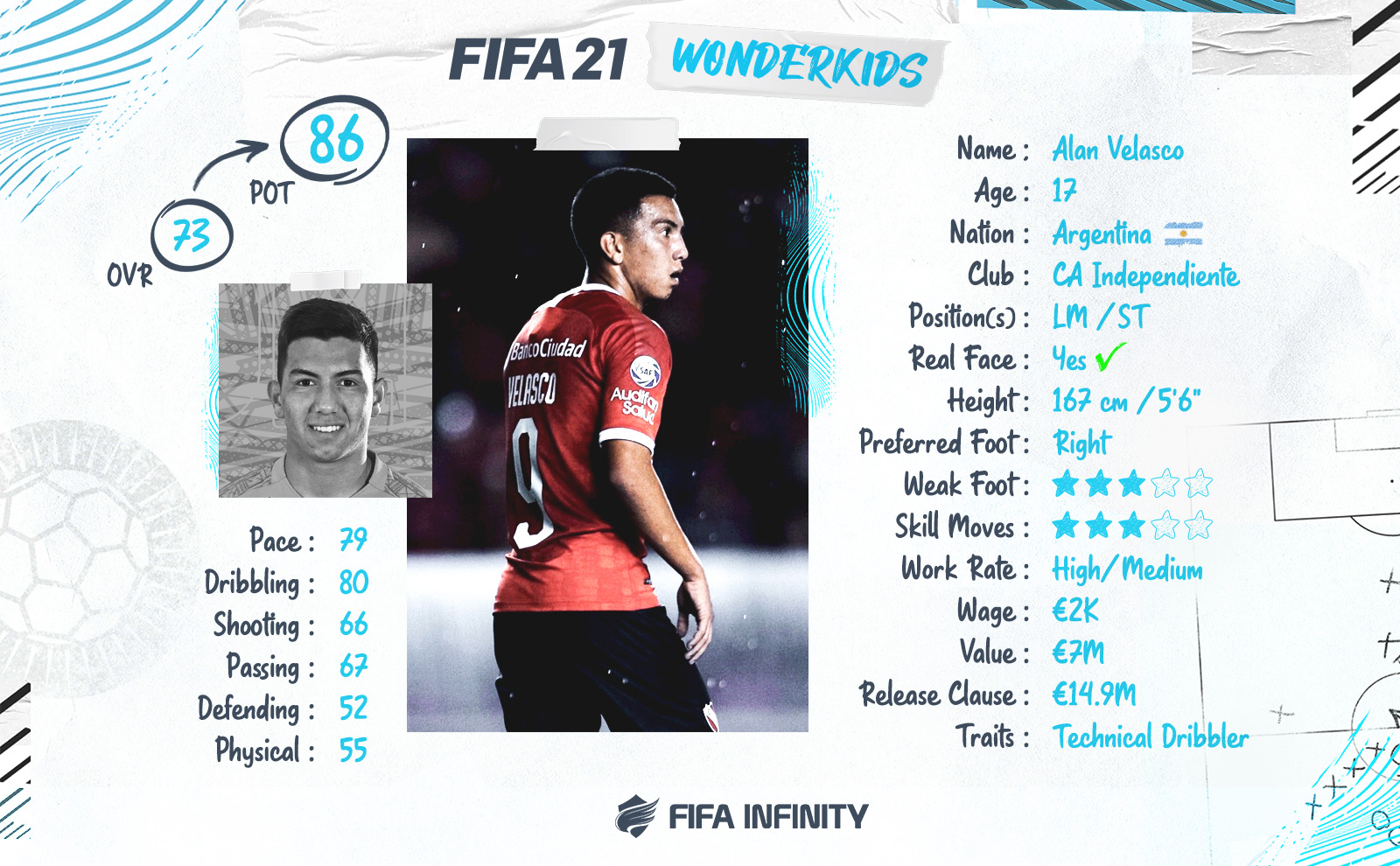 Alan Agustín Velasco is a 19-year-old footballer playing as a winger for Independiente. He started his career in the youth system of Independiente when he joined this club in 2012. At the age of 16, Alan was promoted into the first-team at the end of the 2018–19 campaign and made his professional debut at the Estadio Libertadores de América against Águilas Doradas. The following season he scored his first senior goal in Copa Sudamericana against Centro Atlético Fénix. Alan also represented Argentina at U15 and U17 levels scoring 1 goal in 6 appearances. The talented winger is on the radar of teams like Club America, Monaco, Lyon and Parma. He's currently 73 rated in FIFA 21 and has an amazing potential of 86.
Pedro De la Vega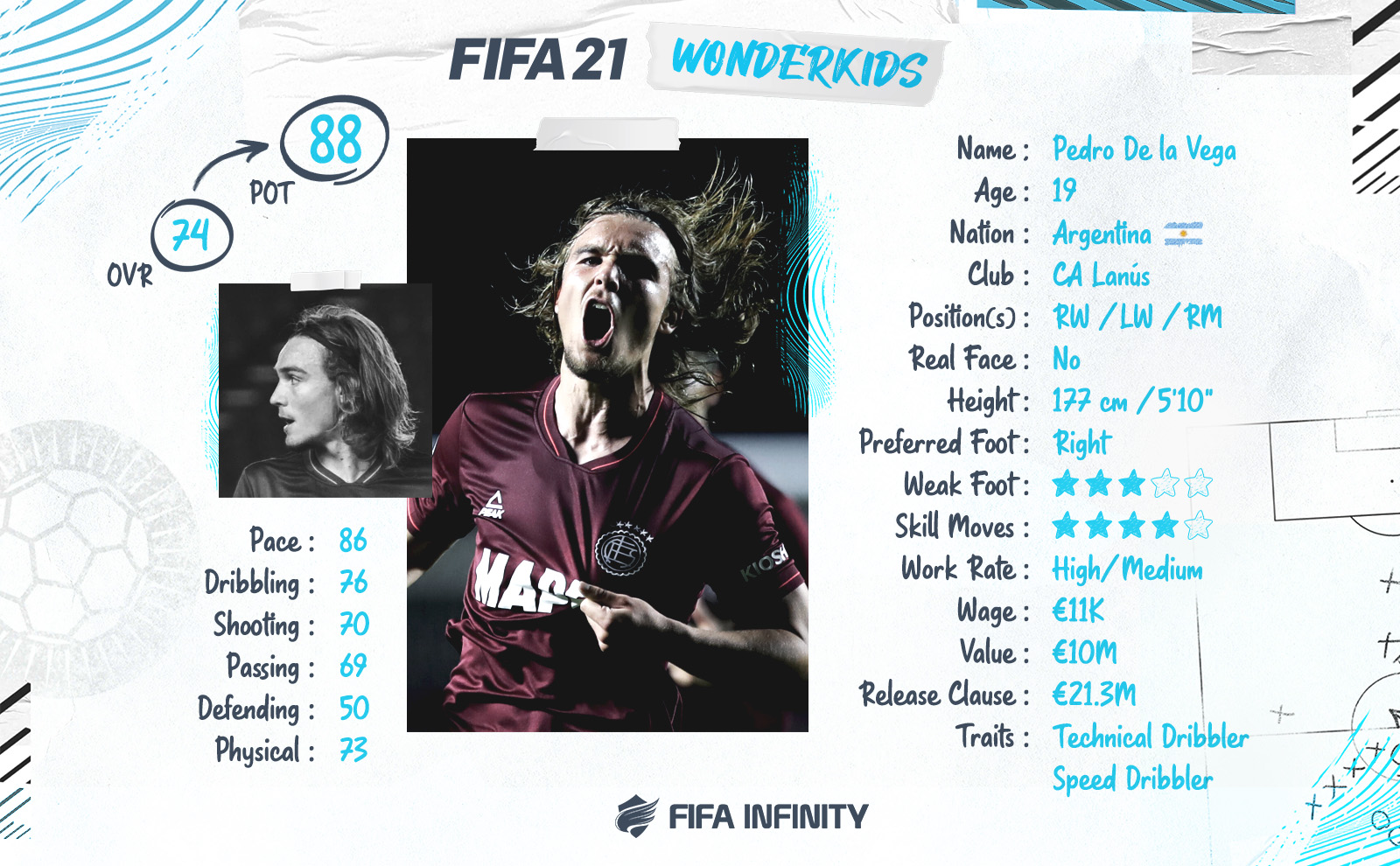 The career of Pedro De la Vega started in the youth of Ferrocarril Sud, later in 2015, he joined his current club, CA Lanús. In 2017, "Zorro" as he is nicknamed, was named the Outstanding Youth Soccer Player by the Argentine Football Association. Pedro made his professional debut for Lanus in 2018 and scored his first professional goal in Copa de la Superliga the following year against Velez Sarsfield. The 19-year-old has been linked with a move to the Etihad Stadium next summer. In FIFA 21 the Argentine winger is 74 rated and has an world-class potential of 88.
Let us know in the comments if you discovered other young gems from the Argentine Primera Division and who is your favourite from this article!