One of the most fun things to do in Career Mode is taking a club from the bottom to the top. With England, Germany, Spain and France having multiple divisions in FIFA 21, every lower-league team has their own interesting story, leaving the fans with lots of emotions. Sometimes happy, but mostly sadness, seeing their club's downfall right in front of their eyes. Here are my favourite teams I would recommend to all Career Mode fans who like a good 'story' and want to take a club from their lowest-point ever (back) to the top of the world.
Türkgücü München
For the past 3 seasons, Türkgücü München managed to get back-to-back promotions and they are currently playing in 3. Liga, Germany's third division. The club was formed by Turkish migrant workers, and is currently ran by former player Hasan Kivran, who has put more than one million euros into the club already. The fans are optimistic, as they hope to one day become the second biggest club from Munich, behind Bayern Munich. Due to the club being formed by Turkish people, they are known to have an influx of Turkish players in their side, combined with other nationalities, including a lot of German players. The supporters hope to one day play in the Champions League, can you fulfill these dreams?
Best players: Boubacar Barry, Sercan Sararer, Tom Boere
Budget: $2.000.000
Real stadium: No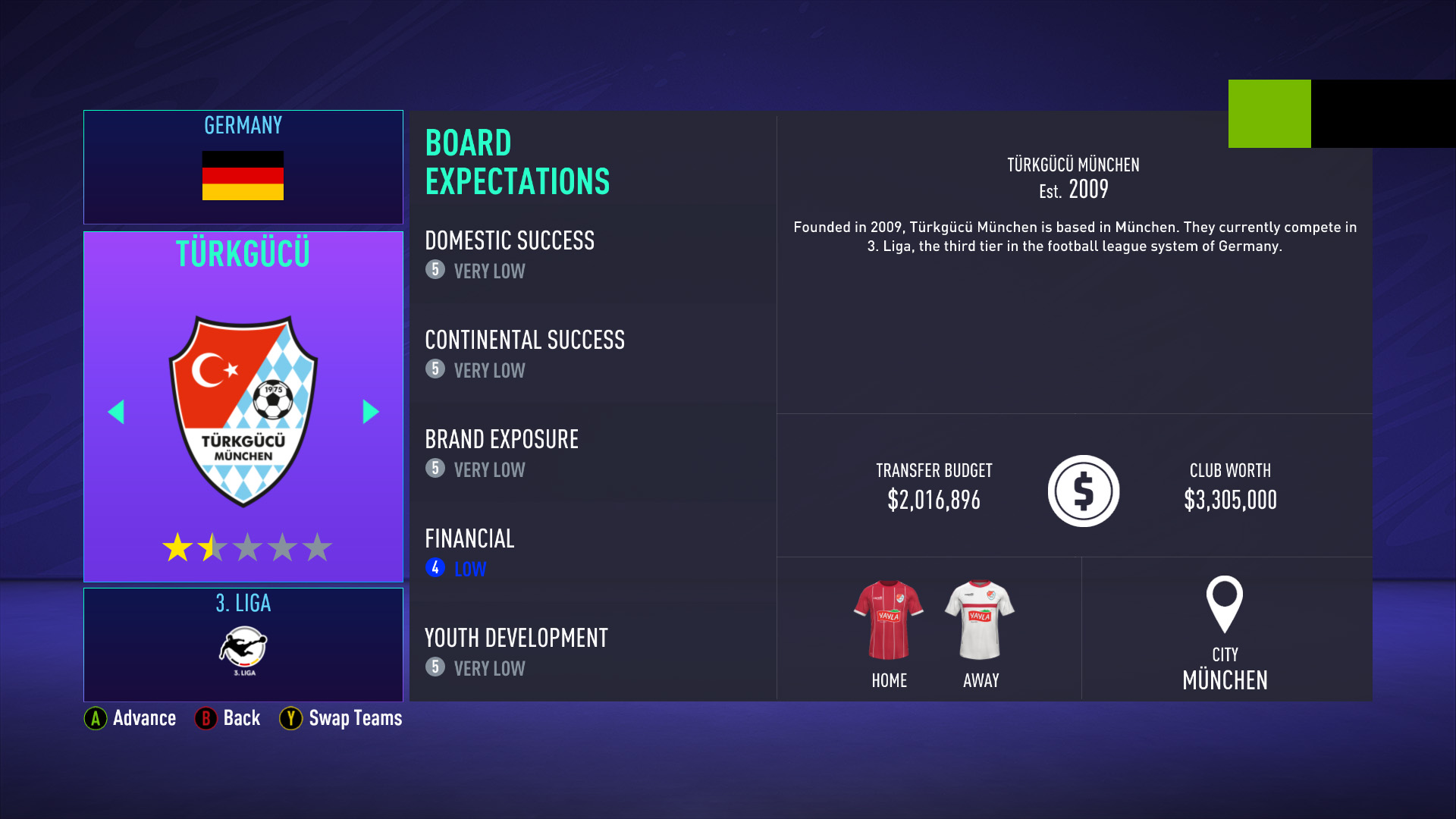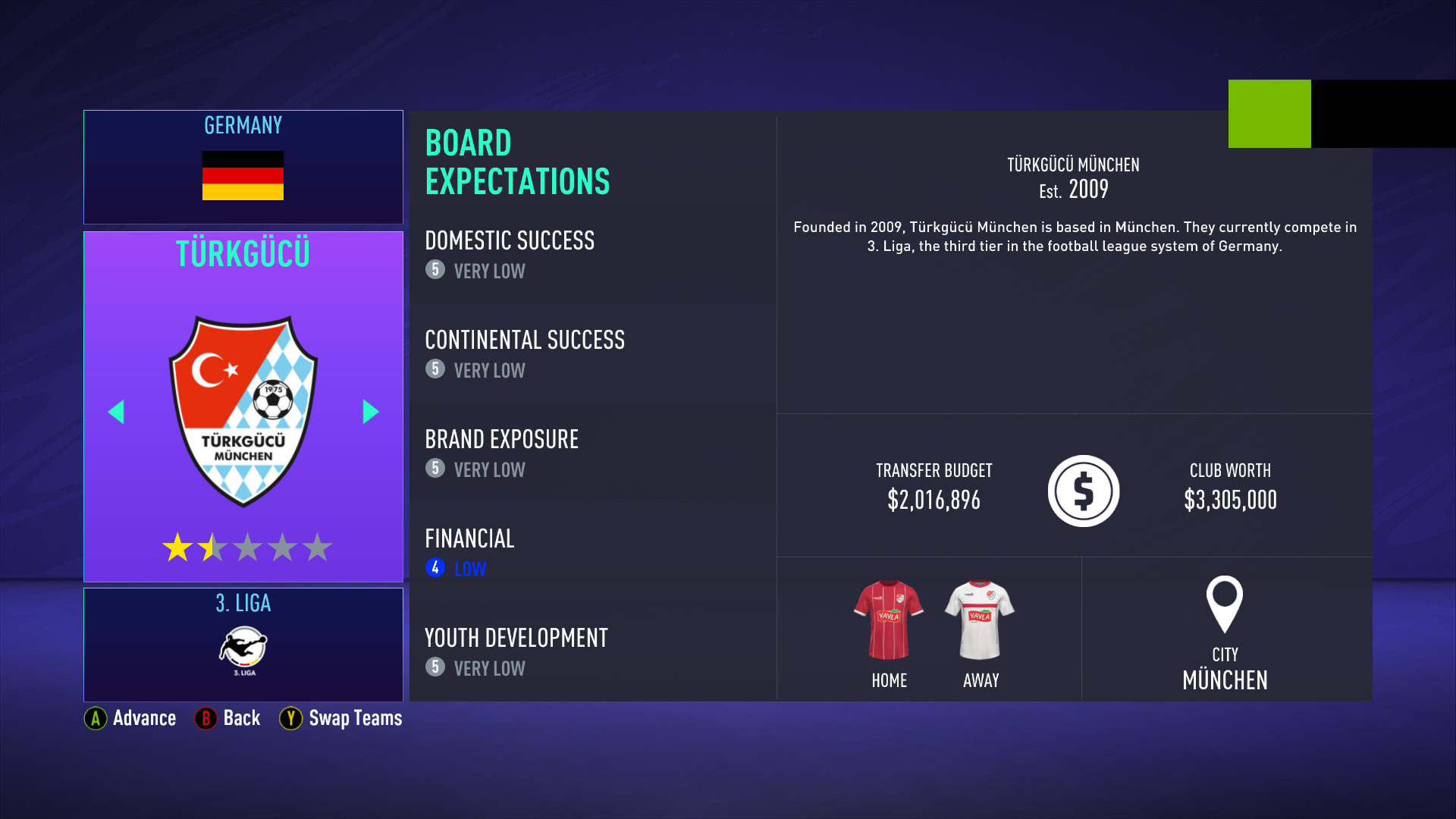 Sunderland
The former Premier League side is currently playing in the third tier of English football and for that reason I'll recommend starting a road to glory with them. What was once a stable team playing in the English top division, had completely fallen to pieces, with the Black Cats getting back-to-back relegations from 2016 to 2018. Their downfall is documented in the Netflix series Sunderland 'Til I Die, showing the 2017/18 Championship season and Sunderland's 2018/19 campaign in League One. The 141-year-old club has won six top-flight titles and two FA Cup's. Take them back to the Premier League in FIFA 21 Career Mode!
Best players: Aiden McGeady, Remi Matthews, Danny Graham, Chris Maguire, Josh Scowen
Budget: $5.500.000
Real stadium: Yes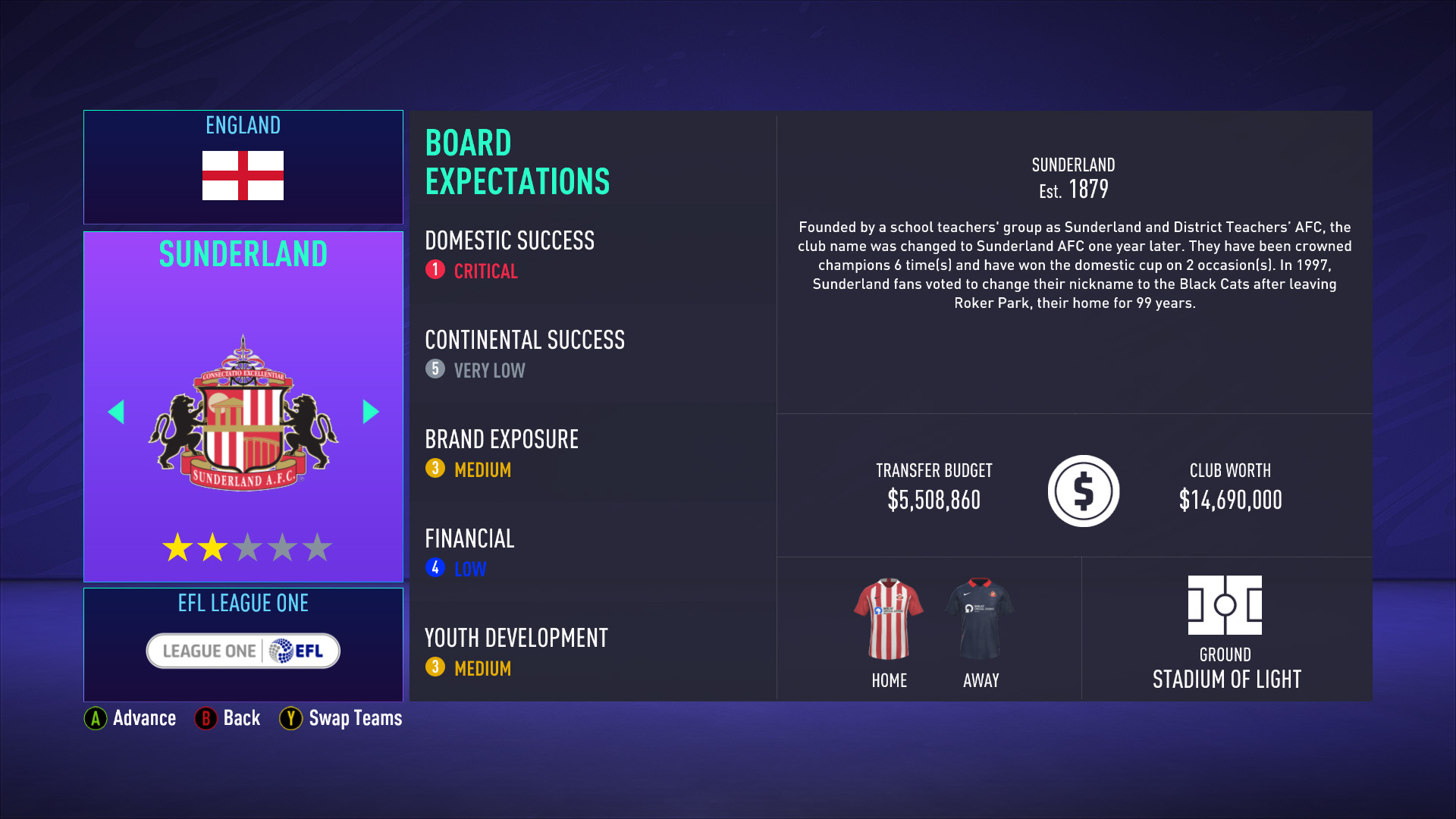 Paris FC
Everyone knows Paris Saint-Germain, their rise to become France's best team and the amount of money used to get to where they are today. But not many people know about Paris FC, the second biggest club from Paris. Currently playing in Ligue 2, France's second division, Paris FC is a great road to glory in FIFA21 Career Mode. The main goal is of course to one day beat PSG to a Ligue 1 title and trying to become the biggest club from Paris. A small group of people from Bahrain have apparently purchased a 20% stake in Paris FC, with potentially another club from Paris getting an influx of money. Instead of spending a huge amount of money straight away, try to keep the transfer fees quite low, especially for the first few seasons. An even better achievement would be if you could beat PSG to a Champions League title!
Best players: Florent Hanin, Gaëtan Belaud, Julien López, Vincent Demarconnay
Budget: $5.900.000
Real stadium: No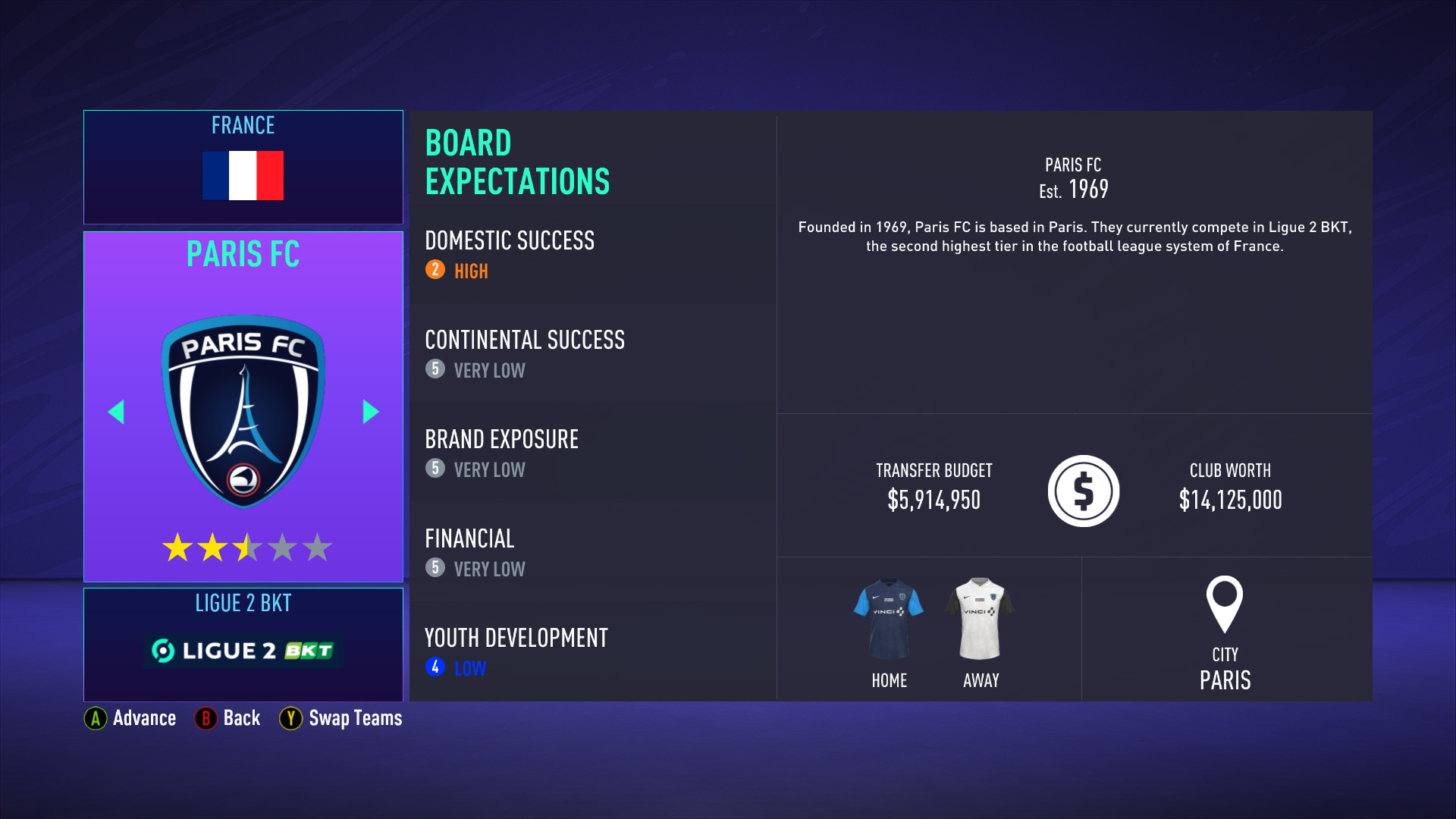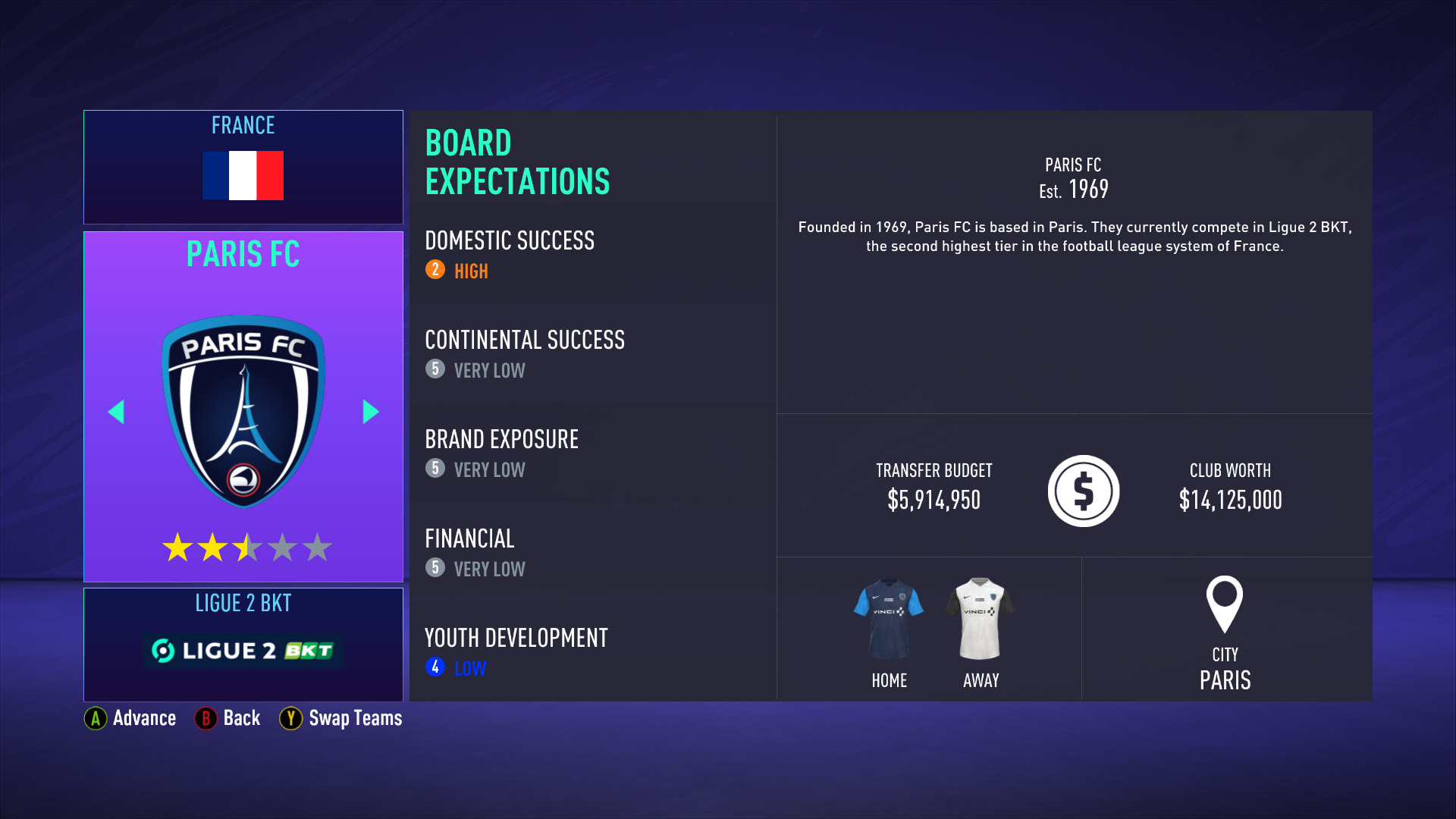 Malaga CF
Historically, Malaga CF have been known for bouncing between Spain's top two divisions. This all changed when the club was bought by sheikh Abdullah Al Thani in June 2010. Quickly, Malaga showed the world they had money to spend, with Isco, Toulalan, Baptista, Joaquin, Demichelis, Nacho Monreal, Van Nistelrooy, Cazorla & Santa Cruz arriving at the club. Manuel Pellegrini got to manage this Malaga side, taking them to their highest ever league finish of 4th place in 2012, qualifying for the Champions League. You might remember one of the craziest Champions League matches to have ever happened in the last decade, with Borussia Dortmund facing the Spanish side in the quarter-finals, after Malaga topped their group with football giants like AC Milan, Anderlecht and Zenit, eventually knocking Porto out in the Round of 16. Los Albicelestes were within one minute of the semi-finals, before two dramatic goals in injury time from Marco Reus and Felipe Santana flipped the game on its head and knocking Malaga out.
After their elimination from Champions League, the club quickly fell down to earth and started to spiral out of control. During the same season, players had protested unpaid wages, and in the summer of 2013, Al Thani mysteriously stopped funding. As a result, Malaga lost their coach and best player as Santi Cazorla joined Arsenal in the Premier League, and subsequently became the first club to be banned from all UEFA competitions for one season and were handed a €300,000 fine. Malaga finished bottom of LaLiga in 2017/18 season and looked set to bounce straight back up the following season, but lost the promotion play-offs to Deportivo La Coruna. Last season they finished 14th in the Segunda Division, just two points clear of relegation to Spain's third tier. Going into the current season, Malaga released 11 first team players in August, including captain Luis Hernandez and former Liverpool youth player Dani Pacheco. Sporting director Manolo Gaspar had been trying to sell the entire squad but, with their inflated wages, found no buyers in the current COVID-climate. Al Thani received a 6-month ban from presidency by the Spanish regional court in February of this year, and is reported to owe the club upwards of €8M. Another example of the long-term damages to a football club caused by money-hungry owners with little interest of the club and its fans.
Can you take Malaga CF back to where they belong in FIFA 21 Career Mode?
Best players: Jairo, Jozebad, Escassi, Juan Soriano, Pablo Chavarría

Budget: $11.100.000
Real stadium: Yes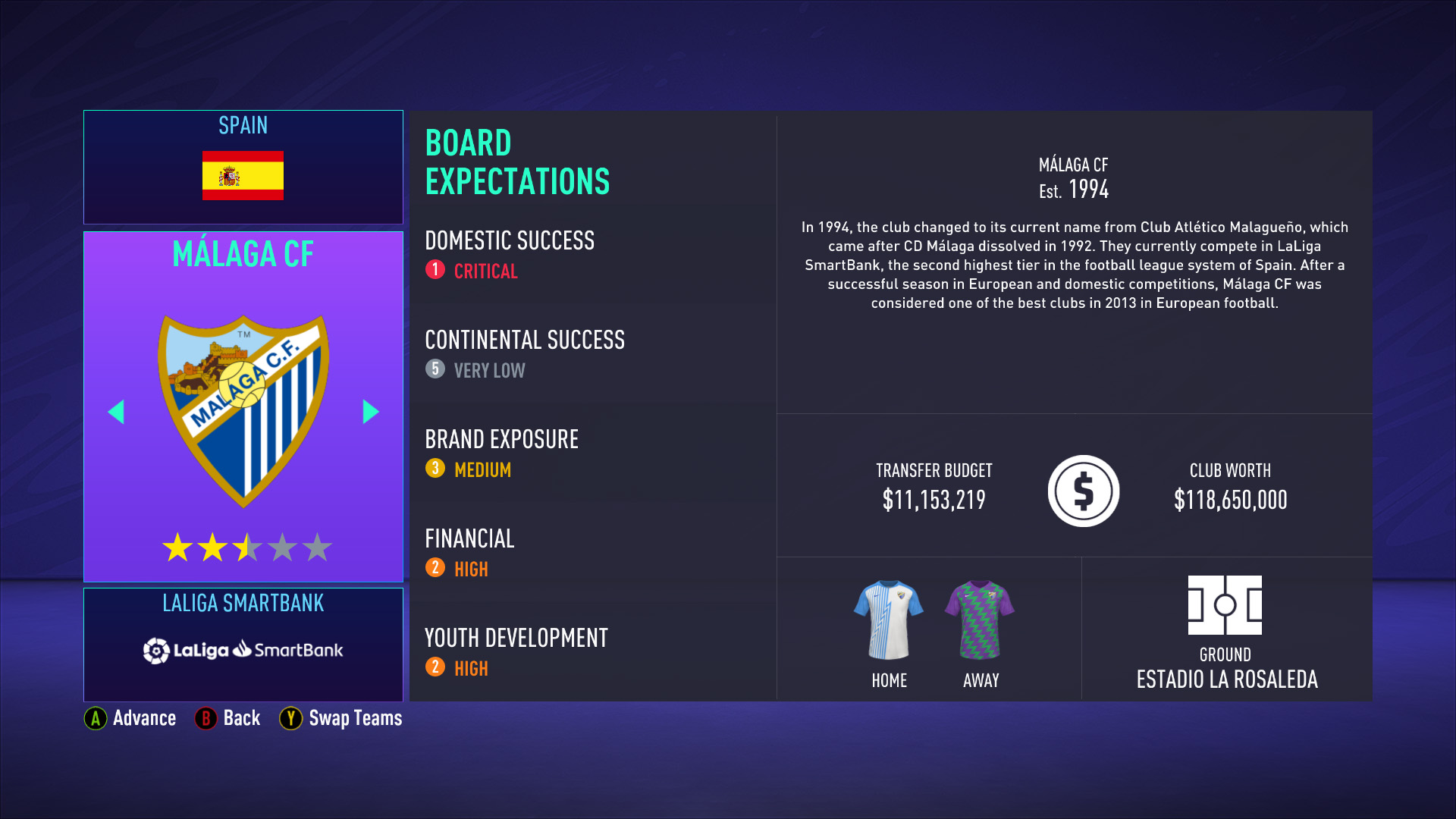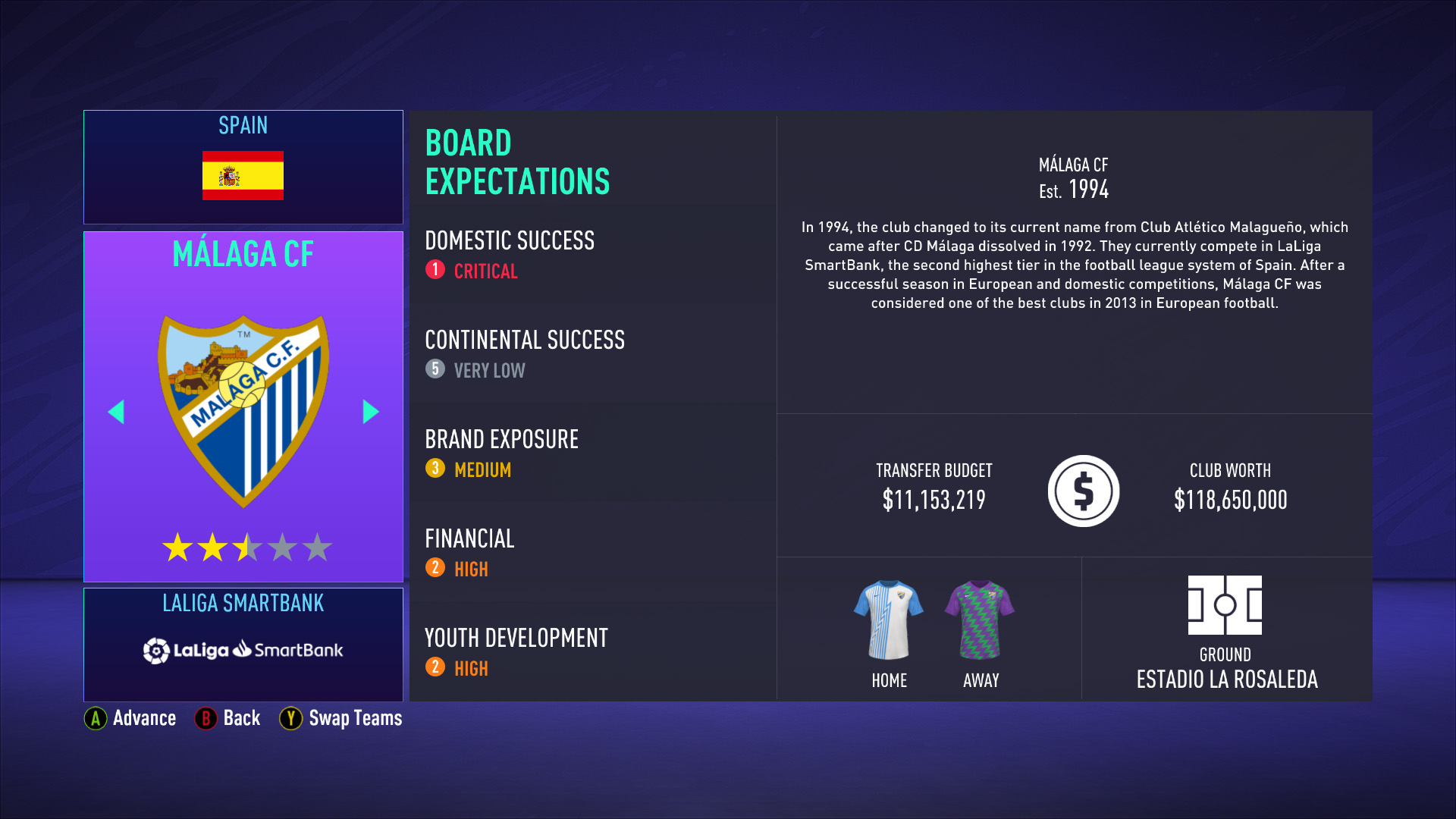 Bolton Wanderers
Another sad story of a top English club to fall apart is Bolton Wanderers, currently playing in the fourth tier of English football. The four times FA Cup winners faced massive financial difficulties for the past three years resulting in the loss of all their first team players and relegation to EFL League Two after their former owner failed to pay the team's wages and club debts. Last season the club was sold to a new group of owners that brought more financial security and they are currently focusing on promoting youth players in the first team.
Can you bring back to glory Bolton Wanderers using young players and talents?
Best players: Dennis Politic, Lloyd Isgrove, Brandon Comley, Alistair Crawford, Antoni Sarcevic

Budget: $2.000.000
Real stadium: No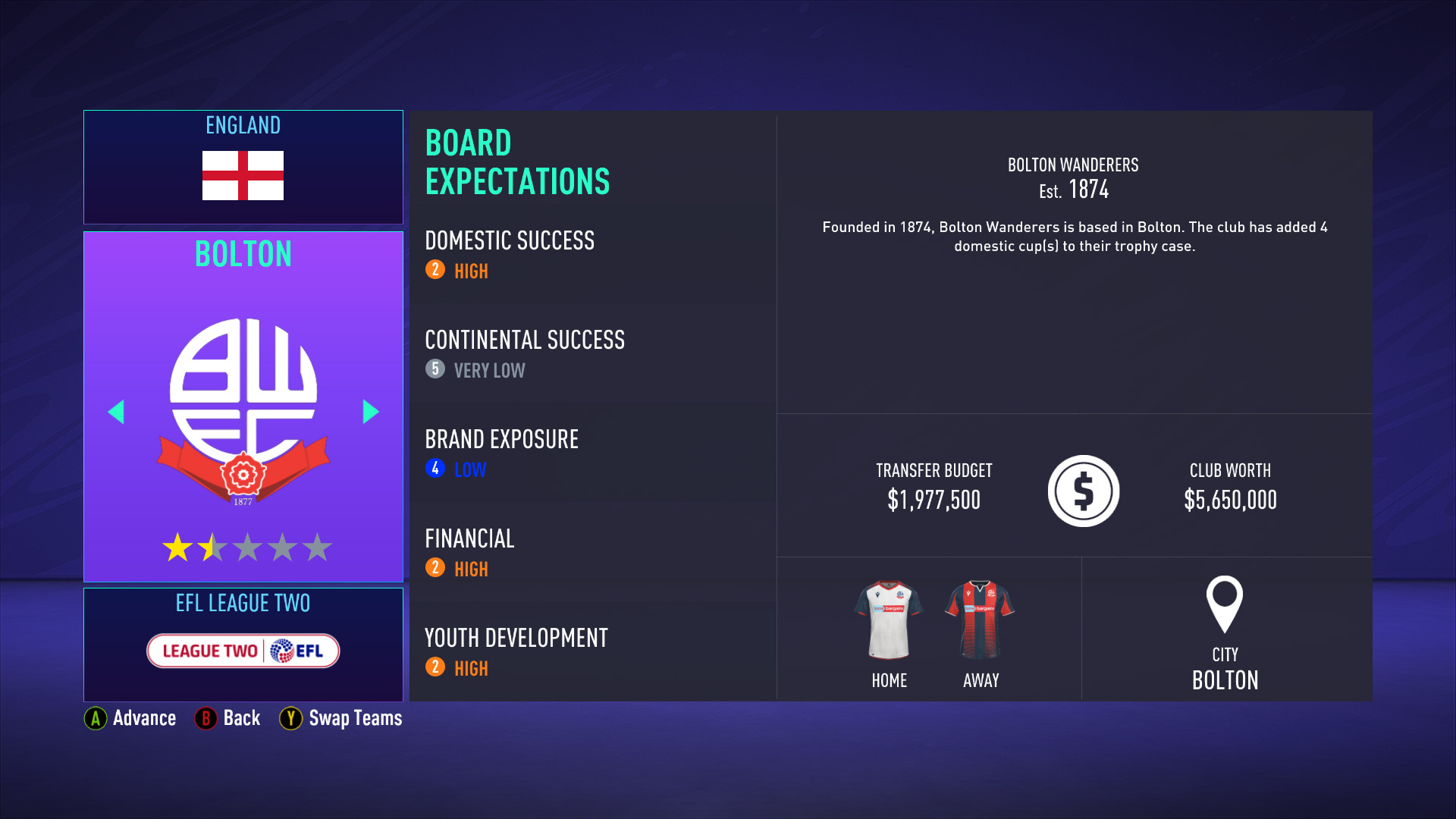 Stay tuned for more Career Mode related articles on our site.