It is not often that FIFA titles manage to add the same amount of realism as in real life in Career Mode, at least story-wise. Interestingly, the developments in the real world this season have conveniently enabled these stories to be emulated in-game and here are the top 5 clubs we feel will make for a good Career Mode storyline in FIFA 21.
Nottingham Forest
Let's start this list with a bang. Forest, as they are popularly known, have been in shambles for years. Ever since their relegation from the Premier League back in 2004 it became apparent that the club was in decline due to some gross mismanagement. A few seasons later, the Reds were languishing in League One. They did manage to climb back up to Championship in 2007 but have been stuck there for the last 13 seasons. However this year, things don't look so promising as they currently hover around the relegation zone. With that in mind why don't you take on the manager job of Nottingham Forest and lead the club back to their pinnacle of English prestige? They are after all First Division (Premier League), double European Cup (Champions League) and FA Cup winners.
We recommend focusing on British players as the main nationality for your squad; they do have a lot of African players as well, so try to imitate the club philosophy by transferring players from African countries too. Oh and make sure to destroy your arch-rivals Derby County on the way.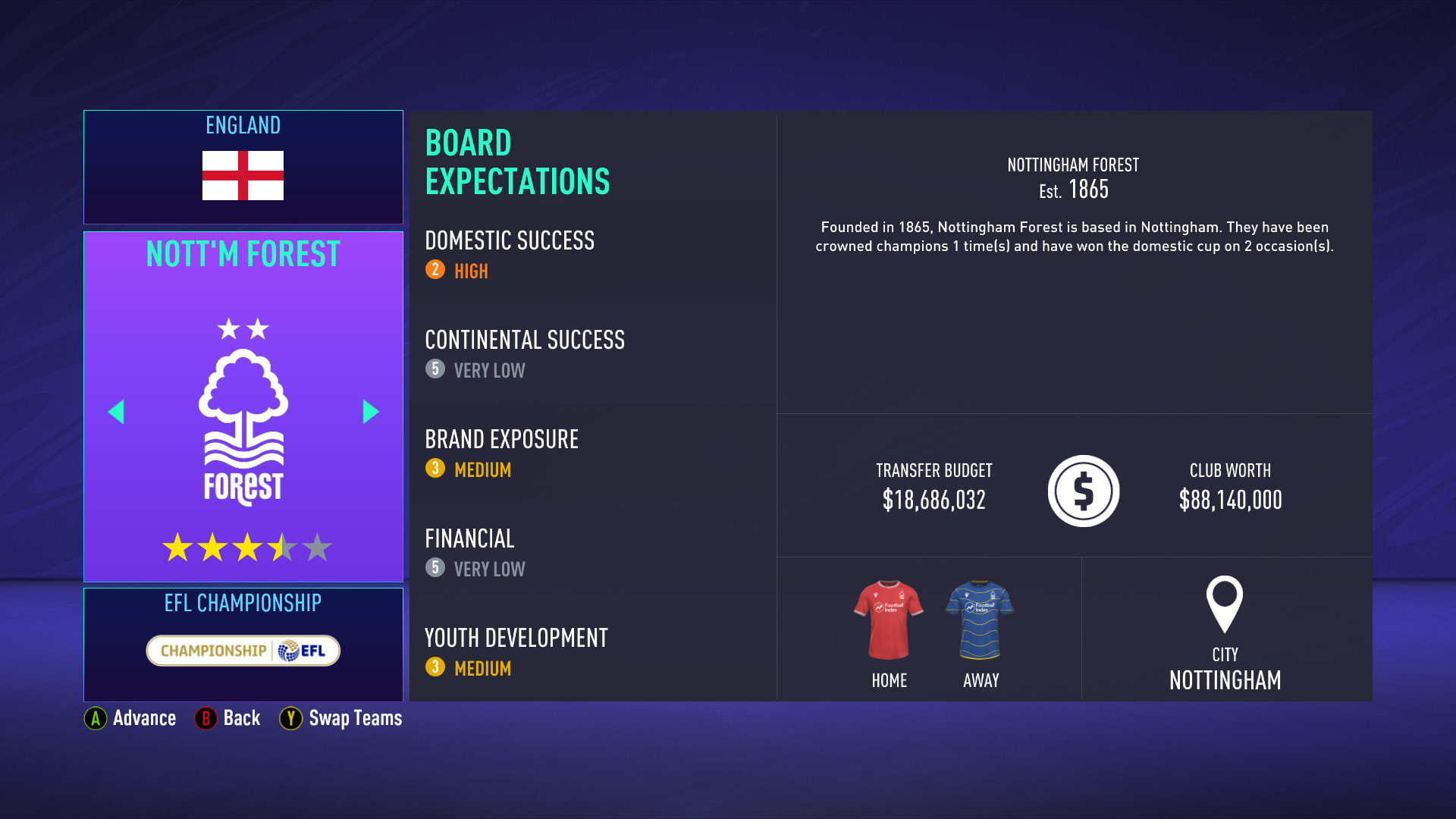 Harrogate Town
Harrogate Town have made it to a professional football league, the EFL League Two, for the first time in the club's existence this season and with it came their premier in a FIFA title. Do you have what it takes to bring a National League level squad to professional quality and create the perfect Road to Glory storyline? A tip from us: You can create a player, yourself, and assign it to Harrogate Town before starting your career save and play as a player-manager, National League style!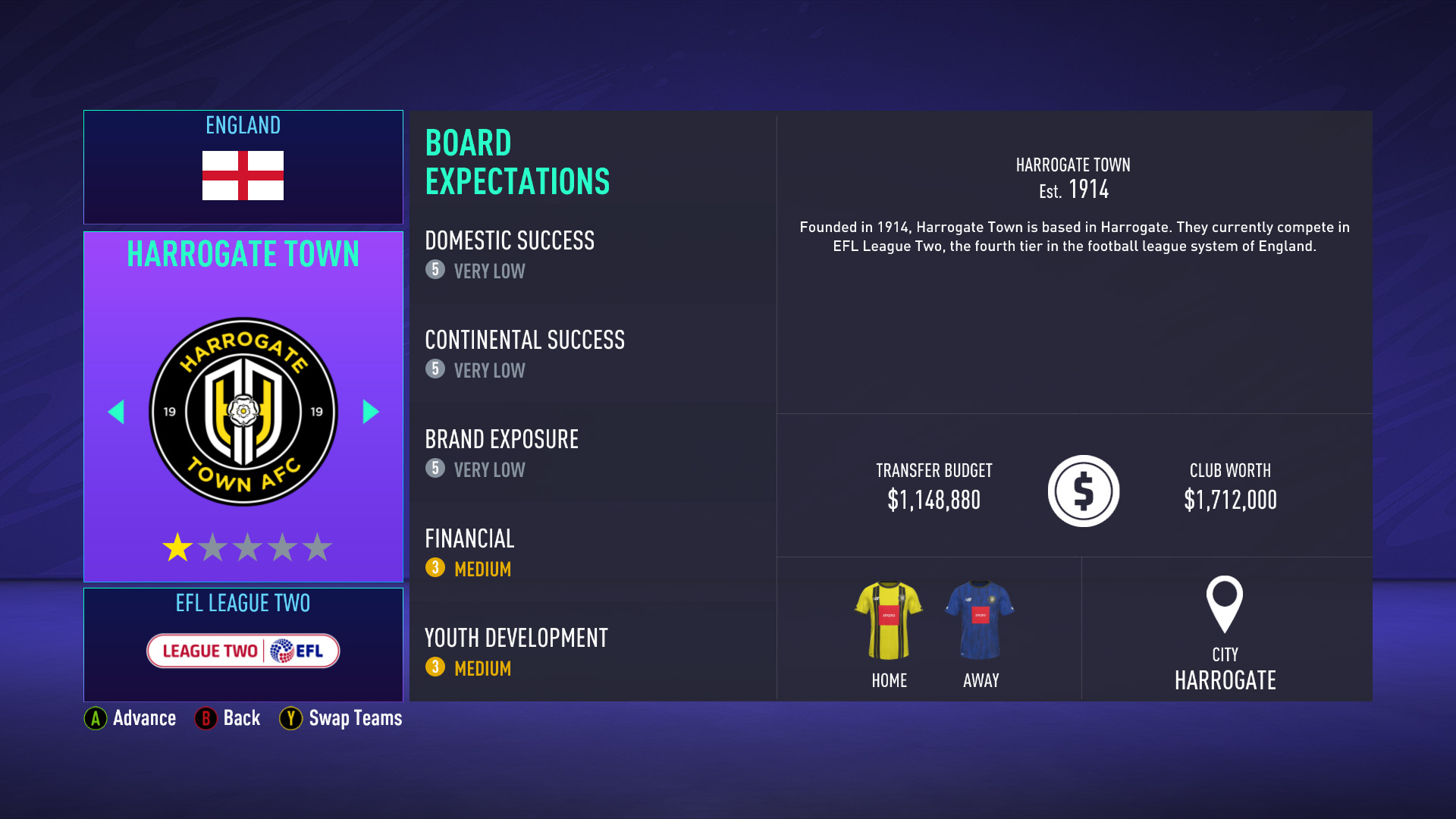 Valencia CF
You'd be pretty surprised to see Valencia on this list and frankly, so do we. If football fans think that Barcelona had a horrible board, Valencia's board is no better. Faced with a severe financial crisis and the highly unpopular of their fan-favourite manager Albert Celades, Javi Gracia is currently struggling to even field a strong starting XI. With the sales of club stars like Dani Parejo, Francis Coquelin and Rodrigo for mere pennies, you will have a real task on your hands to get Valencia back on track and reappear as a title contender. Don't get us wrong, Valencia still possess the dark horse quality and can upset even the strongest of teams on their day.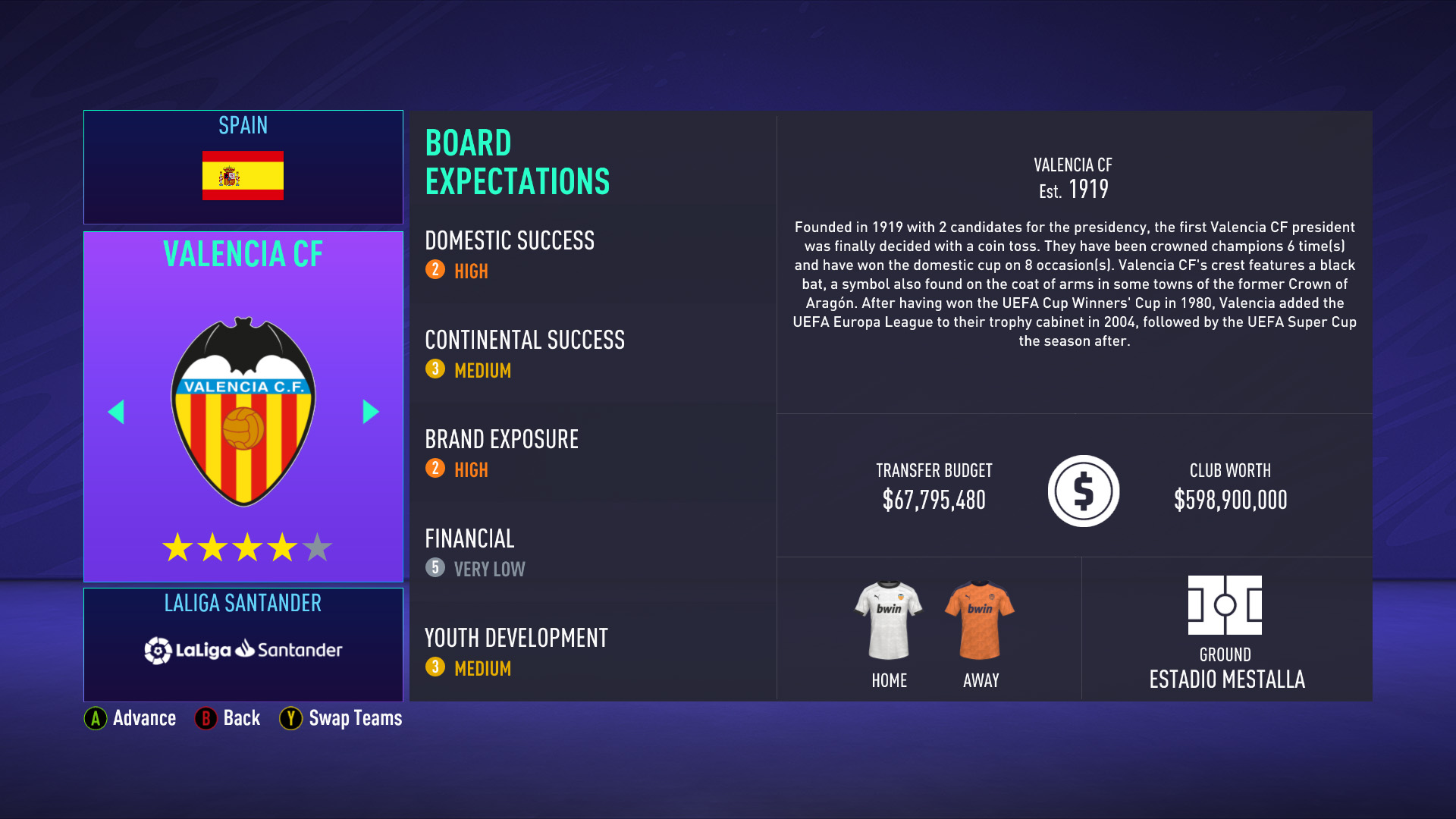 Vitória Guimarães SC
At a first glance Vitória's roster looks like it was made by a Career Mode fan in real life. It wouldn't be surprising if people haven't heard of V.Guimarães but the club has quite the history. The club was founded in 1922 and had its up and downs and currently plays in the top Portuguese tier aka Liga NOS. Virtually unknown until very recently, Guimarães have been playing their own version of a Rebuild Challenge, only that the team is turning out to be a banger. Vitória has a very young squad with the average age in early 20s. The biggest youth talents are Falaye Sacko and our personal Career Mode favourite Marcus Edwards. They have a few experienced players too with the likes of Mikel Agu and André André there to guide the club. And if that wasn't enough, they also recently signed Ricardo Quaresma!
Future UCL winners perhaps in your Career Mode save? They already look like potential contenders to Porto, Benfica and Sporting Lisbon so that can be your first target. Winning Liga NOS while further developing and growing your youth players can be your tactic as manager, and soon, continental success will be within reach! They are a club on the rise and you can definitely be a huge part of their success story.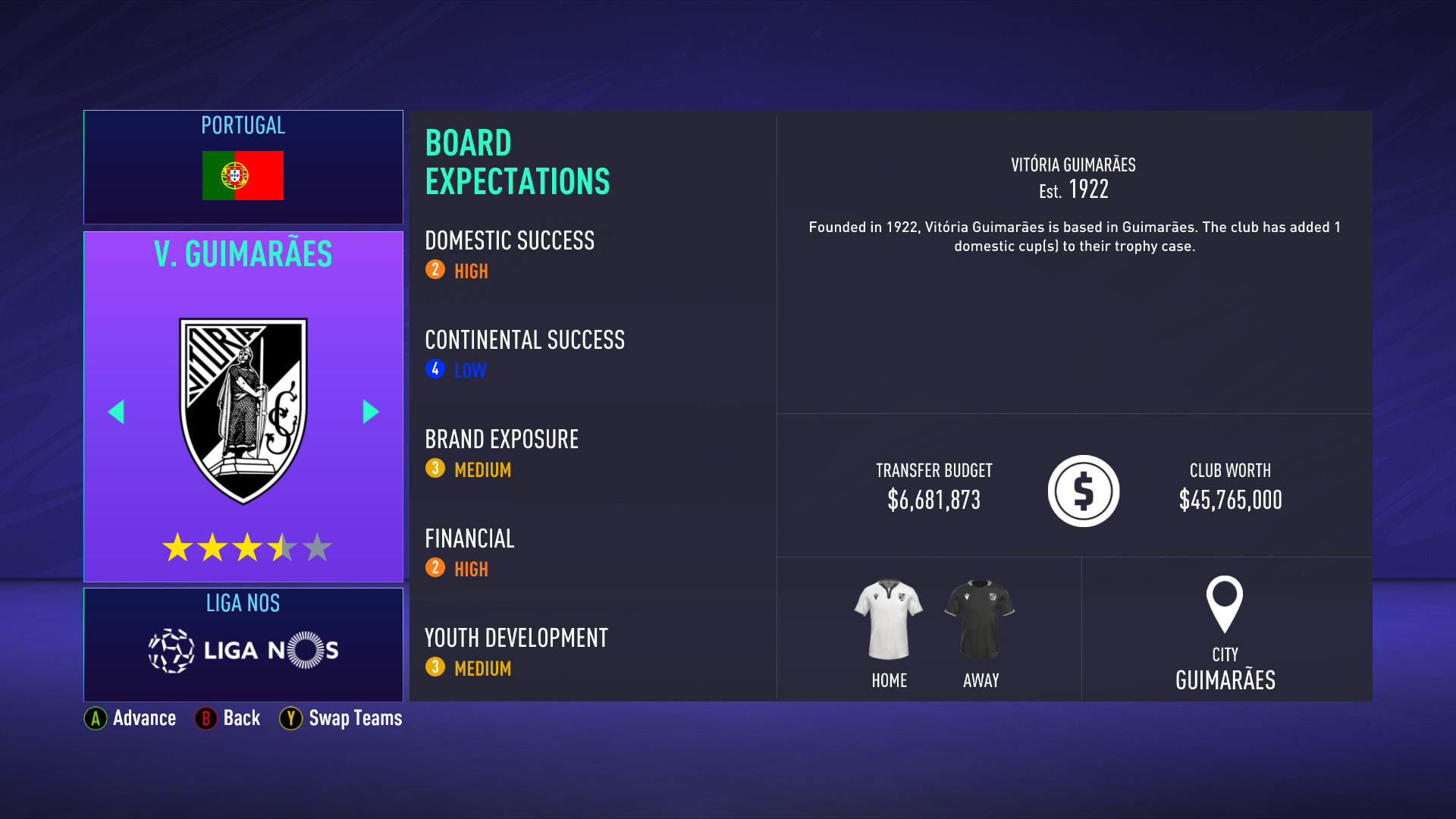 Sheffield United
Sheffield United's last season performance in the Premier League is what Ajax Amsterdam did in 2018/19 Champions League campaign and what AS Monaco did in the 2016/17 season. Performances that won the hearts of many football fans.
The team proved all their doubters wrong and not only proved the relegation betting pundits wrong but managed to get a top 10 finish in the league! This season, however, they haven't got off to a great start and don't look anything like they did last season. You can lend them a helping hand and try to recreate last season's success, and maybe take it a step further. Make sure you get your loan stars from last season back into the club.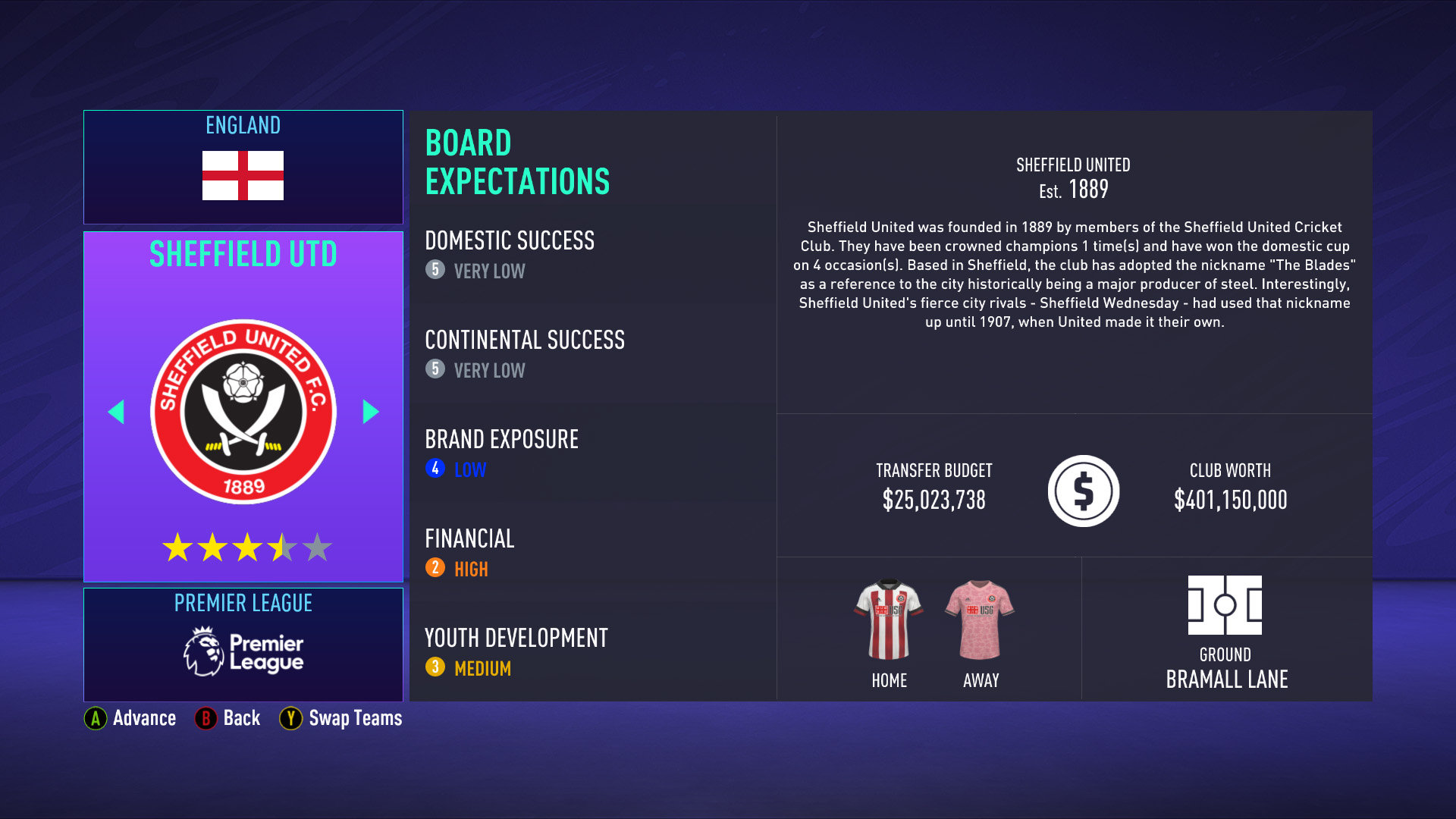 We hope these stories add an exciting new twist to your Career Mode experience in FIFA 21. Think of some other clubs that could make the cut for this post? Let us know which stories should we add in the future in the comments below!