Sometimes, it is difficult to make signings in the transfer windows when you aren't playing as one of the top Premier League or La Liga clubs. More often than not, choosing a club for your Road to Glory save can make it difficult to make even one good signing in your career mode. Fret not though, as there are some amazing wonderkids out there who can make the difference in your squad without burning a hole in the club's finances. It's time to take a look at some of the most affordable quality wonderkids you can buy.
Shola Shoretire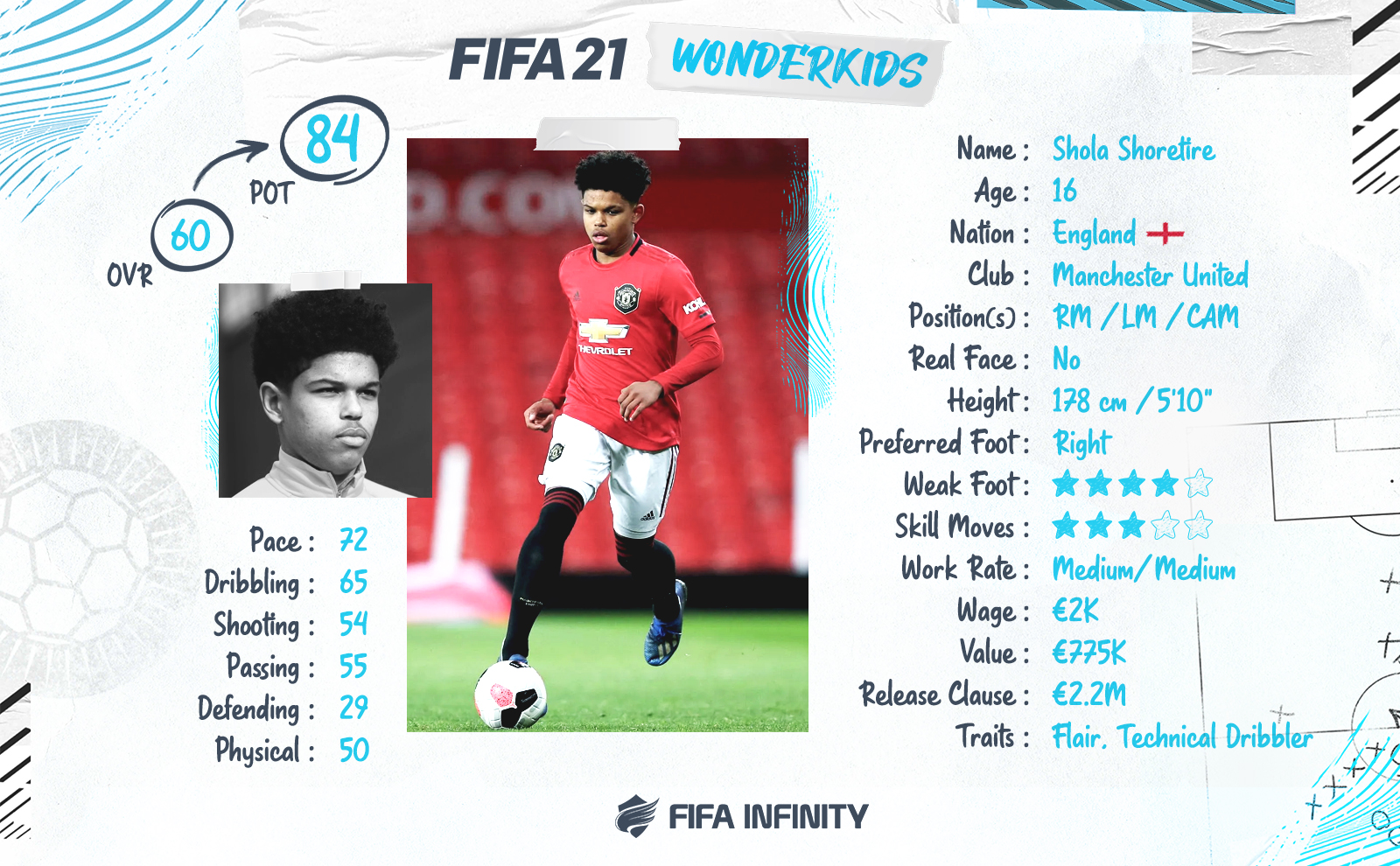 Shola Shoretire might just be the next big thing to come out of the Manchester United Academy. The highly influential winger can play as a RM, LM and CAM. At just 16 years of age, the pacey attacker has already scored 10 goals in 21 appearances for the U23 side and has started receiving call-ups to the senior team this season. Be sure to keep an eye out for Shoretire as he is currently valued at 775K euros. He has a starting OVR of 60 with a potential rating of 84.
Takuhiro Nakai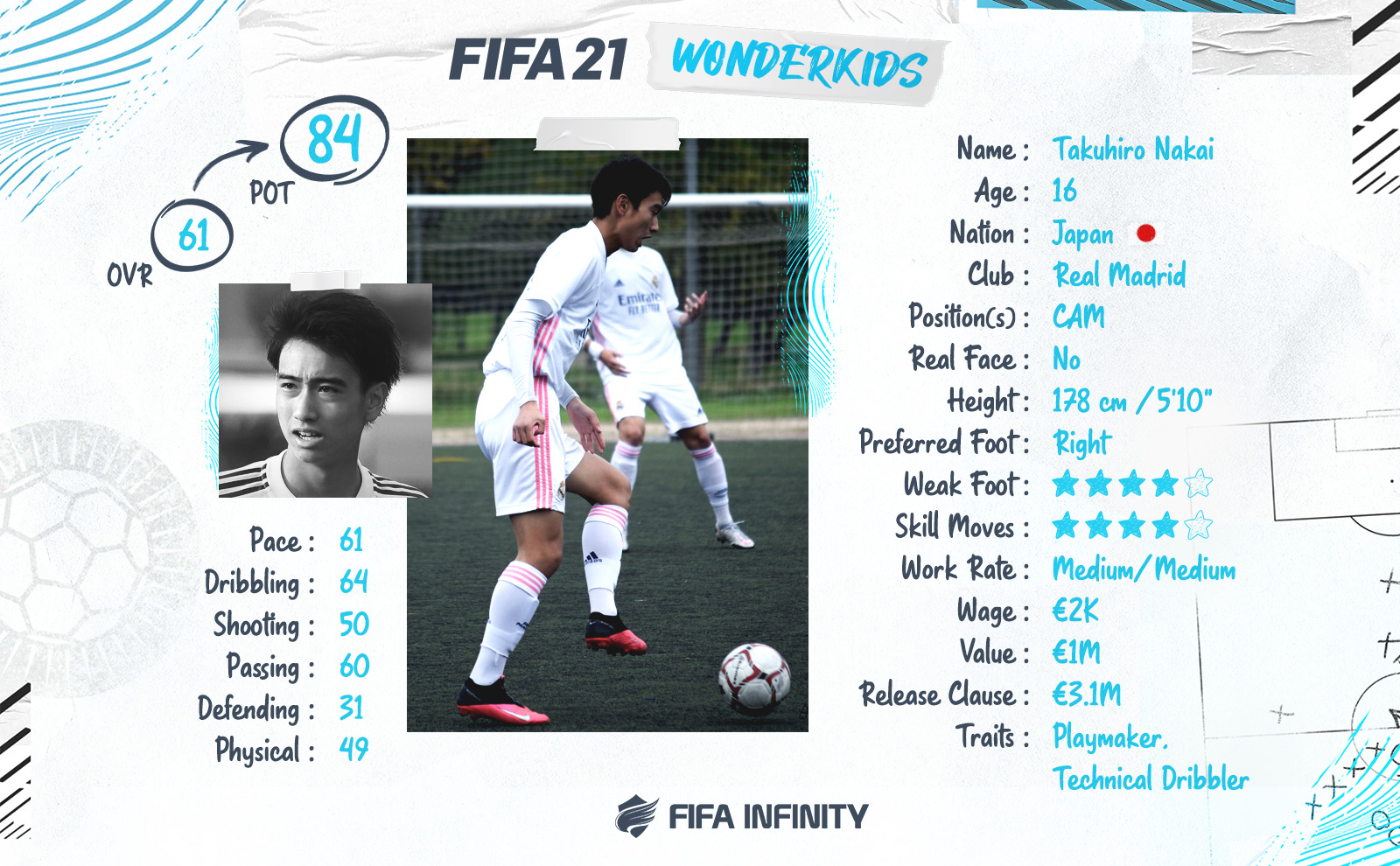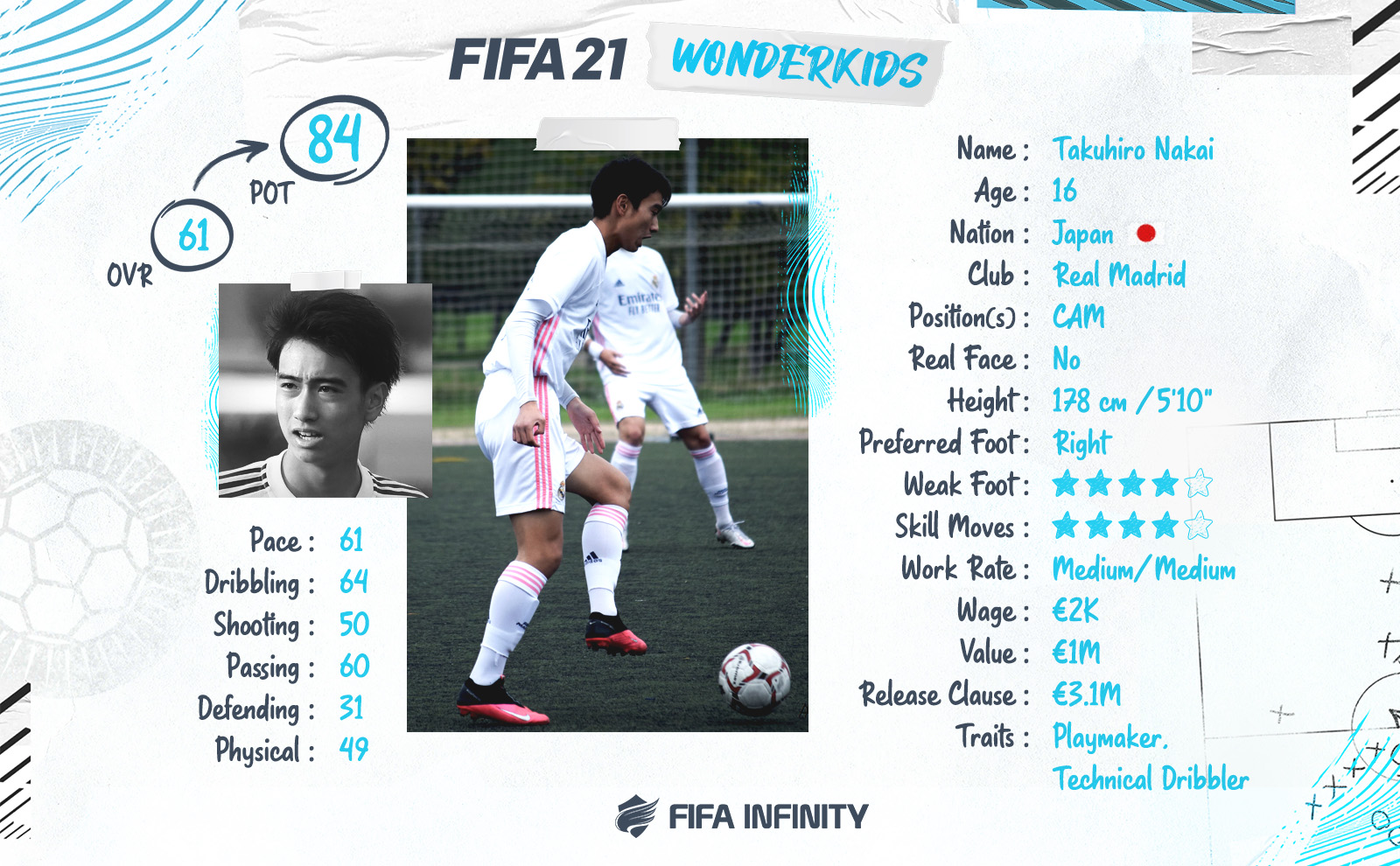 Japan has seen a sudden rise in emerging talents and Takuhiro Nakai is one of them. The 16-year-old midfielder operates as a CAM for Real Madrid. Although a part of the youth squads, Nakai is slowly but consistently working his way up the ranks and may feature for the first team soon. The player boasts a 4-star weak foot and 4-star skills moves in-game making him an ideal central player for your growing squad. Valued at exactly 1m euros with a release clause of 3.1m euros, you might want to snap him up early. He starts at an OVR of 61 with a potential of 84.
Thomas Doyle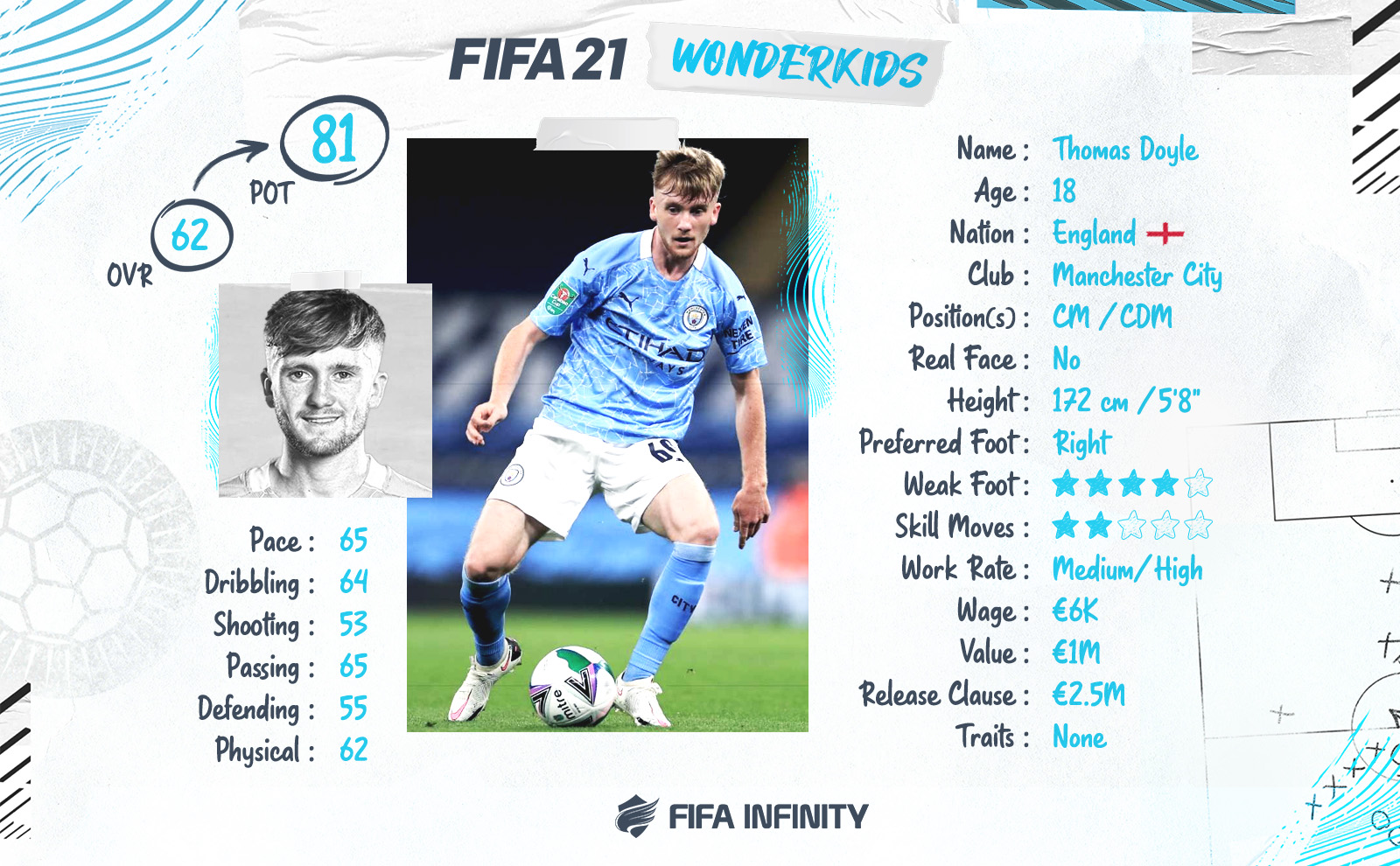 Another Manchester talent but on the other side of town, Thomas Doyle is one of the most promising midfielder talents to rise from The Citizens academy this season. The 18-year-old midfielder plays as a CM and CDM and the Englishman already boasts an impressive resume. Having debuted for the senior team in the 2019/20 season, Doyle has been rock-solid for the U23 side winning numerous trophies and even scoring a few goals in the process. The player has very well-rounded stats in each department and is valued at 1m euros, an absolute bargain. His OVR starts at 62 with a potential of 81 but with Dynamic Potential, anything is possible.
Speaking of Manchester City, tomorrow they are contesting the most important match in their history, the 2020/21 UEFA Champions League final against Chelsea. With a match of this importance coming up is only natural to think about soccer picks on today's and this weekend's matches. According to the valuable contribution of over a hundred tipsters, there is a 52% chance for City to take the win against Chelsea. And with 48% of the odds in Chelsea's favour, it is almost impossible for the game to end in a draw after regular time, according to the data.
Antwoine Hackford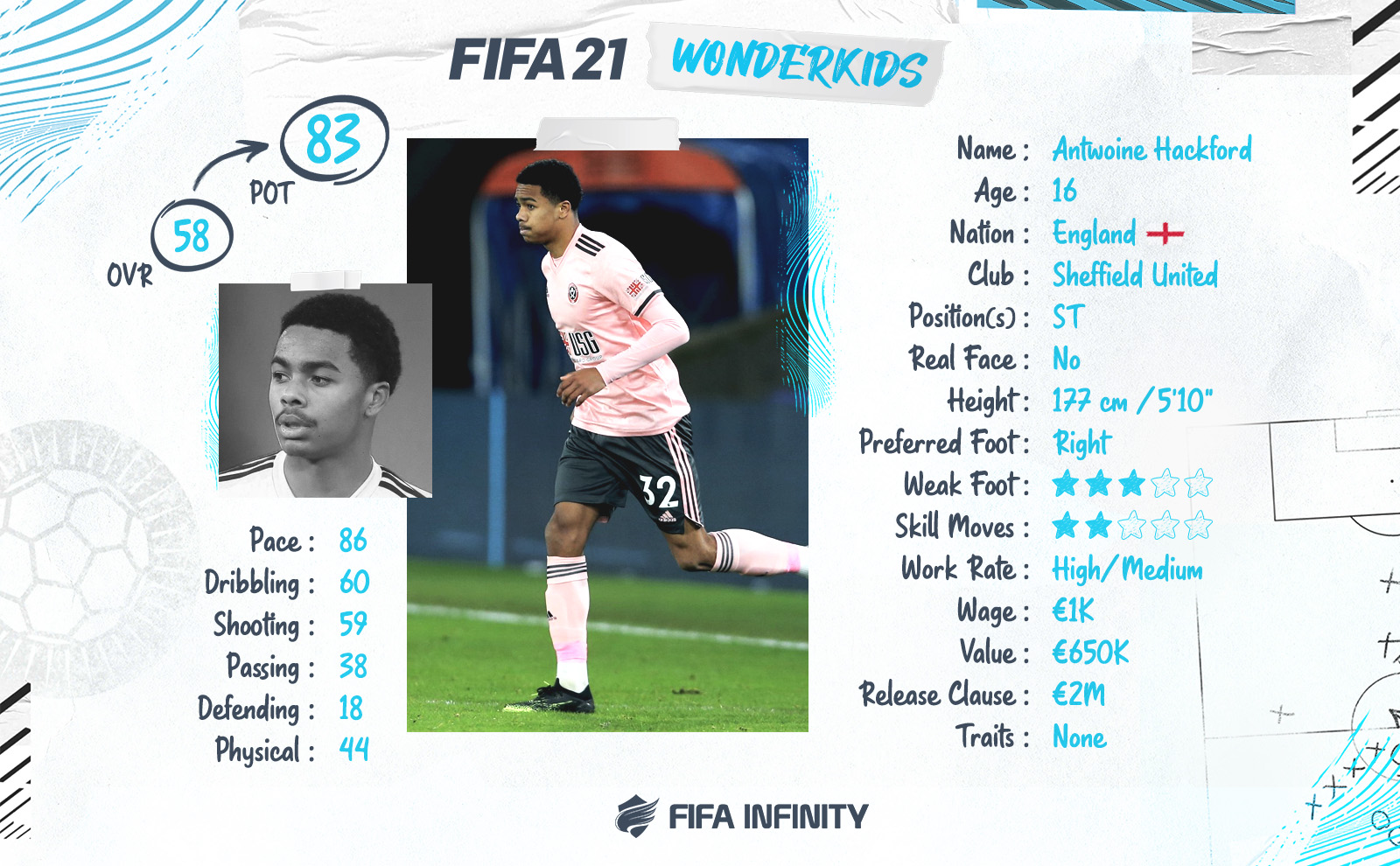 Hackford was a virtually unknown player until the 2020/21 season. The young striker from Sheffield United has gotten the club fans buzzing after his debut against Crystal Palace. The 16-year-old is lightning fast and a good dribbler. As for his valuation, the tall and lanky forward is a steal at just 650K euros. With his debut solidified, many clubs have already started noticing Hackford and it is only a matter of time before the rumours follow. He has a starting OVR of 58 with an amazing potential of 83.
Bogdan Viunnyk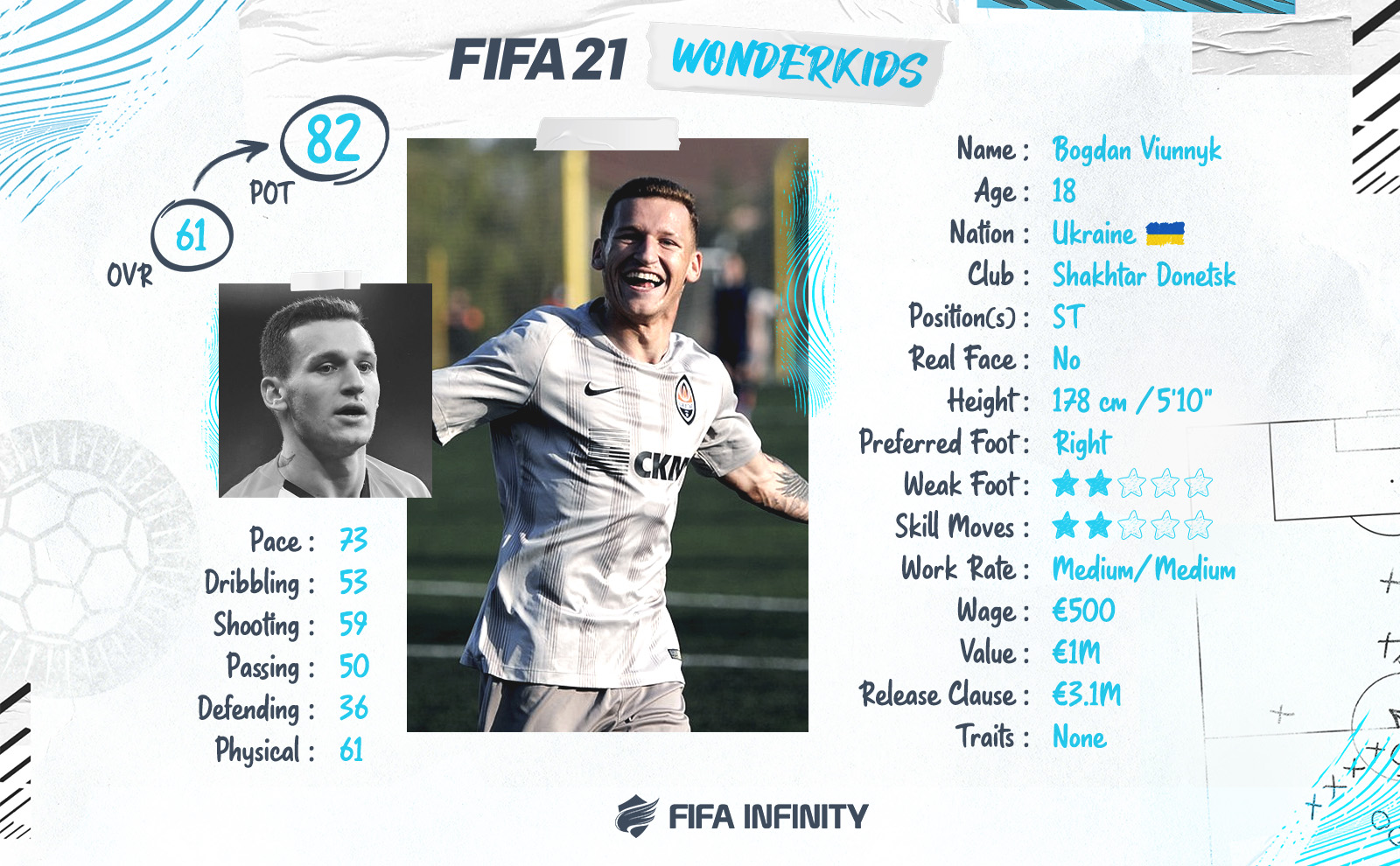 Another striker on the list, Viunnyk is yet another bright talent that is yet to be noticed by the top clubs of Europe. The 19-year-old striker from Ukraine plays for Shakhtar Donetsk and has already started representing the first team regularly. Originally hailing from Dynamo Kyiv, where he played for the U17 team, he joined Donetsk and represents the U19 side with some first team appearances, securing 2 assists in just 5 games. He is valued at exactly 1m euros and has a starting OVR of 61 with a potential of 82.
Tiago Morais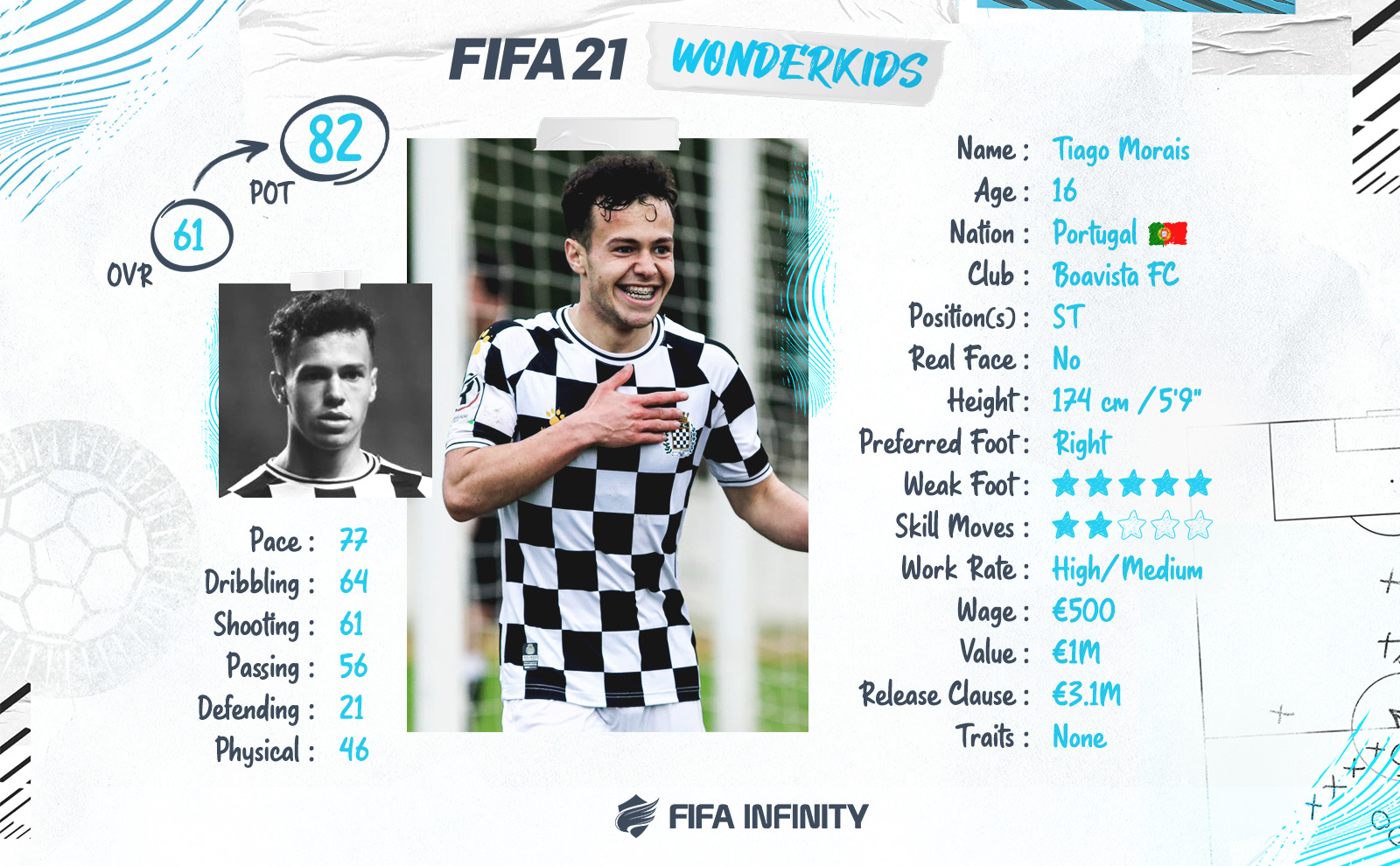 Adding to the already exhaustive list of young Portuguese talents is Tiago Fontoura Fonseca Morais. Morais is a 16-year-old striker who currently plays for Boavista FC in Liga NOS. The young forward has made 4 appearances for Boavista in the league and is showing promising signs for the future. With a good work rate and a 5-star weak foot, Morais proves to be a delightful attacking outlet and with a 1m euros value, is a smart buy for the long-term project. He is rated at a 61 OVR with a potential of 82.
Eugenio Pizzuto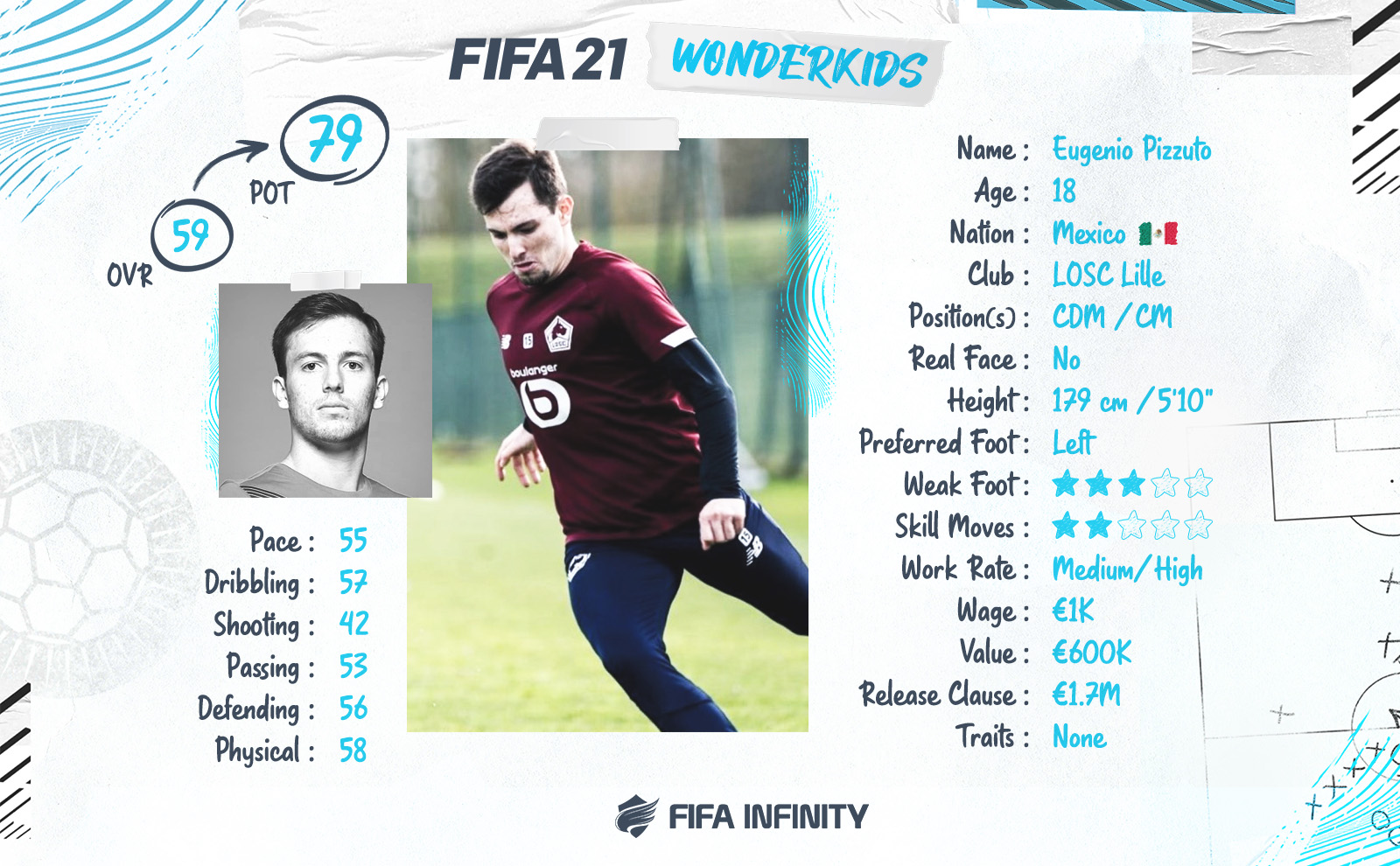 A rare Mexican wonderkid in the making, Eugenio Pizzuto is a lesser-known talent who is slowly making big waves in the football scene. Playing for Lille in Ligue I, the midfielder occupies the CDM role on the pitch and mainly plays for Lille B. However, he has made an appearance for the senior team and has impressed hugely for Mexico on the international stage in the U17 tournaments. Now 19 years old, Puga is valued at 600K euros and has plenty of room to grow with a 59 overall rating.
Ricky-Jade Jones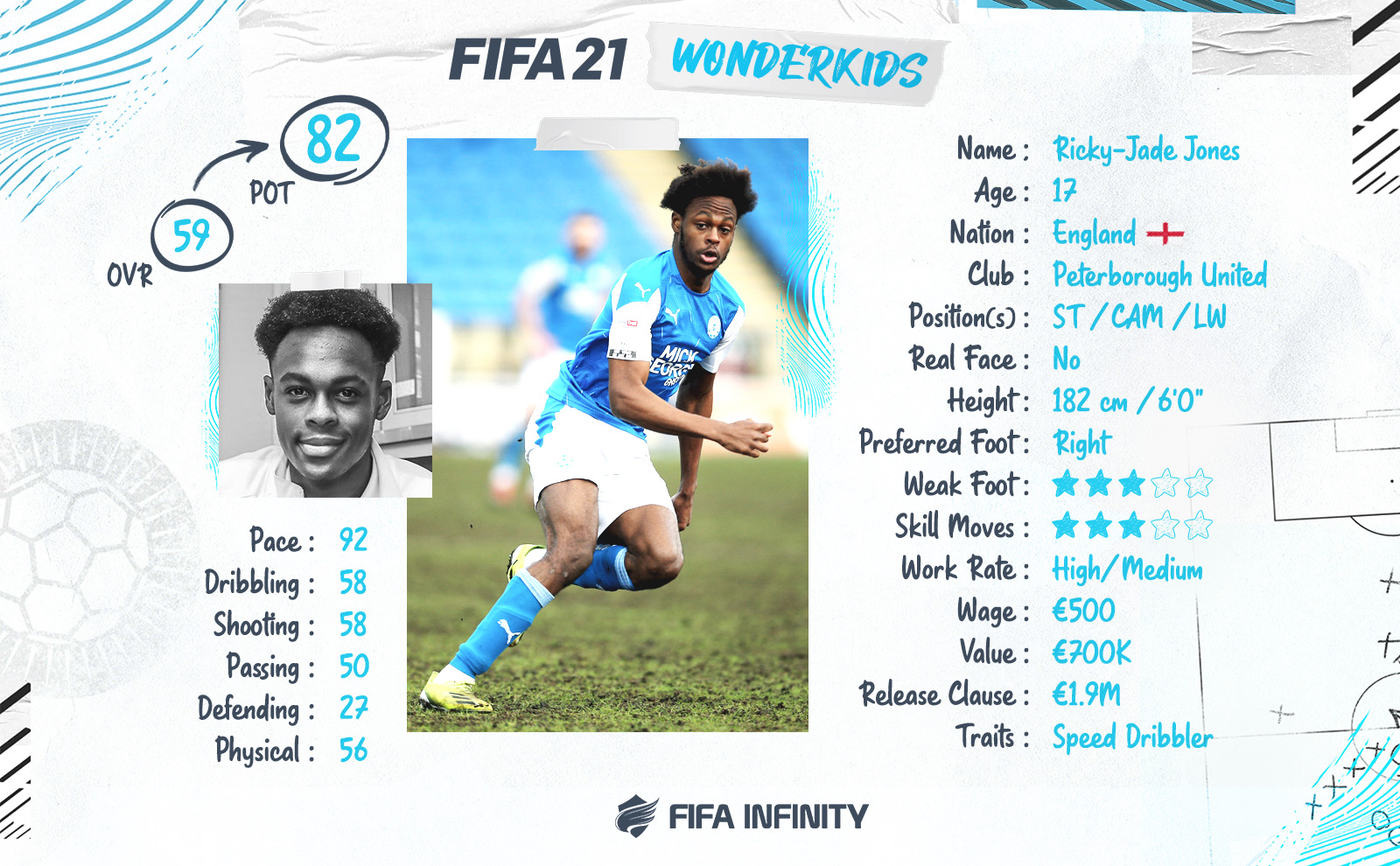 If you're looking for an affordable and versatile player, look no further. Ricky-Jade Jones is a highly adaptable attacker who plays for Peterborough United. Jones can play as a ST, CAM and LW. The 18-year-old forward serves as a substitute for the first team and has a goal this season in 15 appearances. The young talent is being scouted by multiple Premier League clubs and will be a fine addition to your club. He is valued at 700K euros and has an OVR of 59. His potential sits at 82.
Cade Cowell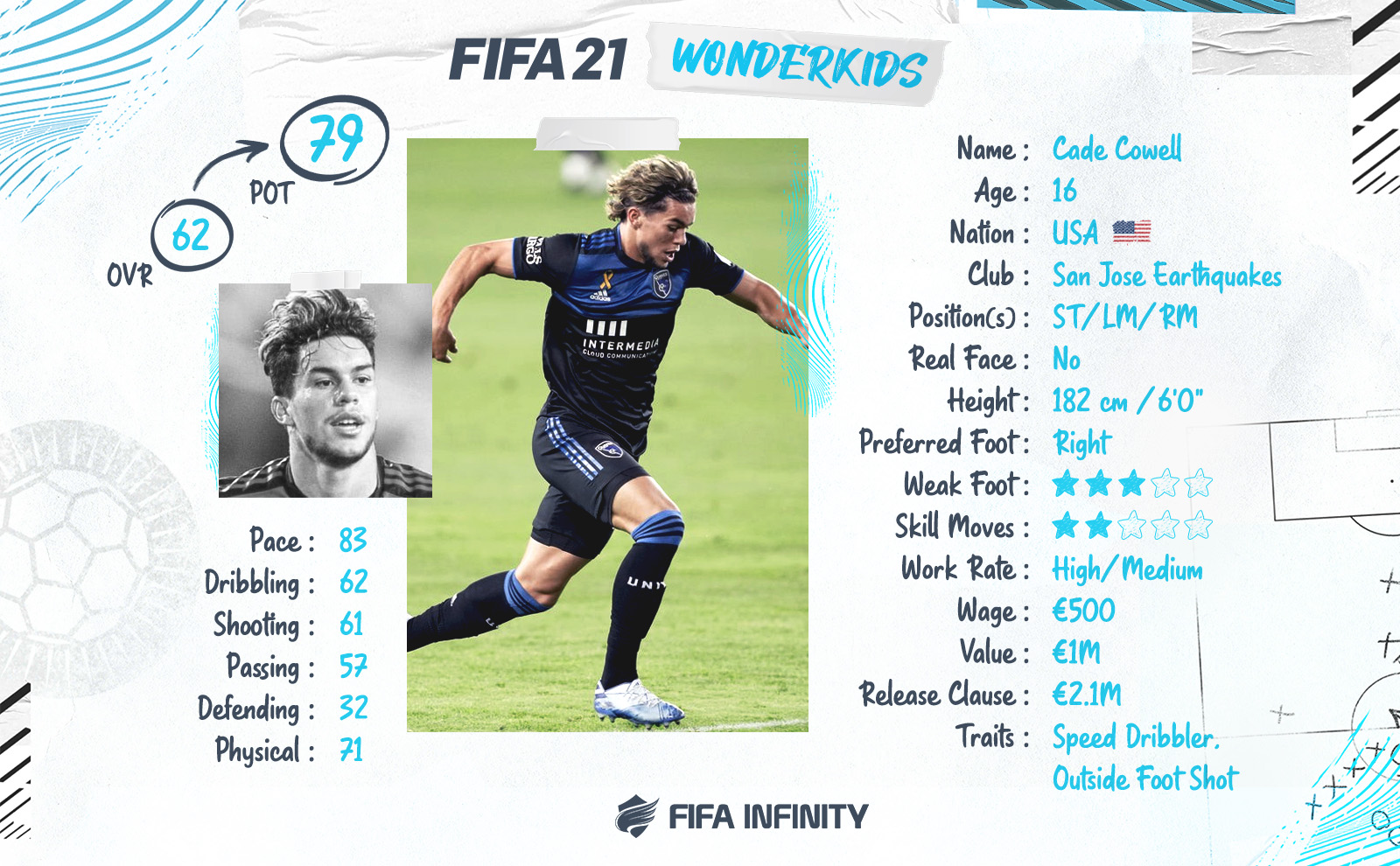 Cowell is a rising name amongst the current golden generation of talents from the USA. The American forward can play anywhere up front but prefers playing as a ST but can also play as an RM/LM if needed. Playing as a first team player for San Jose Earthquakes since 2020, the quick striker has a good work rate and is valued at precisely 1m euros in-game. As for his ratings, he has an OVR of 62 and a potential of 79 that can get even higher thanks to the Dynamic Potential feature.
Mohamed Sankoh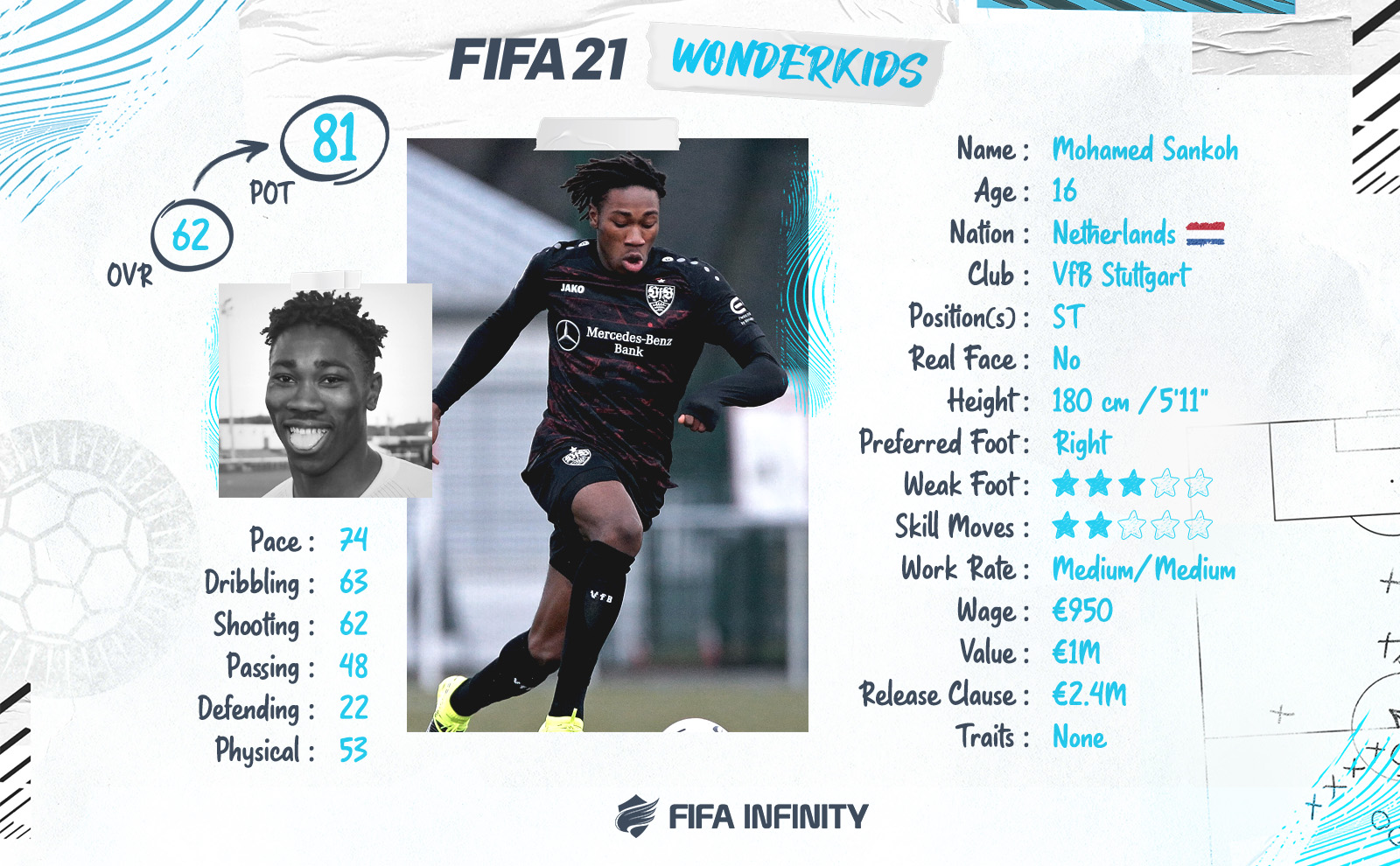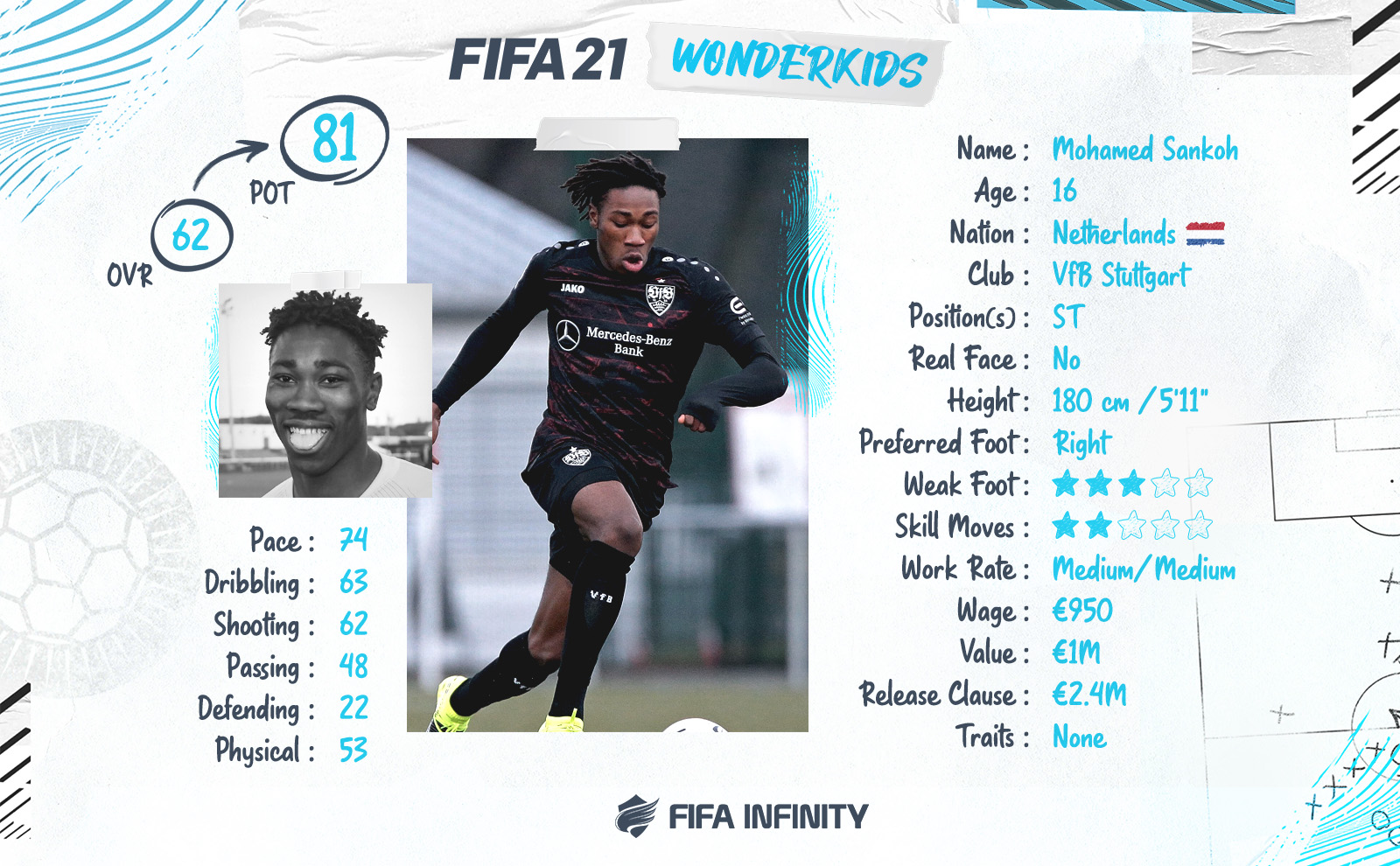 We end our list with a Dutch talent. As if the list isn't already extensive, we have one more Dutch talent quietly taking the world by storm. Sankoh is a striker who plays for VFB Stuttgart. Sankoh started his career by playing for the U18 side for Stoke City. After graduating to the U23 side, he soon left Stoke to join Stuttgart where he played for the U19 side. Sankoh currently plays for Stuttgart II and has made his debut for the first team in the 2020/21 season. Valued at 1m euros, He has a starting OVR of 62 with a potential of 81.
Summary
It is incredibly rewarding to discover new and exciting wonderkids who fit your budget as well as your playing style. And with the added possibility of Development Plans and Dynamic Potential, it is easy to shape the youngsters to be the stars of your team over time. Have fun signing and playing this youngsters and good luck scouting more such wonderkids. The world of football has multiple gems to offer and sooner or later, they enter the limelight.